THANK YOU FAC DOCENTS!
In gratitude to the Fine Arts Center DISTINGUISHED DOCENTS whose combined service of over 500 years demonstrates a commitment to the tradition of yesterday and helps inspire the vision of tomorrow.
Docent History
The history of the docent program is almost as storied as that of the Fine Arts Center itself. Originally a branch of the Member's Volunteer Association, the Docent Program became a stand-alone entity in 1951 when the Fine Arts Center director, Mitchell Wilder, recruited selected volunteers to become "Guide Girls," leading tours through a stunning exhibition of Northwest Coast Art. Fresh off their first successful touring efforts, Peggy Marshall and Edna Jane Sprague, were inspired to spearhead an effort to transform the original "Guide Girls" into the "Lecturers" who, through a monumental collective effort, eventually became the museum's beloved "Docents."
In its earliest iteration, the Docent Program was a loosely organized band of dedicated volunteers interested in bringing free art tours and a sense of fraternity to the Fine Arts Center. As their aims and endeavors began to diverge from those of the Member's Volunteer Association, a friendly schism was proposed as a means of promoting education and receiving funding from the museum. In 1976 the Docent Program officially split from the Member's Volunteer Association. Since that time, the Docents have played an active role in keeping touring alive in the museum as a robust and standalone volunteer group.

From its onset, the Docent Program has been at the forefront of countless initiatives throughout the Fine Arts Center. Notably, they championed the creation of the Tactile Gallery, the Gifted and Talented Program in the 80's, Off the Wall, and tours such as Exploration of Southwest Art and The Poet's Muse. Beyond giving tours to all ages, the Docent Program has also been a strong proponent of personal and intellectual engagement, providing short and long trips attendance at the National Docent Symposium. Always aiming to promote a love of art and learning, the Docents' legacy is indelibly woven into the fabric of the Fine Arts Center.
References: Crouch, Lois and Phemi Demmin. The First Thirty-Five Years: A brief History of the Members' Volunteer Association of the Colorado Springs Fine Arts Center. Colorado Springs: Colorado Springs Fine Arts Center, 1990. Koepp, Vera. Knowing, Loving and Sharing Art: A History of the Docents 1951-1986. El Paso County: Production Printing, 1990.

Docent Appreciation Luncheon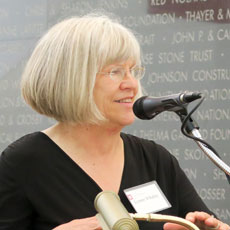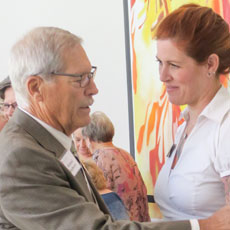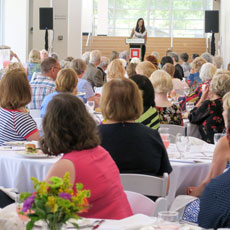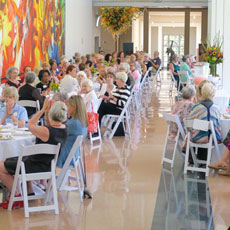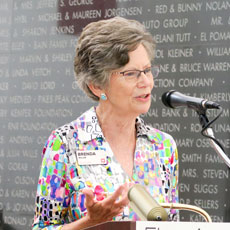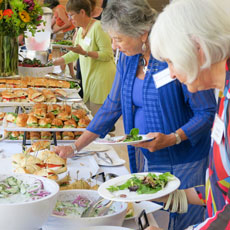 By Total Years of Service
31+ years
Leslie Bergstrom
Louise Debernay
Anne Eller
Vicky Kipp
Cary Loewen
Peggy Marshall
Mary Mashburn
Jean Nicks
Mary Lou Roesler
Judy Sellers
21-30 years
Mary Andrews
Alice Aronovitz
Shirley Biemesderfer
Marcia Brazil
Ginger Browne
Rita Coakley
Anne Connolly
Marjorie Cress
Tommi Davis
Ann Donald
Marjo Donner
Cindy Dunn
Conni Eggers
Elsie Greensher
Kathleen Hartman
Jackie Keller
Sandy Kozlowski
Susan LaVoo
Betty Mahon
Vivian McWhorter
Pari Morse
Ann Noonan
Kathy Olson
Barbara Steiner
Susanne Truax
Gwen Weinert
11-20 years
Anna Ahern
Beth Bassein
Karen Belyea
Robin Boggs
Valerie Bond
Barbara Bradley
Ann Burek
Dorothy Campbell
Judy Casey
Gloria Chapman
Linda Chase
Candy Chernak
Carol Comer
Judy Conroy
Jack Cooley
Vera Cooper
Cindy Crater
Jeanne Crawford
Hedy Ducharme
Tena Engelman
Joanna Fischer
Jean Fisher
Elaine Godsoe
Wendy Gray
Robin Grove
Joy Hoffman
Mike Hoge
Shirley Jenkins
Debbie Kessler
Bonnie Kittel
Mauren Kral
Barbara Litchfield
Connie Loevy
Sandra Mann
Michael Mayberry
Audrey McGuire
Brenda Miller
Robert Mollo
Claudia Moore
Thomas Mou
Sue Neufeld
Helen Newell
Milton Newell
Alice Ochs
Shirley Pearshall
Stuart Peckman
Priscilla Potter
Betty Rasmussen
Eileen Reilly
Norm Renaud
Jean Reynolds
Sharon Rice
Leslie Roman
Catherine Schweitzer
Elsie Sills
Jane Smith
Marlene Smith
Lois Stump
Pat Teas
Mary Turner
Lorelei Vollmar
Caroline Vulgamore
Harry Vulgamore
Jan Webster
Phyllis Wells
Veronique Whitney
1-10 years
Sue Abourezk
Peter Adasek
Karen Allegar
Sarah Altonen
David Alvarez
Lillian Atkinson
Donna Aycock
Caitlin Bahr
Faye Baker
Laurie Baker
Linda Barnard
Jacqueline Barr
Kim Bass
Linda Batkin
Anne Baumgartner
Carol Bell
Pat Bell
Sheila Bell
Mary Beltz
Carol Benfort
Jurhee Speer-Stanton
Diane Billingsley
Betty Bishop
Ann Blackmun
Doris Bliss
Ken Boardman
Sarah Boardman
Cate Boddington
Judith Bowers
Anne Bradley
Gary Bradley
Dottie Braman
Sherri Bristol
Harriet Brooks
Barbara Broshous
Lee Brown
Pamela Bruni
Bunny Bryant
Emily Bull
Lola Bungeroth
Marilyn Bunker
Joan Bunney
Mary Burciago
Judith Burdick
Betty Burgess
Judith Cardin
Mary Carlone
Erika Carlson
Michelle Carrica
Alina Carriss
Nancy Carroll
Pat Cassity
Lois Cavollo
Cynthia Chartier-Cohn
Betty Clay
Carolyn Cochran
Cynthia Cohn
Johanne Coiner
C Coley
Susan Coley
Pat Conner
Vern Conner
Beth Coons
Ilene Cullen
Patterson Cummings
Sandra Damm
Virgina Dawson
Georgie DeBerry
Elaine Derbenwick
Sharon DeVaney
Michelle Devilbiss
Bernard Diane
Eunice Diaz
Pat Dixon
Ann Donovan
Cindy Donovan
Doris Duckworth
David Duguid
Cindy Duke
Eric Dyer
Maryelln Ebarp
Susan Edgar
Jan Edick-Carlson
Cirel Egelman
Kathy Elser
Carolyn Erdle
Mary-Kay Rockwell
Arla Ertz
Carol Ettenger
Becky Farley
Joann Felice
Gini Fincher
Diane Fischer
Lesley Flaks
Janet Flander
Janice Floyd
Jackie Fry
Jan Fryman
Nancy Garzoli
Maida Gasparik
Pat Geonetta
Gerrie Gerdes
Creta Gerhart
Diane Gidley
Sandy Goddard
Jane Gorab
Sharon Grady
Patsy Graham
Sue Grant
Will Green
Betty Griner
Barbara Gugenheim
Christine Hall
Marlene Hallenback
Susan Hamilton
Sue Han
Sharon Hare
Carol Harper
Grace Harris
Juanee Harvery
Marsha Hawk
Jeanne Hayes
Victoria Heim
Sheila Hewlett
Carol Hickok
Pam Hinton
Judy Hjelkrem
Katherine Hoffer
Mary Hoffman
Marilyn Holliday
Pat Holst
Smith Holt
Jean Horsman
Dorathy Houser
Patricia Hudson
Debbie Humphrey
Rachel Hunt
Jane Irwin
Christine Jackson
Paul James
Reynolds Jean
Beatrice Jefferson
Lou Johnson
Penny Johnson
Cardin Judith
Mary Kalman
Connie Kearney
Kathy Keene
May Kelly
Meg Kendall
Shirley Killeen
Bonnie King
Mary Kirk
Jan Edick-Carlson
Mitzi Knox
Kathy Koehn
Vera Koepp
Beth Krasovec
Judy Kriss
Judith Rice-Jone
Judy Larson
Barbara Laura
Dorothy Lavick
Cindy Leatherman
Bruce Leeson
Elaine Levesque
Georgia Loftus
Catherine Lowis
Sheelah Lund
Kate Lunn
Bernice Lyon
Peggy Lyons
Christa Mahoney
Jo Ann Maki
Dawn Maloney
Suzy Marold
Pat Marsh
Margaret Marshall
Cathleen Martin
Maxine Martin
Verni Martz
Eloise Marvel
Susan Massie
Suzanne Matonek
Cynthia Mavros
Sallie Maxwell
Carol Mazzola
Sharlyn McClure
Sheila McElroy
Cindy McMahon
Faye Mcqueen
Patty Messer
Don Metz
Sharol Metzler
Marlene Mihelich
June Moore
Barbara Moorman
Pat Moothart
Sandy Morgan
Judy Mullen
Leonard Myers
Shirley Neidiger
Sylvia Nolte
Susana Novembre
Kristen Nunez
Mattie O
Doris Ordahl
Ruth Osata
Martha Parsons
Bell Pat
Margaret Pedersen
Cynthia Pesek
Alice Phibbs
Kristin Phillips
Joan Pollard
Yvonne Polumbaum
Barbara Potter
Susie Potterat
Linda Poznanovic
Gwen Pratt
Pat Price
Cheryl Prichard
Joan Provost
Ann Pruitt
Kathie Quinlivan
Gail Ralston
Connie Rector
Donna Reese
Emily Reeves
Linda Reinhardt
Judith Rice-Jones
Carol Riggleman
Bonnie Ritch
Melissa Robohn
Edward Rochette
Mary Rockwell
Barbara Roeming
Janie Rose
Linda Rosenthal
Susan Sacks
Anna Santisteven
Fran Schaffer
Judy Schaneman
Lynda Schedler
Sharon Schriner
Mary Schroeder
Bonnie Schwaller
Ann Seybold
Janine Sheehy
Jan Sherwood
Killeen Shirley
Linda Shroeter
Mimi Simmons
Lisa Simon
Gail Skinner
Jane Smith
Karen Smith
Sylvester Smith
Judith Snouwaert
Ruth Snow
Vivette Soderlund
Connie Solomon
Joanne Spiars
Jeaneen Stadjuhar
Jurhee Stanton
Helen Starks
Joanne Steeves
Sharon Stell
Bette Straeb
Sarah Strathman
Betsy Stringer
Janet Strouss
Barbara Sullivan
Jo Supperstein
Dorothy Sutton
Margery Tadder
Marian Taylor
Betsy Thomas
Juanita Thomas
Valerie Thompson
Dolly Tiffin
Cynthia Pisor-Zapel
Robert Tuggle
Betty Turnbaugh
Maureen Tuttle
Emily Ulrich
Lois Valentine
Ororina Vedovi-Rinker
Caren Voeller
Irene Wackernagel
Rosalie Walker
Joan Wall
Sue Wallace
Jane Warren
Frances Washburn
Frances Weaver
Kris Wells
Kitty West
Lynne Whaley
Lynn Whitacre
Kathy Whitehorn
Dodi Whitelaw
Mikki Wicks
Horacine Williams
Jane Williams
Janet Williams
Mary Williams
Nancy Winter
Anna Wood
Isabell Woolley
Jeri Yeagley
Irene Yohn
Cynthia Zapel
Jan Zellmer
Cindi Zenkert-Strange
* This list was compiled with considerable care and using all available archival resources, including predominantly primary source records. Our hope is that the list is accurate and comprehensive; however, it is possible that the records may contain incomplete or missing information. We regret any errors or omissions which may have occurred.