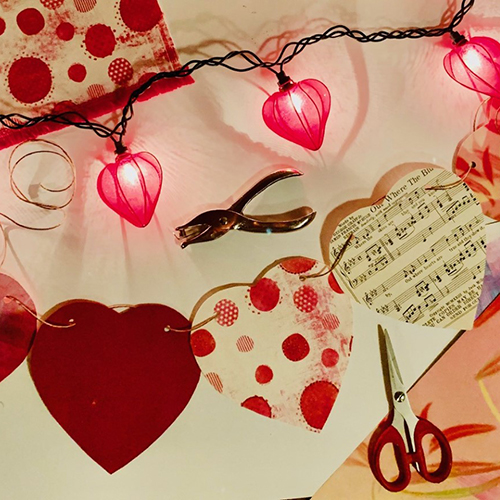 Libation Creations: Valentine Edition
February 11, 2021 @ 5:00 pm
Artmaking Happy Hour Series
Celebrate love! Back by popular demand, artist Linda Sagastume and mixologist Angelina Rice bring you romance-inspired creations to liven up this year's Valentine's Day. Whether you typically revel in or avoid the holiday, this event will hit you in the right spot — just like Cupid's bow!
Here's what to expect-
Step 1: Angelina will guide you through mixing a delicious Valentine-inspired Pomegranate Rose Champagne cocktail in a step-by-step demonstration, live from her winery, Mesa Winds, in Hotchkiss, Colorado.
Step 2: Drink in hand, follow along with Linda as you create a beautiful Valentine heart garland. You can add your own unique touches using scrapbook paper, vintage book pages, sheet music and more.
Step 3: Sit back, sip, and admire your artwork.
This is a live event and participants are encouraged to ask questions along the way. List of drink ingredients and art supplies are provided upon registration.
FAC Members: $5; Non-members: $10