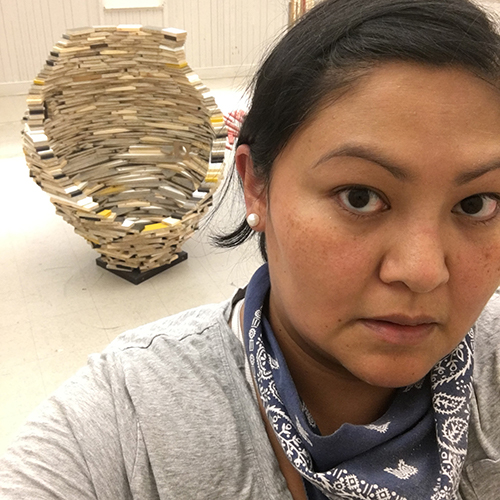 To Bind or to Burn: Conversation with the Artist
February 12, 2021 @ 6:00 pm
The FAC will be celebrating virtually the opening of a new exhibition, Anna Tsouhlarakis: To Bind or to Burn, February 12-August 21, 2021. Join Polly Nordstrand, curator of Southwest Art, in conversation with the artist as they discuss her strategies to indigenize contemporary art. The exhibition presents various bodies of work, including the projects she created while an artist-in-residence at the FAC. A major sculpture, Edges of the Ephemeral, was installed in doors for the first time. Learn about the exhibition
---
Anna Tsouhlarakis works in sculpture, installation, video, and performance.
Her work has been part of national and international exhibitions at venues such as Rush Arts in New York, the Art Gallery of Ontario in Toronto, the Nasher Museum of Art at Duke University, Crystal Bridges Museum, the Museum of Contemporary Native Arts, the Heard Museum, and the Smithsonian's National Museum of the American Indian. Tsouhlarakis was the Andrew W. Mellon Artist-in-Residence at Colorado College for the 2019-2020 academic year and has participated in various art residencies including the Skowhegan School of Painting and Sculpture and Yaddo, in Saratoga Springs, NY. She received her BA from Dartmouth College with degrees in Native American Studies and Studio Art. She went on to receive her MFA from Yale University in Sculpture.
Tsouhlarakis (Navajo + Creek + Greek) lives and works in Colorado.