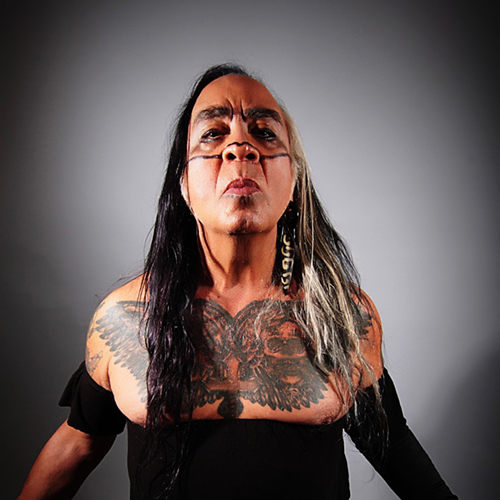 POSTPONED: We Are All Aliens and Other Tales of Radical Imagination
February 18, 2020 @ 7:00 pm
We are sorry to announce that the February 18 performance by Guillermo Gómez-Peña has been postponed to a later date due to unforeseen health circumstances.
We look forward to announcing a rescheduling of the performance soon.
This performance features core Pocha Nostra member & collaborator Balitronica Gómez.
Free and open to the public
In his newest solo performance, Gómez-Peña presents a spoken-word immersion into his "living archive" encompassing 40 years of material from his engagement in Border culture and US Mexico relations completely reimagined in light of the current political climate. This piece is considered a "live anthology" dealing with immigration, US/Mexico relations, the implications of "the border wall", racism at the border, extreme Mexiphobia, fear of immigrants and the insidious ways that new ultra-nationalisms are affecting our notions of nationality, identity, language and art making.
WE ARE ALL ALIENS is a philosophical and artistic response to the ongoing crisis in the lives of cultural and religious "others", refugees and immigrants (legal as well as "illegal") and a call for reinvigorated action. Throughout the work are the foundational beliefs that the human body is a site for reflection and reenactment of social phenomena and performance art a form of radical democracy and citizenship.
Artist Statement
"My new performance represents the fruit of my life's work in all its iterations: live performance, lecturing, archiving, literary work, mentoring, community activism, all coming together to address the dangers of the times we live in with its disregard for human life and insidious undermining of democracy.
At this time in my life I am thinking as much about legacy as I am with trying to continually produce socially conscious experimental artwork that is simultaneously plugged into the national debates. I have learned from decades of touring performance material to locations beyond the Border that a call to action – in the form of a work of art – has the power to elicit compassion and inculcate a desire for social justice.
For me performance art is a form of radical democracy and citizenship which depends on the presence of the audience/community to succeed. I view my approach to creating this hybrid piece as "performing the archives" for multiple contexts: The art world, academia, community and the media. I am particularly interested in connecting with a new generation of audience members who may not have been exposed to the history of my generation, performance art and the Chicano movement."
Artist Bio
Guillermo Gómez-Peña (US/Mexico) is a performance artist, writer, activist, radical pedagogue and director of the legendary performance troupe La Pocha Nostra. Born in Mexico City, he moved to the US in 1978. His performance work and 12 books have contributed to the debates on cultural & gender diversity, border culture and US/Mexico relations. His artwork has been presented at over a thousand venues across the US, Canada, Latin America, Europe, Russia, South Africa and Australia. A MacArthur Fellow, Bessie and American Book Award winner, he is a regular contributor for newspapers and magazines in the US, Mexico, and Europe, a contributing editor to The Drama Review (NYU/MIT) and the Live Art Almanac (Live Art Development Agency-UK). Gómez-Peña is also a Senior Fellow in the Hemispheric Institute of Performance and Politics and a Patron for the London-based Live Art Development Agency, He was named Samuel Hoi Fellow by USA Artists in 2012, received a Eureka Fellowship from the Fleishhacker Foundation in 2013 and a Guggenheim award in 2019. Gómez-Peña is currently preparing two new books for Routledge (2020) and is currently working on a documentary portrait of his beloved troupe.
Location
Richard F. Celeste Theatre
Edith Kinney Gaylord Cornerstone Arts Center, 825 N. Cascade Ave.
Generously sponsored by the Andrew W. Mellon Foundation Grant for Southwest Arts and Culture