Lindsay Hand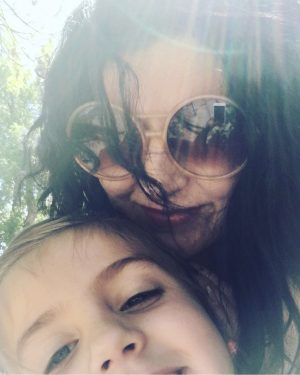 is primarily self taught; she has consistently exhibited her work at galleries, historical museums and cultural centers across the US. Her work has grown into a very socially engaged practice in collaboration with artists of complimenting media and various community integrated institutions and the professionals within. In addition she continues in her private studio practice the paintings of a spiritualist nature letting the source material introduce itself to her and exhibits these personal conversations in solo settings.
---
What inspired you to become an artist?
The first time I painted I knew that it was the most fulfilling thing I had ever done or ever would do.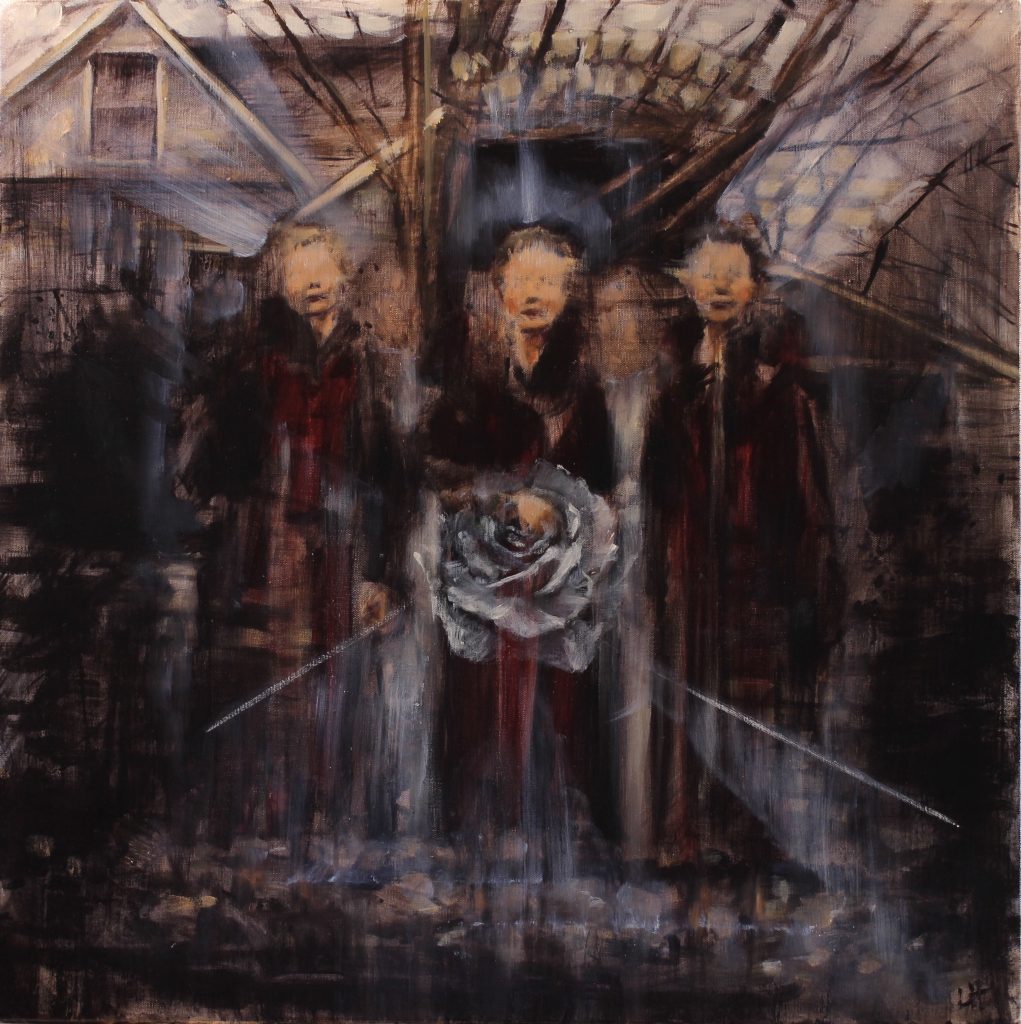 What is your ideation process? What does creativity look like for you?
I have two different processes I engage during my ideation process depending on what work I'm doing.
My work based on historical events and or movements begins with researching that event and all things relevant to it. I then hone in on specifics of that event and source my imagery from photos of the people or environment. The photos I use are often simply a record, evidence that this event, this person, this situation did in fact exist. I sit with this, I examine what the repercussions are today and how people view this past event. I look for the common denominator that I and those within my world today have with those in the past. It's a practice of sitting in empathy with the past. Then I paint.
The work I do that is not inspired by historical events and figures is actually done much the same way and with very much the same energetic concept. I use found photos for these and occasionally an old photo from my own family. I prefer to use photographs predating the 1970's. My current muse in this thread of work is an album from the early 1900's and another that spans the 40's to early 50's. What is different from the historically inspired work is that there is no written record and I'm left with simply the visual evidence to build this inner dialogue around before I paint the photo. I mull over the expression, the environment, any other photos in the collection, try to determine the date if it isn't written on the photo and study what the state of affairs were in the world at the time. There is a bit more detective work which I enjoy. With no written or audible record so much more is left for the imagination and subconscious to fill in. Then I paint.
For both processes I believe one of my greatest goals is to be able to commune with the people in the photograph and behind the camera. Empathy, compassion, understanding, knowledge and awareness- all of these things are precious to me and I find them when I do the painting and the result is a piece that I hope does the same for others as they experience seeing it. When I paint a photo it is to layer on an experiential aspect to the original image and a whole new image is created. I realize it sounds quite metaphysical and even transcendental. Perhaps it is just that. I try not to overthink it.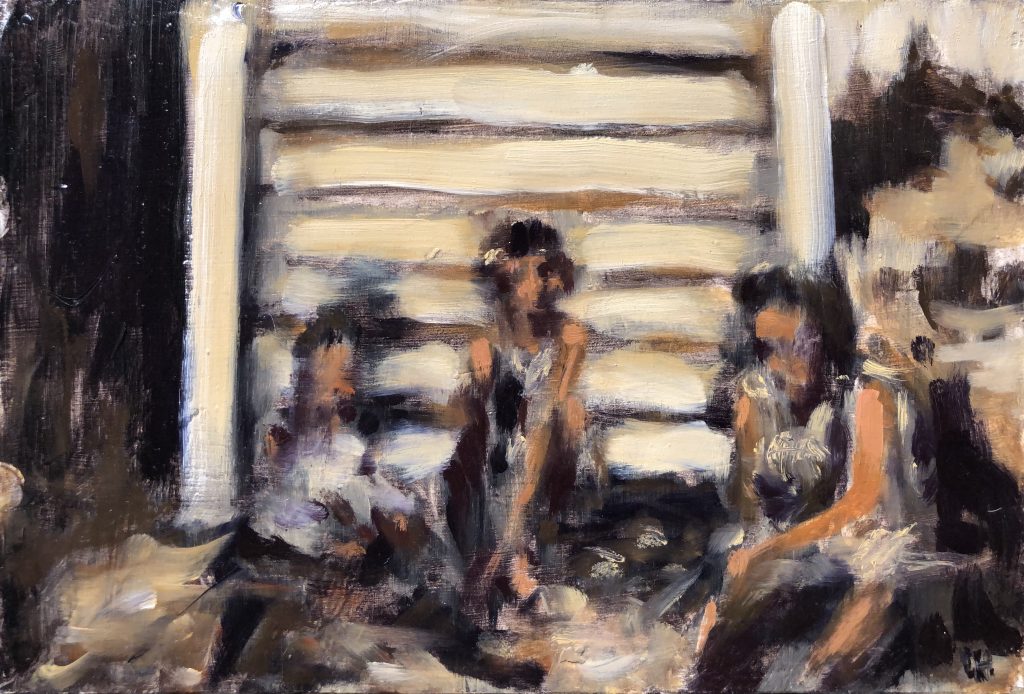 What is your daily routine?
It varies so much these days and I know I'm not the only one having to roll that way these days. I do know at some point in a week my days include (always) my daughter Stella, online school supervision or delivering to the actual school, office work, emails, project planning, research, painting, meditation, exercise, hiking, hopefully more painting, friends, little more family, lots more painting and even more Stella.
Could you describe your most recent work with the Mother Jones Heritage Project?
I just finished a portrait of working class hero and union organizer and leader Fannie Sellins who was murdered in 1919 by violent guards hired by the coal company to quell a strike. I was commissioned for this painting by the Mother Jones Heritage Project and the government of Ireland. We did a sort of unveiling of it online on Labor Day. Because of COVID the exhibit it is part of at the St. Louis Public Library has been postponed, but it will happen eventually. I did an interview with historian Rosemary Feurer discussing Fannie's life and I'll refer you to that for the best description of who she was. It is posted on my Instagram and website.
I had not painted a more classic styled portrait in several years and the decision to return to this approach came while researching and ruminating on how to approach this piece. I've often seen the portrait of Elsie Palmer by John Singer Sargent in the FAC and stood in awe of it. I considered the time it was painted and the contrast of the "elite" at the turn of the century who were hiring Sargeant to do their portraits and the factory and mine workers toiling away from dawn to dusk just to put food on the table and wake up the next day to do it again. I decided to take the portrait photos of her, overlap the two of contrasting ages and take a more traditional approach. I imagined holding her in as high of esteem as any rich daughter or wife at the time who never had to work a day in their life. I believed she deserved as much consideration of beauty and representation as those women.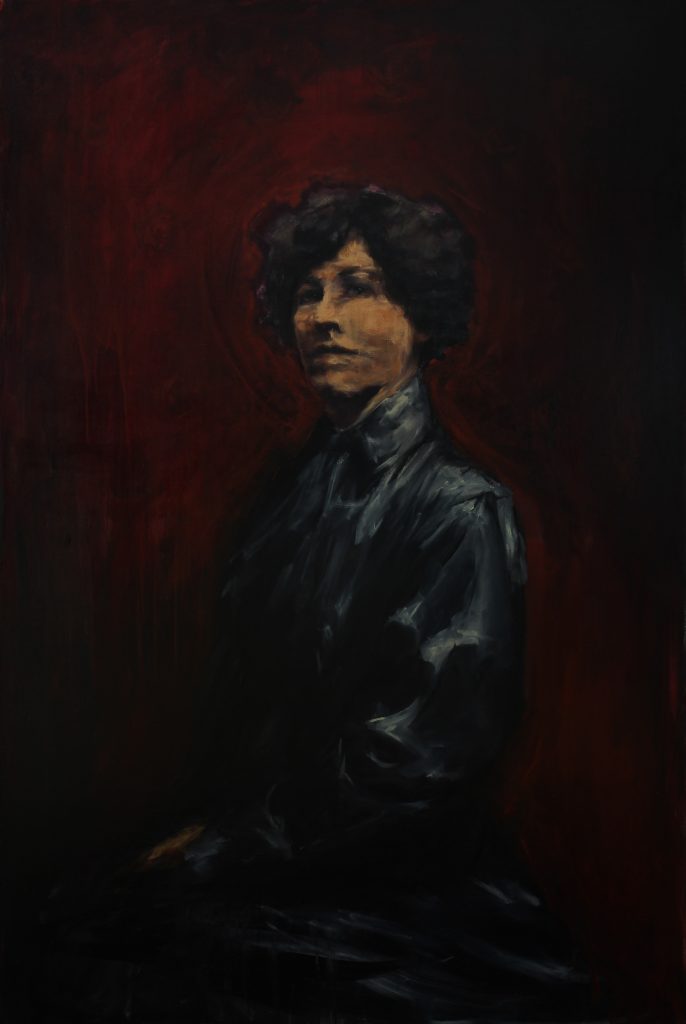 What do you value most about your creative communities?
Nurturing in my daily life and work is what I value most in reference to the work artists in my community are doing. For an example, as I answer these questions I'm listening to Untitled Monolith by Colorado Springs' Mobdividual and its adding a great vibe. Scrolling down on Bandcamp I see he mentions Alex Koshak with such gratitude. I like that, when I see other artists in my community connecting to each other.
I have a piece on my wall that Neil Fenton did of a friend of his a while ago. Years after buying the painting I met her and became incredibly close to her. She passed away in March and the painting has become even more dear to me and is quite comforting. This is such a powerful example of art connecting and healing community.
Since March I've missed my community interaction with the kids from the Griffith Center, their teachers and the lovely folks at Bemis. I instruct (restarting with a social distance plan soon) a class through a program at Bemis with these awesome kids who are transitioning out of detention or incarceration facilities. Seeing the power of art working in their lives is so heartening to me.
How does art navigate the spaces that exist between people? How do you navigate the spaces that exist between institutions (like museums/galleries) and artists?
Exhibiting art at historical institutions I felt intersected many people who may not have been likely to overlap all in one space otherwise. For example, with the Mother Jones Heritage Project its speaking to history enthusiasts, workers rights activists, pro-union working class, descendants of coal miners, factory workers and of course the arts community.
My most current project, which has been in the research phase to different degrees for the past four years will be connecting quite a wide range of institutions and communities I've barely interacted with in my lifetime and I look forward to expanding every level of my life's connections through this project. It will likely end in a connection of these various entities to galleries or a curated collaboration with an institutions space. It is a research and advocacy fueled production and I'm very excited to finally be in the painting phase.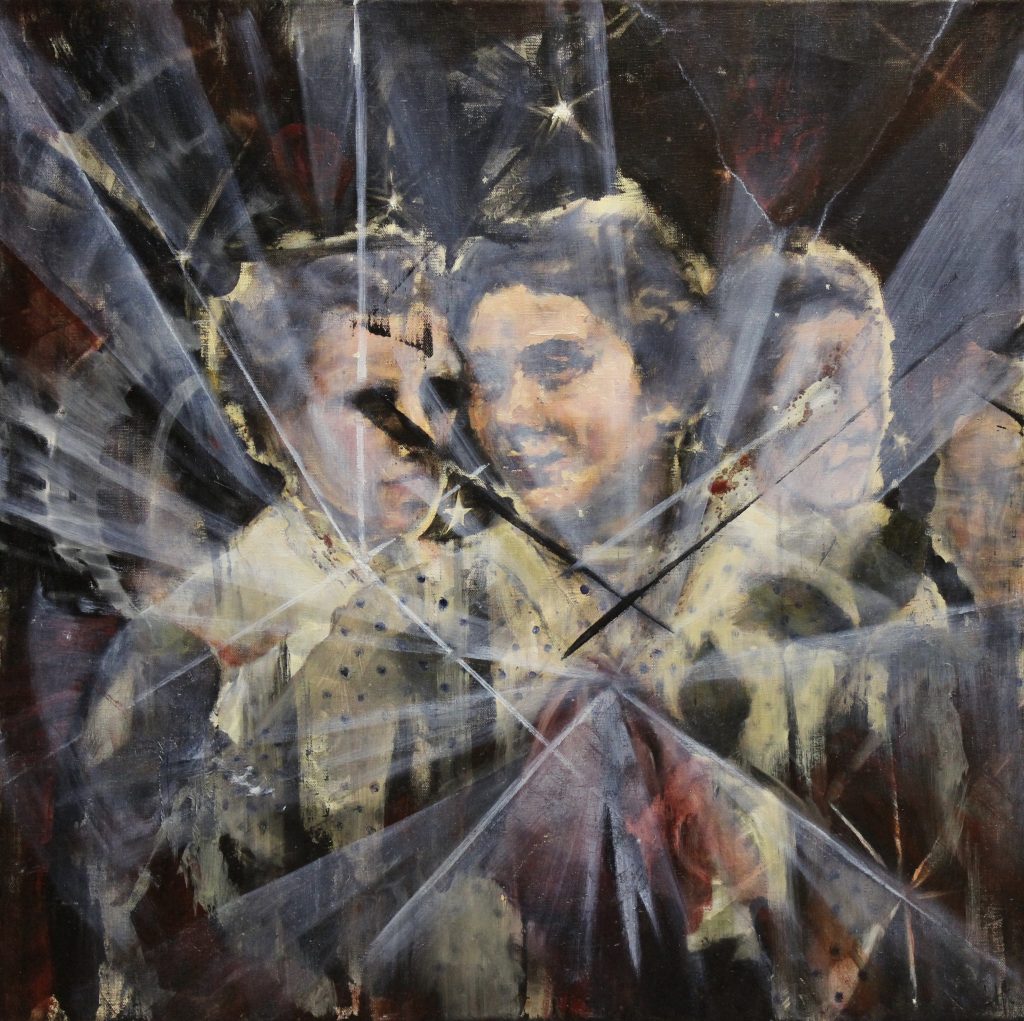 If you could collaborate with anyone in time and space, who would it be, and why?
I'm pretty happy with the collaboration I'm working on right now and I don't think I can come up with anything I'd rather be doing at the moment. I will be doing a full installation in equal effort with multiple creatives for a multi sensory experience.
How is your studio practice responding to our current moment?
The amplification and blasting presence of Black Lives Matter this summer in the wake of the public execution of a black man and the subsequent movement exposing the level of overt racism that exists in our country has greatly affected everything in my life which is essentially my studio practice. I've spiked back and forth through phases of reactive outrage, activism and back to realizing I need to be still and listen more. I HAD considered myself as more aware than most white people to the level of the insidious rot of racism in the US and had also apparently thought I was doing enough about it. I no longer agree with either of those assumptions. I knew it was BAD, bad… god help us, it is far beyond the worst I had imagined. To face my ignorance as a human is to face a great void in my voice as an artist.
I want to encourage all people to purchase work from black artists. Invest in work that is representing the Black Lives Matter movement in all its glorious power at this remarkable moment in history created by black artists. Actively seek to support business' owned and operated by BIPOC. If you like the vibe of my work, go to my Instagram page where I've posted artists who's work has energy and imagery I coincide with as an artist and/or viewer that I'm sure you would enjoy. They have prints and work available for purchase and the holidays are just around the corner! If you aren't in the market to purchase don't just follow and enjoy but repost and share with your friends.
The movement has also brought a realization to pump up and amplify aspects to the group project I'm involved in. It has added a sense of urgency to certain chapters of the work which address issues of racism. It is a very socially engaged body of work, presented by a powerful balance of women from all backgrounds. It is still very much on the down low but I look forward to sharing more soon.
My past historical work I am definitely examining with a more ruthless edge. I could go on and on. And don't even get me started on art history. I've been letting a lot of heroes fall this year, and that absolutely has repercussions in my work. (Portrait of Bobby Kennedy put on hold). Directions I may have taken had I not started a more thorough examination of EVERY resource from the history books are no longer an option as my eyes are being opened to how very whitewashed history is. I was raised with a very edited, conservative and biased education so I just assumed that the significantly more honest secular historical community was mostly free of such deception besides the obvious bigots. Assumptions. I'm learning not to presume so much and I'm pretty humbled by learning how presumptuous I have been.
COVID changed much about my studio practice. My daughter's father was laid off from the restaurant industry so we decided it best if we combined our resources until life went back to "normal" and he moved into our apartment. This meant moving my studio into my bedroom. It worked ok for a bit, but when a friend asked if I wanted to share her large open space my dragging productivity spiked. I simply didn't have the space to step back and work on larger pieces I had started before quarantine, particularly the MJHP commission. That being said, I'm really grateful for all the options we had that many have not. The fact that Stella's dad and I are great friends and could be roommates and the opportunity to rent a beautiful large shared space to work in I am deeply grateful for. Drew has also really helped me get over some major hurdles my OCD (emphasis on contamination) presented when the pandemic started. I am very grateful and relieved I've been able to calm it. It was strongly interfering in productivity and quality of life.
What do you hope that people take away from your work?
Awareness. I think that word touches about every type of energy I hope people tap into when they see my work. Healing and hope… and more, but first there is awareness. People often tell me my work is dark.