Sashay
June 22, 2019, 7-11 p.m.
Join us for an evening of exceptional design, cocktails, appetizers, music, and entertainment!
Launched in 2015 with a runway show of garments in the style of artwork by Georgia O'Keeffe, Sashay is back, this time featuring unique wearable art pieces inspired by World of WearableArt™ (WOW). The traveling exhibition that will grace the galleries of the Fine Arts Center this summer draws from WOW's New Zealand museum, boasting a permanent collection of the international competition's winners and finalists over the last 30 years. Join us for an evening of exceptional design and dress to impress in your most outrageous and creative attire!
Fine Arts Center Members who attend Sashay will receive a reusable FAC stemless wine glass and a free drink! Not a member? JOIN
Sashay Jurors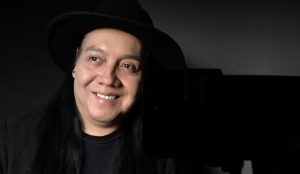 Virgil Ortiz
Virgil Ortiz moves into a new era combining art, décor, fashion, video and film. One of the most innovative potters of his time, Ortiz's exquisite works have been exhibited in museum collections around the world including the Stedelijk Museum- Hertogenbosch, The Netherlands; Paris's Fondation Cartier pour I'art Contemporain; the Smithsonian Institution's National Museum of the American Indian; the Virginia Museum of Fine Art; and the Denver Art Museum.
In October 2018, Colorado Springs Fine Art Center opened Revolution — Rise Against the Invasion, a continuance of Ortiz's epic story arc, Revolt 1680/2180, a mash-up of Puebloan history interpreted with sci-fi fantasy iconography relatable to Native and non-Native youth alike. Its theme is one of justice, of reversing the oppression of the Puebloan world by the Spanish invasion. The events of the Pueblo Revolt are little known among most Americans today; however, it remains a vital part of Pueblo history.
Pueblo culture is reflected in the design components that reach past a traditional Ortiz sculpture and delves right into the world of high fashion. After a highly successful collaboration with fashion mogul Donna Karan, which Ortiz developed boldly patterned textiles based on his graphic decorative painting, Ortiz has since launched his own fashion and accessory lines. His designs are captivating, provocative, and edgy thus creating the high demand for his sharp laser-cut leather jackets, swinging taffeta skirts, cashmere sweaters and silk scarves echoing the voluminous contours and sinuous motifs of Pueblo pottery showcasing the richness of indigenous high fashion.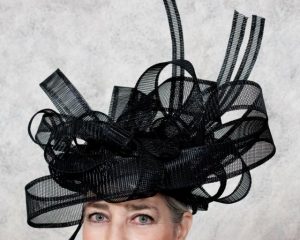 Gypsy Ames
An award winning designer for theatre, opera, dance and performance art, Gypsy Ames has designed over 340 productions during her career. Credits include The Girl of the Golden West for Theatreworks, and The Long Christmas Ride Home for The Colorado College.  Her performance art costumes have been exhibited in galleries and live art venues around the country. Recent pieces include Hope, part of the "Artists in Action" exhibit at the Manitou Arts Center, and The Starry Night, for The International Costumer's Guild national competition in Charleston, NC, where it won a "Best in Class" award.  She was one of 4 featured artists included in the "Brilliant" galley exhibition and live art ramp show presented by the Gallery of Contemporary Art (GOCA). She is currently on the faculty of The Colorado College, where she teaches costume design and designs productions for the Theatre and Dance Department.

Karen Holloway
Karen Holloway is an award winning apparel and costume designer. She has designed and built costumes for stage and film and loves to teach when the opportunity presents itself. She enjoys using beautiful fabrics, trims, and accessories in  her designs to tell compelling stories, whether in a stage production, dance performance, runway show, or wedding. Karen believes the costume is as vitally important as any other component in building a production.
She is a graduate of Colorado State University in Fort Collins and spent several years on the East Coast where she also studied courses at The Fashion Institute of Technology while working in the apparel industry. Karen has been featured in several magazine publications as well as involved in numerous fashion shows throughout Colorado and New Mexico as an organizer as well as a designer.
Sponsors
The John and Margot Lane Foundation
The Anschutz Foundation