Group TOURS
Group tours can be scheduled on Tuesdays or Wednesdays and run approximately 60 minutes in length. Requests for group tours must be submitted 15 business days in advance of the requested tour date and are subject to availability. Minimum group size is 10 people.
Tours cost $4 per person plus museum admission. Self-Guided tours are free with museum admission.
Museum Tours
Take a tour focusing on highlights of our museum.
Theatre Tours
Experience a rare, behind-the-scenes look at our historic 400-seat theater and production spaces. Visit the prop, scenic and costume shops, where we make almost all of the elements you see in our stage productions. Go backstage (and even under the stage) to learn about the theater's rigging and fly systems. Tours also include elements of theatre and architectural history.
Architectural Tours
Take a tour focusing on the rich architectural history of the Fine Arts Center and its designer, John Gaw Meem. Learn about the amazing building features always on display.
Self-Guided Tours
Experience our world-class museum at your own pace. Self-guided tours for groups of 10 or more are free with museum admission.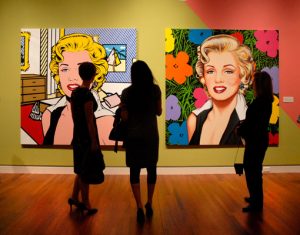 Schedule a Tour
Number of people
Date and time (2 options)
Type of tour
Requests must be submitted 15 business days in advance of the requested tour date
Dates are subject to availability
Museum tours are held in the afternoon and last 60 minutes
Theatre tours are scheduled by request on a case-by-case basis and last 60 minutes