Creating Extraordinary Experiences
We believe the arts are a critical part of any community. Building upon our history as a cultural pillar, the Fine Arts Center strives to inspire community vitality through performing arts, visual arts and arts education.
Mission & Vision
The Colorado Springs Fine Arts Center at Colorado College provides innovative, educational, and multidisciplinary arts experiences that elevate the individual spirit and inspire community vitality. The Fine Arts Center provides visual arts, performing arts, and arts education to the entire Colorado Springs community and is a valuable resource for students and faculty that furthers the educational mission of the college.
Our aim is to create a national model of distinction for an arts center that joins with a college to serve the campus, the community, the region, and the world. This model should be a public access point to diverse educational and cultural experiences for the FAC, the college, and local, national, and international communities.
Core Values
As members of the Colorado Springs Fine Arts Center at Colorado College community, we share a commitment to:
Facilitate cultural enrichment, discovery, and learning through the arts
Foster innovation
Embrace and deliver diverse programming for our spectrum of audiences
Create a sense of welcome, belonging, and equity for everyone
Be a leader and a collaborator in the arts and culture community
Encourage dialogue and exploration of multiple perspectives
Produce and deliver excellence
A Rich Past. A Bright Future.
The Colorado Springs Fine Arts Center at Colorado College grew out of and expanded on the mission of the esteemed Broadmoor Art Academy, established in 1919, to become one of the only multi-discipline arts institutions in the nation.
Today we remain an amazing rarity — a museum, theatre and art school, essentially an entire arts district, under one roof. And we go well beyond what you'd consider the boundaries of those disciplines, offering special performances in our galleries, new works in our theatres, extension of arts experiences out into the community, and special engagements for students of all ages that take them inside the process of creating the arts.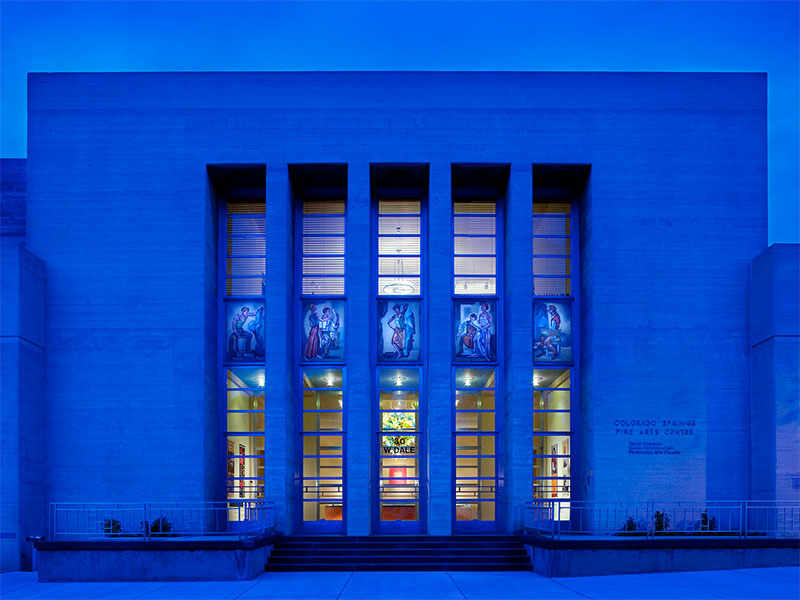 FAQs
From food to photos, find answers to the questions we get most often.
Get answers

FAC in the News
Articles and stories from right here at home and around the nation.
Read the buzz

News & Media
Press releases and the latest happenings at the Fine Arts Center.
Get the news
Sponsors