Creating Extraordinary Experiences
We believe the arts are a critical part of any community. Building upon our history as a cultural pillar, the Fine Arts Center strives to inspire community vitality through performing arts, visual arts and arts education.
Mission
We celebrate and challenge our understanding of place, uplift artists from the past, present, and future, and amplify art's capacity to shape our work and inspire new possibilities.
Vision
We aim to foster connections among communities through integrated multi-disciplinary art experiences.
We believe in
Engagement — increases visibility, access, and understanding and empowers communities to have input over decisions that affect their lives and their community.
Making — a process that generates ideas and brings them into being.
Cultural Stewardship — employs practices that take responsibility for preserving the value of cultural works, objects and experiences.
A Rich Past. A Bright Future.
The Colorado Springs Fine Arts Center at Colorado College grew out of and expanded on the mission of the esteemed Broadmoor Art Academy, established in 1919, to become one of the only multi-discipline arts institutions in the nation.
Today we remain an amazing rarity — a museum, theatre and art school, essentially an entire arts district, under one roof. And we go well beyond what you'd consider the boundaries of those disciplines, offering special performances in our galleries, new works in our theatres, extension of arts experiences out into the community, and special engagements for students of all ages that take them inside the process of creating the arts.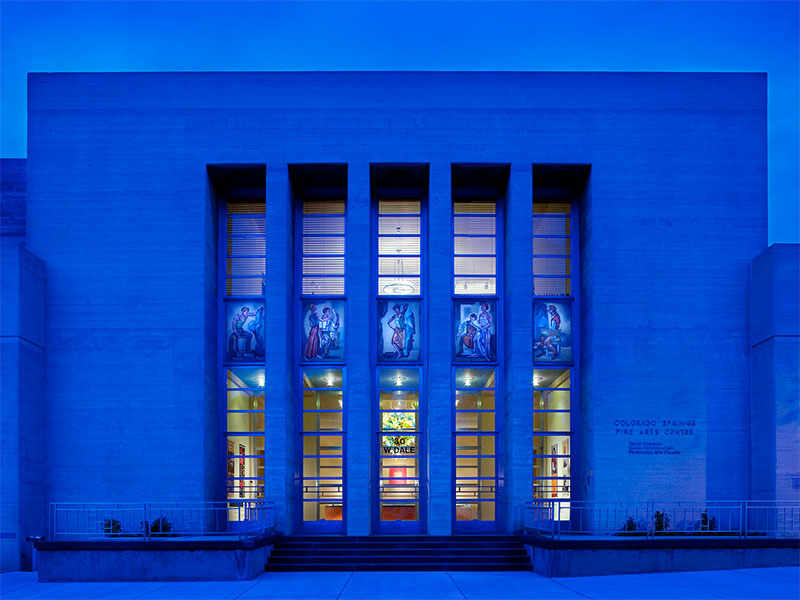 FAQs
From food to photos, find answers to the questions we get most often.
Get answers

FAC in the News
Articles and stories from right here at home and around the nation.
Read the buzz

News & Media
Press releases and the latest happenings at the Fine Arts Center.
Get the news
Association Memberships
American Association of Museums
Association of Academic Museums and Galleries
Museum Hue
Western Museum Association
Mountain-Plains Museum Association
Colorado/Wyoming Association of Museums
Chronicles of Philanthropy
Pikes Peak Art Council
Mountain-Plains Museum Association
Colorado/Wyoming Association of Museums
Chronicles of Philanthropy
Pikes Peak Art Council
Land Acknowledgement
Colorado College occupies the traditional territories of the Nuchu, known today as the Southern Ute Tribe, the Ute Mountain Ute Tribe, and the Northern Ute People, who lost their beloved homelands due to colonization, forced relocation, and land theft. Other tribes have also lived here including the Apache, Arapaho, Cheyenne, and Comanche — and notably, continue to do so, along with many other Indigenous Peoples. To actively seek social justice, we acknowledge that the land continues to hold the values and traditions of the original inhabitants and caretakers of this land. We pay honor and respect to their ancestors, elders, and youth — past, present, and future.
Sponsors