Youth Rep Ensemble
A professional training program for student actors and design technicians in the Pikes Peak region.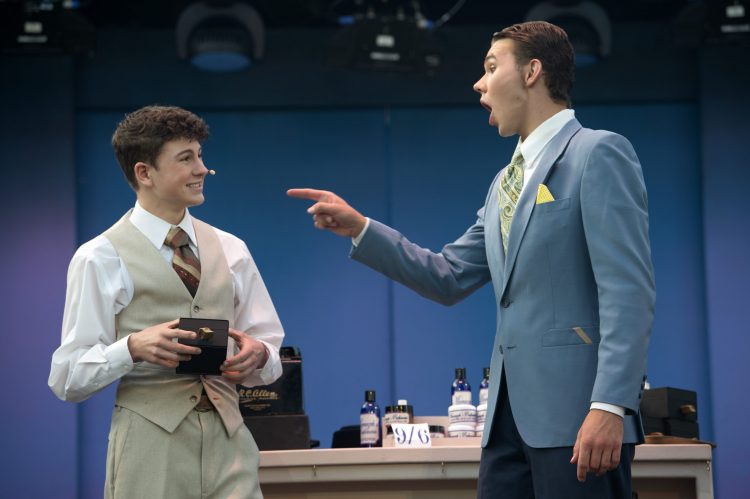 Details:
Ages 14-18
Five-week intensive June 26–July 30, 2023
Show: Footloose (Runs July 27–30)
$1050 ($1000 FAC members)
The Fine Arts Center Theatre Company offers students interested in pursuing careers in performance and/or design & technical theatre a five-week intensive training program. Youth Repertory Ensemble is an inclusive, safe and supportive space for students looking to explore and experiment with the theatrical form through a carefully designed combination of rehearsals and class work. The performance and technical tracks of the program have been designed for both new and returning students in order to develop basic skills as well as foster continual learning and growth.
All students will work with a qualified and professional teaching staff, choreographers, directors, and designers whose focus is helping students learn as much as possible during their five weeks in residence at the FAC.
Students accepted into the Youth Rep Company (both Acting and Design/Technical tracks) are eligible to apply for financial aid. Please email Chris Sheley for details.
General Information
The program begins June 26 and runs through July 30, 2023.  A complete calendar will be distributed to students upon receipt of their registration materials.
Classes, workshops, and rehearsals are currently scheduled from 9 a.m. to 5 p.m. Monday through Friday for the first three weeks of the program. Lunch break is from 12–1 p.m. Students provide their own meals. (We will switch to evening rehearsals on July 21)
All schedule conflicts must be approved prior to registration. We expect all students to be present and prepared to begin on time for all classes, rehearsals and performances. The intensive nature of this program does not allow for excessive absences.
Design/Technical Track Details
Classes and training for Technical Theatre Students may include the following:
Art theory and criticism
Script analysis
Scenic, lighting, costume, and sound design
Makeup and hair design
Stage management
Scenic painting techniques
Rigging
Theatre carpentry
Costume construction
Use of hand and power tools
Portfolios and resume writing
Scholarship and college pursuit
The Youth Rep Technical Theatre program provides students the opportunity to be trained by working professionals for a career in live theatre.  It offers students an intensive, vocational program of study in technical theatre.  Students will be able to immediately utilize the skills they learn as they design elements of the show that is performed at the end of the program.
As part of the program's core, students are in direct contact with the technical theatre instructors throughout the day. We keep the number of students in the program low so all students have ample "face time" with the instructors, as well as the opportunity to learn through a master/apprentice approach to training.
Introductory and advanced studies in the theory and practice of technical theatre are offered.  Both are designed to challenge creativity, encourage development of problem solving skills, and prepare students for a career in the technical crafts of the entertainment industry.
Upon completion of the program, students will have the technical theatre skills necessary to participate as paid interns for upcoming Fine Arts Center Theatre Company main stage productions.
Apply for the Technical Track Program
Design/Technical track applications will be accepted through June 1.
Performance Track Details
Performance Students will receive training in various areas, which may include:
Monologue and scene study work
Voice and diction
Vocal performance
Dance: tap, jazz, modern, hip-hop, ballet
Audition techniques: dramatic and musical
Play script analysis
Theatre history
Collaborative process
Poetry
Voiceovers
Directing
Choreography
We believe that the study of the theatre is the study of the human condition. In the performance track at Youth Repertory Ensemble, students will work on the fundamentals of theatre as well as learn how to collaborate, deepen empathy, lead with kindness and take space with confidence. The performance track also has a long history of preparing students for a professional acting career. Many of our alumni have been seen on the Fine Arts Center stage in our Mainstage productions and have gone on to pursue higher education in some of the best training programs in the country. Our qualified and professional teaching staff members are successful in their chosen field and are able to communicate their experiences to others. The performance program combines classes, studio work, and labs with individual attention and mentorship from these working professionals. Students are also able to experience rehearsals and performances under the guidance of the staff. We believe that this kind of immersive training in various skills and techniques along with a professionally directed performance experience prepares students who may choose this art form as their profession.
For the performance track auditions, you will need to bring a headshot or recent picture, resume and prepare a 32-bar selection of a musical theatre song with sheet music for the accompanist and a short (under two-minute) monologue, both memorized.
We are still accepting video audition submissions. Follow the directions on our audition webpage.
Send your video or a link to your video to Chris Sheley: csheley@coloradocollege.edu