Explore our Collections
Founded in 1936, the Museum's permanent collection of over 20,000 objects showcases the rich history and vibrant contemporary cultures of the Southwest and the Americas. Our robust exhibition program brings a wide variety of art experiences to Colorado Springs.
Our collection contains works of art from Native American (Pueblo, Plains, Plateau, and Great Basin cultures),
Hispanic and Spanish Colonial, and 20th Century American art.

Image above: Glenna Goodacre, The Basket Dance, 1987 (detail)
Explore our digital resources for K-12 teachers and parents here:
eMuseum
We're taking our museum collection online!
Thanks to a major grant from the Institute for Museum and Library Services (IMLS), the FAC Museum is in the process of digitizing our renowned permanent collection to improve public access and foster research, teaching, and engagement with this wonderful collection of art.
Online Database
Since 1919 the collection has grown through gifts, bequests, and strategic purchases, with particular depth in art of the American Southwest and the Colorado Springs region. As an academic museum, we are committed to supporting teaching, learning, and active engagement with the collection. The museum launched this online database in December 2019, with the goal of making its collections widely accessible and available to the public. On this site visitors can search and explore the collection. Check back periodically to browse new entries in this ongoing project. Some data may change as a result of current research.
Mural Art at the Fine Arts Center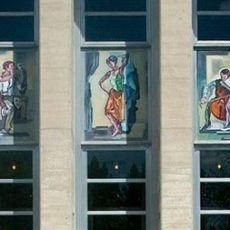 Entrance Façade
Boardman Robinson
Untitled, 1936, Fresco
Restoration by Eric J. Bransby (born 1916), 1985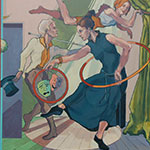 Smith Family Gallery
Eric J. Bransby
Fine Arts Center 75th Anniversary Mural
2012, Acrylic on panel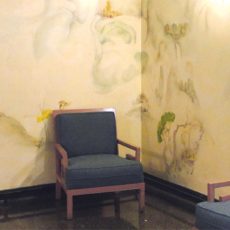 Lower Level
Archie Musick
Untitled, 1936, Dry pigment and pencil
Restoration by Mary Ann Bransby, 1985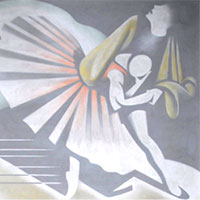 Taste Restaurant
Kenneth Adams
Dancers or The Ballet, ca. 1936, Oil on canvas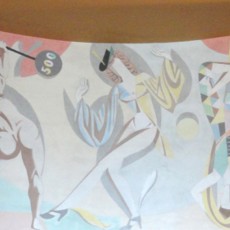 Taste Restaurant
Andrew Dasburg
Untitled, 1937, Fresco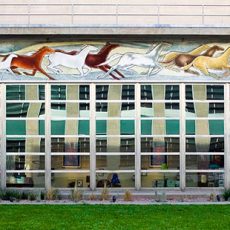 Courtyard
Frank Mechau
Wild Horses, ca. 1936, Fresco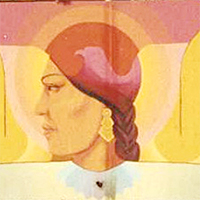 Parking Lot
Emanuel Martinez
Arte Mestiza, 1986, Acrylic on concrete
Gift of the Hispanic Arts Council
Sponsors