A Mission to Support and Enhance Teaching and Learning
As a community of scholars and learners, Colorado College continually seeks to develop active, collaborative forms of learning that augment the opportunities for deep engagement afforded by the Block Plan. To nurture innovative teaching strategies at the College, the Fine Arts Center Museum is committed to providing faculty with personalized support to develop innovative approaches to teaching using the Museum's resources. The Museum engages with the curriculum in all divisions through a vibrant program of exhibitions, class visits, skill-building exercises, museum-based courses, student assistantships, and faculty workshops. The museum staff is committed to supporting teaching across the college, through professional development for faculty, opportunities to link museum programs to courses, support for class projects in the museum, and opportunities for research in the collection.
Guiding Principles:
The development of visual literacy and observational skills are essential components of a liberal arts education; these abilities support and enhance learning across disciplines;
Working with original artworks and cultural objects within the Museum complements the ways in which students work with primary sources in other disciplines, such as laboratory experiments, field work, and textual analysis;
Experiences within the Museum can provide safe spaces for intellectual risk-taking and personal growth, and offers new ways to engage all students — even those who rarely participate in classroom discussions;
Facilitated encounters with original works of art enhance creative and critical thinking by inviting students to reframe their understanding of a subject or apply prior knowledge to a new situation.
To schedule a class visit to the Fine Arts Center Museum for guided in-person or facilitated virtual sessions, please complete the Class Visit Request Form.
Student Guide Program
In line with education theory and practice, the Student Guide Program was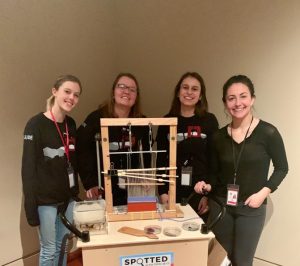 developed to support museum visitors' experiences through multiple modalities: intellectual, sensory and emotional. Student Guides moderate challenges for visitors, increasing the likelihood of a richer experience with an exhibition, taking visitors beyond their preconceived notions (such as the expectation that patrons "should" get something specific from a work of art).
As a cohort, student guides learn from and support one another in the process of their work and other activities. Through group affiliation as well as through interactions with visitors, student guides develop understandings of relatedness and connections. By facilitating explorations in the museum, student guides help inspire visitors to see the relations between the exhibitions, themselves and the cultures and societies around them.
Unblocked Gallery
This teaching and exhibition space within the Museum is available to CC faculty in all disciplines who wish to build sustained engagement with material and visual culture into a Block course. Unblocked Gallery projects may include: mini-exhibitions of objects pulled from the Museum's permanent collection; student research and/or creative response to objects; iterative displays wherein objects may be re-ordered or reinterpreted to create new curatorial narratives, or student research is continually added and modified; or the creation of a gallery/laboratory setting in which research on the composition, history, or condition of objects is conducted and information shared with the public.
Visiting Artists and Scholars
The Museum brings artists and scholars from the region and from around the world to share artwork, conduct research, perform, lecture, and engage with students. Often visitors are available to visit classes, conduct critiques of artistic or scholarly work, or work on collaborative projects with students. Museum staff can assist in coordinating these kinds of engagements.
Museum Faculty Fellows Program
Awarded through a proposal process on a yearly basis, Faculty Fellows conduct research or work on projects that take advantage of the possibilities of the Museum and the Southwest collection for research and teaching. Desired components include: interdisciplinary approaches and topics; a collaborative approach to project development; incorporation of diverse perspectives; use of innovative pedagogies; and experiential course components.
Collections Access and Research
The Museum collection comprises over 22,000 objects, with rich holdings in American Art; Modern and Contemporary Art; and historical and contemporary art and cultural objects from the Southwest region. With advanced notice and planning, Museum staff will make specific objects available for study within collections classroom sessions (maximum 12-15 students) or for research by individual students within an approved course. Students may be trained in basic objects handling under the supervision of Museum staff and the course professor.
Sponsors