STAFF, Advisory BOARD & EMPLOYMENT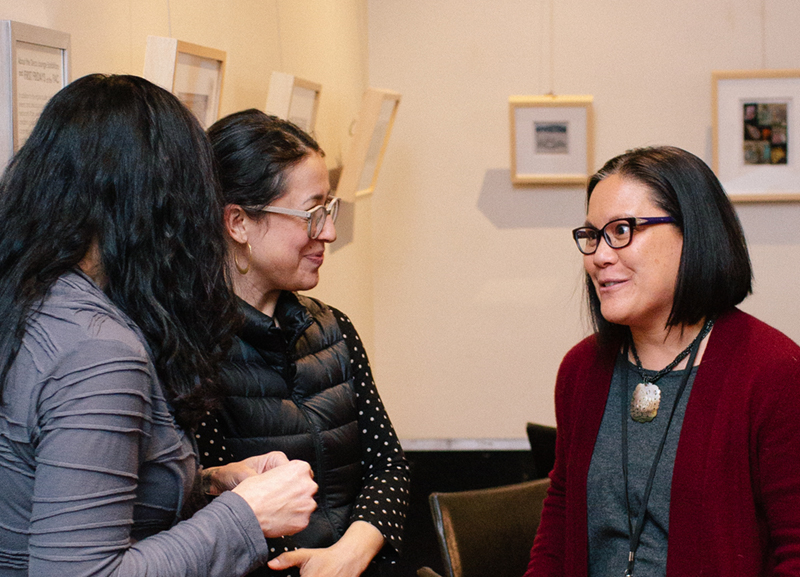 Here you'll find not only our current Fine Arts Center staff, you'll also find our Advisory Board, the men and women who provide the highest level of governance to this organization.
The FAC is proud to be an equal opportunity employer, and we are constantly looking for new talent — actors, artists, executives, interns — to join in our efforts to provide quality arts program to the Pikes Peak region.
Like most non-profit arts groups, we rely on the generosity of volunteers to help as docents, ushers, poster distribution people, and more. We consider your time and effort precious resources, and they're essential to our mission.
Staff
ADMINISTRATION
Idris Goodwin, Director
Cathy Gillis, Administrative Assistant
(719) 477-4357
Maria Capp, Operations Manager
(719) 477-4375
Julia Barrett, Assistant Director of Events
(719) 477-4350
ADVANCEMENT
Laura Hines, Associate Director of Corporate and Foundation Relations
(719) 389-6892
Samilja Heim, Development Director
(719) 477-4317
Kim Sweeney, Membership Manager
(719) 477-4390
Jean Truty, Patron Stewardship Specialist
(719) 477-4379
BEMIS SCHOOL OF ART
(719) 475-2444
Tara Sevanne Thomas, Director
(719) 475-2444
Jeremiah Houck, Assistant Director
(719) 477-4358
James Howard, Ceramics Program Coordinator
(719) 477-4318
Lindsey Laveirge, Administrative Assistant
(719) 475-2444
COMMUNICATIONS
Dori Mitchell, Director of Marketing & Communications
(719) 389-6771
Michelle Winchell, Media Relations & Outreach Specialist
(719) 389-6770
Serena Wolford, Graphic Designer
(719) 389-6793
MUSEUM
Rebecca Tucker, Ph. D, Museum Director
(719) 477-4311
Stormy Burns, Administrative Assistant
(719) 477-4323
Kris Stanec, Director of Museum Education, Senior Lecturer
(719) 477-4313
Polly Nordstrand, Curator of Southwest Art
(719) 477-4316
Katja Rivera, Curator of Contemporary Art
Blair Huff, Curatorial Assistant
(719) 477-4312
Suzy M. Lewis, Curatorial Assistant
(719) 477-4300
Robyn Haynie, Registrar
(719) 477-4384
Michael Lorusso, Associate Registrar
(719) 477-4373
Austin Spiller, Digital Collections Assistant
Lauren Tyson, Special Projects Coordinator
(719) 477-4326
Jonathan Dankenbring, Exhibition Designer/Preparator Manager
(719) 477-4321
JD Sell, Museum Preparator
(719) 477-4324
Julianne Gavino, Ph. D, Curator of Academic Engagement
(719 ) 477-4319
Alie Ehrensaft, Museum Education Assistant
(719) 477-4322
PATRON EXPERIENCE
Rebecca McCaskill, Patron Experience Director
(719) 477-4361
Hannah Atencio, Tours and Group Sales Coordinator
(719) 477-4392
PATRON SERVICES TEAM
(Front Desk & Box Office)
(719) 634-5583
Claire Ashmead, Patron Services Manager
Frances Huntington, Patron Services Assistant Manager
Patron Services Representatives
PATRON EXPERIENCE TEAM
(Museum Guides & Security Guards)
(719) 477-4304
Luke Cammack, Patron Experience Manager
Patron Experience Guides
PERFORMING ARTS
Scott RC Levy, Producing Artistic Director and Director of Performing Arts
(719) 477-4336
Nathan Halvorson, Associate Director of Performing Arts
(719) 477-4340
Christina Shoemaker, Theatre Company Assistant
(719) 477-4335
Christopher Sheley, Director of Production
(719) 477-4355
Mickey Burdick, Technical Director
(719) 477-4362
Holly Rawls, Lighting Director
(719) 477-4364
Leo Haselhorst, Master Carpenter
(719) 344-4338
Jacob Keough-Mishler, Senior Designer, Sound & Video
Alyssa Washburn, Charge Scenic Artist/Props Manager
(719) 477-4327
Kate L. Ferdinandi, Production Stage Manager
Sarah Beth Parks, Costume Shop Supervisor
(719) 477-4398
Terri Harrison, Music Room Stage Manager & Audition Monitor
(719) 477-4330
Morgan Gatson, Assistant Stage Manager
Baylee Parks, FAC Theatre Company Intern
Advisory Board
Sue Allon '81
Vice Chair, Stewart Title Guaranty Company
Denver, CO
David Birnbaum  '83
Co-CEO, Griffis Residential
Denver, CO
Ron Brasch
Mergers and Acquisitions Specialist, The FBB Group, Ltd.
Colorado Springs, CO
Heather Carroll
President, Executive Director, Joseph Henry Edmondson Foundation
Colorado Springs, CO
Cynthia Chavez Lamar, Ph.D. '92
Assistant Director, Smithsonian National Museum of the American Indian
Alexandria, VA
Bob Greenebaum, Jr. '76
Executive Vice President, Swett & Crawford Group, Inc.
Chicago, IL
Benjamin Harvey '00
Wealth Management Advisor, Northwestern Mutual Financial Network
Colorado Springs, CO
Sylvia Ketcham P '21
Board Trustee, Seattle Art Museum
Seattle, WA
David Kunstle, J.D.
Partner, Lewis Roca Rothgerber Christie, LLC
Colorado Springs, CO
Anita Lane, M.D.
Physician, Touchstone Internal Medicine
Colorado Springs, CO
Jordan C LaSalle
Interim Senior Vice President of Education
John F. Kennedy Center for the Performing Arts
Chris McGarry
Arts Enthusiast and Community Leader
Colorado Springs, CO
C.J. Moore
Community Leader
Colorado Springs, CO
Ella Maria Ray, Ph.D. '85
Associate Professor of African American Studies and Visual Anthropology,
Metropolitan State University of Denver
Denver, CO
Soeren Walls '17
Google, Software Engineer
Mountain View, CA
Shawn Womack, M.F.A.
Associate Professor/Chair of the Theatre and Dance Department,
Colorado College
Colorado Springs, CO