Art School
Whatever your artistic interest, age or skill level, we have classes to drive your passions at the Fine Arts Center's Bemis School of Art. Experienced artists and art instructors, large studios, and limited class size create a motivational and supportive environment to explore and develop your talents. View New Class Levels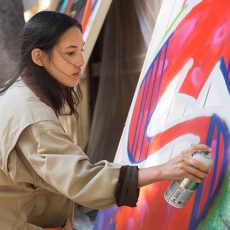 Course Catalog
We offer courses for all ages and skill levels including drawing, painting, printmaking, ceramics, mosaics, glass arts, jewelry, film photography, and more. Search, Browse, Register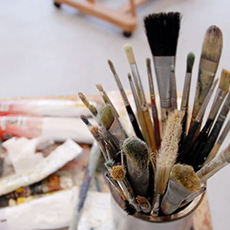 Special Programs
Our art school offers a variety of special programs independently and through community partnerships including Military Artistic Healing workshops, School District 11 Talented in Art Program, Colorado College Starting Blocks, and more.  Learn More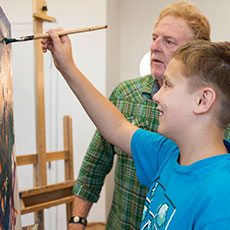 Scholarships
The Fine Arts Center's Bemis School of Art offers limited full and partial scholarships to youth and adult students with demonstrated financial need. Apply Today
EXCITING NEWS for THE FAC'S BEMIS SCHOOL OF ART

Through our alliance with Colorado College, we have the fortunate opportunity to relocate our Bemis School of Art program to the beautiful and historic Van Briggle Memorial Pottery building on the northwest edge of campus. The move will create enhanced access and visibility for the community, provide improved classroom facilities and restore the Van Briggle building, on the National Registry of Historic Places, back to public access in a similar manner in which it was originally built.
The transition will take place over the next 18-24 months with initial phases calling for Bemis programming to partially relocate to interim space later this Winter (early 2020) while the Van Briggle Building is renovated to accommodate the needs of a welcoming, accessible, well-equipped art school.
We look forward to sharing details with you as plans progress!
New Class Levels
Level A – All levels welcome.
Level 0 – This class is for the true beginner with no prior experience in the medium.
Level I – This class is for those with some familiarity with the medium. This could include informal use of medium outside of the classroom.
Level II – This class is for those who have taken at least one class in the medium. Student should be comfortable with the basics of how to use and manipulate the medium.
Level III – This class is for those who have significant experience in the medium – 2-3 or more classes or a year or more of experience.
Level IV – This class is for those with advanced skill or knowledge in the medium. Student should be highly motivated and self-directed. Some classes in this level will require a portfolio review and/or approval of instructor.
Bemis School of Art Planning Committee Releases Long-Term Plan
The Bemis Implementation Plan Committee has wrapped up a several month-long process of planning for implementation of the program's strategic initiatives. Now, the team is sharing the bold, long-term plan for transformation of the program, which has the potential to serve as a model of innovation, education, and inclusivity in the arts.
History of the Art School
Excellence in arts education has been core to our mission since the Broadmoor Art Academy opened its doors a century ago, and our art school honors that legacy by striving to recruit instructors at the national level. Learn more
Wounded Warriors/Military Artistic Healing program is supported by Northop Grumman