Action Words
Presenting an evening of spoken word inspired by the legacy of Dr. King, here on FAC Connect.
Featuring Pikes Peak Poet Laureate Ashley Cornelius, Albuquerque Slam Champion Mercedez Holtry, and writer/activist Angela Kong (Colorado College class of 2017).
Hosted by FAC Executive Director and poet Idris Goodwin, this special event brings together three dynamic poets with ties to the region. Beaming in from three different cities, they will share original spoken word poetry inspired by the messages and legacy of Dr. King.
---
Watch a recording of the Tuesday, January 18 virtual event below
This event is part of a week-long celebration of the legacy of Dr. King organized by Colorado College. View full event list on the Colorado College website.
---
The Actions Words Series is a FAC Connect program devoted to conversation and literary arts that respond to social issues and collective conversation. Engagements range from spoken word poetry performances, to play readings, panel discussions and more.
If you enjoyed this program and would like to see more like it, please give what you can. You play a crucial role in helping us fulfill our mission of bringing world-class arts experiences and education to the Pikes Peak region. Thank you for your support!
Artist Bios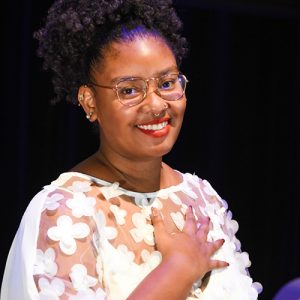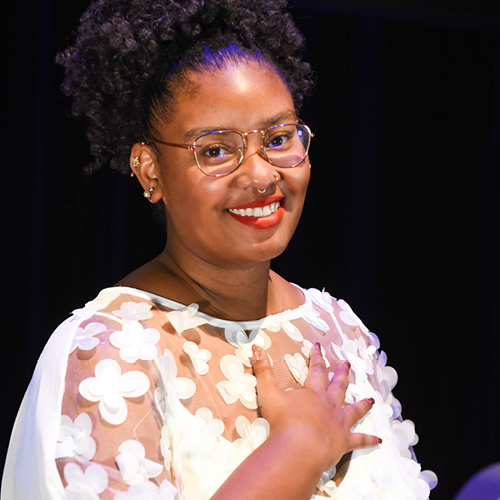 Ashley Cornelius
Ashley Cornelius is the Pikes Peak Region Poet laureate. She is a nationally recognized poet. Her poetry reflects her intersectionality as a Black woman and works towards art equity. Ashley Cornelius is a Licensed Professional Counselor Candidate (LPCC) and is the manager of the RISE program at Denver Health, providing confidential peer support to Denver Health personnel. She is a 2021 Colorado Springs Business Journal Rising Star. She is the 2019 gold winner of the Colorado Springs Independent Best of Artist Category. She competed at the Women of the World Poetry Slam in 2018. She has been featured at Tedx Colorado Springs, Pikes Peak Community College, the Colorado Springs Women's March, and the Colorado Nonprofit Association and many other stages and venues. Ashley is the Co-Director of Poetry 719, a poetry group lifting the voices of marginalized communities and BIPOC folks through poetry. Ashley is a therapist and believes poetry is a powerful modality for healing. Ashley has a background in poetry education and was the Program Director of an art nonprofit in Denver focused on poetry workshops and curriculum. Ashley is committed to using poetry as a platform to speak up and out for marginalized groups and be a voice for those who have been silenced.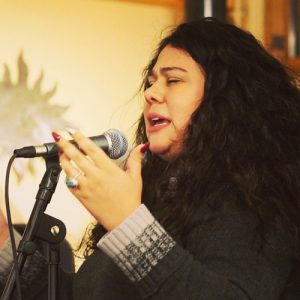 Mercedez Holtry
Mercedez Holtry is a poet, writer, mentor, and Chicana feminist who focuses on bringing out her roots, experiences and lessons learned through her poetry in hopes that they embrace her people and other artists around her.
She has represented Albuquerque in multiple final and semifinal stages for national poetry events. She is a Brave New Voices finalist (2013), a two-time finalist at the Women of the World Poetry Slam (2015, 2018), A National Group Piece Champion (2016), the winner of Modesto's "ILL List Slam" in California (2017), a featured poet in Mexico City's "Diverso" an international poetry festival embracing Mexican voices through poetry (2017), and holds multiple Albuquerque Slam Championships.
She has worked with youth in poetry workshops in multiple cities around the country including Aspen Words' "Poetry in the Schools" project since 2015.
Mercedez is not only a poet but an outreach coordinator for Warehouse 508, Albuquerque's Arts and Entertainment Center, where she organizes workshops and poetry events for youth. Since graduating from the University of New Mexico with degrees in Chicano Studies and Journalism & Communications, she continues to cultivate the poetry slam community in Albuquerque co-founding and spearheading "Burque Revolt," an intergenerational poetry slam organization that creates safe spaces for all ages.
She is passionate about spoken word and aspires to continually learn all she can about her art through working, slamming, and organizing for her community.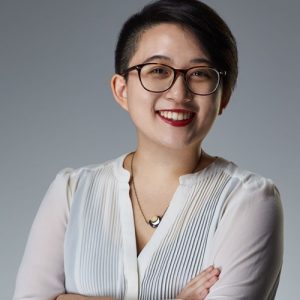 Angela Kong
Angela Kong is a Chinese American writer and activist committed to social change and awareness through photography, videography, and spoken word addressing issues such as experiences of racism, injustice, and privilege. A 2017 graduate of Colorado College, Kong currently works and lives in Shanghai.