Honoring Our Hoods
A Poetic Photographic Journey of Indigenous & POC Medicines
This project is a cross-collaboration between New Mexico and Colorado-based writers/poets and a photographer that aims to uplift our people, homes, neighborhoods, pueblos, urban gardens, communities-at-large, the distinct topography and geographies we come from, and the sister cities we belong to through Ekphrastic writing and visual imagery. The project has culminated in an online photographic exhibit accompanied by the writings of two poets laureate that represent Albuquerque and Denver. Our collaboration consists of the elements of healing, celebrating our varied cultural identities, and the enduring legacy of art in times of isolation that work to bring people together through the lens of medicinal storytelling.
Poems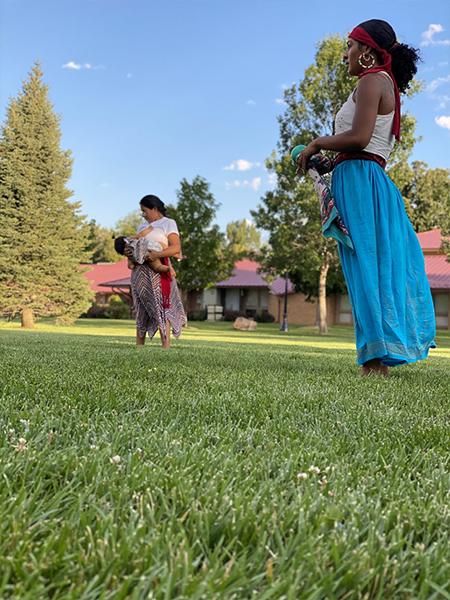 Malinalli, Goddess of Grass
Jessica Helen Lopez
Mexica skies and green slivers of grass, armed to the teeth with medicine.
Individual soldiers set aflame with the chlorophyll of the creator's breath, cradle the brown feet of mothers, magic-makers, copal-burning witchy women.
I could pull an oracle card from my kitchen table, but I know what divinity it speaks from the cloaked dark hut of the hearth of my home — it reads,
Outside, out there, is a majesty of movimiento and the modernity of tradition —
Babies still suckle the breast, pulling from the tugforce of life, echo, echo, echo
the hoodstrife of an urban landscape and the need for an oasis — sea green waves of sedges, clades and sprouted grain.
We hold in our cupped palms the forthcoming.
Here we sustain seven generations rising; find ritual in the pockets of the well-manicured parks, the cul-de-sacs, the tenements, the projects, the valleys and hills, the five-point miracle, the place where urbanity meets land-based musica – and las mujeres rejoice.
Our sashes dance in the breeze, red wind-whipped blood, tattered but still here.
Our cotton skirts fan around our thighs, brown femurs connected to hip and bone.
Our hair pulled back, testament to our battles and motherly connection to kin.
Zephyr. Gingham. Garb. Regalia. Kittel. Sacred threads and patchwork.
We rise in chorus and face the East. We are the neighborhood sirens, singing softly with tongues made of steel, obsidian, minerals of the forgotten. We are the medicine makers and melodious mamas. We hold this space for you. We always, always forage the land.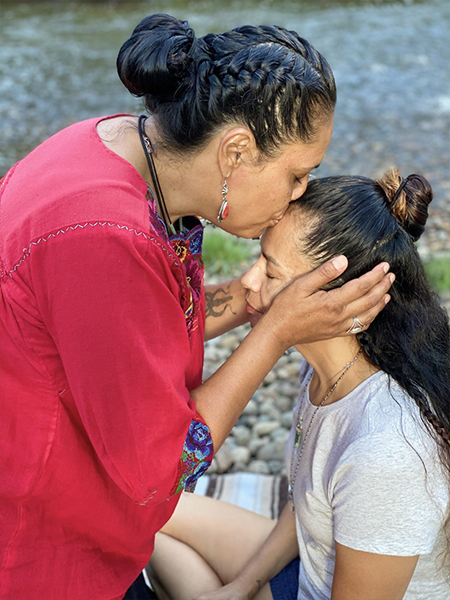 The Kiss
Jessica Helen Lopez
In the salt-soaked sweat crevices of the forefront of the crowned head, chakra-drenched in gold, I kiss you here.
Here, I leave you this receta de medicina, a version of some love letter told to me by the women before me and the women before that.
And all of the women who came before them.
Like Lucille Clifton wrote we are born in Babylon, both non-white and woman,
so this is how we must survive the 'hood, exalt our songs, all crooked
angles and sword-heavy, but soft in the way we touch each other.
Our secreted language of guerreras, gilded tongues and pouches of corn pollen adorn our neck.
For we have much to bear, pass on, and give.
Kinetic wire of transmission, magic-soaked remedios and we walk in beauty.
Or horror. Or trauma. Or lovelorn and lust. Or broken-hearted. Or hungry.
Ravenous. Raging. Relentless.
We are the dirge, the scorn, the first-born, the last-named, the stolen kiss.
The cradle. The croon. The moon. The mineral. The mothered and motherless.
Labios en la cabeza, dando la forma en que lo hacen los colibríes.
Reciprocating the way women do.
Taking and giving and taking and giving
the way women do.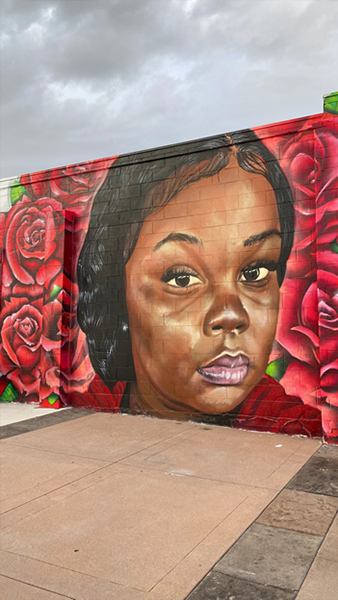 A Pantoum for Breonna
after Theodre Roethke
Jessica Helen Lopez
Was she dreaming in the moments before she died, sleep heavy memory-pulse of the brain?
And if she dreamt, was it of a rocking chair or a swing that swung in the air of her childhood?
How, in the terror of the battering ram, did she wake, guns spitting bullets her way?
And fuck a no-knock warrant and fuck their mistake, muted rage of fear, ferocity, and foul-play.
And if she dreamt, was it of a rocking chair or a swing that swung in the air of her childhood?
Did roses bloom like bullet holes from the body, vermillion and spilling onto the rug?
Did she foretell in the dream images of her deep sleep that a violent squall neared her door?
Did she wake to sleep and take her waking slow?
Did roses bloom like bullet holes from the body, vermillion and spilling onto the rug?
Eight shots, ringing, ringing, ringing, thrusting head first into the air, that dark spun night.
andthebloodandthebloodandthebloodandthebloodandthe – bright petals of a turning rose.
Did she feel her fate in what she feared and did she take her waking slow?
Eight shots, ringing, ringing, ringing, thrusting head first into the air, that dark spun night.
And how I hope her last dream she dreamt was made of light, crystal stairwell to the unknown.
And fuck a no-knock warrant, and fuck a suspect and fuck a white man's lament.
How I hoped she dreamed of something sweet, something slow. Something. Something. Slow.
The Arrest of the Paleteros
after Frank Romero
Jessica Helen Lopez
When they came for the paleteros the folx wondered at the lack of his song,
and the hood was without bells and chimes and the lilt-soft spanish dialect
of un Oaxacan tongue.
Or Zacateco.
Or Juarense.
Guanajuato.
Michoacán.
Sugar-spun fresa and the tang of lima con chamoy simply drifted by,
up into the air and disappeared,
Huitzil wings fading into the soft summer air.
The sun still blazed high.
They came for the paleteros.
They beat them with batons and bricks.
They loosened their pockets
for papeles and permits.
And the ICE agents came and came and took them away.
They took them away in cuffs. And the windowless, unmarked vans
snapped their jowls around sun-weathered bodies, their
thick brown hands, their rusted skin, deep as an oxidized stone.
The Uncles. The Grandfathers. The Fathers. The Brothers.
They took them away.
The afternoon is a red-hot scimitar, a juggler of swords.
Heat rises in bending waves from the grassless hood, and the air
stinks of black-tarred streets, of steaming pot holes.
But here comes the paletero, streamers and colored mirrors,
circus dreams and coconut slivered popsicles, coins jangling in
pockets, stashed away in hopeful socks and mamas' purses.
We ride away on the dreams of our delighted taste-buds.
Fantastic voyages of sweet summer afternoons, the way memories
should be made. We pray to these funky tabernacles on wheels, migrating
mosques of ice-blocks and frozen treats.
We all run out into the heat, hood-hubs and corner streets,
waving our dollars and cupping coins, dizzy with the chant,
the call the of paletero –
Paletas! Paletas! Paletas de Mango! Paletas de aguacate!
Paletas de fresa y crema! Paletas de chocolate! De chicle rosa!
Almendra! Amaretto! De cocoa! Paletas! Paletas!
Until the song sings like a summer hood siren, no more.
Until everyone marvels at the lack of song.
The lack of sabor en la lengua. The taste of summer
on the tongue, gone.
The bodies, the brown bodies,
the bodies disappeared.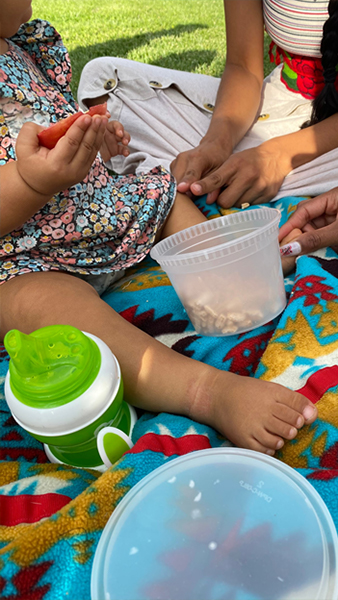 pequeñas patas/tomates/frijoles
Jessica Helen Lopez
Pies pequeños, quiero comerte
como un banquete
de picnic hecho de frijoles y tomates.
Lleno de ancias
y amor que nunca se acaba.
Nunca. Nunca terminará,
mi amor.

Shooting Hoops in the Hood and Hallelujah We Ball
Jessica Helen Lopez
Shooting hoops in the hood and hallelujah we ball, fastbreak
finger-roll magic tricks as a hook-shot kisses the brim, sinks
like a slow orange, leather-clad sun into the horizon.
We are the high-dribble priesthood, the slam dunk of a summer
afternoon broke open, dancers and gliders of the tarmac.
Acolytes, worshippers of asphalt.
We, the brotherly love of an incomplete team and so we two-step,
wings on our feet and flutter like levitating magicians above the neighborhood courts. We, the juke-footed jesters of the rebound. The courtesans rising, royalty of our own making. We the kings, pharaohs,
prophets and medicine men of the free throw, the way it finds the hole –
three points closer to god. Icarus soaring, heliotrope-honied skies kissing our waxen wings but the heat can't fuck with this.
We are the sun, the wind, and the elements of a boundless sky, flying high,
flying high and there is a freedom here of our own device.
We are bank-shot, blocked-shot, shit-talkers of the court. We who palm
the whole wide-world in our hands, chest pass and pass back,
jump shots and layups.
Grande Jeté, plié, pirouette, ballet.
Shooting hoops in the hood
and hallelujah we ball.
Hallelujah, how we ball.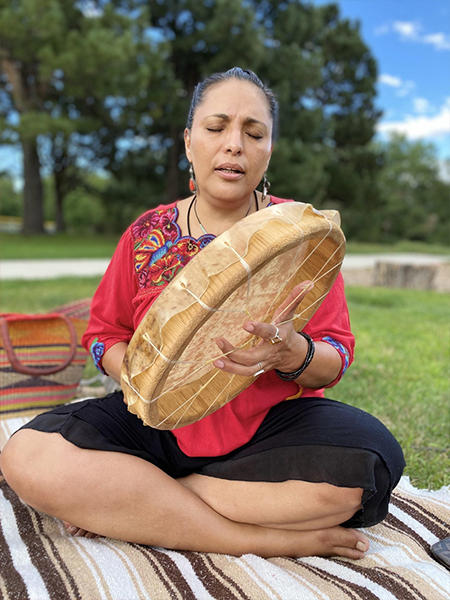 The Sound Inside Us
Bobby LeFebre
Welcome to this remembering
This rendezvous between the past and present
Here in this forgiving circle that refuses to forget our names
Listen to medicine that resounds from the hide pulled tight
The music that mimics the drum inside of us
What is blood, but roots?
What is heritage but a braid cascading down our backs?
We, a people old as the wind who close our eyes to see
We, descendants of those who scribbled our existence into the cosmos
Look at what their fire has forged
The way our fingerprints mirror stars
We walk these concrete lands
Ceremony reverberating across urban landscapes
Rockin huipil and huaraches
Track jackets and shell toes
The sage and sweet grass still burns
Tobacco pinched into prayer ties
We stand here grateful
We stand here, a human altar dressed in flowers and sacred stones
A popoxcomitl in the flesh, healing all that ails us
Our prayers dance toward the heavens like copal
We stand here, in this holy hoop of decolonization
Both codeswitching and unflinching
In the spirit of the ancestors
And the promise of the not yet born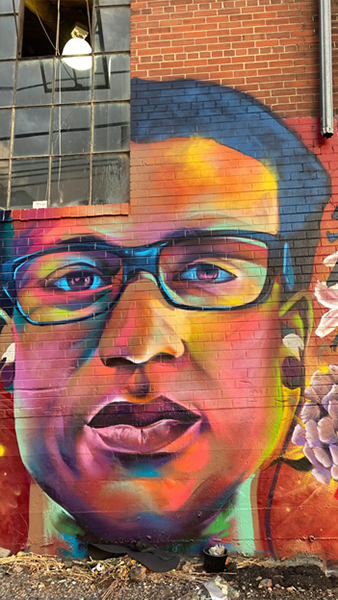 A Requiem for Elijah
Bobby LeFebre
1.
The violin is not a simple instrument.
It is maple and spruce and more.
70 pieces.
A body.
A soul.
A neck.
2.
Elijah was not a simple man.
He was Black and kind and more.
Many pieces.
A body.
A soul.
A neck.
3.
Carotid holds compress the arteries in the neck resulting in unconsciousness.
4.
Research shows violinists have faster cognitive processing speeds than the average person.
Maybe this is why, in that moment, Elijah tried reason.
Why he tried humanity.
Why he tried compassion.
Why he tried love.
Why he tried apologizing.
5.
Maybe Elijah was trying to string his words into a bow.
Maybe he thought he could slide that bow across the F-holes of the pigs' ears.
Maybe he believed their hearts were capable of resounding music.
Maybe he thought for a second,
that the cops would do their job
and police the crime of their gross imaginations.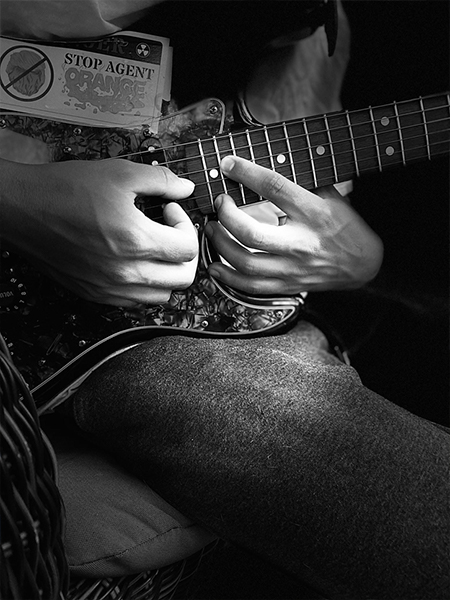 Musico

as Magician
Bobby LeFebre
There is a precision necessary for this sound
Curated placement of pointer finger and thumb
Strum and pick slide and tap
Calluses read like receipts
Only skilled hands can cradle a body like this
Digits traversing bridges pedestrian like
There is something holy about the strings
Each one, a voice in a chorus
A plea to the ear
Music is what happens when the soul is given a body
When the heart morphs into a teponatzli
When the notes reverberate like la flauta across the calpulli
These songs of freedom are all we've ever had
The way they roll off the tongue like a raised fist
The way they conjure pride and protest
The way they remind us of things never forgotten
Our sound is always in transition
We are a rio that is never not running
Why talk when we can sing?
Why walk when we can dance?
Our musica is a nexus
a convergence
an amalgamation, a mezcla
it's us
Music is the crackle of a needle kissing the vinyl in a grandmother's den
A stack of records that smell of cardboard, tears, and spilled tequila
Pedro Infante, Chavela Vargas, Jose Alfredo Jimenez, Antonio Aguilar
Music is an abuelo singing
"Hey baby que paso, I thought I was your only vato"
to his lover as she blushes replying, callate, Viejo!"
Music is the twang of the New Mexican electric guitar
family locking fingers to form a tunnel during la marcha
at wedding where two fights have already broken out but the 4th keg is still full
Music is a brown rockero blasting Led Zeppelin and Santana
telling stories of long strange trips, portals to brighter worlds
psychedelics, street slang, cool and character you cannot fake
Music is a mother on Sunday mornings using the broom handle as a microphone
Motown moving her hips into two-step Marvin Gaye, Al Green, Earth Wind and Fire
The way she glides across the wooden floors in Chicano Calypso to "Suavecito mi linda, Suavecito."
Music is a tio turning up the dial in his 79 Monte Carlo, right arm around his ruca
"I'm Your Puppet" playing loudly
as the switches make the car move like a marionette
Music is the boom-bap of an 80's baby's childhood
Kid Frost and A Lighter Shade of Brown in the boom box
This is for La Raza chillin on a Sunday afternoon
Make the guitarra cry, compa
El alma es invisible for a reason
Some things are better heard, felt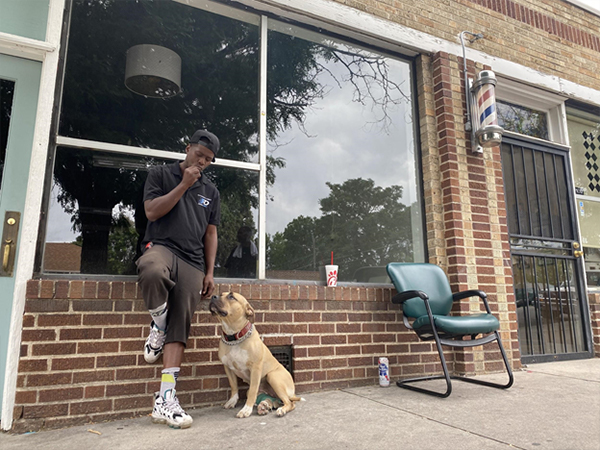 Kickin' it and Catharsis
Bobby LeFebre
It's 90 degrees and rising
White towel around the neck weather
Sweat cooling the skin
Tall can quenching thirst
Man's best friend at the hip
The hood is different now
The old heads reminisce
"Remember when _____ was there" is song on repeat
The realtors hide their fangs behind mailers
Avocado toast encroaches
Neo-colonialism dresses in coded language
There are still places the color line hasn't been erased
That stubborn crimson line a stain on white structure
Here on the block of sideways smirks and skepticism the barber cuts;
his chair transfigures to a confessional
Brotherhood and banter
therapy, tall-tales
and talking shit.
The street is a monument
A gathering place
An altar decorated in struggle and survival
Corner store crown
Blunt raps and the blues
Love and broken glass
5-0 saunters hog like
Here, where being a target is nothing new
Culture is complicated
Salve and scar
Toasting and tears
Lesson and lament
Joy and jettison
Paradox personified
Puff-puff-pass, an ancient ritual
Weed smoke leaving lips like a prayer
Do you hear it, God?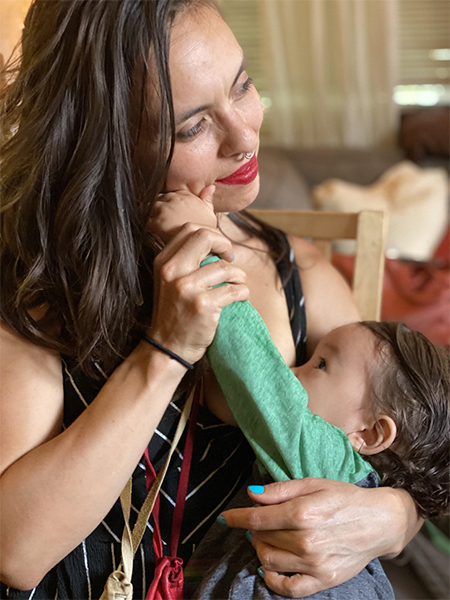 Manos de Creadorx
Bobby LeFebre
The most divine can be unearthed in stillness
A moment captured, the quietude of a midwife bringing forth the heart
The celestial knows this. The way the silver of the stars gleams at midnight,
quieto, patient and without want or reward
The smile of a mother engaged in the innate and instinctive glows the same way;
the strength of the muscles that lift the lips into formation;
the very elements of her sewn perfectly and tightly together mirroring the ones in the sky
This shining is not devoid of struggle
Burning is beautiful, but still burning
God is one who pulls another from herself
An infinite river of life flowing across smooth sand and jagged stones
Wildfire woman, to give without return in a world that takes so much is holy
You , keeper of medicine
Student of the ancestors
Ancestor of the future
Living taliswoman
Mystic Mama
Practitioner of the platica
Sacred song-singer
Hija del movimiento
Xicana Xingona
Cultura tejida en tus trensas
Look what universes you cradle
Is there any soil more fertile than a child's hands?
To think:
When will they ball them into fists?
When will they open them for prayer?
What will they touch?
What will they hold?
What will they push?
What will they pull?
What will they build?
What will they destroy?
Activities — by Bobby LeFebre
Seeing What You See: Image Factory
When we write, all too often we are worried about what to write about, if it is going to be good, if the structure and sound are right, and what the outcome will be.  Sometimes the most profound ideas, concepts, and fun come from mining the unconscious.
This exercise will use inkblots to help us see and write new things.
Supplies Needed:
A bottle of ink or simple craft paint
White cardstock or typing paper
Procedure:
Get two pieces of white paper—one to make an inkblot on, one to write on.
On one sheet of paper, make a list down the left column 1 through 10
Lay the other sheet of paper on a tabletop covered in newspaper or cardboard.
Squeezing out a few drops of ink or paint, let them randomly plop onto your paper.
Fold the paper and half, make strong crease and smooth the paper out flat and then unfold.
You should have an interesting inkblot pattern. Now, stare at the design you made turning it any direction you wish. Write down every image you see. Focus on the images themselves not on how they make you feel. In other words, don't write down abstractions or try to interpret the feelings the images provoke.  Instead, only write down images you see. Don't censor yourself. If the images are strange, frightening, disturbing, no problem. You are doing exactly what you're supposed to do. Don't think, just list
When you have written down at least 10 images (feel free to list as many images as you see) review the list and look for similarities, differences, patterns, or anything else interesting.
Writing Prompt
You will begin to write a list poem with the first line being:
"When I am not looking, I see___________"
Use as many images you listed on your page as you can to fill in the blank. Then give more detail about your relationship to that image—even if you don't have one!
An example of a list poem from the inkblot above could be:
When I am not looking, I see a rabbit. The same one my abuelita said resides on the surface of the full moon.
When I am not looking, I see two people staring at one another, the way I look at my lover before a kiss
When I am not looking, I see maracas, and the sound of salsa music plays on repeat inside my mind
HAVE FUN!
Writing an Ode
An ode is a poem that addresses and often celebrates a person, place, thing, or idea
Step 1:
Read Ode to My Socks by Pablo Neruda (translated by Robert Bly)
Ode to My Socks

Mara Mori brought me
a pair of socks
which she knitted herself
with her sheepherder's hands,
two socks as soft as rabbits.
I slipped my feet into them
as if they were two cases
knitted with threads of twilight and goatskin,
Violent socks,
my feet were two fish made of wool,
two long sharks
sea blue, shot through
by one golden thread,
two immense blackbirds,
two cannons,
my feet were honored in this way
by these heavenly socks.
They were so handsome for the first time
my feet seemed to me unacceptable
like two decrepit firemen,
firemen unworthy of that woven fire,
of those glowing socks.
Nevertheless, I resisted the sharp temptation
to save them somewhere as schoolboys
keep fireflies,
as learned men collect
sacred texts,
I resisted the mad impulse to put them
in a golden cage and each day give them
birdseed and pieces of pink melon.
Like explorers in the jungle
who hand over the very rare green deer
to the spit and eat it with remorse,
I stretched out my feet and pulled on
the magnificent socks and then my shoes.
The moral of my ode is this:
beauty is twice beauty
and what is good is doubly good
when it is a matter of two socks
made of wool in winter.
Step 2:
Picture an object or thing that represents you or something important to you.
Describe how your object looks.
Describe how your object smells.
Describe how your object feels.
Describe how your object sounds.
Describe how your object tastes.
Step 3:
Write a simile that describes how your object looks.
Write a metaphor that describes how your object smells.
Write a personification that describes how your object would move if it could.
Write an onomatopoeia that describes the sound your object makes.
Write a hyperbole that describes how your object tastes.
Step 4:
Use the above information to write an ode to your object
Definition of simile
: a figure of speech comparing two unlike things that is often introduced by like or as (as in cheeks like roses)
Definition of metaphor
: a figure of speech in which a word or phrase literally denoting one kind of object or idea is used in place of another to suggest a likeness or analogy between them (as in drowning in money)
Definition of personification
: the projection of characteristics that normally belong only to humans onto inanimate objects, animals, deities, or forces of nature
Definition of onomatopoeia
: the naming of a thing or action by a vocal imitation of the sound associated with it (such as buzz, hiss)
Definition of hyperbole
: extravagant exaggeration (such as "mile-high ice-cream cones")
Activities — by Jessica Helen Lopez
Altar/Ofrenda Poetry Writing Prompt
Writing Together, Writing for the Sacred.
List/Ekphrastic/Concrete and Abstract Nouns/Cultural Identity Poem
Introductions and Modeling Poetry
Ofrenda Making/Writing — NISN school leaders will bring 2-3 items to place on our community "ofrenda," altar. We will begin our day with the construction of the altar accompanied by a short ekphrastic poetry writing prompt inspired by your objects. Some examples of ofrenda items include photos, momentos that represent a meaningful memory, person or place, as well as medicine such as sage, copal, and sweet grass. This is an opportunity for  us to build connections with our colleagues/friends, honor our personal creativity and to craft medicine in our shared space. (The State of Personal Wellness, 2016. NACA)
Introductions — Facilitator introduces self/quick bio
Poses the questions — "If you were an act of nature, what act of nature would you be and why?" Share example (fresh summer rain). Allow participants to sit with the question
"Break Bread" with original poem — read, "I Have Many Names"
Act of Nature Introductions — Use your five senses and your innate abilities for imagery. Snap for everyone
Move into Writing
Warm-Up Writing Prompt — View, "I Give You Back," by Joy Harjo (Muscogee/Creek) on Def Poetry Jam You Tube. Read along with the text (pass out copies of poem)
Think-Pair-Share — Share with your elbow homie your emotional and visceral reaction to the poem. Share what you liked about the presentation of the piece. What do you like about the written craft of the poem. How do you interpret this poem? How do you related to this poem?
Let's Write! — Write a list of five things you wish you could give back to the universe, if only briefly. What do you NOT want to hold on to. Conversely, write down five things you want to receive from the universe. What do you want to hold on to. Using Harjo's poetic device of repitition begin your poem with, "I release," or "I give you back," as a sentence starter. (5 minutes).
Next, you may use the sentence starter, "I receive," in a repititous style and list all those things you want to hold on to. REMEMBER TO USE DESCRIPTIVE LANGUAGE. There is no wrong, just write! (5 minutes)
*Challenge — incorporate your "act of nature," as one of your items that you receive.
Share Aloud! — Volunteers (prizes)
Kinesthetic Break — Movement and Fun in the Classroom
Stand up and stretch — Share various warm-ups including tongue twisters, Only Consonants, Vowels
Volunteers for the tongue twisters (prizes)
Community Altar Writing Prompt
Writing Prompt — Make a list of all concrete objects you have placed on our community altar. You may include items placed upon your home/personal altars of past and present.
Next make a list of abstract nouns you place on your water such as love, faith, spirituality, determination. These are nouns you cannot feel/touch/see/taste in the physical world but exist nonetheless.
Sentence Starter — "Upon my altar I place…" and begin listing and using descriptive imagery to share with your reader the concrete objects and abstract ideas you place on your altar. This act of writing is a form of medicine. Through the act of writing you are creating your own altar that exists within the creative dimension of poetry, storytelling. Be intentional with your words the way you would when constructing an altar for cultural and spiritual practices. This is a poem of ceremony. Like Leslie Marmon Silko (Laguna) wrote, it is a ceremony of words.
There is no wrong, just write! (10 minutes).
*Challenge – incorporate alliteration, onomatopoeia, and repetition.
Share Aloud! – Volunteers (prizes)
Essential Question:
In what ways does reading and writing poetry act as a form of medicine?
Enduring Understanding:
My cultural identities, language and relations live through the art of storytelling.
Ekphrastic Poetry – A Picture is Worth a Thousand Words
Ekphrastic poetry is simply defined as a poem that is inspired and written about a piece of art. Art can be a photo, painting, sculpture, exhibit, mural, dance/theater, piece of music and more. Basically, if it's art then we can write a poem about it!
Today you will select one piece of art and/or artifact and collect information about the piece. With this information (also known as a WORD BANK) you will write a poem. Let's get started.
Title of piece:
Artist Name:
Type of art and dimensions:
Describe the art piece/artifact. Use lots of detail. What shapes do you see? Colors?  What type of textures are used in the art piece/artifact (rough, jagged shapes, soft, smooth, etc.). Is the art piece very big? Is it very small? Descriptive language please!
How does the art piece/artifact make you FEEL? Please sit with and meditate on the art piece for a while. Next you will write about how it makes you FEEL. What thoughts, emotions, or questions come to mind as you observe the piece of art?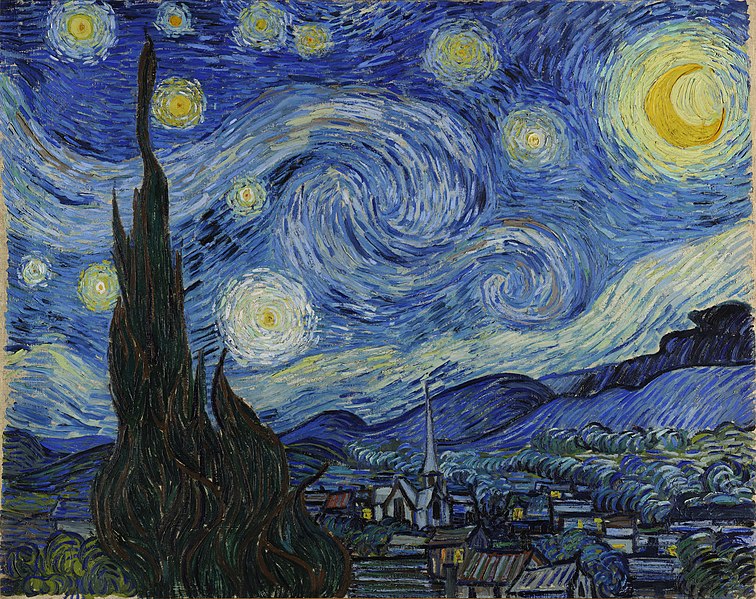 Little Poem and Melting Stars
by Jessica Helen Lopez
the dark heat of night melts stars into inkblots
stuck into the sky like pushpins
flat, round, golden coins
small pancakes or round cookies
I can pluck and then place in my mouth
This is how I eat the sky
How I hear the wind that curls,
vibrating lines and dashes.
Dark trees that point like fingers
heavenward
I am not afraid
I am not afraid
of the dark
Creative Team
Jessica Helen Lopez
Jessica Helen Lopez is the City of Albuquerque Poet Laureate, Emeritus (2014–2016). An educator with the UNM Chicana and Chicano Studies Department and the Native American Community Academy, she is a Chautauqua Scholar with the NM Humanities Council and a poetry Pushcart Prize Nominee. Lopez served as a semester-long, guest instructor for the Theater and Dance Department of Colorado College in Colorado Springs, CO. She is a board member for the non-profit, robust ABQ-based poetry community, Burque Revolt, and is the author of four poetry collections. Her first book, Always Messing With Them Boys (West End Press) received the Zia Book Award from NM Press for Women, an affiliate of the National Federation of Press Women. A community arts organizer, youth advocate/activist, and journalist, Lopez is a former host for the PBS ¡COLORES! and book reviewer for World Literature Today. Founder of La Palabra – The Word is a Woman, an artist collective that promotes cross-sectional feminism and LGBTQ issues, her works are widely published in journals and poetic anthologies. She has traveled to Tokyo, Japan, Managua, Nicaragua, and Paris, France to perform poetry and teach writing workshops. Recipient of the John Trudell Poetry Feature Award, she is a six-time City of ABQ Poetry Slam Team member, youth poetry coach, and mentor, she is a national spoken-word winning champion. jessicahelenlopezpoet.wordpress.com
Bobby LeFebre
Bobby LeFebre is an award-winning writer, performer, and cultural worker fusing a non-traditional multi-hyphenated professional identity to imagine new realities, empower communities, advance arts and culture, and serve as an agent of provocation, transformation, equity and social change. His work has appeared in The New York Times, Huffington Post, The Guardian, American Theater Magazine, NPR, and Poets.org. In 2019, LeFebre was named Colorado's 8th Poet Laureate, making him the youngest and first person of color to be appointed to the position in its 100-year history.
In 2004, LeFebre co-founded a now transitioned award-winning nonprofit organization, Cafe Cultura, which was dedicated to utilizing poetry as a tool for youth literacy and cultural development. LeFebre is a two-time Grand Slam Champion, a National Poetry Slam Finalist, an Individual World Poetry Slam Finalist, and a two-time TEDx speaker. He has performed at hundreds of cultural events, social actions, detention centers, conferences, and colleges and universities across the United States and abroad.
Holding a bachelor's degree in Psychology from the Metropolitan University of Denver and a master's degree in Arts and Culture from the University of Denver, LeFebre is a Fellow of the National Association of Latino Arts and Cultures Leadership Institute, the National Association of Latino Arts and Cultures Advocacy Institute, and the Intercultural Leadership Institute. In 2017, LeFebre was appointed by the Mayor of Denver to serve a two-year term as Co-Chair of the Denver Commission on Cultural Affairs. LeFebre wrote the award-winning play, Northside, which was applauded as one of the most successful local theater productions in Denver's history.
Mariah Bottomly
Mariah Bottomly is a full-spectrum Doula who incorporates ancestral and Indigenous medicine into her practice. An herbalist, medicine keeper, and alchemist, Mariah implements these modalities into her Denver-based, business, Sacred Expansion Wellness. A Mestiza, born and raised in Santa Fe, NM, Mariah moved to Denver from the City of Albuquerque in 2011. Mariah has been indoctrinated by her ancestors, teachers, and community to facilitate healing in herself and in turn, help heal Seven Generations. Mariah is a mother, educator, and professional photographer. Where she not only cultivated her talent for photography but also started to hone in on her many crafts. Her multifaceted talents have allowed her to work in versatile realms. She has been known to photograph world-renowned poets and was the principal photographer for multiple poetry festivals and events such as Women of the World Poetry Slam (WOWPS) in Albuquerque, NM (2015) and The National Poetry Slam in Denver, CO (2017). Additionally, she was the principal videographer for the Verse/Converse Poetry Festival in Taos, NM (2010). Her photographs are published in the Albuquerque Reporter and Denver's Westword, to name a few. She is also the principal photographer for La Palabra -The Word is a Woman, a woman-gender identified collective that creates transformative art through an exploration of the intersectionalities of feminism and LGBTQ communities. Her photographic journey is impacted by her medicine calling and community-minded aspirations. sacredexpansionwellness.com
3×3 Projects: Creative Collaborations from Isolation
Artists collaborate all the time, but not always from a distance. In our present reality of isolation, artists must find different avenues for the creation and presentation of work. With this in mind, the Fine Arts Center and Performing Arts at Colorado College invited artists of the Rocky Mountain West and American Southwest to pitch collaborative, multidisciplinary projects to premiere in the online. This is one of only seven projects selected to receive $3,000 in funding.

Support for the 3×3 Projects provided by The Andrew W. Mellon Foundation Grant for Southwest Arts and Culture, Performing Arts at Colorado College, and the Colorado College Cultural Attractions Fund.