Eric Bransby Documentary
Art for the People: Eric Bransby, American Mural Artist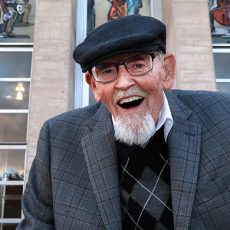 This beautiful documentary film exquisitely renders the life and work of renowned mural artist Eric Bransby through his art and the people who shared his life. A respected and admired artist known for his dozens of extraordinary murals in Colorado, Kansas, Missouri, Illinois, and Utah, as well as his contributions as an educator, inspiring several generations of students, Bransby was an authority on the history and technique of mural painting.
Cinematographer and filmmaker Jay Kriss was working to complete a documentary on the life and work of Eric Bransby when Kriss passed unexpectedly in 2016. With the help of Jay's family and the original film sponsors, Kathy Loo, Jim Raughton, El Pomar Foundation, Humanities Kansas, and Colorado Public Television, the Colorado Springs Fine Arts Center at Colorado College was able to acquire Jay's original footage. A team of local film editors, screenwriters, musicians, dancers and artists worked to bring his vision to fruition.
Eric passed September 23, 2020 at the age of 104. He will be remembered as a dedicated, inspiring and caring teacher and an integral part of the FAC's rich history.
Film Credits
Directed by
Nancy Bentley, John Atkinson
Written by
Nancy Bentley
Produced by
Colorado Springs Fine Arts Center at Colorado College
Executive Producers
The Kriss Family, Katherine Loo, Jim Raughton, PhD, Humanities Kansas, El Pomar Foundation
Film Concept & Cinematography
Jay Kriss
Editor
Eric Risher
Assistant Editor
John Atkinson
Consulting Story Editor
Aaron Burns
Consulting Editor
Tom Shepard
Assistant Producer
Darcie Hannigan