DÍa de Muertos Celebration
Nov. 1 & 2, 2023
 

| 4–8 p.m.

Free and open to the public!
Join us for a special community gathering for Día de Muertos, a celebration of life that demonstrates remembrance, love, and respect for those who have gone before us. Choose to come on either Nov. 1 or Nov. 2, or celebrate with us on both days!
Contribute to a community ofrenda
Watch live music and performances on the mainstage theatre
Engage with hands-on art activities
See ofrendas created by local school and community groups
This event is free and open to the public.
Día de Muertos (Day of the Dead) is a tradition that dates back around 3,000 years in Latin America. Pre-Colombian cultures such as the Aztec, Toltec, Quechua, and Mapuche, held a cyclical view of the universe in which death is an integral part of life. The dead were still members of the community, kept alive in memory and spirit, and were welcomed back to Earth during Día de Muertos.
The revival of the observance of Día de Muertos in the United States is part of the Mexican American reclamation of Indigenous identity that began with the Chicano Movement, which spanned from the 1940s to the 1970s. This celebration has evolved over time and in different ways in various regions, illustrating the importance of reclaiming cultural heritage and tradition. Within the United States, it has evolved as a mix of Latin American Indigenous practices, Roman Catholic spiritual traditions, and diasporic Hispano/a, and Latinx American cultural expression. Like many holidays, it is celebrated in different ways by individuals, families, and communities. Ofrendas (offerings) are made to honor those who have passed and often make creative or socially engaged statements.
Image: Ballet Folklórico de la Raza perform during a Dia de Muertos event at the FAC on Tuesday, November 2, 2021. Photo by Lonnie Timmons III / Colorado College.
ON VIEW IN THE MUSEUM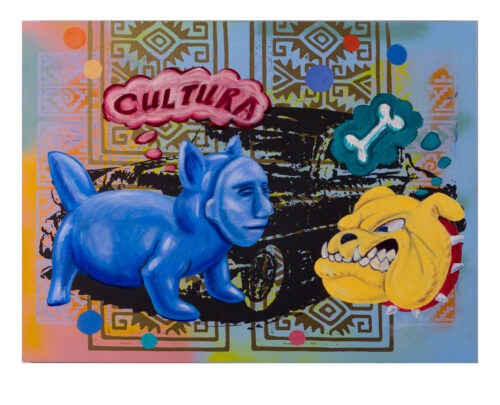 Community can be defined as a group of people who have shared characteristics or inhabit the same space. Drawing from works in the collection stewarded by the Colorado Springs Fine Arts Center, Mi Gente: Manifestations of Community in the Southwest considers community within a landscape that has been shaped by colonization and migration. Focusing primarily on works by Chicanx/a/o, Hispanic, and Mexican American artists based in New Mexico and Colorado, Mi Gente considers the politics and complexities of community, including those who are perceived as outsiders. 
The spiritual, familial, and artistic groups represented in these artworks demonstrate that community is elastic—it is flexible, with individuals frequently weaving in and out of multiple roles and factions. This fluidity points to how traditions and shared experiences from Mexico manifest in the United States, alluding to the transnational nature of many communities. For some who have made the journey across the border or live in the borderlands, the purpose of community is often rooted in safety and survival. Furthermore, to publicly make one's presence known through art, fashion, car culture, or political movements—to assert one's community—can be an act of resistance. To move both within and independent of these aesthetics and to have or not have these shared experiences further complicates what community means to each individual.  
Image: Carlos Frésquez, The Obsidian Ranfla Series #3 (detail), 1999, Museum Purchase (Colorado 2000 Purchase Prize), FA 2000.4.
The Colorado Springs Fine Arts Center at Colorado College welcomes participants with disabilities. Please contact Frances Huntington, fac@coloradocollege.edu, (719) 477-4360 to request accommodations. Advance notice may be necessary to arrange for some accessibility needs.

Land Acknowledgement
Colorado College occupies the traditional territories of the Nuchu, known today as the Southern Ute Tribe, the Ute Mountain Ute Tribe, and the Northern Ute People, who lost their beloved homelands due to colonization, forced relocation, and land theft. Other tribes have also lived here including the Apache, Arapaho, Cheyenne, and Comanche — and notably, continue to do so, along with many other Indigenous Peoples. To actively seek social justice, we acknowledge that the land continues to hold the values and traditions of the original inhabitants and caretakers of this land. We pay honor and respect to their ancestors, elders, and youth — past, present, and future.
Sponsors