Exclusive MEMBERS PREVIEW
See the exhibition before it opens to the public! Join us for the exclusive June 26 members preview of the incredible exhibition
Eloquent Objects: Georgia O'Keeffe and Still-Life Art in New Mexico.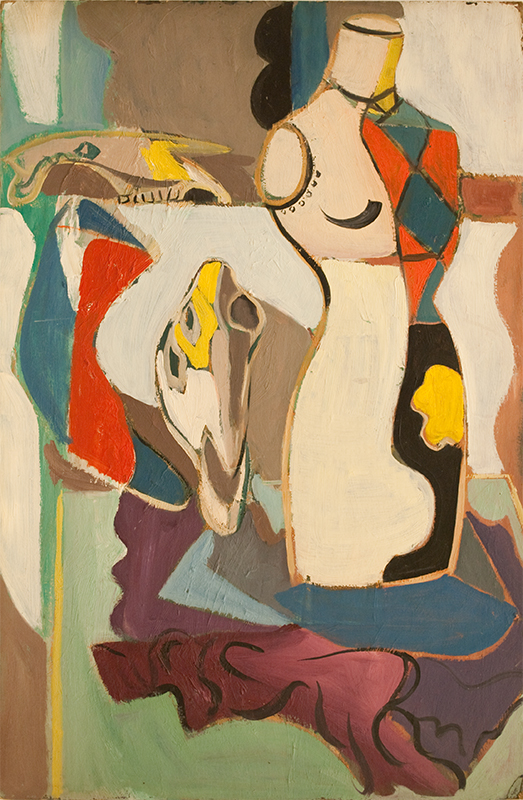 Friday, June 26, 5–7:30p
6p Remarks by CEO, David Dahlin and Executive Museum Director & Chief Curator, Blake Milteer
7p FluteDaddy
Also featuring music by the Colorado Springs Conservatory and guitarist Dean Woodward
Cash bar and hors d'oeuvres
Dining also available in Taste starting at 5p. Make a reservation by calling 634.5583
Menu
Entertainment will continue until 9:30p in the Deco Lounge.
This event offers members a FREE preview and the opportunity to bring a non-member guest for only $20.
Image: Beatrice Mandelman (1912–1998). Dress Maker's Form and Horse's Skull, 1940s–1950s. Oil on canvas, 30 x 20 in. Spencer Museum of Art, University of Kansas, Lawrence. Gift of the Mandelman-­‐Ribak Foundation, Taos. © University of New Mexico. Courtesy International Arts®.
Not a Fine Arts Center member?  Join today!
Please bring your membership card for quicker check in!
Overflow parking will be available at Colorado College
"To create one's world in any of the arts takes courage." —Georgia O'Keeffe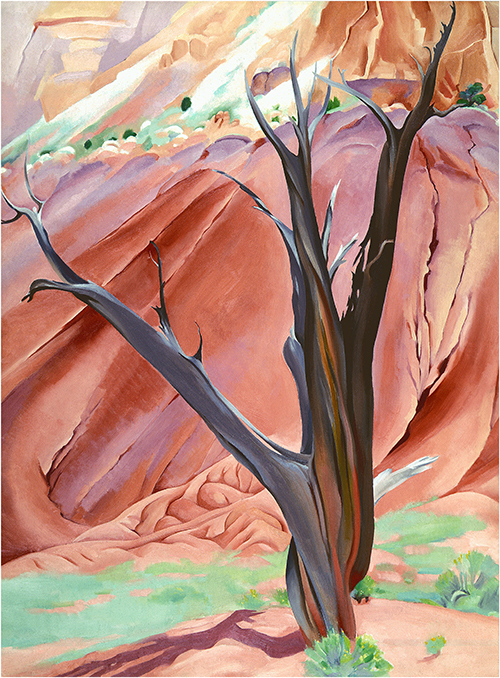 About the Exhibition
The FAC is proud to be one of only four institutions in the US to host Eloquent Objects: Georgia O'Keeffe and Still-Life Art in New Mexico this June 27 through Sept 13.
This first-of-its-kind exhibition will feature more than 40 magnificent paintings by O'Keeffe and her contemporaries — artists she influenced and those who influenced her — a rare opportunity to see works on loan from major museums and private collections.
Year of Georgia O'Keeffe Events
Image: Georgia O'Keeffe (1887–1986), Gerald's Tree II, 1937, Oil on canvas, 40×30 in. Stark Museum, Orange, Texas. (O'Keeffe 937)  © Copyright Georgia O'Keeffe Museum. Courtesy International Arts®.
Georgia O'Keefe Inspired Menu
June 26, 2015
Deco Lounge—Small Bites Menu
Smoked Pork Cheek with English pea puree, roast butternut squash, and pickled celery root – $6.50 (gf)
Melon, Spanish Chorizo, Sunchoke, and Manchego salad with Agave Vinaigrette and Fresh Tarragon – $6 (gf)
Baby Sunburst Squash served with puréed Marinated White Beans, Chévre, and Pickled Peppers – $8.50 (gf, veg)
Southwestern Hummus Plate with Ancho Chili Hummus, Sweet Pickled Peppers, Sliced Cucumber and Grilled Flatbread – $9.50 (veg, vegan)
Soup du Jour, served with Demi Baguette – cup$4/ bowl $6
Café Fries with Sriracha Aioli – $5 (veg)
Taste—O'Keefe Inspired Dinner Menu
Golden Beet and French Green Bean Salad, Pickled Red Onions, Pine Nuts, Chevre, dressed with Herb Vinaigrette – $8 (gf, veg)
(add Red Bird Grilled Chicken for $6; add wild-caught salmon for $9)
Grilled Airline Red Bird Chicken Breast with a Three Bean and Sweet Potato Succotash, with Pickled Cactus Filet – $12 (gf)
Braised Berkshire Pork Belly with Sunchoke Hash, Poached Egg Yolk, lightly dressed Bitter Greens, and a Shallot Herb Salsa – $12.50 (gf)
Baked Poblano Chili Relleno, crispy Red Potatoes, Corn Pico de Gallo, Cilantro Cream, and Crumbled Cotija Cheese – $8 (veg)
Taste—Summer Desserts
Fried Sopaipilla with Cinnamon Vanilla Gelato, or Coconut Lime Sorbet – $5 (veg)
Sweet Bites- Mini Dulce de Leche Treats, with Biscochitos – $4; ala mode $5 (veg)
Cinnamon Vanilla Gelato or Coconut Lime Sorbet by the scoop – $4;
with Fresh Berries – $6 (gf, veg)
Sponsors