Sashay
June 22, 2019, 7-11 p.m.
– SOLD OUT –
Join us for an evening of exceptional design, cocktails, appetizers, music, and entertainment!
Launched in 2015 with a runway show of garments in the style of artwork by Georgia O'Keeffe, Sashay is back, this time featuring unique wearable art pieces to celebrate the World of WearableArt™ International Touring Exhibition. The traveling exhibition that will grace the galleries of the Fine Arts Center this summer draws from World of WearableArt New Zealand museum, boasting a permanent collection of the international competition's winners and finalists over the last 30 years. Join us for an evening of exceptional design and dress to impress in your most outrageous and creative attire!
Performances by: The Luddites, hip hop performer and Alasyn Stowers and ballet dancer Kira Walton of the Colorado Ballet Society, Elizabeth Fluharty, Dave Hale, Grace Ramsay Telas, Joe Lobeck, and Ballet Folklórico de la Raza.
Winners
1st place:
Wendy Mike, Winged Victory 2019
2nd place:
Su Kaiden Cho, Oyster and Pearl
3rd place AND people's choice:
Athena Genthner, Sarah Nejtek, and Alyssa Rose, Gothic Reign
SCHEDULE OF EVENTS
5 p.m. FAC closes for event preparation
7 p.m. Doors open
7-8 p.m. Cocktails and passed appetizers in Deco Lounge
8-9:15 p.m. Runway show and entertainment
9:15-11 p.m. DJ Gravity with dancing, drinks, and snacks in courtyard
10:30 p.m. Galleries close
Meet the Designers and their Garment Inspirations!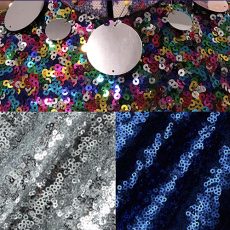 Aaron Graves
Inspired by his love of 60s fashion design, modern avant garde couture, and most notably, the dresses that The Supremes wore in the late 60s.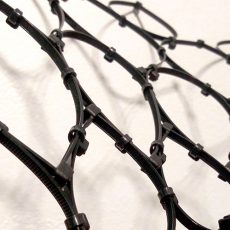 Alyssa Rose, Athena Genthner, and Sarah Nejtek (Thrice)
Inspired by the grandeur and opulence of the Elizabethan court and the darkness that lurked under the façade.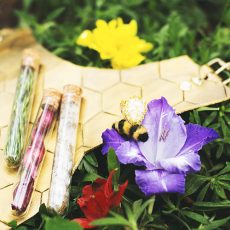 Athena Genthner and Becca Howard
Inspired by the "cabinet of curiosities" and French novelist Jules Verne, "Steward of a Celestial Legacy" curates a visual story of a future time while also imploring the viewer to contemplate the current path of Earth's own delicate ecosystem.
Caitlin Maclaughlin and Korri Grossman
This gown contains the various emotions and moments, from the most beautiful to the darkest, that are an integral part of being human. It simultaneously captures how close yet so far we are from each other in body as well as mind.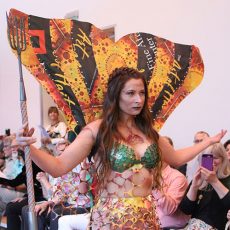 Drew Johnson and Ariel Hacker (TechWearsLtd)
The "Water Warrior" is a transforming mermaid costume constructed with 100% recycled materials.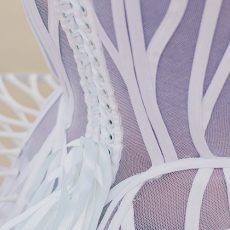 Erin Card
Erin has a love for organic, yet intentional shapes, so it was an easy choice for her to draw inspiration from Spanish architect Santiago Calatrava.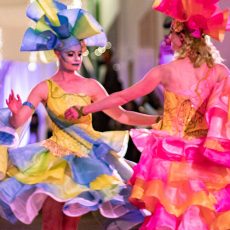 Heather Clark
I believe that the future can be full of hope, color, life, and light if only we allow ourselves to admit that those things are just as possible as the dark and depressing ones. One of the things that gives me joy and hope is a garden. A garden is, by definition, full of life and color.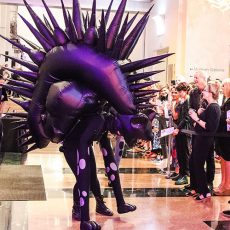 Nicole Banowetz and Devin Reilly
This wearable sculpture is inspired by the largely misunderstood and demonized but fascinating hyena.
Sara Basehart
Taking razor sharp metal fragments and defying gravity to create the impression of softly cascading curves, this garment gives wings to the weight of these discarded metals.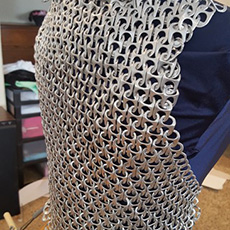 Sonja Hilmer
"When the Empress Finds Her Spear" is a depiction of strength. She reminds us not to judge a book by its cover, and encourages us- whoever you may be, whatever you may look like- to show our true colors and share our talents with the world.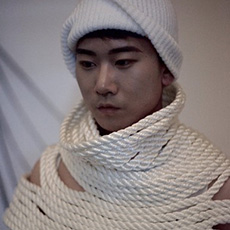 Su Cho
This garment blends the means of diversity and inclusiveness by incorporating elements of South Korean culture and a variety of materials like 3D prints, hand embroidery, thermoplastics, and nylon ropes elements to create one elegantly, complex look.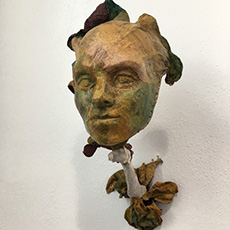 Wendy Mike
"Winged Victory," constructed of fabric, paper, wire, and hardware, embodies the ache and fierce desire for freedom, actualization, and self-expression that characterizes being female (or really a womxn) in our current epoch.
Fine Arts Center Members who attend Sashay will receive a reusable FAC stemless wine glass and a free drink! Not a member? JOIN
Entertainment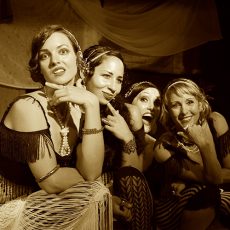 The Luddites
A fusion dance troupe out of Colorado Springs, CO. Like their predecessors in moniker, they believe in devising plots at night, homemade lace, and a good old fashioned revolution, but prefer to save their fire for the dance floor.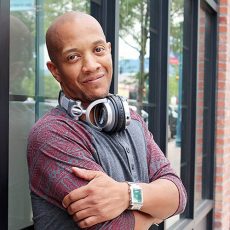 DJ Gravity
"There are two kinds of music," Duke Ellington famously said. "Good music, and the other kind." While the jazzman may have been oversimplifying for the sake of a great quote, it can just as easily be said that there are two kinds of deejays. Turntablists, and the other kind. Mike DeWitt, aka DJ Gravity, falls squarely into the first camp. With two turntables and a crateload of scratch-worthy vinyl that can range from 70s krautrock to obscure dub to god knows what else, he's never needed to rely on CD mix-decks or Macbooks full of Beatport downloads. There's something to be said for skills.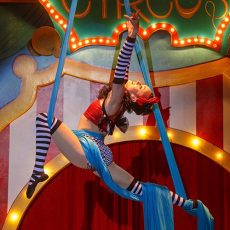 Elizabeth Fluharty
For the last several years, Elizabeth has been learning and performing a variety of circus arts including partner acrobatics, aerial silks, aerial rope, and stilts. She performs regularly across the state for a wide variety of events. When she's not performing, she's teaching classes and camps at Springs Dance and the Millibo Art Theatre so she can share all of the crazy things she loves to do with this wonderful community.
Sashay Jurors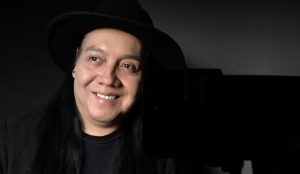 Virgil Ortiz
Virgil Ortiz moves into a new era combining art, décor, fashion, video and film. One of the most innovative potters of his time, Ortiz's exquisite works have been exhibited in museum collections around the world including the Stedelijk Museum- Hertogenbosch, The Netherlands; Paris's Fondation Cartier pour I'art Contemporain; the Smithsonian Institution's National Museum of the American Indian; the Virginia Museum of Fine Art; and the Denver Art Museum.
In October 2018, Colorado Springs Fine Art Center opened Revolution — Rise Against the Invasion, a continuance of Ortiz's epic story arc, Revolt 1680/2180, a mash-up of Puebloan history interpreted with sci-fi fantasy iconography relatable to Native and non-Native youth alike. Its theme is one of justice, of reversing the oppression of the Puebloan world by the Spanish invasion. The events of the Pueblo Revolt are little known among most Americans today; however, it remains a vital part of Pueblo history.
Pueblo culture is reflected in the design components that reach past a traditional Ortiz sculpture and delves right into the world of high fashion. After a highly successful collaboration with fashion mogul Donna Karan, which Ortiz developed boldly patterned textiles based on his graphic decorative painting, Ortiz has since launched his own fashion and accessory lines. His designs are captivating, provocative, and edgy thus creating the high demand for his sharp laser-cut leather jackets, swinging taffeta skirts, cashmere sweaters and silk scarves echoing the voluminous contours and sinuous motifs of Pueblo pottery showcasing the richness of indigenous high fashion.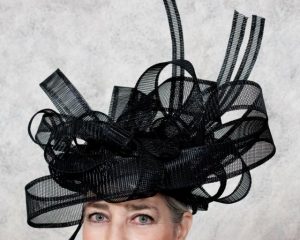 Gypsy Ames
An award winning designer for theatre, opera, dance and performance art, Gypsy Ames has designed over 340 productions during her career. Credits include The Girl of the Golden West for Theatreworks, and The Long Christmas Ride Home for The Colorado College.  Her performance art costumes have been exhibited in galleries and live art venues around the country. Recent pieces include Hope, part of the "Artists in Action" exhibit at the Manitou Arts Center, and The Starry Night, for The International Costumer's Guild national competition in Charleston, NC, where it won a "Best in Class" award.  She was one of 4 featured artists included in the "Brilliant" galley exhibition and live art ramp show presented by the Gallery of Contemporary Art (GOCA). She is currently on the faculty of Colorado College, where she teaches costume design and designs productions for the Theatre and Dance Department.

Karen Holloway
Karen Holloway is an award winning apparel and costume designer. She has designed and built costumes for stage and film and loves to teach when the opportunity presents itself. She enjoys using beautiful fabrics, trims, and accessories in  her designs to tell compelling stories, whether in a stage production, dance performance, runway show, or wedding. Karen believes the costume is as vitally important as any other component in building a production.
She is a graduate of Colorado State University in Fort Collins and spent several years on the East Coast where she also studied courses at The Fashion Institute of Technology while working in the apparel industry. Karen has been featured in several magazine publications as well as involved in numerous fashion shows throughout Colorado and New Mexico as an organizer as well as a designer.
Sponsors