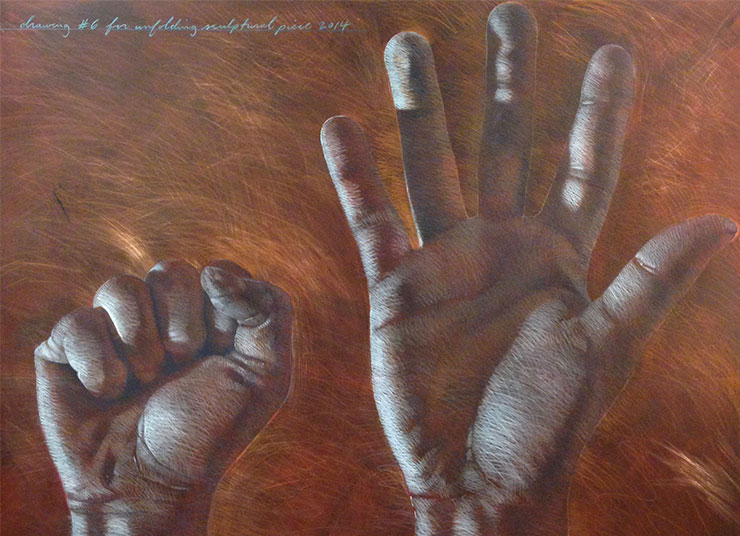 Andrew Ramiro Tirado, who labored since mid-June on a centerpiece for his exhibition, Open, recently unveiled the result.
For Andy, this has been about the journey, about the process. True to the name of his exhibit, he wants his work to be open and transparent, and he's loved those moments when visitors have been bold enough to ask him what he and his assistants have been doing on those huge work benches.
For Open, Tirado has made a series of extraordinary large drawings that fill the FAC's magnificent, soaring El Pomar Gallery. The subject is what Tirado describes as one of our "primary tools" for connection and disconnection — the human hand. These exquisitely drafted images represent the hand in all its complex physicality, elegance, power, vulnerability, and expression. But these drawings are just the beginning of an exhibition that unfolds over time – the artist's process will be "open" and visible to viewers as Tirado creates a new, large-scale sculpture in the gallery throughout the show's duration. This is an experience that visitors will want to witness again and again.
Tirado finds balance between traditional craftsmanship and the innovative ideas that enliven some of the best contemporary art. The artist spent many years doing a variety of work from building wood strip canoes, fabricating custom props, displays, and sets, to building custom cabinetry. From 1989 until 1991, Andrew was a studio assistant for the painter Chuck Close in New York, and since 1988, he has spent a few weeks working as Seminar Faculty for an art seminar at the Colorado College, where he has worked with nationally-renowned artists including Jack Beal, Robert Cottingham, Janet Fish, James Grashow, Mary Heilmann, Jim Long, Joanna Pousette-Dart, Harriet Shorr, and Jane Sutherland, and western artists like Joe Baker, Don Coen, Chuck Forsman, Luis Jimenez, Robert Hudson, and Merrill Mahaffey. For the past eight years, Andrew Tirado has supervised the 3D Arts Facility at the Colorado College, where he teaches woodworking and oversees the Arts and Crafts Spring Semester Adjuncts. This summer, he will be teaching a sculpture course at the Anderson Ranch Arts Center in Snowmass, Colorado.