Organized by Participant Inc. (New York, NY), this exhibition presents works by artist Baseera Khan that complicate common notions of Muslim women through the artist's self-exploration of personal history and current geopolitical circumstances. Khan is a New York-based artist whose work shares experiences of exile and kinship shaped by economic, popular cultural, and political situations. She treats decolonial histories, practices, and archives as geographies of the future. Khan underscores the intersectional themes by the combination of secular, religious, and private imagery as in her series Psychedelic Prayer Rugs (Lunar Count Down, Act Up, and Purple Heart).
She recently exhibited work at Sculpture Center's In Practice: Another Echo exhibition (2018), her first solo exhibition, iamuslima, was exhibited at Participant Inc. (2017), Moudy Gallery at Texas Christian University (2017), and now the Colorado Springs Fine Arts Center at Colorado College (2018). She has performed at the Whitney Museum of Art, Queens Museum, and ArtPop Montreal International Music Festival (2017). She is published in Artforum Magazine, Art in America, Bomb Magazine, OSMOSMagazine, Unbag, and TDR Drama Review. She received a Masters in Fine Art at Cornell University (2012) and a Bachelors in Fine Art from the University of North Texas (2005).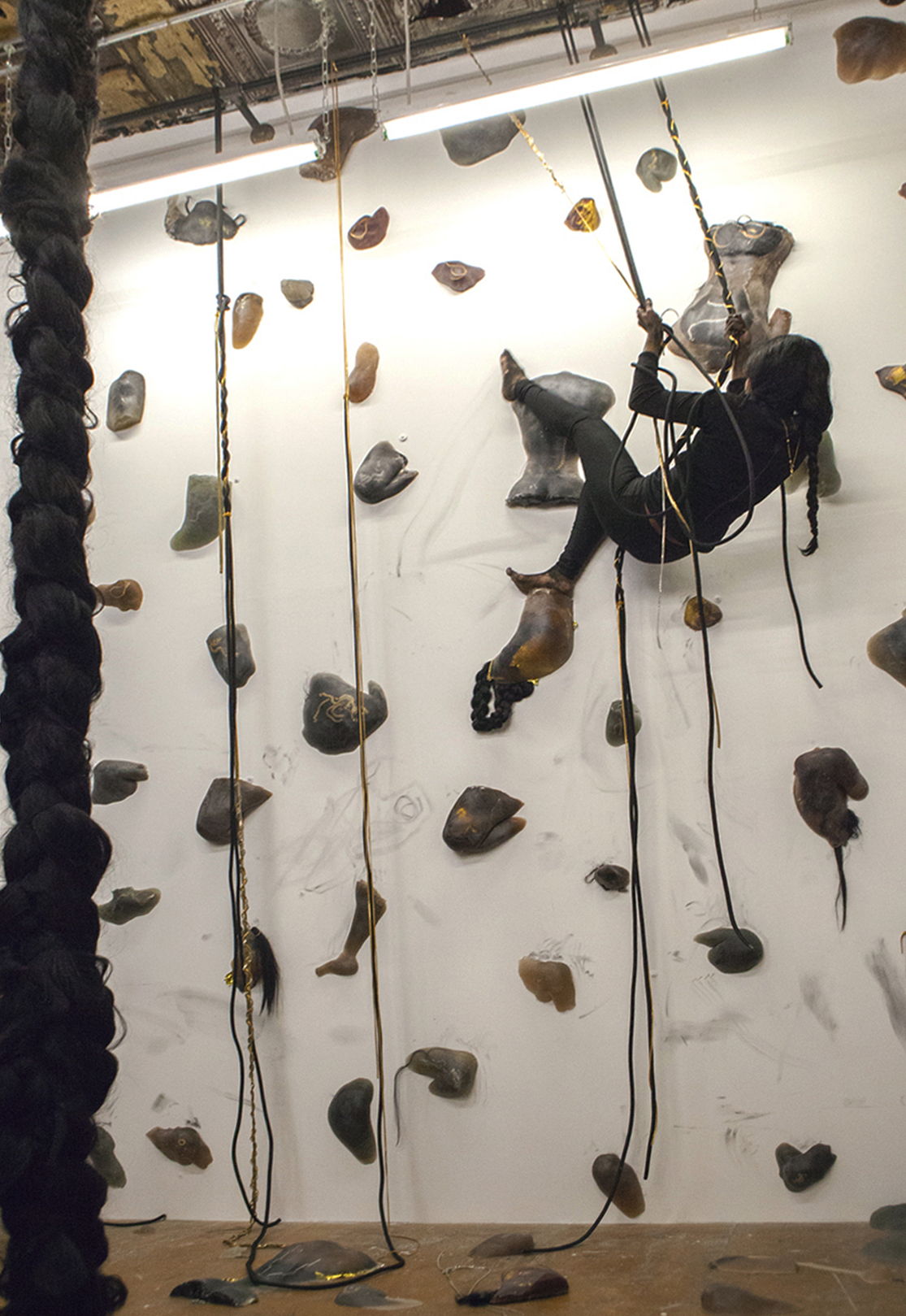 Braidrage: A Performance by Baseera Khan
May 11, 5:30-6:30 p.m.
THIS EVENT IS SOLD OUT!
A live broadcast of the event will be featured at Colorado College's Tutt Library (on the Data Viz wall on the first floor) and on the FAC's YouTube Channel
Central to the exhibition iamuslima is Braidrage (2017), an installation work including a rock-climbing wall with a 13-foot braid of human and synthetic hair suspended from the ceiling. The wall of resin holds, cast from the corners of the artist's body, is a vertical geography of the past, present, and future of women of color. Dyed in various shades of black and brown to represent the collective experiences of colonized women globally, the holds are embedded with fragments of gold chain jewelry, hypothermia blankets, and commodified Indian hair. These components, more commonly found draped on the body, are set into the body forms signifying internalized trauma. The braid specifically refers to the wig industry's use of hair collected from Indian women – often by force. Khan says, "All over Brooklyn you see wig shops, and women are literally attaching trauma to their bodies when they have a weave."
In this performance, Khan will activate the installation through careful choreography, scaling this wall, leaving a trace of her movements behind. The endurance and movements performed to climb the fragments of her body in Braidrage reflect the constant maneuvering required to overcome the embodied experiences of trauma. While rage implies anger, Khan seeks to direct this energy toward a secure future by collective resilience.