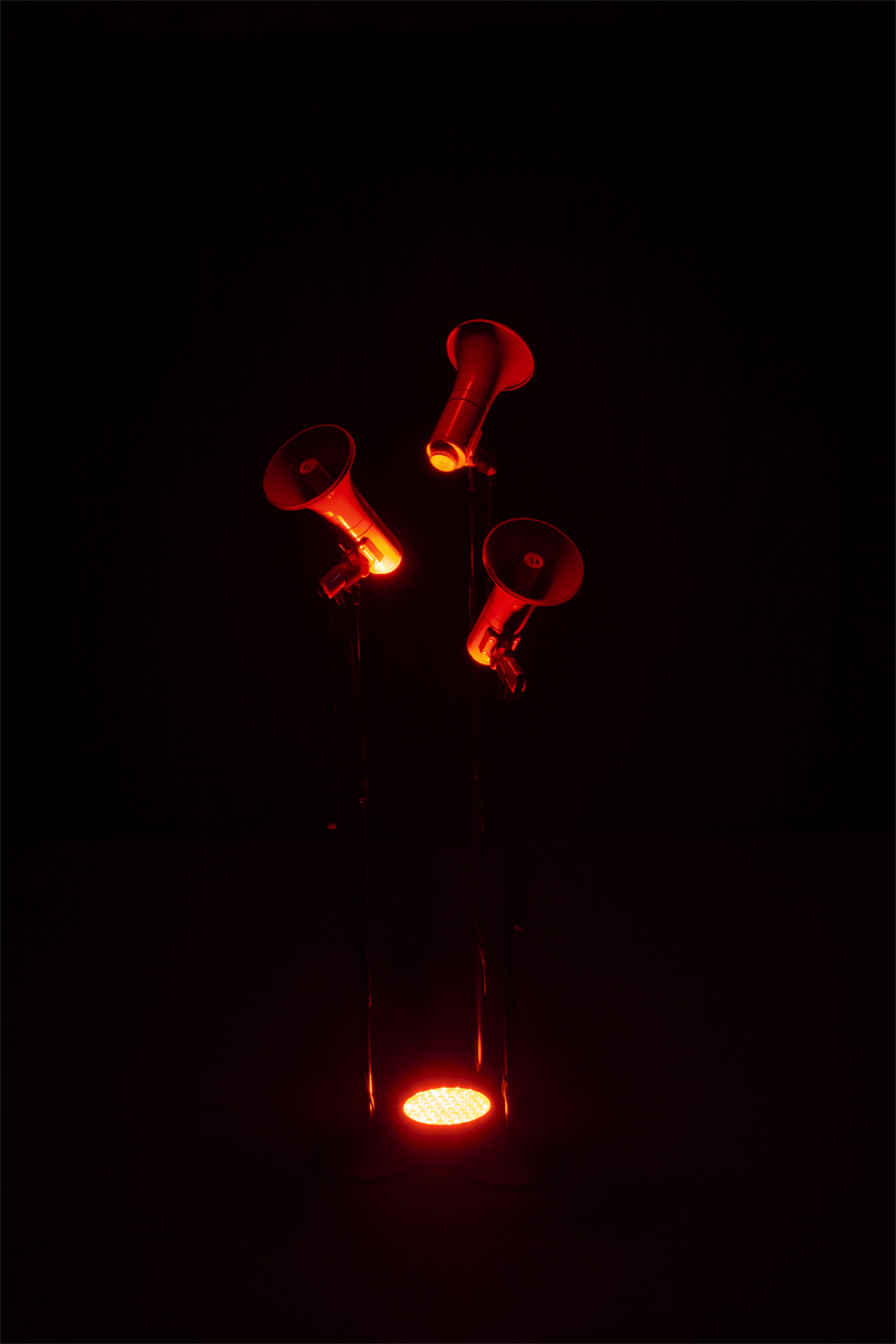 The Black Sound Series features the work of three contemporary artists who use sound to investigate the construction of Black identity in the personal, social, and political spheres. In our Lane Gallery, Rodney McMillian explores how the words of twentieth-century musician Sun Ra resonate in the present; Cy X presents a newly commissioned audiovisual project featuring the figure of an Afro-Indigenous gardener navigating the impending apocalypse; and Camille Norment harnesses harmony, dissonance, and feedback in a sonic installation that responds to movements of protest and resistance.
The Black Sound Series is conceived by FAC Executive Director Idris Goodwin. The FAC Museum's presentation of new media works is curated by Katja Rivera, Curator of Contemporary Art. The presentation is generously funded in part by the National Endowment for the Arts and the FAC's Holaday Fund.
Image: Camile Norment, Untitled (red flame), 2019. Photo by Robert Chase Heishman.
March 4–April 2
Rodney McMillian
(b. 1969, Columbia, South Carolina)
Preacher Man
2015
Single-channel color video with sound, 6:08 min.
Courtesy the artist and Vielmetter, Los Angeles
In Preacher Man, a character wears a simple suit and sits in an empty field in the dark of night. Juxtaposing the ordinary and mundane with elements of science fiction, here the humble preacher's sermon is composed of words taken from a 1966 interview with the Afrofuturist poet and jazz musician Sun Ra. The preacher advocates for the next life and equates freedom and peace with death. For McMillian, the life of the oppressed in a systemically racist society is perilous and constantly challenging.
April 8–May 7
Cy X
(b. 1999, Atlanta, Georgia)
Water Me
2022
Installation featuring 2-channel video with sound and seed library
Water Me is an act of mourning, a journey into grief, and a belief in the possibility of hope in a fragile present. 13, an Afro-Indigenous earth tender and archivist, is living on LAND AVOA (Land On the Verge of Apocalypse) and plants their last few ancestral seeds in their backyard. The gallery features 13's surroundings through video, sound, an altar, and a seed library.
Visitors are welcome to contribute and take seeds, stories, and memories from the seed library.
Commissioned by the Fine Arts Center at Colorado College
Courtesy the artist
May 14–June 18
Camille Norment
(b. 1970, Silver Spring, Maryland)
Untitled (red flame)
2019
Multichannel sound installation with speakers, subwoofers, megaphones, abstracted vocal and body sounds, and feedback
Commissioned by Logan Center Exhibitions, University of Chicago
Courtesy the artist
Untitled (red flame) began with a workshop in Chicago in which Camille Norment related human speech to action. The artist then subjected recordings from the workshop to abstraction, amplifications, and feedback. The resulting soundscape is reminiscent of fire, hovering somewhere between a gentle crackle and a menacing roar—a recognition of the element's potential to be both destructive and regenerative. In the gallery, red megaphones associate the sound of fire with large gatherings, perhaps protests or riots. In connecting sound to a dimension of public life, Norment explores the promise and the force of a voice—its capacity to suggest solidarity, agency, resistance, and performativity for positive change.
Details
Hours
Wednesday–Sunday 10 a.m.–4 p.m.
Admission includes entrance to all other galleries in the museum.
Tickets
| FAC Members | Non-member adults | Military & Seniors (55+) | Students & Teachers |
| --- | --- | --- | --- |
| Free | $10 | $5 | Free |
Sponsors

Catharine and Bart Holaday Endowment for Interactive Art