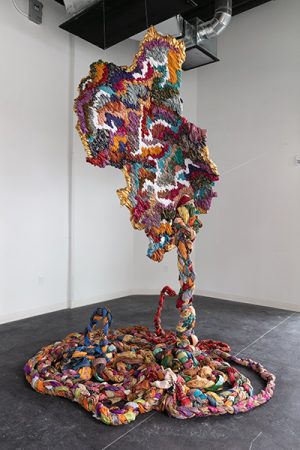 The land that touches the Caribbean Sea has long been a space shaped by its relation to oceans, empires and colonization. The result is a region that is now inextricably intertwined with the rest of the globe, including parts of Africa, India, China, Japan, Europe, the United States and elsewhere. The nature of these histories and relationships have shaped much of the Caribbean's ecology, economy, and culture.
Breathe into the past: Crosscurrents in the Caribbean presents the work of twelve artists with connections to the Caribbean—including the Dominican Republic, Jamaica, Cuba, Haiti, Puerto Rico, Guyana, Trinidad & Tobago, and coastal Colombia. These artists offer insight into some of the complex histories that have shaped the present in sometimes subtle yet undeniable ways by acknowledging human and non-human entanglements, situating contemporary politics in spaces of coloniality and imperialism, and creating work that celebrates long histories of resistance and perseverance. They work with a broad range of materials—including for example, vintage saris, codfish skin, bougainvillea thorns, and sugar—that are integrated into sculptural forms, books, photography, and film. Each of these materials speaks to histories of migration, diaspora, colonization, and resistance, thereby offering a poetic response to marginalized histories.
Artists included in the exhibition: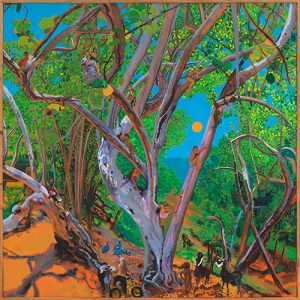 Firelei Báez, Albert Chong, Maksaens Denis, Hulda Guzmán, Renluka Maharaj, Suchitra Mattai, Carlos Martiel, Javier Orfon, Wanda Raimundi-Ortiz, María Isabel Rueda, and Nyugen Smith.
---
Breathe into the past: Crosscurrents in the Caribbean is organized by Dr. Naomi Wood, NEH Distinguished Teaching Professor in the Humanities; Chair and Associate Professor of Spanish and Portuguese at Colorado College and Katja Rivera, Curator of Contemporary Art at the Colorado Springs Fine Arts Center at Colorado College with Savanah Pennell, Curatorial Paraprofessional at the Colorado Springs Fine Arts Center at Colorado College. The exhibition is generously supported by The Anschutz Foundation and Colorado Creative Industries.
---
Header (detail) & right image: Hulda Guzmán, Uva de Playa 2 , 2020, acrylic gouache on linen in artist's frame; 35 x 35 in. (88.9 x 88.9 cm.) Private Collection Photo: Dario Lasagni. Copyright the artist. Courtesy of the artist, Alexander Berggruen, NY, and Stephen Friedman Gallery, London.
Left image: Suchitra Mattai, Tethered, 2020, vintage saris, wire, and found object, dimensions variable, courtesy of Kavi Gupta Gallery, photo by Wes Magyar
Sponsors