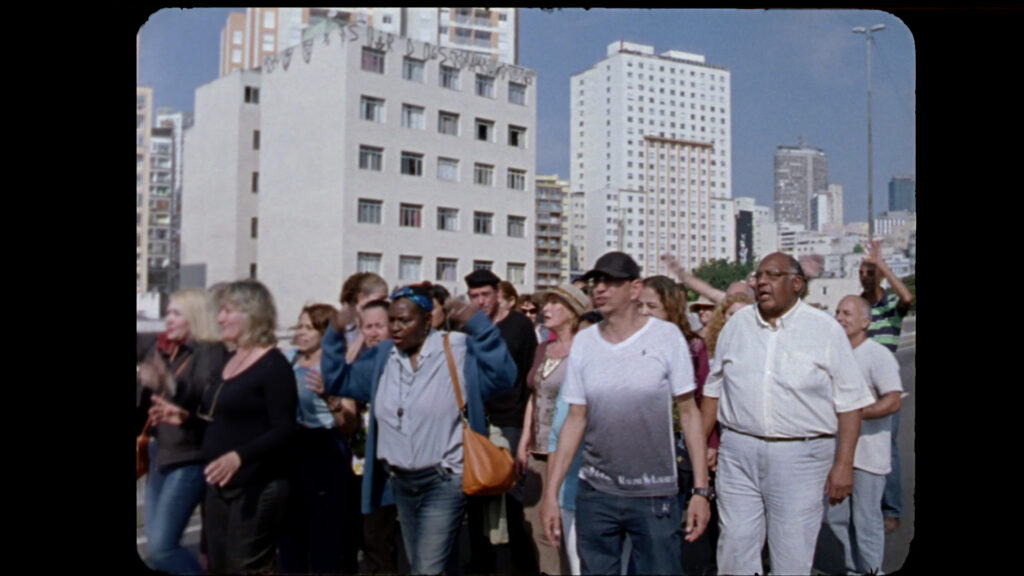 Landscape has been an important inspiration for artists across generations, and it played an important role in the foundation of this very institution. The soaring peaks of the Southern Rocky Mountains were a popular motif for many students and teachers of the Broadmoor Art Academy, founded in Colorado Springs in 1919, which evolved into the Fine Arts Center. Attracting renowned artists from across the country, mostly of European descent, the academy fostered a reverence for the natural landscape. But many depicted Colorado's striking scenery as empty of human presence, ready to be explored for the benefit of the artist and viewer alike.
Landscape remains important for contemporary artists, yet many have a dramatically different relationship to the genre. The five artists featured in Contested Terrains acknowledge how human intervention has shaped landscapes across the Americas. Joiri Minaya, for example, makes a connection between the Caribbean tourist economy and the arrival of the first European colonizers in Haiti. Nina Leo and Moez Surani present a view of the Great Lakes from Canada looking toward the US, offering a mournful homage to the unfifilled potential of a global superpower. Carolina Aranibar-Fernández looks at sites of extraction across the Americas. And Rosa Barba documents how transportation and development have altered a landscape in São Paulo, Brazil with shocking repercussions for the local community. Together, these artists extend the potential of landscape as a genre, and allow it to function as an entryway to overlooked histories, acknowledging how politics, power, and extraction have shaped the Americas as we know them today.
Contested Terrains is organized by Katja Rivera, Curator of Contemporary Art. Support of the exhibition is generously provided by the Catharine and Bart Holaday Endowment for Interactive Art.
Top image: Still from Nina Leo and Moez Surani's Lullabies for a Waning Empire, 2023.
Right image: Rosa Barba, Disseminate and Hold, 2016, 16mm film transferred to digital, sound, 21:13 min, Film still © Rosa Barba
Schedule
March 10–April 30: Joiri Minaya, Labadee, 2017
May 5–July 7: Nina Leo and Moez Surani, Lullabies for a Waning Empire, 2023
July 21–Sept. 16: A new work by Carolina Aranibar-Fernández
Sept. 29–Dec.20: Rosa Barba, Disseminate and Hold, 2016
Artist Talk: Nina Leo and Moez Surani
Saturday, May 6, 1 p.m.
Please join us  in the Fine Arts Center's music room for a talk with Contested Terrains artists Nina Leo and Moez Surani, who are premiering their work Lullabies for a Waning Empire. Moderated by FAC Curator of Contemporary Art, Katja Rivera
Moez Surani's writing has been published internationally, including in Harper's Magazine, Best American Experimental Writing, Best Canadian Poetry, and the Globe and Mail. He has received a Chalmers Arts Fellowship, which supported research in India and East Africa, and he has been an artist-in-residence in Finland, Italy, Latvia, Myanmar, Switzerland, Taiwan, the Banff Centre for the Arts in Canada and at MacDowell in the United States. His visual and performance works have been shown in Toronto at Theatre Passe Muraille, Nuit Blanche, Videofag, Red Head Gallery, Gallery 44, and YYZ Artists' Outlet, and internationally at WhiteBox in New York (forthcoming), the Cross Gallery in Taipei, the New Zero Arts Space in Yangon, and Palazzolo Acreide's city hall in Italy. He is the author of four poetry books: Reticent Bodies (Wolsak & Wynn, 2009), Floating Life (Wolsak & Wynn, 2012), Operations (Book*hug, 2016), which is comprised of the names of military operations, and reveals a globe-spanning inventory of the contemporary rhetoric of violence, and Are the Rivers in Your Poems Real (Book*hug, 2019). Most recently, he has been working on Heresies, a collaboration with Canadian artist Nina Leo, and a group of international perfumers, to produce a line of custom scents that operate as lyric poems and express diverse and suppressed subjectivities. Heresies was part of a winter 2018 exhibition (curated by Lisa Deanne Smith) at the Onsite Gallery in Toronto. In an investigation of mediation, image and contemporary politics, he is currently collaborating with Nina Leo on a collection of installation work, which includes Lullabies for a Waning Empire and Summa. His debut novel, The Legend of Baraffo, will be published by Book*hug in 2023.
Nina Leo is a Canadian cross-disciplinary artist whose work examines societal shifts, the sensorial mechanisms that signal them, and how these shifts impact consciousness. Coupled with this tactile approach to ideology, is an enquiry into where political resistance begins. Leo has shown her work in galleries and public institutions internationally, including Beyond/ In Western N.Y. 2010 Biennial, Kunsthaus Santa Fe (Mexico), Nuit Blanche (Toronto), The Lobby Gallery (Chicago), New Zero Arts Space (Yangon) and Al Fanoun Gallery (Abu Dhabi). She has received grants from The Canada Council for the Arts, The Ontario Arts Council, and the Toronto Arts Council as well as the 2013 Eric Hoffer Grand Prize Award for Short Prose (USA). She has participated in residencies including the Banff Centre for the Arts (Canada) and the Ventspils International Writers' Residency (Latvia). Over the past eight years, her olfactory research has developed through associations with the Monell Chemical Senses Center (P.A.) and the Institute for Art and Olfaction (L.A.). She has presented and published her research in Canada, the U.S, Italy, and the U.A.E. Currently, she is an associate professor within the Sculpture/ Installation undergraduate program and the Interdisciplinary Art, Media, and Design MFA program at OCAD University in Toronto. She has worked collaboratively for several years with artist and poet, Moez Surani. In 2023, they will present a solo exhibition of their new work, Summa, at WhiteBox Art Center, New York City.
Related Events
Sponsors
Catharine and Bart Holaday Endowment for Interactive Art