Floyd D. Tunson's Hearts and Minds invites us to move slowly across its monumental surface—nine panels in total—to absorb the profound and somber message. Bullseye targets flank tenderly rendered portraits of young Black men. A column of cash, the architecture of inequity, stands beneath disembodied arms and young people behind bars. It is a densely layered memento mori, an artistic assemblage of objects that serve as a reminder of the fragility of human life here presented as skulls, cash, guns, flies, and two perfectly depicted pistols gleaming metal and heavy.
Completed in 1995 and gifted to the Fine Arts Center in 2020, Hearts and Minds addresses the ongoing impact of gun violence on young Black men. In Colorado, Black men ages 18–24 are more than 12 times more likely than white men the same age to be killed in a gun homicide ("The State of Gun Violence"). The artwork asks us to consider the systems and structures that perpetuate these tragic cycles of violence and loss.
The Fine Arts Center engaged several collaborators to respond to Hearts and Minds and the issues it raises. The resulting artwork is presented alongside Tunson's. Included among these works is Endangered, a performance-based multi-media project realized through a multi-artist collaboration. The D11 Collective—a group of high school students and educators from Colorado Spring's School District 11—were in residence at the FAC to produce a series of artworks. Colorado College students invited through the Butler Center contributed individual creative responses as did students enrolled in the Art Department's Afrofuturism course taught by Assistant Professor Jameel Paulin (on view beginning May 18 after the conclusion of the class). These partnerships offered space for dialogue, reflection, and creative collaboration in response to an issue of deep importance for our community and beyond.
The exhibition is curated by Michael Christiano, FAC director of visual arts & museum and supported in part by funding from Colorado College's Cultural Attractions Fund, the Holaday Interactive Art Fund, CALM Foundation, Walston Group Real Estate, Inc., and the Bee Vradenburg Foundation.
Learn more about the impact of gun violence in Colorado (including the statistic mentioned above) by accessing: The State of Gun Violence in Colorado –Giffords Law Center to Prevent Gun Violence (Accessed 22 December 2021)
In the News
Floyd Tunson installation sparks larger project about gun violence, Black men at Colorado Springs museum –The Gazette
This exhibition contains images and references to forms of violence, particularly racial and gun-related violence. The Endangered video contains a verbal reference to sexual assault. Please be mindful of your needs when viewing the exhibition. A printed list of mental health and other related resources is available.
Colorado College Student Work
This exhibition incorporates artwork from Colorado College students who volunteered to dedicate their time to contribute to this project and a conversation that resonates with them. The Fine Arts Center partnered with Colorado College's Butler Center, CC's student center for antiracism, to invite student participation. The students' individual perspectives on gun violence and racial inequity bring forth conversations on subject matter that many young people in the U.S. face today.
In making their art, these students reflected on Tunson's work during an art walk at the FAC, as well as meditating on it on their own. They asked themselves "How do I relate to this subject matter? And what do I want to contribute to the conversation? How can I transform the space in ways that reflect my experience?" In such ways, their art–presented here and in the Steiner Family Gallery–is both a testament to the resilience of the students in the midst of political and social polarization and a call to attention to the various themes they bring up.
—Lydia Hussain Class of 2024, Curatorial Intern
Colorado Springs School District 11 Collective
The goal of the Collective (high school students and educators) was to provide a space for members of the D11 educational community to learn, respond, and imagine collaboratively. In the museum our group of artists explored the power of up-close interaction with an art exhibition. Over three weeks, Collective members participated in team-building activities, Visual Thinking Strategies, deep discussion, and ultimately creative design. All activities are inspired by the Fine Arts Center collection, specifically Floyd D. Tunson's Hearts and Minds. The highlight of this gathering was a discussion with Tunson and several of the artists who created Endangered, which offered a unique perspective on the exhibition—a rare opportunity to unpack the messaging and power of art.
The Collective culminated in a maker's space experience allowing each artist to develop a piece through their voice, medium, and lens. The result of this diverse exploration is seen in the exhibition.
—Jen Lennon, Arts Integration Instructional Specialist, Visual and Performing Arts , Colorado Springs School District 11
Endangered Events & Performances
PRE-PERFORMANCE Event:
June 15 from 4-6 p.m. at Ladyfingers at the FAC meet Endangered artists Tomás Doncker & The True Groove All-Stars for a pre-performance record listening party. Vinyl records and posters available for sale with artists available for autographs.
---
Live Performances:
June 17 & 18, 6 p.m.
Tomás Doncker & The True Groove All-Stars present Endangered, a live music and multi-sensory installation performance steeped in 21st Century Psychedelic Soul. Endangered premieres at the Colorado Springs Fine Arts Center as an intimate site-specific performance in the Floyd D. Tunson: Hearts and Minds exhibition.
Inspired by the Afro-Futuristic and politically charged artworks of Colorado's own Floyd D. Tunson and powered by lyrics from Pulitzer Prize winning poet Yusef Komunyakaa, Tomás Doncker and The True Groove All-Stars chart a sonic journey to freedom, a modern day revolution of the mind.
FREE for students and teachers from any school with school ID and CC Gold Card holders (get tickets online now and present ID upon arrival).
Colorado Springs Fine Arts Center at Colorado College
30 W Dale St, Colorado Springs, CO 80903
Friday, June 17, 6 p.m. |  Saturday, June 18, 6 p.m.
CONTENT ADVISORY: This program addresses issues of gun, and other forms of violence. Although the program offers a hopeful, positive, and empowering message, some themes and images may be troubling to certain audiences.
PLUS, don't miss – 
Floyd D. Tunson:
Ascent
| A survey exhibition across multiple venues
Two major arts centers in the Denver metro area, the Arvada Center for the Arts & Humanities and Redline Contemporary Art Center, will simultaneously present a major survey exhibition featuring works from the past five decades by Floyd D. Tunson. Collaboratively curated by Wylene Carol, Daisy McGowan and Collin Parson.
Arvada Center: June 9–August 28, 2022
RedLine Contemporary Art Center: June 10–July 31, 2022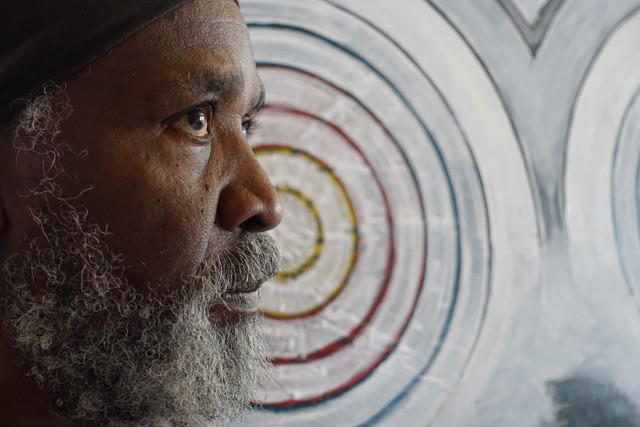 About Floyd Tunson

 

 
One of the most highly regarded and influential artists in the state, Tunson has worked and taught in the region for over five decades. Born in 1947, Floyd D. Tunson studied through the years at the University of Colorado, Parson's School of Design, University of Denver, and Adams State College, where he earned an MA Degree. In 1974, long before diversity and inclusion were stated missions of museums, he exhibited a solo show at the Colorado Springs Fine Arts Center. Since then, he's shown extensively throughout the Rocky Mountain region. With a 40-year retrospective, Son of Pop, at the Fine Arts Center in 2012-2013 and a solo show, Janus, to celebrate the opening of the Marie Walsh Sharpe Gallery at the University of Colorado's Ent Center for the Arts in 2018. Tunson is represented by Michael Warren Contemporary, Denver. 
Top: Floyd D. Tunson, Hearts and Minds (detail), 1993-95, Mixed media
Left: Photo of Floyd D. Tunson by Florence Tunson
Related Events
Sponsors
Colorado College Cultural Attractions Fund
Catharine and Bart Holaday Endowment for Interactive Art
CALM Foundation
Walston Group Real Estate, Inc.