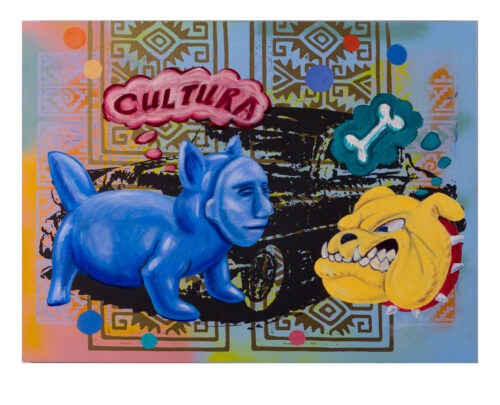 Community can be defined as a group of people who have shared characteristics or inhabit the same space. Drawing from works in the collection stewarded by the Colorado Springs Fine Arts Center, Mi Gente: Manifestations of Community in the Southwest considers community within a landscape that has been shaped by colonization and migration. Focusing primarily on works by Chicanx/a/o, Hispanic, and Mexican American artists based in New Mexico and Colorado, Mi Gente considers the politics and complexities of community, including those who are perceived as outsiders. 
The spiritual, familial, and artistic groups represented in these artworks demonstrate that community is elastic—it is flexible, with individuals frequently weaving in and out of multiple roles and factions. This fluidity points to how traditions and shared experiences from Mexico manifest in the United States, alluding to the transnational nature of many communities. For some who have made the journey across the border or live in the borderlands, the purpose of community is often rooted in safety and survival. Furthermore, to publicly make one's presence known through art, fashion, car culture, or political movements—to assert one's community—can be an act of resistance. To move both within and independent of these aesthetics and to have or not have these shared experiences further complicates what community means to each individual.  
Mi Gente: Manifestations of Community in the Southwest is curated by Savanah Pennell, Assistant Curator of Collections, with support from Katja Rivera, Curator of Contemporary Art. The exhibition is generously supported by The Anschutz Foundation, Colorado Creative Industries, the Bee Vradenburg Foundation in memory of Kathleen Fox Collins, the John and Margot Lane Foundation, and the National Endowment for the Humanities.
Image: Carlos Frésquez, The Obsidian Ranfla Series #3 (detail), 1999, Museum Purchase (Colorado 2000 Purchase Prize), FA 2000.4.
---
"Mi gente: Manifestaciones comunitarias del Suroeste"
Del 1ero de septiembre del 2023, al 3 de febrero del 2024 
El concepto de comunidad se suele definir como un grupo de personas que comparten ciertas características o que habitan un mismo espacio. "Mi gente: Manifestaciones comunitarias del Suroeste" es una muestra que contiene obras de la colección, a cargo del Colorado Springs Fine Arts Center, que consideran lo comunitario dentro de un paisaje que ha sido moldeado por la colonización y la migración. La exposición se centra en obras de artistas con orígenes chicanx/a/o, hispanos y mexicoamericanos con sede en Nuevo México y Colorado. Además, considera las complejidades propias de una comunidad, así como sus ideas políticas e incluye a aquellas personas que son percibidas como forasteras. 
Las agrupaciones espirituales, familiares y artísticas representadas en estas obras demuestran que la comunidad es elástica. Su flexibilidad se manifiesta en los individuos que frecuentemente se entremezclan representando múltiples roles y facciones. Esta versatilidad también se manifiesta en la manera en la que las tradiciones y experiencias mexicanas son compartidas en los Estados Unidos; aludiendo a la naturaleza transnacional de muchas comunidades. Para las personas que han cruzado la frontera, o viven en las zonas fronterizas, el propósito de pertenecer a una comunidad a menudo está enraizado en la seguridad y supervivencia. Aunado a esto; hacerse presente de manera pública a través del arte, la moda, la cultura automovilística o los movimientos políticos y representar a sus comunidades es ya un acto de resistencia. Moverse dentro e independientemente de estas estéticas y tener, o no, estas experiencias compartidas complican aún más el significado de comunidad para cada individuo. 
"Mi gente: Manifestaciones comunitarias del Suroeste" es una exposición curada por Savanah Pennell, Curadora Asistente de Colecciones del FAC; con el apoyo de Katja Rivera, Curadora de Arte Contemporáneo. La exposición cuenta con el generoso apoyo de The Anschutz Foundation y Colorado Creative Industries. 
Related Events
Sponsors


Bee Vradenburg Foundation, in Memory of Kathleen Fox Collins

National Endowment for the Humanities