---
---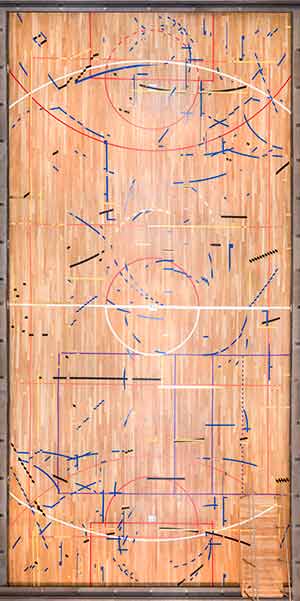 Working across printmaking, drawing, sculpture, and installation, Ronny Quevedo uses schematics—from dressmakers' pattern sheets to architectural plans to geographical maps—in order to explore the formation of individual identity shaped by a fractured past. References to zoot suits are brought into conversation with Quechua culture, while Mesoamerican ballcourts are placed next to diagrams of soccer stadiums. Intentionally conflating time, space and languages, the artist maps relations between distinct histories, narratives, and visual forms.
At the Colorado Springs Fine Arts Center, Quevedo premieres newly commissioned large-scale works, including a new floor installation composed of reclaimed wood sourced from a professional basketball court. The artist selected pieces from the section of the court commonly known as the paint, broke them apart and reconfigured them, then overlaid them with a new diagram. This work is the latest in a series of architectural projects related to historic and contemporary playing fields, including Mesoamerican ball courts, basketball courts, and indoor soccer fields—sites that provide spaces for collective assembly. In this way, the series considers the role of the individual within a larger collective while also reflecting on the rules and inconsistencies that govern labor, movement, and migration.
Quevedo's new works are presented alongside a selection of recent drawings and sculptures that incorporate a wide range of materials, from gold leaf, wax, and muslin to plastic crates, carbon paper, and pattern sheets. These choices bring to mind myriad references extending beyond the realm of traditional painting and drawing, touching upon materials and processes connected with immigration and movement both past and present.
A celebration of Quevedo's recent artistic practice, at the line brings together works that weave together layered histories from across the Americas and poetically speak to the formation of diasporic identities.
Top image: Ronny Quevedo
no hay medio tiempo / there is no halftime (after Glissant and Quevedo) (detail)
2017, Custom printed vinyl and vinyl tape
Photo by Hai Zhang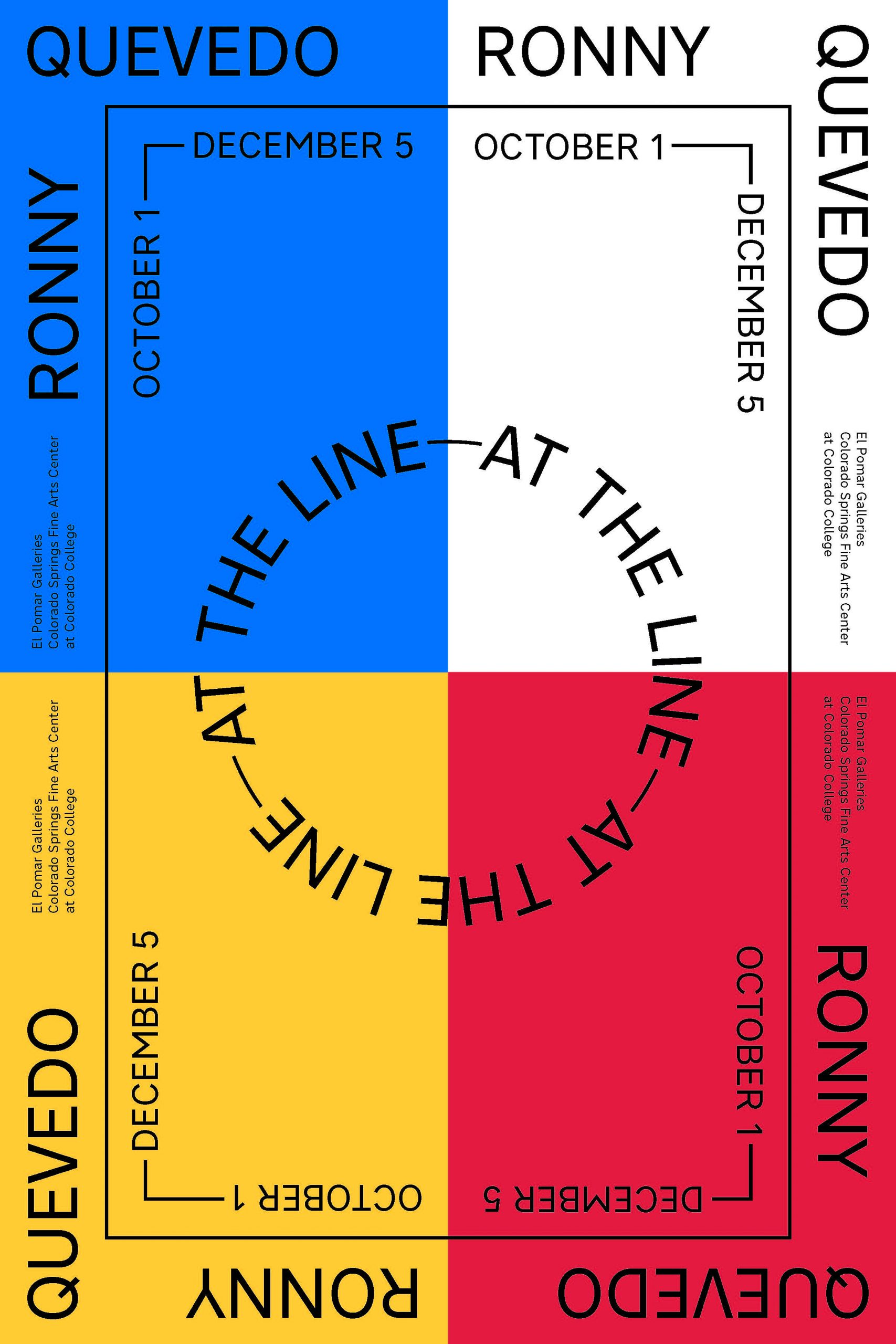 Learn more about Ronny Quevedo and the exhibition in the gallery guide
Above right: Ronny Quevedo
no hay medio tiempo / there is no halftime (after Glissant and Quevedo)
2017, Custom printed vinyl and vinyl tape
Photo by Argenis Apolinario
Details
Hours
Wednesday–Saturday 10 a.m.–4 p.m. by reservation only
Admission includes entrance to all other galleries in the museum.
Tickets
| FAC Members | Non-member adults | Military & Seniors (55+) | Students & Teachers |
| --- | --- | --- | --- |
| Free | $10 | $5 | Free |
Ronny Quevedo is a 2021 Joan Mitchell Fellow. The Joan Mitchell Fellowship is awarded annually to 15 US-based artists making exceptional work; the fellowship provides financial support interwoven with professional development to support artists' long-term success.
Sponsors