Springs Surreal celebrates the work of four Colorado Springs-based artists, each working within the realms of dreamscape, fantasy, ready-made, and chance. These artists are looking to their Surrealist predecessors and at the same time personalizing and contemporizing the philosophies that defined the movement during its inception during the early 20th century between World Wars I and II, taking form first in literature then in visual arts.
The first Surrealist manifesto was published in 1924, and contained this definition written by painter Andre Breton: "Surrealism, pure psychic automatism by which it is intended to express, either verbally or in writing, the true function of thought. Thought dictated in the absence of all control exerted by reason, and outside all aesthetic or moral preoccupations." He continued to articulate the movement in 1930, writing, "There is a certain point for the mind from which life and death, the real and the imaginary, the past and the future, the communicable and the incommunicable, the high and the low, cease being perceived as contradictions." There were two Surrealist schools of thought. One had to do with automatism and chance and is seen in the abstract work of Joan Miró. The other is exemplified by painters such as René Magritte and incorporates recognizable objects and themes taken out of their natural contexts, and combined in scenes that often refer to dreams and fantasy, and conjure universal concepts.
Surrealism's celebration of imagination and liberation of the creative process remain a vibrant component of contemporary art and sustains a thriving legacy as seen through the work of the four regional artists represented in Springs Surreal. These artists cleverly represent the landscape of the subconscious psyche and natural conflicts between order, chaos, and chance via unexpected materials and subjects, questioning long standing beliefs about art, ourselves, and the world around us – questions that only the viewers can answer for themselves. The subjective experiences imagined by the artists and materialized within the exhibition may be both foreign and familiar, an ongoing fascination with concepts, imagery, and sensations that remain challenging to communicate without the language of visual art.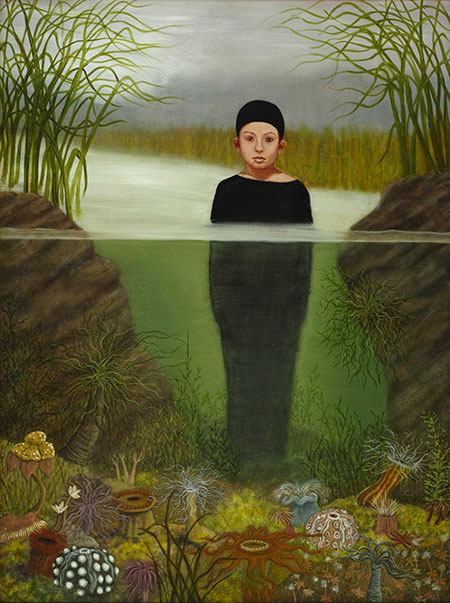 Lorelei Beckstrom was born in Minnesota in 1967. After studying painting, sculpture, and graphic design for seven years, she relocated to Colorado in 1994, soon turning her focus exclusively to narrative figurative oil painting. Beckstrom wants to leave her visual storytelling open for interpretation, not packaging particular emotions or messages. Her work inspires curiosity; she wants us to wonder – and she leaves the door cracked just enough to peek in. She has been dedicated to developing the arts culture in Colorado Springs, where she co-owned the award-winning Rubbish Gallery and currently works as gallery assistant/program director for the Modbo Gallery/ModboCo School of Arts. In 2012 she was voted by the Colorado Springs Gazette as "Best Artist on the Rise" and was featured in a cover story by the Colorado Springs Independent and awarded a Bronze Medal for "Best Exhibition" for her 2013 solo show Fluff. The Colorado Springs Business Journal included her in their feature "The Best Artists of the Region" in 2014. Beckstrom has exhibited prolifically in Colorado, along with galleries in Minneapolis and Santa Fe. Her work resides in collections in the United States, Mexico, and England. She is represented by The Modbo in Colorado Springs and the Carla Wright Gallery in Denver.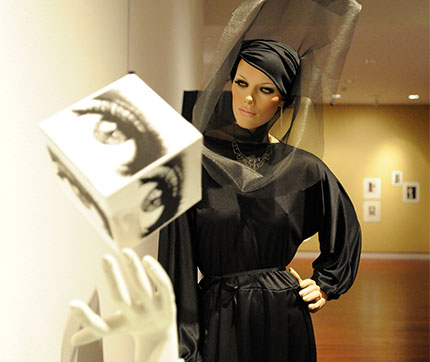 Aaron Graves is a native to Colorado Springs and has been exhibiting his work since 2003. Graves, who began as a photographer, has expanded his approach to art, which now involves not only photography, but also sculptural installations. His frequent use of mannequins often results in a realistic approach to explorations of beauty. Graves has attended the Art Institute of Denver and is a graduate of The University of Colorado, Colorado Springs. Describing this installation, Dans l'appartemente des Mannequins, the artist states: Welcome to this moment. The concept here, most simply put, is contrasts. Two worlds collide: Surrealism & Realism. A collection of oddities presented by a group of lovely hosts who guide you through the space, unaware they two are part of the exhibit. Clean and sleek, black and white, three glimpses of color – minimalistic, yet dramatic: a refined but unsettling dreamscape.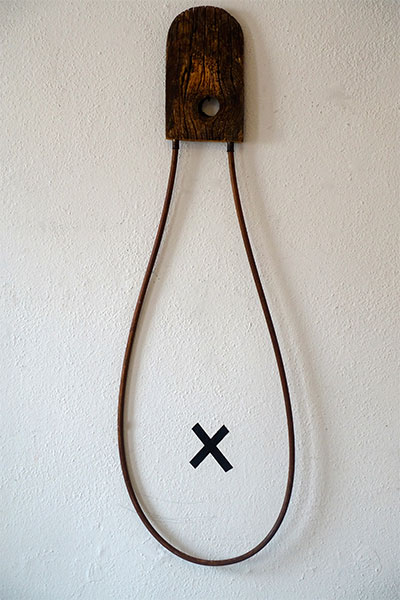 Kay Williams Johnson was born in Victoria, Texas in 1952, grew up in Ft. Worth, Texas and fled as soon as possible. She holds a BFA with High Honors from The University of Texas at Austin and an MFA from The School of the Art Institute of Chicago. In the artist's words regarding Springs Surreal:
Surrealism covers a lot of territory in art history but the main area of interest for me is the inclusion of, and exploration of, an inner world. I was fortunate to study with several people who were Chicago Imagists – Christina Ramberg and Ray Yoshida – and a particular kind of cartoony surrealism was appealing to me, and was linked to living in that city at that time. Visual sources from other cultures, advertising, comics, found objects, and invention were considered legitimate avenues of exploration alongside traditional techniques and of course, soaking oneself in art history was mandatory. The idea was to develop and synthesize a personal vocabulary and to report back from there, hopefully enlarging the visual vocabulary for ones spot in the contemporary world. There is a lot of overlap with the way the Surrealists in 1920s Europe allowed the rational and irrational to co-exist, and a way of seeing that can remain fresh even in a digital age. My large construction for this show, Through the Looking Glass was a proposal using the Magritte painting The False Mirror as a conceptual starting point. I wanted to use the question of "Who or what is doing the looking?" as an image. Former work on posters and collage inform my work method, which is about constructing meaning through pieces that interact, rather than description, and that hopefully connects with the viewer as well.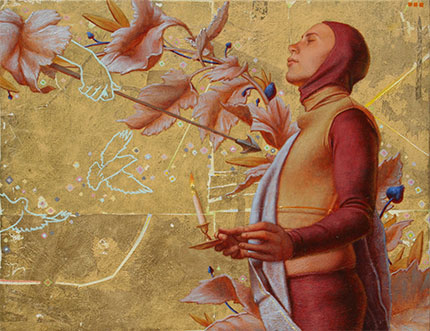 Chris Sedgwick was born in Florida in 1981 and began painting at a young age.  He graduated from Florida State University and began a career in painting after moving to Asheville, North Carolina.  His inspiration spans from the spiritual to the scientific and his work often evokes intense emotional responses.  His work is in numerous private collections worldwide and his housed in the permanent collections of Richard Kessler, Florida State University and Western Carolina University. Sedgwick shares his time between the mountains of Colorado and western North Carolina; drawing inspiration from the natural beauty of both regions.
About the Juror
Denver native Collin Parson is an artist, curator, and designer and currently serves as the Exhibition Manager and Chief Curator for the Arvada Center for the Arts and Humanities in Arvada, Colorado. Parson received a Bachelor of Fine Arts in Theater Design and Technology with emphasis in Lighting and Scene Design from the University of Colorado at Boulder and his Master in Arts in Visual Culture and Arts Administration from Regis University in Denver. His creative work involves the control of light and color to create vivid geometric light and space works. He has had the privilege of jurying many arts festivals and exhibitions and has received many awards and recognition for his curatorial projects. He was awarded "100 Colorado Creatives" by Westword magazine in 2013 and featured in Colorado Homes and Lifestyle magazine. Parson recently had a major solo at Colorado Springs Fine Arts Center (Continuance: Charles and Collin Parson) and from that he received his first public art commission at Pikes Peak Center in Colorado Springs, Colorado.