FAC Theatre Company 2004–2005 Season
Mainstage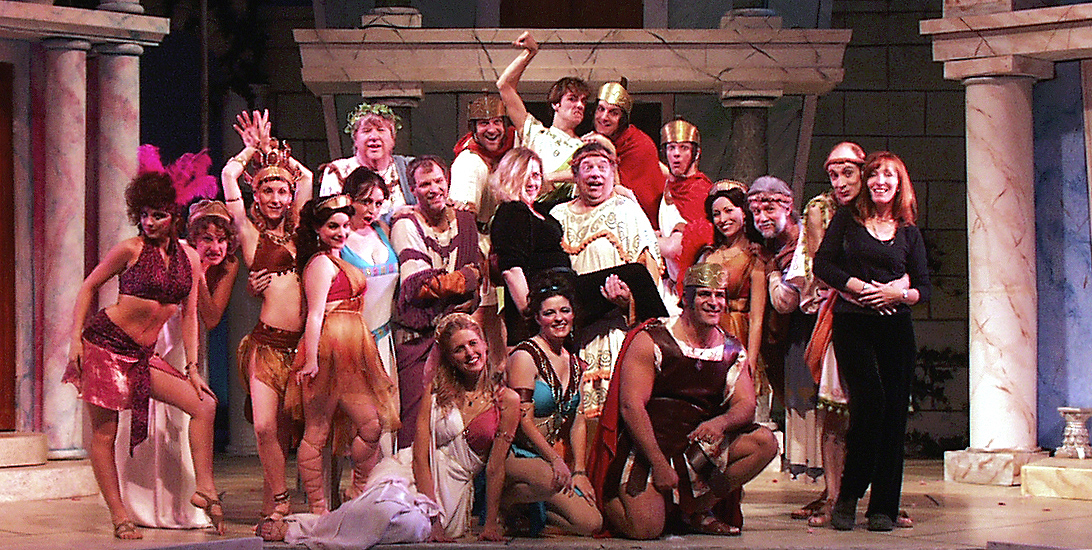 A Funny Thing Happened on the Way to the Forum
Sept. 30–Oct. 24, 2004
Book by Burt Shevelove and Larry Gelbert
Music and Lyrics by Stephen Sondheim
A Funny Thing Happened on the Way to the Forum is a nonstop laugh fest in which Pseudolus, a crafty slave, struggles to win the hand of a beautiful, but slow-witted, courtesan named Philia for his young master, Hero, in exchange for freedom. The plot twists and turns with cases of mistaken identity, slamming doors and a showgirl or two.
Pictured: the Company of A Funny Thing Happened on the Way to the Forum
"A Funny Thing Happened on the Way to the Forum was the first production mounted on the FAC stage after the renovation and expansion. It signified a new, more professional direction for the company and, for me personally, kind of marked the end of an era. The first show I ever performed in on the FAC stage was a previous version of …Forum in which I played a Protean when I was 17. This time, at around 33, I had the absolute joy of playing Hysterium against David Plambeck's ever capable Pseudolus. I was honored to receive the Pikes Peak Arts Council's Best Actor Award, as well as the Gazette's Best of Springs Best Actor Award for my portrayals of Hysterium, and the Emcee in the subsequent production of Cabaret." –  Jonathan Eberhardt, Hysterium
Musical Direction by Susan Dawn Carson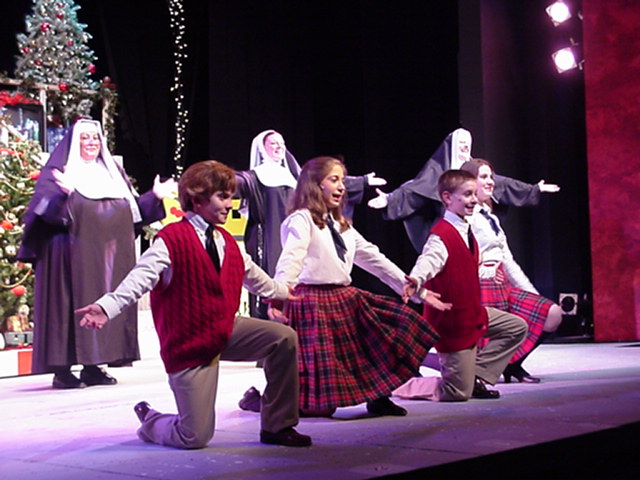 Nuncrackers: The Nunsense Christmas Musical
Christmas, 2004
By Dan Goggin
The show is a fundraiser put on by the Little Sisters of Hoboken to raise money to bury sisters accidentally poisoned by the convent cook, Sister Julia (Child of God). Updated with new jokes, additional lyrics, two new arrangements, and a brand new song, this madcap musical has been videotaped for television starring Rue McClanahan as the Mother Superior.
Pictured: the Company of Nuncrackers
"Nuncrackers was my first professional show. I hadn't a clue what I was doing as a performer (I like to think I've learned since then) and so I really just followed my brother, who had also been cast. I remember Johnny telling dirty jokes while he put on my wig and eating multiple bags of popcorn per show, much to the confusion of the adult cast. I remember doing a nativity scene with a goat previously dismembered in a production of Joseph and trying to inconspicuously keep the legs from falling off. My strongest memory, though, is the teapot song: we were all parts of a teapot and would whistle coming together… Except I can't whistle, even to this day. Despite a heroic effort by the director to teach me, I think, in the end, somebody whistled offstage." – Beki Yukman, Student
Directed by Hela Robran
Musical Direction by Roberta Jacyshyn
Choreography by Peter Strand
Stage Managed by Donna Billek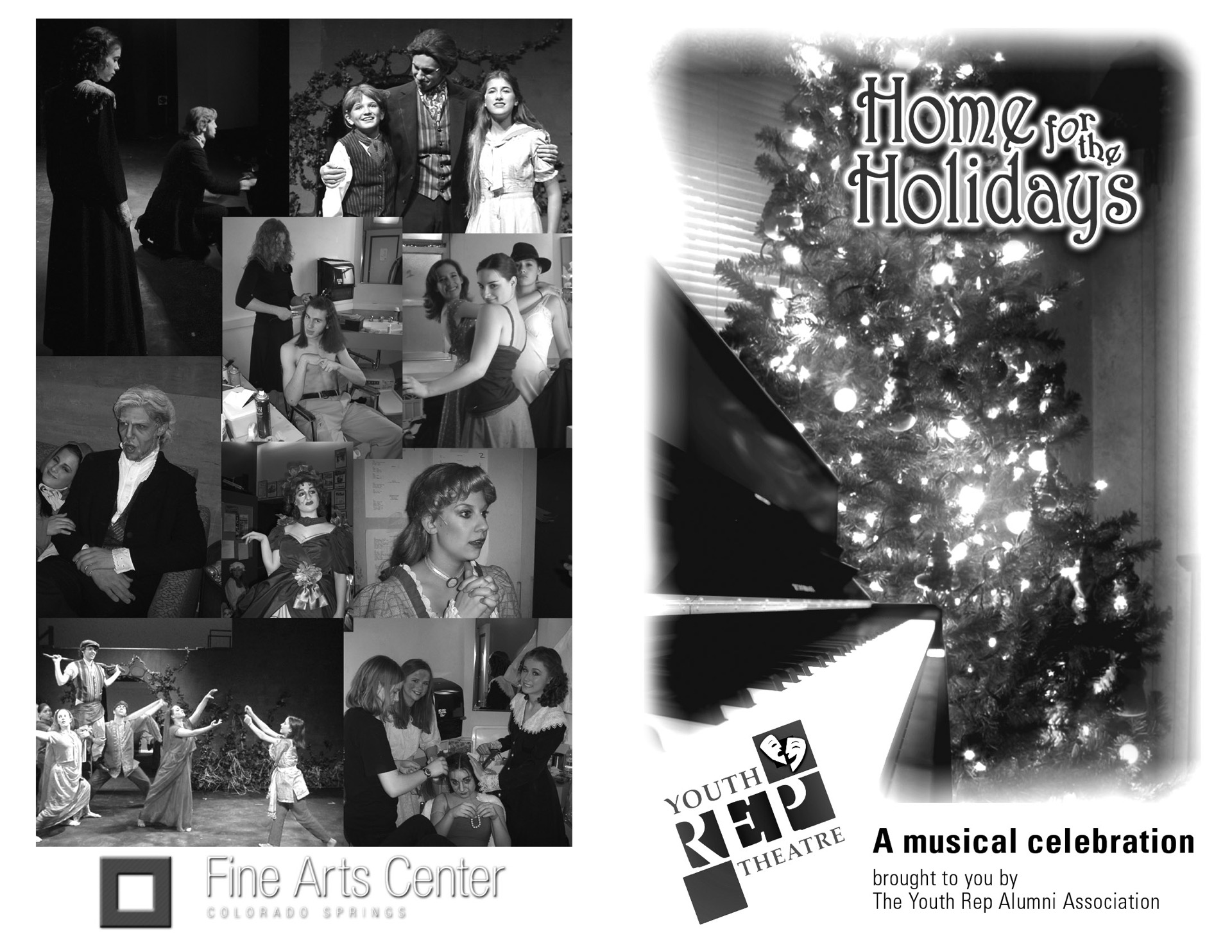 Home for the Holidays: A Concert
Dec. 21, 2004
Presented by the Youth Rep Alumni Association
Drawing from a rich musical catalog, Home for the Holidays consists of contemporary takes on more than 25 perennial favorites. Backed by a kinetic eight-piece rhythm and brass band, traditional favorites like "O Come All Ye Faithful" and "O Holy Night" provide heart as they come to life side-by-side with radio favorites such as "All I Want for Christmas is You" and "Christmas (Baby, Please Come Home)."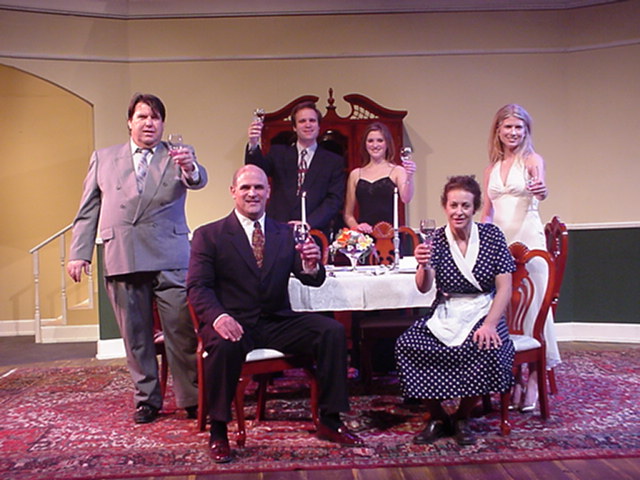 The Dining Room
Jan. 7–15, 2005
By A.B. Gurney
The Dining Room is A.R. Gurney's attempt to take an in-depth look into the lives of a vanishing species: the upper-middle-class WASP. The play is broken up into short vignettes that provide a slice of life view of many different families. They are funny and touching and uncomfortable–A.R. Gurney seems to grapple with every emotion of domestic life.  It is a truly delightful, fast-paced show that has something for everyone. No matter who you are, you will feel great about yourself, question your choices, feel empathy for others, and have a good laugh at some point while watching The Dining Room.
Pictured: the Company of The Dining Room
"The Dining Room was one of the best experiences in my acting career, and the turning point of it. I worked with a great cast and crew that enabled me to grow as an actor beyond what I ever thought I could (aka building my confidence). I also met a fellow actor, Emory, that has been part of my tribe during the journey of acting. Because of this play and everyone involved, I developed the confidence I needed to move to LA, and NYC, and pursue my dream further. Thank you Fine Arts Center for giving me the opportunity to be part of one of the best plays ever!" – Jenice Marshall, Actor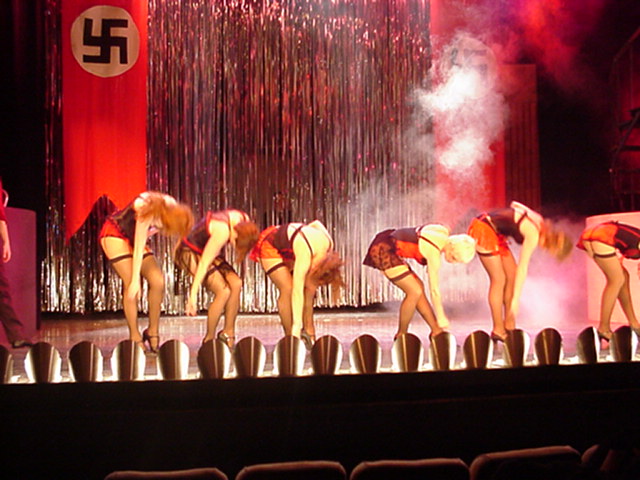 Cabaret
Feb. 4–27, 2005
Book by Joe Masteroff
Music by John Kander
Lyrics by Fred Ebb
Cabaret takes place from 1929-1930 in post-WW1 Berlin. On his first night in Berlin, Clifford Bradshaw wanders into the Kit Kat Klub, a seedy nightclub overseen by the strange, omniscient and gender-bending Master of Ceremonies, "the Emcee." Here, Cliff meets Sally Bowles, a vivacious, talented cabaret performer, and an utterly lost soul. Sally and Cliff begin a relationship, which blossoms unexpectedly into a dream-like romance. As time passes, however, the situation in Berlin changes from exciting and vital to ominous and violent; Ernst, Cliff's first German friend, turns out to be an up-and-coming member of the Nazi Party, and Herr Schultz, a fellow boarder at Fraulein Schneider's guest house (and Schneider's fiancee), is the victim of an Anti-Semitic hate crime. With a distinctly Brechtian dose of provocation and a score featuring songs that have become classics of the American Musical Theater, Cabaret is a fierce, meaty musical that pushes the boundaries of the form and literally holds "the mirror up to nature."
Pictured: the Kit Kat Girls
"I remember going to that audition.  I was 39 years old and the oldest by at least a decade.  My husband wished me luck as I left, but when I came home and told him I was cast he asked, "How much time will this take?" We had 3 daughters at the time ages 8, 6 and 3. This was back before equity members were in the cast so rehearsals could run as long as the choreographer wanted.  There was one month of rehearsals and a one month run.  I remember asking Jonathan Eberhardt, the wig and make-up artist, what I should do with my hair and he said don't cut it and go Platinum! When I got home from that hair appointment my three-year old didn't recognize me.  I loved performing in that show.  It was the first of 6 shows I've done at the FAC." – Anita Lane, Ensemble
Directed by Julian M. Bucknall
Musical Direction by Roberta Jacyshyn
Choreography by Zetta Alderman and Maria Tucker
Wig and Make-up Design by Jonathan Eberhardt
Moon Over Buffalo
March 11–19, 2005
By Ken Ludwig
The hilarious Moon Over Buffalo centers on George and Charlotte Hay, fading stars of the 1950s. At the moment, they're playing Private Lives and Cyrano De Bergerac in rep in Buffalo, New York with five actors. On the brink of a disastrous split-up caused by George's dalliance with a young ingénue, they receive word that they might just have one last shot at stardom: Frank Capra is coming to town to see their matinee, and if he likes what he sees, he might cast them in his movie remake of The Scarlet Pimpernel.
"Beyond Ken Ludwig's writing, which provides the scaffold for perfect delivery of humor, we were privileged to be in the capable hands of Sandy Bray, a director who deeply understands comic timing. Mark Hennessy's perfect physical comedy and pratfalls — including the best fake drunk I have ever seen — made the show a delight. This was my first attempt at sword fighting, deftly coached by stage-combat pro Melissa (Ruchong) Granke. She had to teach me from scratch; Mark was already and old pro. Making it look easy is always the hard part. Lynn Jacobs was our stage manager: then a recent transplant, it was her first foray into Colorado Springs theater. The costumes and set were mind-blowing, and with a top-flight cast and crew, we had the recipe for well-expended blood, sweat, and tears, and some very fine comedy."  – Amy Brooks, Cast Member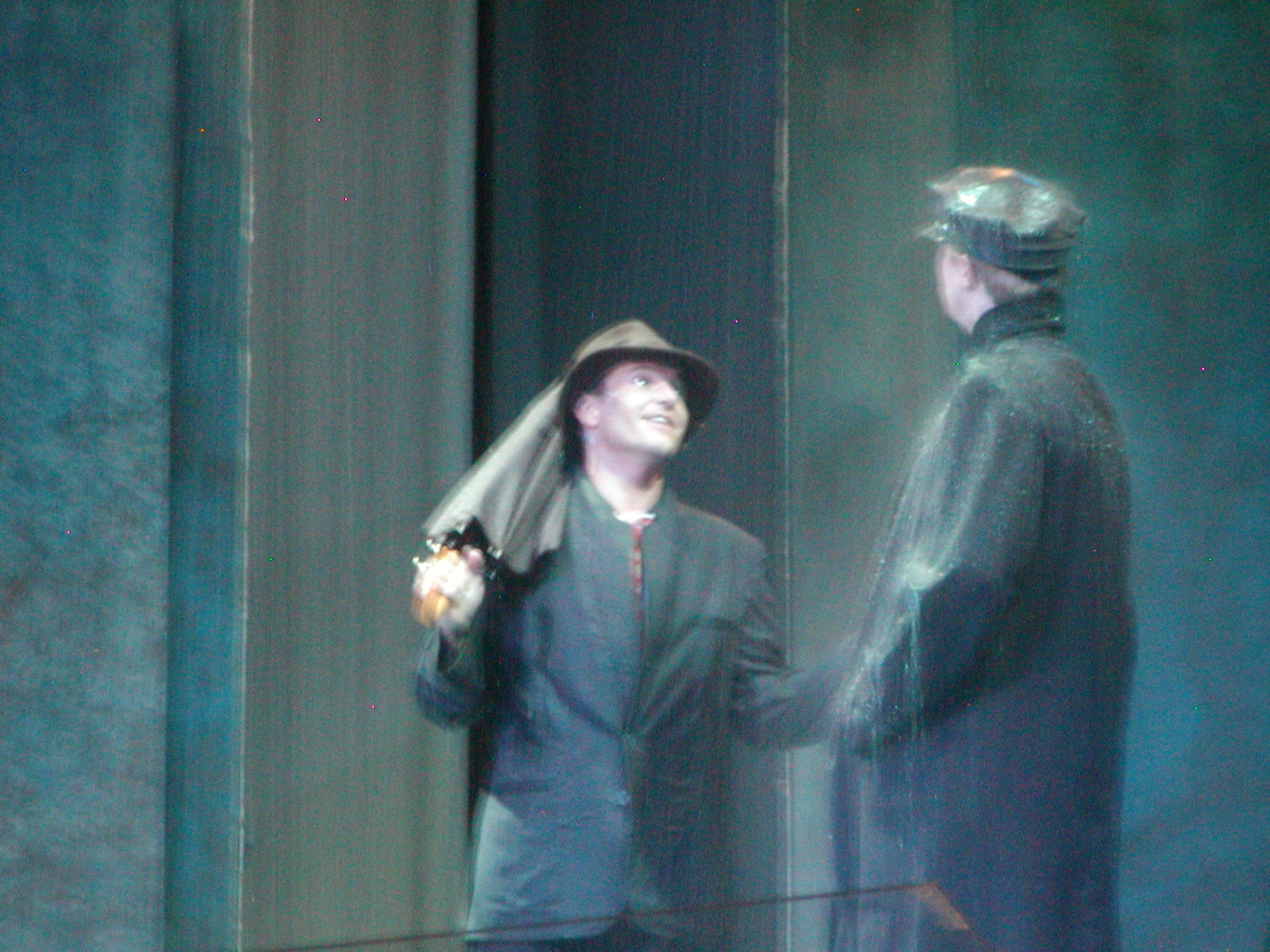 Singin' in the Rain
April 29–May 22, 2005
Screenplay and Adaptation by Betty Comden and Adolph Green
Music by Nacio Herb Brown
Lyrics by Arthur Freed
Singin' in the Rain has all the makings of a Tinseltown tabloid headline – the starlet, the leading man and a love affair that could change lives and make or break careers! In silent movies, Don Lockwood and Lina Lamont are a hot item but, behind the scenes, things aren't always as they appear on the big screen! Meanwhile, Lina's squeaky voice might be the end of her career in "talking pictures" without the help of a talented young actress to do the talking and singing for her.
Pictured: Jack Ward as Don Lockwood, and Ensemble Man
"As noted in the title, Singin' in the Rain…..requires rain. In our production, we produced 500 gallons and 250 square feet of rain water at 100 degrees Fahrenheit. The system was elaborate. In the far stage right wing, we placed a 500 gallon water trough into which we place two industrial, hot-water tank heating coils. Running for 2 hours, the water would come to a rolling boil at which point it was pumped over the stage through two 3" hoses to a height of 30 feet. It was then diverted to two water delivery pipes. Finally, the water ran through 25 standard, home shower heads. By the time the water hit the stage is was 100 degrees and uniformly covered the entire dancing area. As for the collection and drainage……that's a story for another time." Chris Sheley, Director of Production
Directed by Mark Hennessy
Musical Direction by Roberta Jacyshyn
Choreographed by Peter Strand
Co-Choreographer Mary Ripper Baker
Scenic and Lighting Design by Nancy E. Hankin
Costume Design by Heather Clark
Properties Design by June Scott Barfield
Hair/Makeup Design by Jonathan Eberhardt
Stage Managed by Donna Billek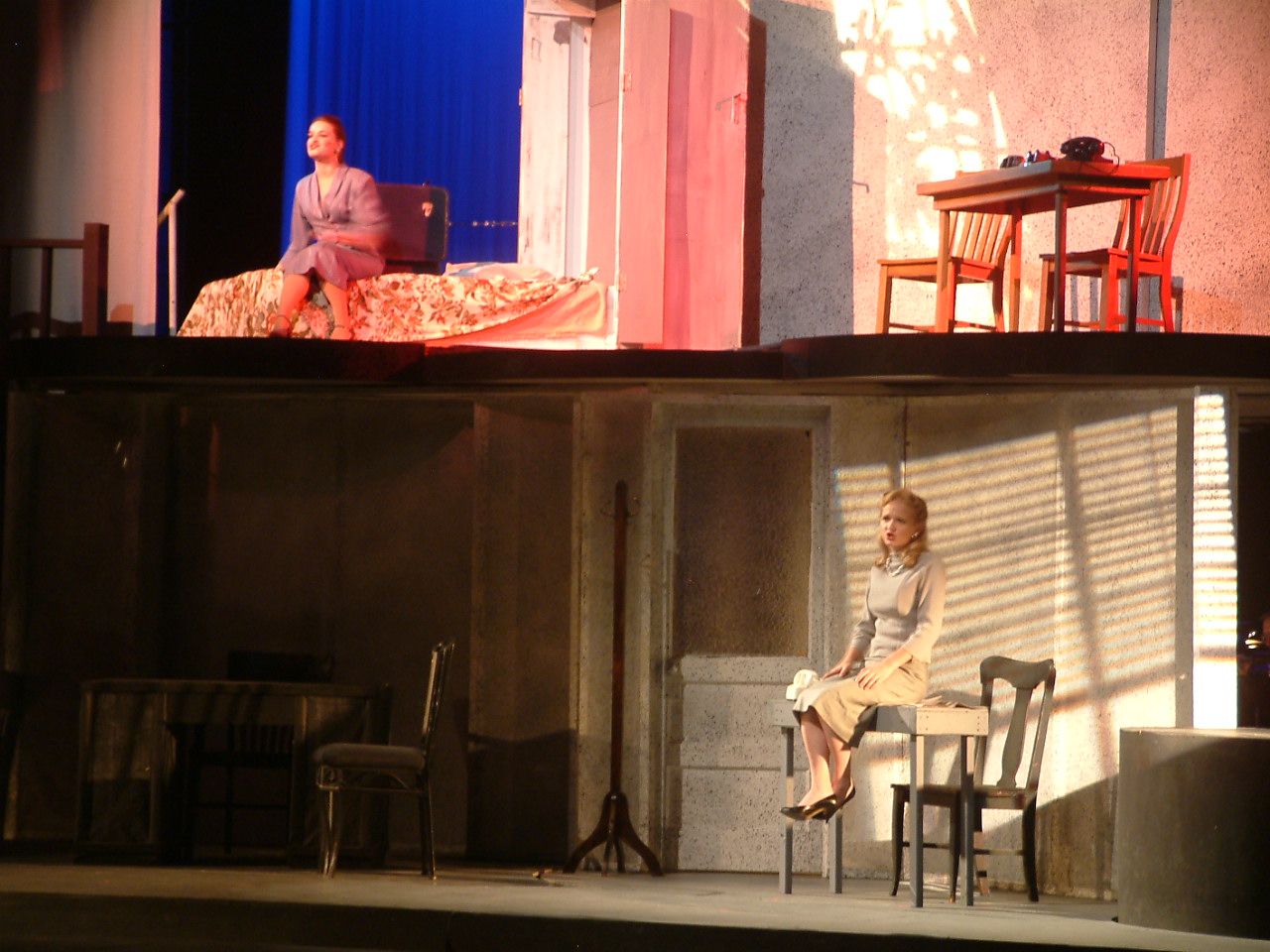 City of Angels
Youth Rep, July 20–24, 2005
By Cy Coleman, Larry Gelbart, David Zippel
In the late 1940s, Stine, a bookish writer of detective stories, struggles to adapt his crime novel into a workable screenplay. As Stine tries to maintain some integrity in the backstabbing world of Hollywood, his protagonist, a hardboiled private eye named Stone, fights for survival in a city full of criminals and opportunists. In a clever design choice, the stories are told on a split stage: Stine's world is in full color, while Stone's appears in black and white. With wit, humor, and a fantastic Cy Coleman score, City of Angels captures the snappy dialogue of a Raymond Chandler novel and the glitzy showmanship of classic Hollywood; the result is a crowd-pleasing musical unlike any other.
"City of Angels was the first show I designed for the FAC Theatre Company, and as it turns out the first of many. When I brought my portfolio down the ramp into the theater shop to meet Sandy Bray for the first time and interview for the design, the theater was in the throes of the first wave of renovation. The stage had been outfitted with new rigging and new lighting gear was being brought into the building but not quite online yet.  We created a show in a theater in progress. COA was quite a challenging show for youth theater, both in content and production needs. The conceit of the show was that it took place both in reality and in the film noir influenced mind of an author. I created lighting looks to show the audience through color what world the scene was taking place in. I was amazed at the quality of the youth education and the talent of the students. The dedication to educational theater was part of what really impressed me about the company and made me want to be part of it." – Holly Anne Rawls, Lighting Designer
Directed by Mark Hennessy
Musical Direction by Susan Dawn Carson
Associate Musical Director Bradley Veith
Orchestra Conducted by Sandy Shroads
Choreographed by JaNae Stansbery
Scenic Design by Nancy E. Hankin
Lighting Design by Holly A. Rawls
Properties Design by June Scott Barfield
Makeup/Costume Coordination by Suzanne Giles
Hair/Makeup Design by Jonathan Eberhardt
Stage Managed by Chad Runyan
Special Events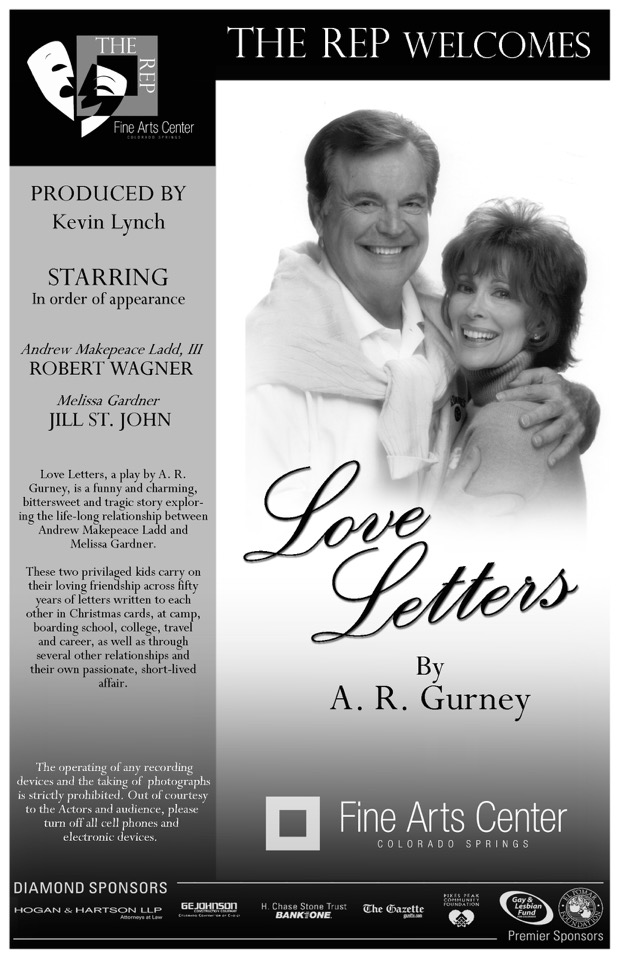 Love Letters
Special Event, Dec. 2, 2004
By A.R. Gurney
 Love Letters, a play by A.R. Gurney, is a funny and charming, bittersweet and tragic story exploring the life-long relationship between Andrew Makepeace Ladd III (played by Robert Wagner) and Melissa Gardner (played by Jill St. John). These two privileged kids carry on their loving friendship across fifty years of letters written to each other in Christmas cards, at camp, boarding school, college, travel and career, as well as through several other relationships and their own passionate, short-lived affair.
Produced by Kevin Lynch