FAC Theatre Company 2005–2006 Season
Mainstage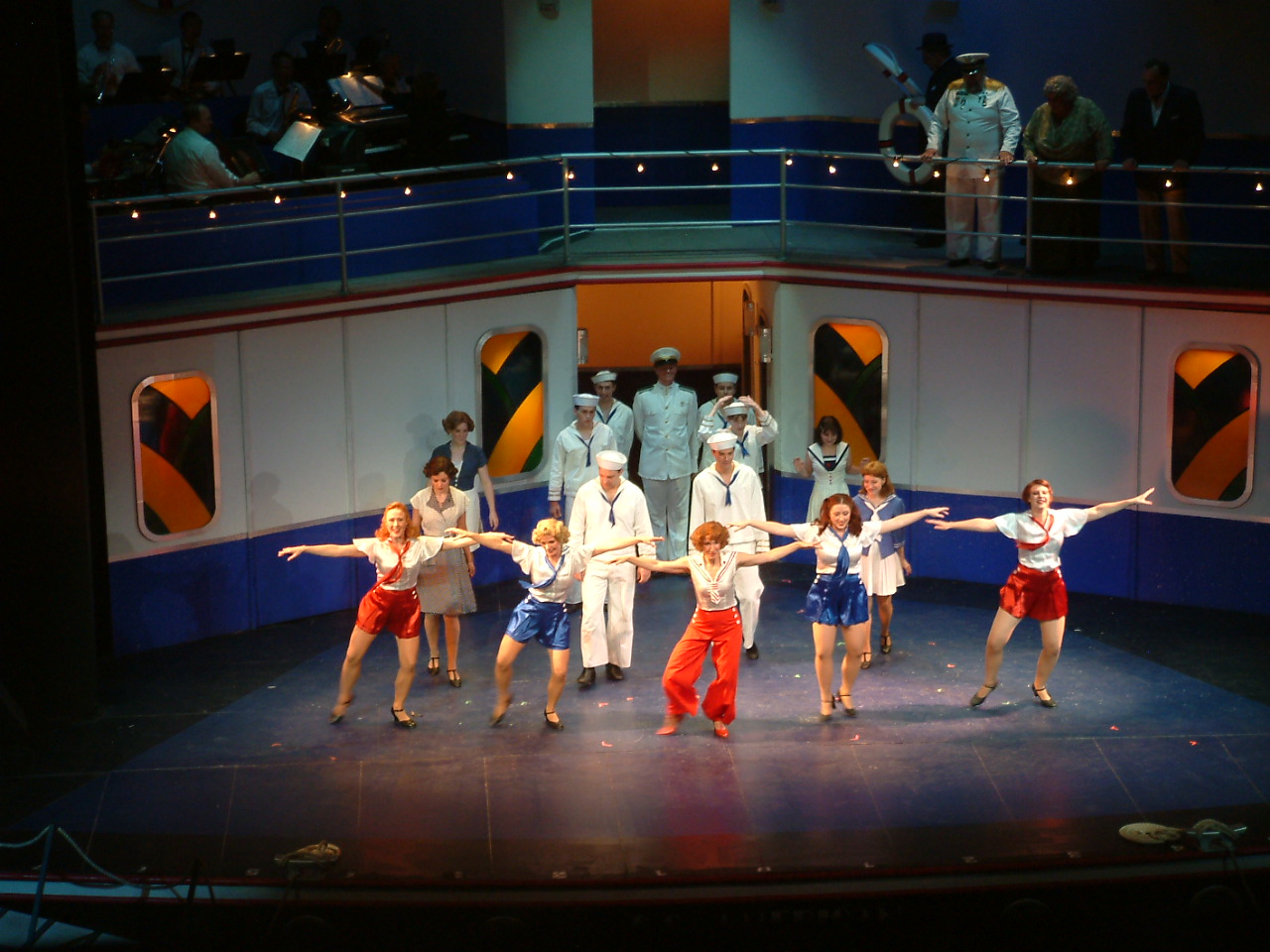 Anything Goes
Sept. 30–Oct. 23, 2005
Music by Cole Porter
Book by Guy Bolton, P.G. Wodehouse, Howard Lindsay, Russel Crouse
The S. S. American is sailing between New York and England with a comically colorful assemblage of passengers: Reno Sweeney, a popular nightclub singer and former evangelist, her pal Billy Crocker, a lovelorn Wall Street broker who has come aboard to try to win the favor of his beloved Hope Harcourt (who is engaged to another passenger, Sir Evelyn Oakleigh), and a second-rate conman named Moonface Martin, aka "Public Enemy #13." Song, dance, and farcical antics ensue as Reno and Moonface try to help Billy win the love of his life.
Pictured: Susan Dawn Carson as Reno Sweeney and the Company
"Oh, what a glorious time this show was!  Director Alan Osburn and Choreographer Mary Ripper Baker worked our tushes off with this one. I loved every minute of singing this amazing music with this whole glorious cast and dancing with my Angels…and dang did we dance!  And the designers outdid themselves. Glamorous!" – Susan Dawn Carson, Reno Sweeney
Directed by Alan Osburn
Musical Direction by Roberta Jacyshyn
Choreography by Mary Ripper Baker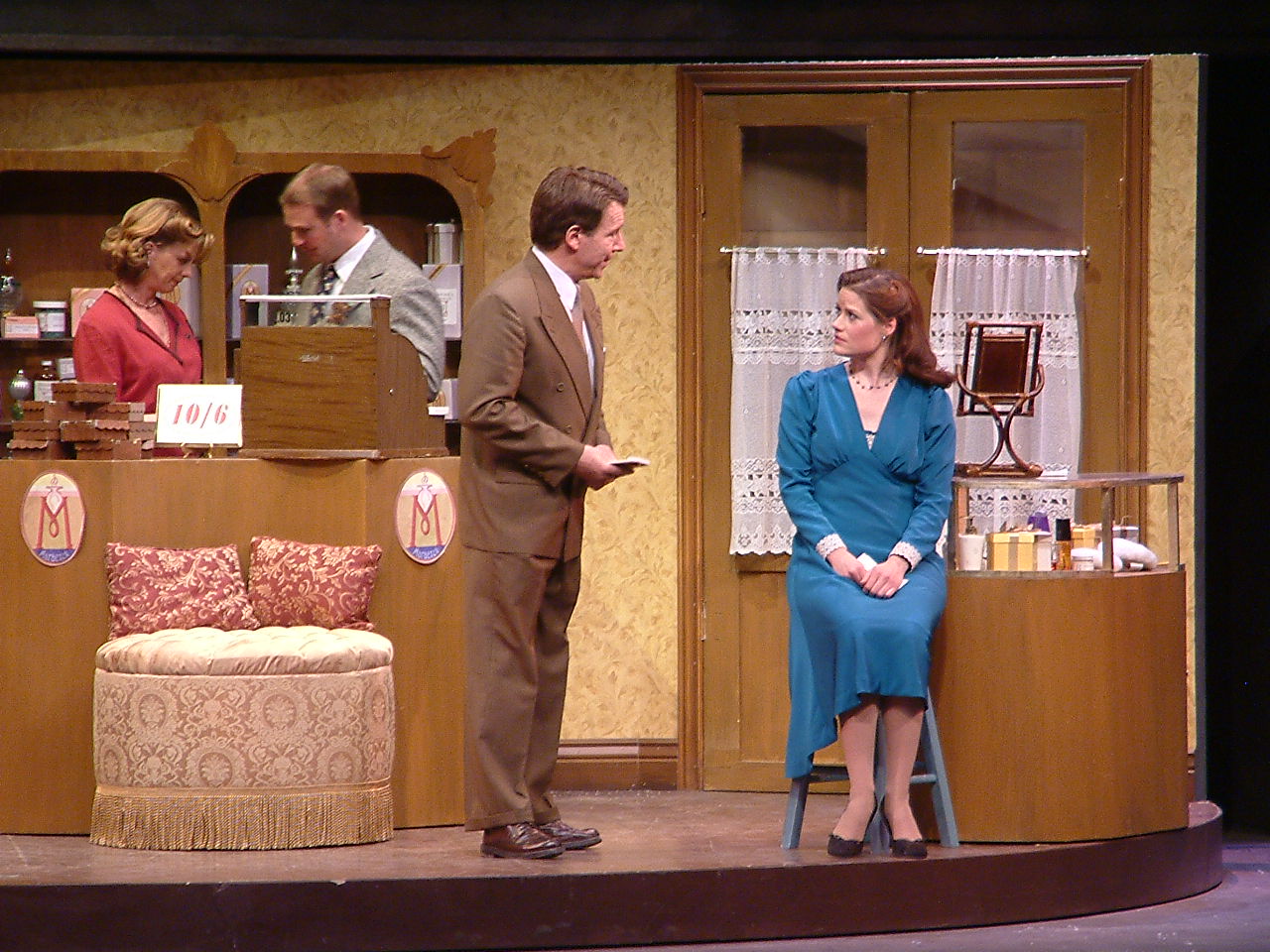 She Loves Me
Nov. 18–Dec. 11, 2005
Music by Jerry Bock
Lyrics by Sheldon Harnick
Book by Joe Masteroff
Set in a 1930s European perfumery, we meet shop clerks, Amalia and Georg, who, more often than not, don't see eye to eye. After both respond to a "lonely hearts advertisement" in the newspaper, they now live for the love letters that they exchange, but the identity of their admirers remains unknown. Join Amalia and Georg to discover the identity of their true loves… and of all the twists and turns along the way!
Pictured: Alan Osburn as Georg and the company of "She Loves Me"
"Playing the character of Georg in She Loves Me was always on my bucket list. When I was in New York, a friend of mine was the understudy for Amalia and asked me to come see her in the Broadway revival. I had never seen the show and I loved it. I left NY shortly after that and I remember being frustrated that I never auditioned for the part when Boyd Gaines left the show and I thought I had missed my chance. So, just doing the show was exciting for me.
As I look back on the experience the one thing that jumps out at me is the turntable. The FAC hadn't really used a turntable set before and the construction lacked some of the necessary elements for it to run smoothly, and as a result it would stop working periodically. Sometimes a few times during a performance. I will never forget all of the ensemble men racing from their dressing rooms to the stage and pushing with all of their might to get the stage to move five feet. God bless those guys.
I was so fortunate to be a part of that production. The memories and friendships will always hold a special place in my heart. I am grateful to have had the opportunity to have been a part of it." – Alan Osburn, Georg
Directed by Kelly Walters
Choreographed by Janet Johnson
Musical Direction by Richard Shore
Scenic Design by Christopher L. Sheley
Lighting Design by Lloyd Sobel
Costume Design by Susan Rose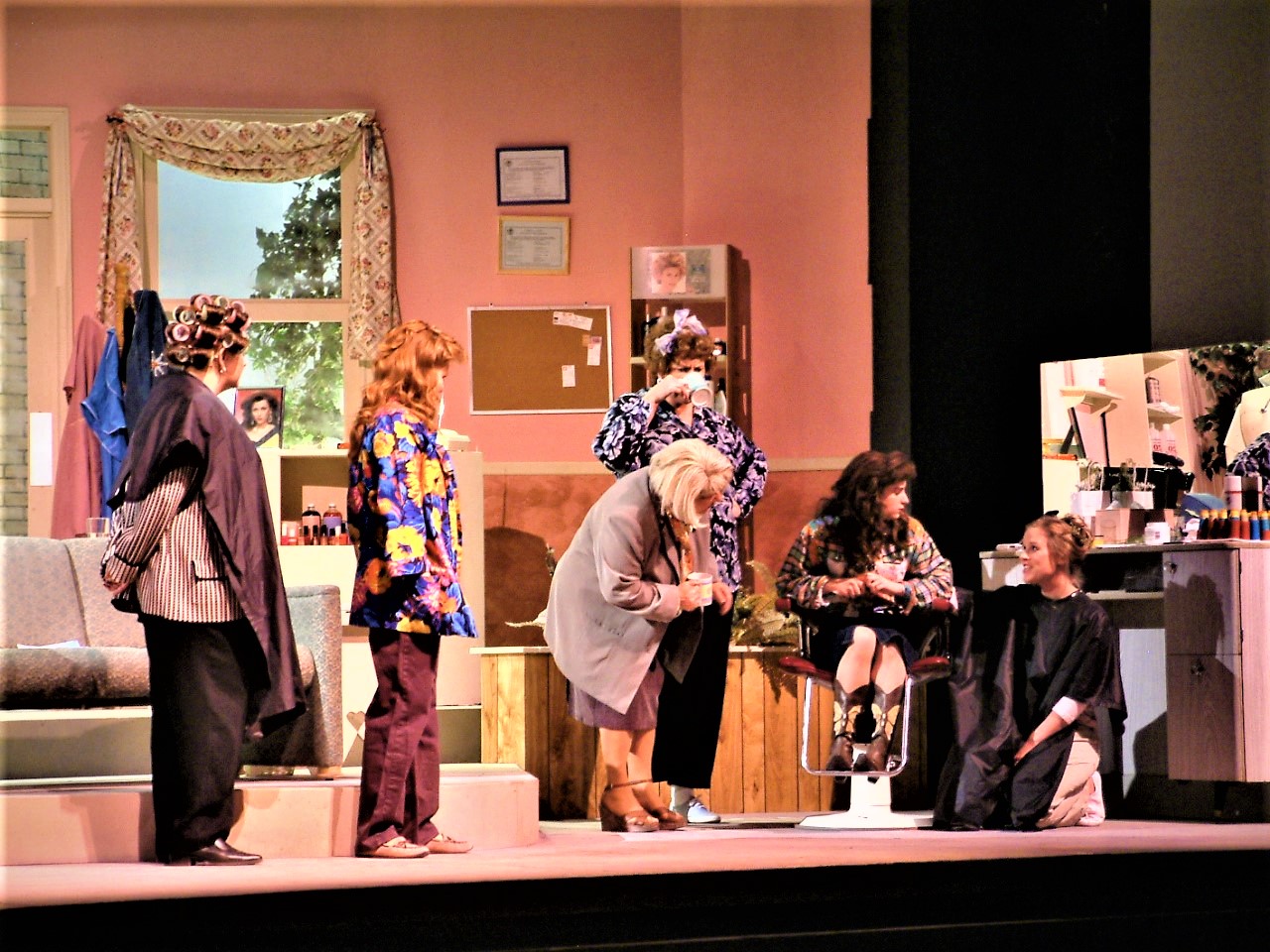 Steel Magnolias
Jan. 6–22, 2006
By Robert Harling
Truvy Jones runs a successful beauty salon in Chinquapin, Louisiana, where all the ladies in the neighborhood have a standing Saturday appointment. Along with her anxious and eager assistant, Annelle, Truvy styles the hair of many of the women about town: wealthy widow and former first lady of Chinquapin, Clairee Belcher, local curmudgeon Ouiser Boudreaux ("I'm not crazy, I've just been in a bad mood for forty years"), intelligent and compassionate career woman M'Lynn, and her daughter Shelby, the prettiest girl in town. Shelby's engagement is the talk of the town, but the joy and excitement of her wedding quickly turn to concern as she faces a risky pregnancy and a myriad of health complications. As the women of Chinquapin makes their ways over life's many hurdles together, they find comfort (and a fair amount of verbal ribbing) in one another. "You have no idea how wonderful you are," M'Lynn tells the ladies at the end of the play. Truvy responds, with a smile, "Of course we do."
Pictured: The Company of Steel Magnolias
"One of my fond memories while playing Shelby, was how beautiful and functional our set was. Built by Christopher Sheley, his work transformed the Springs' Fine Arts Center into an authentic Louisiana hair salon, ripe for us actors to bring to life the comedic and dramatic interplay of characters from Robert Harling's classic play. During the course of each show, our nails were done, and our hair was washed, dried and set. So much shared joy, pain and laughter was felt in that beauty salon." – Julie Sweum, Shelby
Directed by Hela Robran
Scenic Design by Christopher L. Sheley
Lighting Design by Olivia Riley
Stage Managed by Shannon Brewer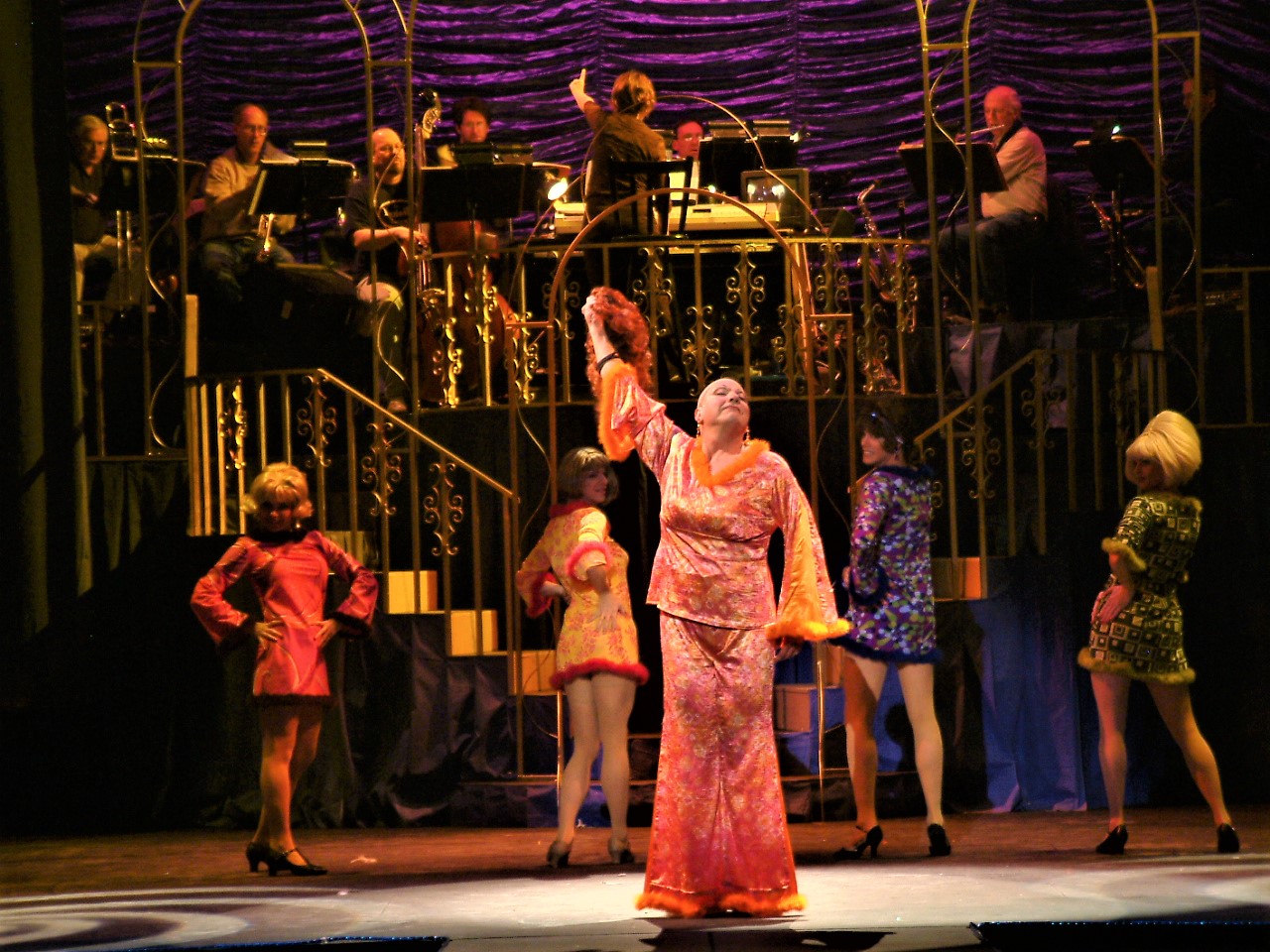 La Cage Aux Folles
Feb. 10–March 5, 2006
Music by Jerry Herman
Book by Harvey Fierstein
Based on the play by Jean Poiret
Georges is the owner of the La Cage Aux Folles nightclub, which features a drag show starring his partner and the love of his life, Albin. After twenty years of un-wedded bliss, Georges and his partner Albin face the hardest challenge of their relationship, yet: meeting their son, Jean-Michel's fiance's parents. Albin has always raised Jean-Michel, Georges' biological son, as his own. But when Jean-Michel falls in love and becomes engaged to the daughter of an ultra-conservative, anti-gay politician, Georges feels compelled to try to present a more "traditional" family to Jean-Michel's potential in-laws. When Albin tries and fails to take on a masculine persona in the role of Uncle Al, he gets more creative in order to find a way to be part of the "meet the parents" experience. Based on Jean Poiret's 1973 French play of the same name, the multi-Tony award-winning La Cage Aux Folles is a musical filled with delightful spectacle and great heart.
Pictured: Thad Valdes as Albin, and the Company
"La Cage Aux Folles was so much fun! Not only did I get the pleasure of performing in the piece, I got to help these incredibly talented men transform into beautiful women each night. The energy of the show and cast was electric – knowing what we were offering artistically would challenge our community, pushing the boundaries of what our audiences had previously experienced. Each person in our cast and crew could feel the electricity, the joy involved with putting this beautiful, funny, poignant piece of art on stage for the world to see." – Miriam Roth, Marie Dindon
Directed by Neil David Seibel
Musical Direction by Roberta Jacyshyn
Choreography by Peter Strand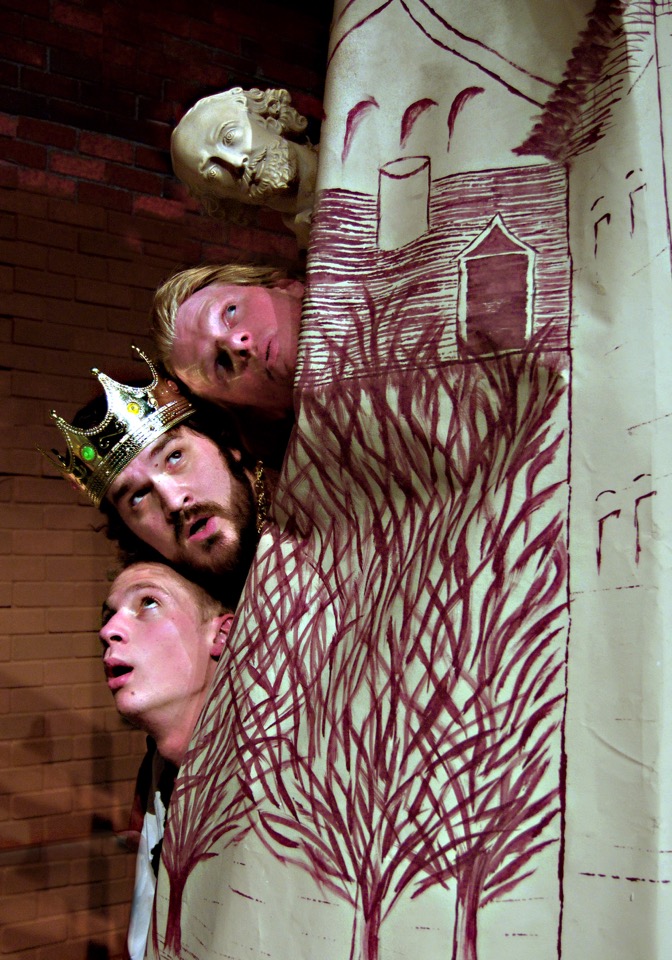 The Complete Works of William Shakespeare Abridged
March 24–April 9, 2006
A play by Adam Long, Daniel Singer, Jess Winfield, with additional material by Reed Martin
Can three guys really cover thirty-seven Shakespeare plays in less than two hours? This fast-firing comedy does just that as it parodies all of the Shakespeare plays (plus the sonnets!) with only three performers in two acts. This play is full of energy as the characters run across the stage and keep you guessing how they will pull off the next play.
Pictured: Brantley Scott Haines, Cory Moosman, Christopher James Varano
"Complete Works at the FAC was one of the most exciting and fun shows I have ever worked on. Brantley, Corey, and Chris were the perfect cast. I worked with them very closely to design exactly what they needed, and they made the process fun. The show was a hit with audiences, and it looked great!" – Roy Ballard, Scenic Designer
Directed by David Hastings
Scenic Design by Roy Ballard
Lighting Design by Holly Anne Rawls
Costume Design by Starr Coplan
Stage Managed by Shannon Brewer
Pirates of Penzance
May 12–June 4, 2006
Book and Lyrics by Sir William Schwenck Gilbert
Music by Sir Arthur Seymour Sullivan
Gilbert and Sullivan's hilarious, hopeful farce follows young Frederic, an orphan who has mistakenly been apprenticed to an ineffectual but raucous band of pirates. He disavows the pirates' way of life and falls for the beautiful Mabel. Frederic's melodious tones win over the heart of Major-General Stanley's songbird daughter, Mabel, but when the Pirate King discovers that General Stanley has lied about being an orphan to keep the pirates from stealing all of his belongings and carrying off his bevy of beautiful daughters, an "ingenious paradox" may prevent the budding romance and lead to the death of "The very model of a modern Major-General."
Pictured: the Company of Pirates of Penzance
"Pirates of Penzance was a blast (no pun intended). I designed an automated ship complete with cannons (which fired flour and flashed red lights to simulate the attack). It carried 13 pirates and one stage-hand within the belly of the ship. Out of sight, the stage-hand sat in a used car seat and drove the ship (approximately one ton in weight) across the stage and then "backed" it into the wings stage right. The motor was reclaimed from an old and defuncted elevator from within the Fine Arts Center building and as it sat on car wheels…it had "real" brakes and a brake pedal. The siege was a success!" – Christopher L. Sheley, Scenic Designer
Directed by Sandra Womochil Bray
Musical Direction by Gayle Grace
Choreography by Rick Jewel
Scene Design by Christopher L. Sheley
Lighting Design by Lloyd Sobel
Sound Design by Steve Stevens
Costume Design by Susan Rose
Hair/Make-up Design by Jonathan Eberhardt
Stage Managed by Donna Billek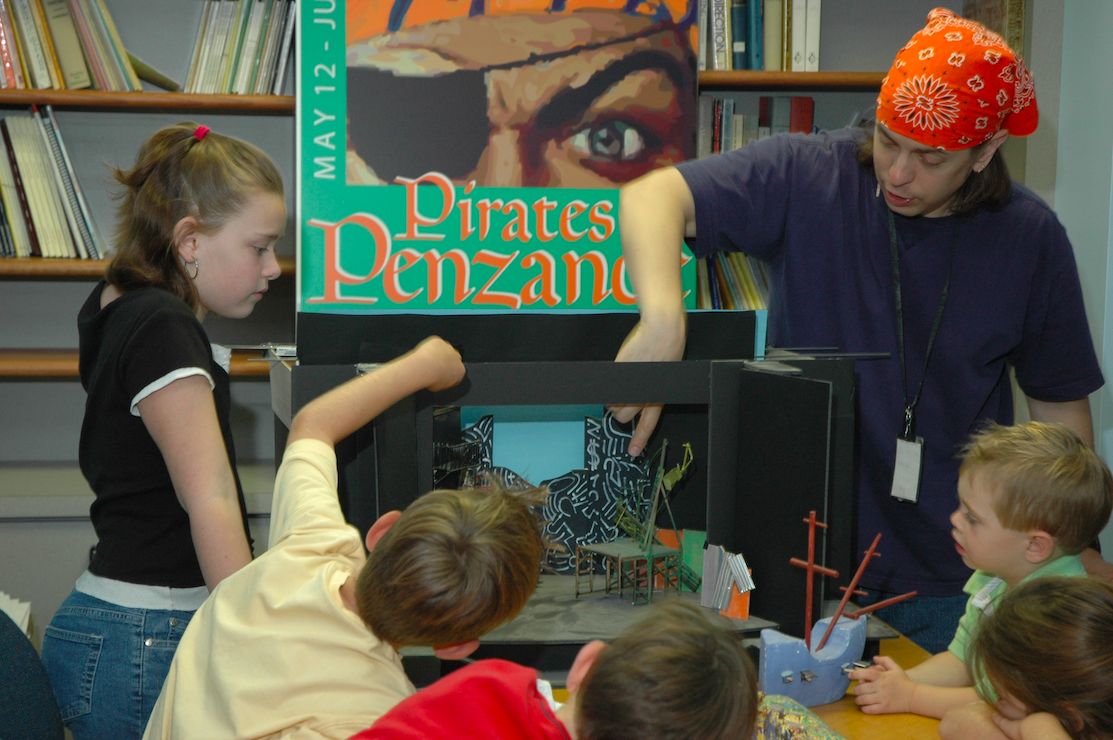 The Pirate's Treasure, A Theatrical Adventure
Youth Rep Jr., July 16–17, 2006
Written by the Youth REP Jr. Cast
Using 18th century pirates as a theme, students combined their ideas to develop characters, action, and dialogue to create a play with both comic and serious scenes. Using song, dance, acrobatics, parody, and social themes, the students improvised the adventures of larger than life pirates!
Pictured: Scenic Designer Christopher Sheley displaying the Pirates of Penzance model to the Youth Rep Jr. class, which includes his daughter, Olivia Sheley
"Oh wow, so long ago, I was about 10 years old then. I remember that we got to use the set and some of the costumes from Pirates of Penzance which was an early set that my dad had designed. We got to use the motorized pirate ship that he built to drive on stage, it was so cool! While in rehearsals we did research about pirates which ignited a life-long love for pirates and history, I'm actually working on a bachelor's in history currently!
I spent my entire childhood running around that theater and looking forward to the summer programs. Between Youth Rep Jr. and Youth Rep, I met so many life-long friends and life-long skills, all of my best memories are in that theater." – Olivia Sheley, Youth Rep Jr. student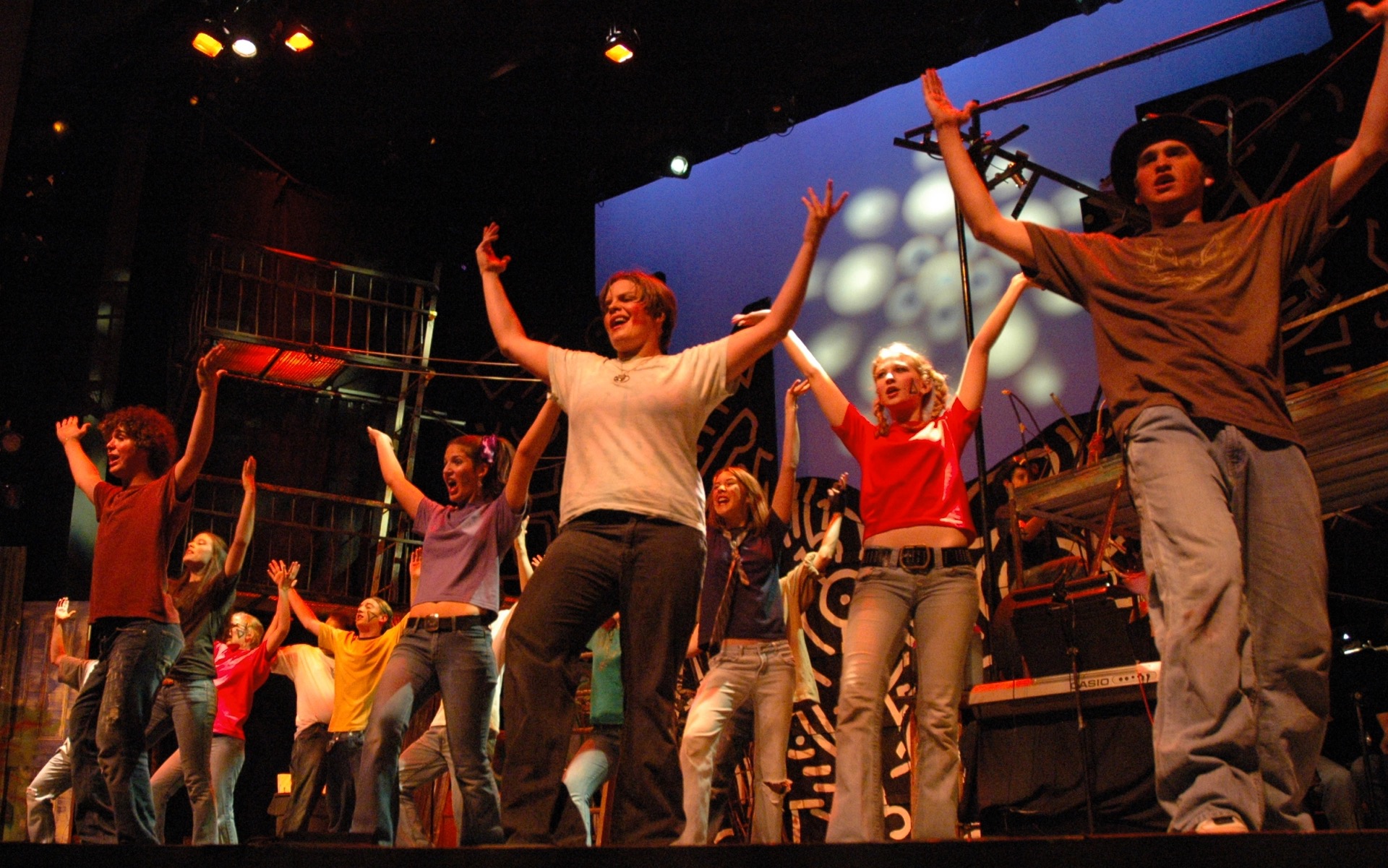 Godspell
Youth Rep, July 19–22, 2006
Music and Lyrics by Stephen Schwartz
Book by John Michael Tebelak
A small group of people help Jesus Christ tell different parables by using a wide variety of games, storytelling techniques and hefty doses of comic timing. An eclectic blend of songs, ranging in style from pop to vaudeville, is employed as the story of Jesus' life dances across the stage. Dissolving hauntingly into the Last Supper and the Crucifixion, Jesus' messages of kindness, tolerance and love come vibrantly to life.
Pictured:  the Company of Godspell
"When we were rehearsing the dance break of "Bless the Lord," the FAC staff told us we could do anything except jump off the stage.
[NAME REDACTED] immediate jumped off the stage, landed on a chair in the audience, and broke it (Maybe he broke a bone? Something broke. I think the chair)
And the FAC staff sent us on our lunch break,
And we never talked about it again.
And that is what doing Godspell when you're 15 feels like." – Jessica Kahkoska, Avril/Mallory
Directed by Mark Hennessy
Musical Direction by Susan Dawn Carson
Orchestra Direction by Sandi Shroads
Choreography by JaNae Stansbery
Scenic Design by Nancy Hankin
Lighting Design by Holly Anne Rawls
Costume Design by Heather Hoffman
Properties Design by June Barfield
Special Events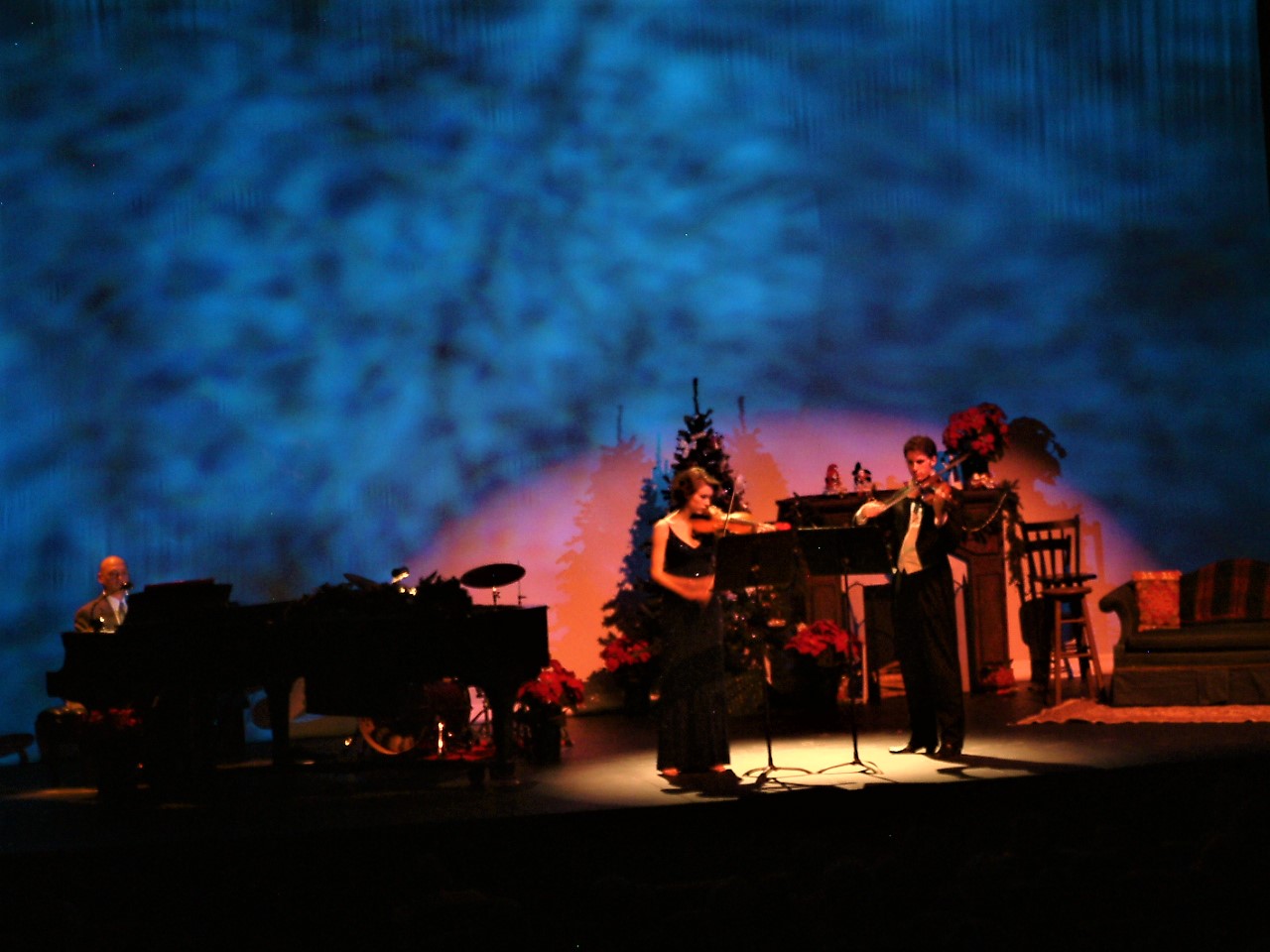 Home for the Holidays
Special Event, Dec. 20-21, 2005
A Youth Rep Alumni benefit concert.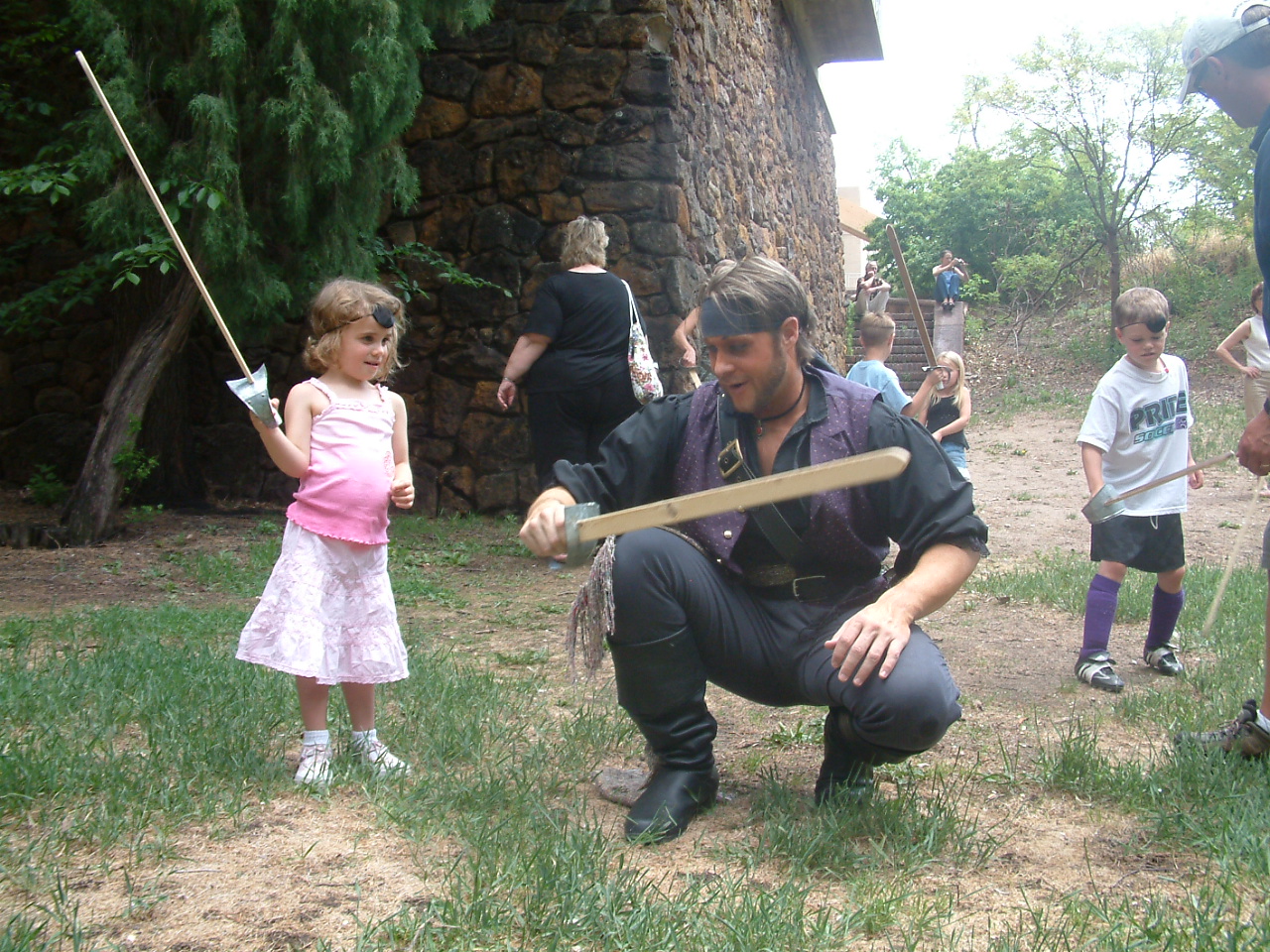 Pirates Family Fun Day
Special Event, May 20, 2006
The REP invites you to dust off your parrots and peg-legs and bring the whole gang for a treasure chest of Theatre Arts fun and games!