FAC Theatre Company 2011–2012 Season
Mainstage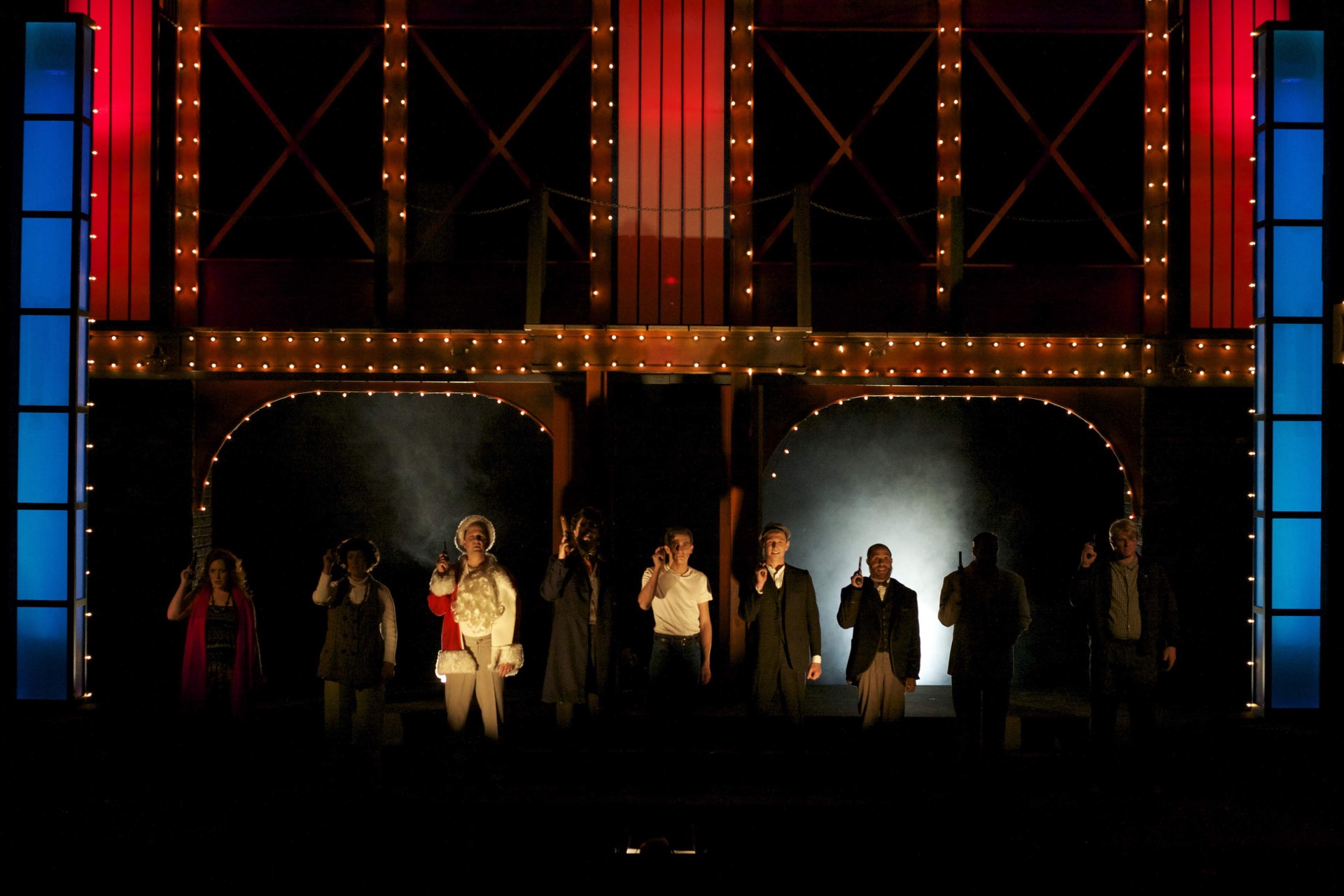 Assassins
Sept. 29–Oct. 23, 2011
Music and Lyrics by Stephen Sondheim 
Book by John Weidman 
This bold, original, surreal, disturbing, thought-provoking and alarmingly funny, musical is perhaps the most controversial ever written. This most American of musicals lays bare the lives of nine individuals who assassinated or tried to assassinate the President of the United States, in a one-act historical "revusical" that explores the dark side of the American experience. From John Wilkes Booth to Lee Harvey Oswald, Stephen Sondheim and John Weidman bend the rules of time and space, taking us on a nightmarish rollercoaster ride in which assassins and would-be assassins from different historical periods meet, interact and in an intense final scene inspire each other to harrowing acts in the name of the American Dream. 
Pictured: The 9 Assassins | Photo by Nathan Willers 
"Assassins began the Levy dynasty at the FAC. He brought in new heart, dedication and passion to the community with his fresh ideas and creativity. This role was a dream come true and had the time of my life putting this show together with the amazing cast and crew. Dark and brilliant – A Sondheim gem." – Jason Lythgoe, John Wilkes Booth 
Directed & Choreographed by Scott RC Levy 
Musical Direction by Roberta Jacshyn 
Scenic Design by Christopher L. Sheley 
Lighting Design by Jonathan Spencer 
Costume Design by Janson Fangio 
Stage Managed by Katy McLaughlin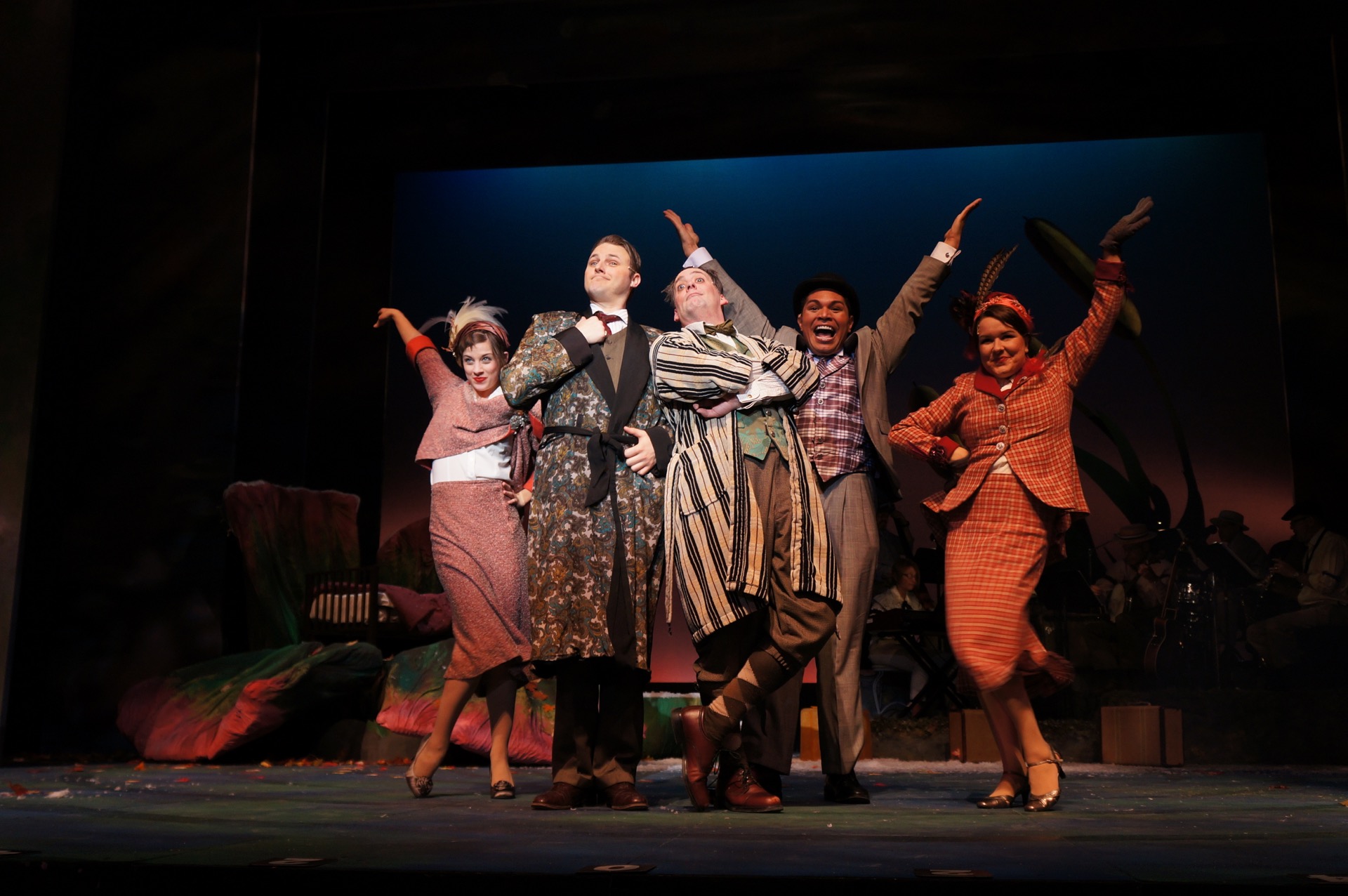 A Year With Frog and Toad
Dec. 1–23, 2011
Book and Lyrics by Willie Reale 
Music by Robert Reale 
Based on the books by Arnold Lobel 
Based on Arnold Lobel's well-loved books, and featuring a hummable, this whimsical show follows two great friends – the cheerful, popular Frog and the rather grumpy Toad – through four fun-filled seasons.  Waking from hibernation in the Spring, Frog and Toad plant gardens, swim, rake leaves, go sledding and learn life lessons along the way. The two best friends celebrate and rejoice in the differences that make them unique and special. Part vaudeville, part make believe… all charm, A Year with Frog and Toad tells the story of a friendship that endures throughout the seasons.
Pictured: The Company of A Year With Frog And Toad (from L to R): Lacey Connell, Jason Lythgoe, Drew Frady, Jesse Havea, Eryn Carmen | Photo by Nathan Willers 
Directed by Scott RC Levy
Musical Direction by Roberta Jacshyn 
Choreographed by Mary Ripper Baker  
Scenic and Costume Design by Lex Liang 
Lighting Design by Holly Anne Rawls 
Stage Managed by Jean Lorenzen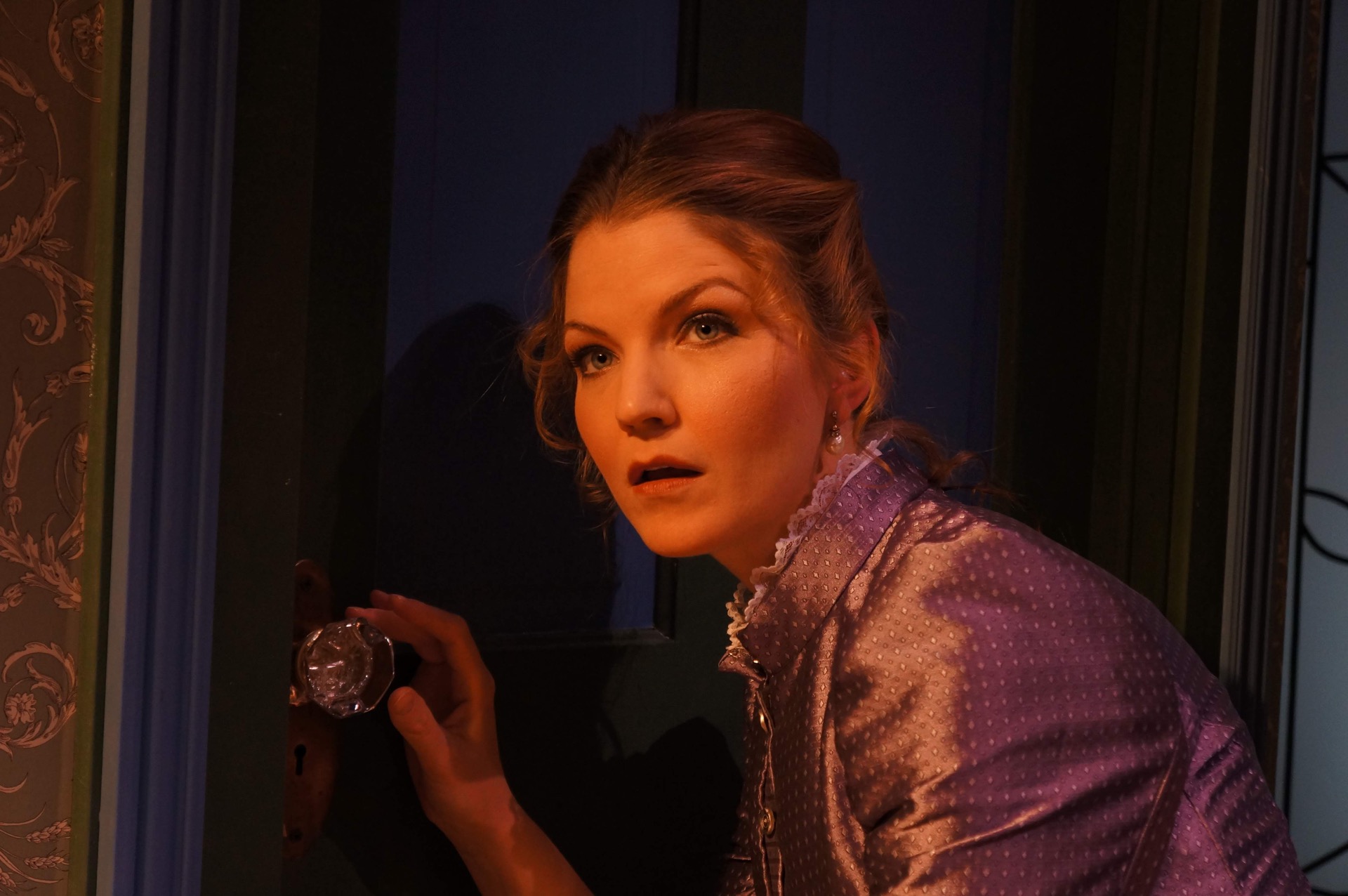 In the Next Room, or the vibrator play
Feb. 2–19, 2012
by Sarah Ruhl 
 
In a seemingly perfect, well-to-do Victorian home, proper gentleman and scientist Dr. Givings has innocently invented an extraordinary new device for treating "hysteria" in women (and occasionally men): the vibrator. Adjacent to the doctor's laboratory, his young and energetic wife tries to tend to their newborn daughter—and wonders exactly what is going on in the next room. When a new "hysterical" patient and her husband bring a wet nurse and their own complicated relationship into the doctor's home, Dr. and Mrs. Givings must examine the nature of their own marriage, and what it truly means to love someone. 
Pictured: Steph Newman as Mrs. Givings | Photo by Nathan Willers 
"Oh, I vibrated all right: with laughter! What a gift to meet the people during this show that made me shake with giggling during rehearsals.  We had so much fun going on this journey and making audiences laugh, too. " –Steph Newman, Mrs. Givings
Directed by Joye Cook-Levy 
Scenic Design by Christopher L. Sheley 
Lighting Design by Holly Anne Rawls
Costume Design by Janson Fangio 
Properties Design by Desarae Buza 
Stage Managed by Katy McLaughlin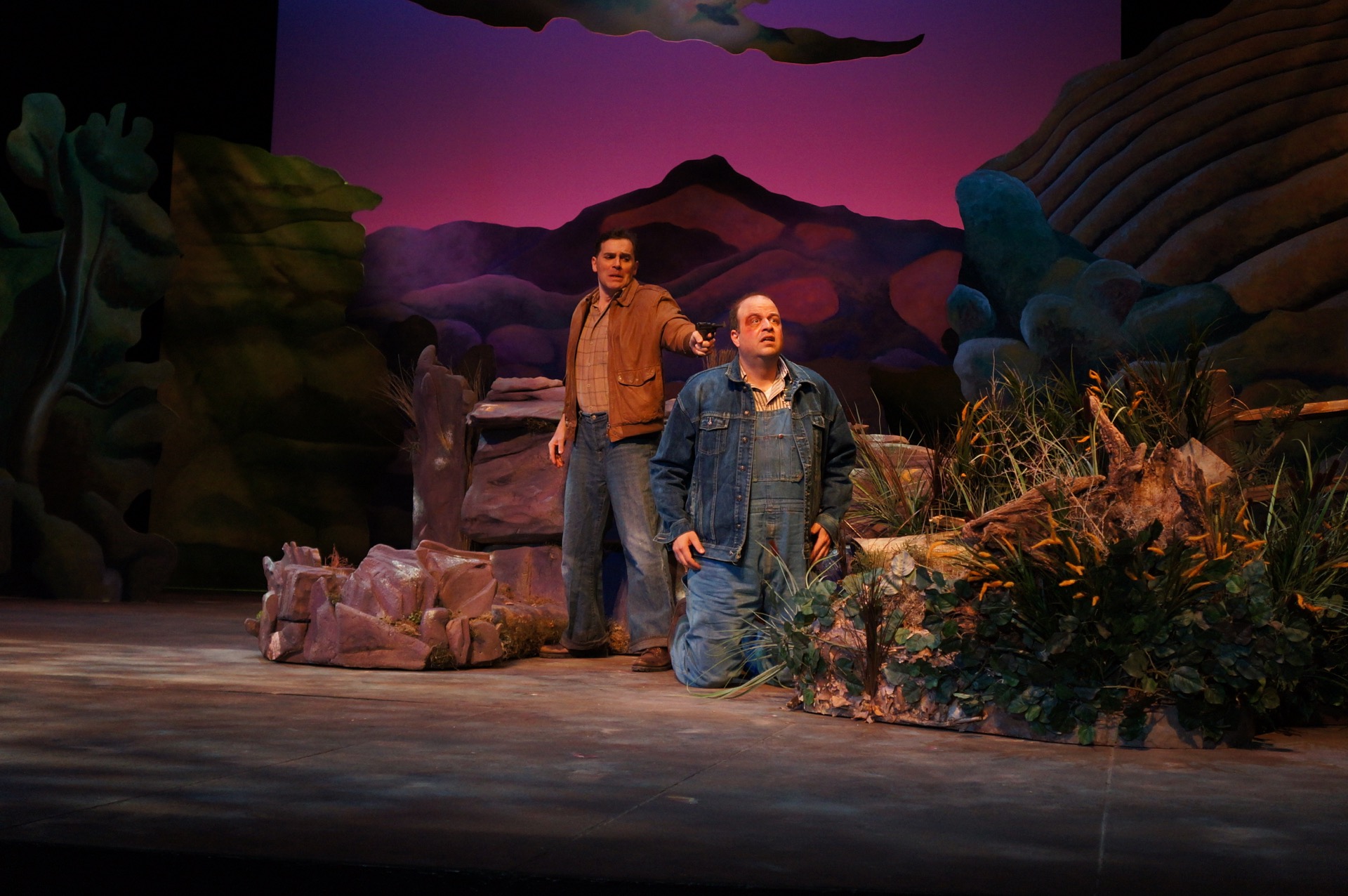 Of Mice and Men
March 15–April 1, 2012
by John Steinbeck 
In honor of the FAC's 75th Anniversary, we produced the 75th Anniversary Production of Steinbeck's classic Of Mice And Men, which started its life as this play, before it was turned into one of the greatest novels of the 20th Century. The design evoked the work of Thomas Hart Benton, which coupled with Samuel James' beautiful blues music, made a lasting impression on audiences who followed the tragic journey of George and Lenny. Accompanying the production was a John Steinbeck Film Festival, featuring screenings of three films written by Steinbeck. 
Pictured: Kent Burnham as George, Logan Ernstthal as Lenny | Photo by Nathan Willers 
"I vividly remember getting goosebumps walking on stage with Logan as the walls of the bunkhouse flew into place and we would share a collective breath of what was to come. A two-hour journey filled with dreams, acceptance, and a place to call home. We were all haunted by the deafening silence as we waited for Candy's dog to be shot. Watched from the wings as Lenny and Curly's wife talked in the barn. And, the gunshot at the end. Theatre changes us. We are so lucky!" – Kent Burnham, George
Directed by Scott RC Levy 
Scenic Design by Christopher L. Sheley 
Lighting Design by Holly Anne Rawls 
Costume Design by Janson Fangio 
Music by Samuel James 
Properties Design by Desarae Buza 
Stage Managed by Brantley Haines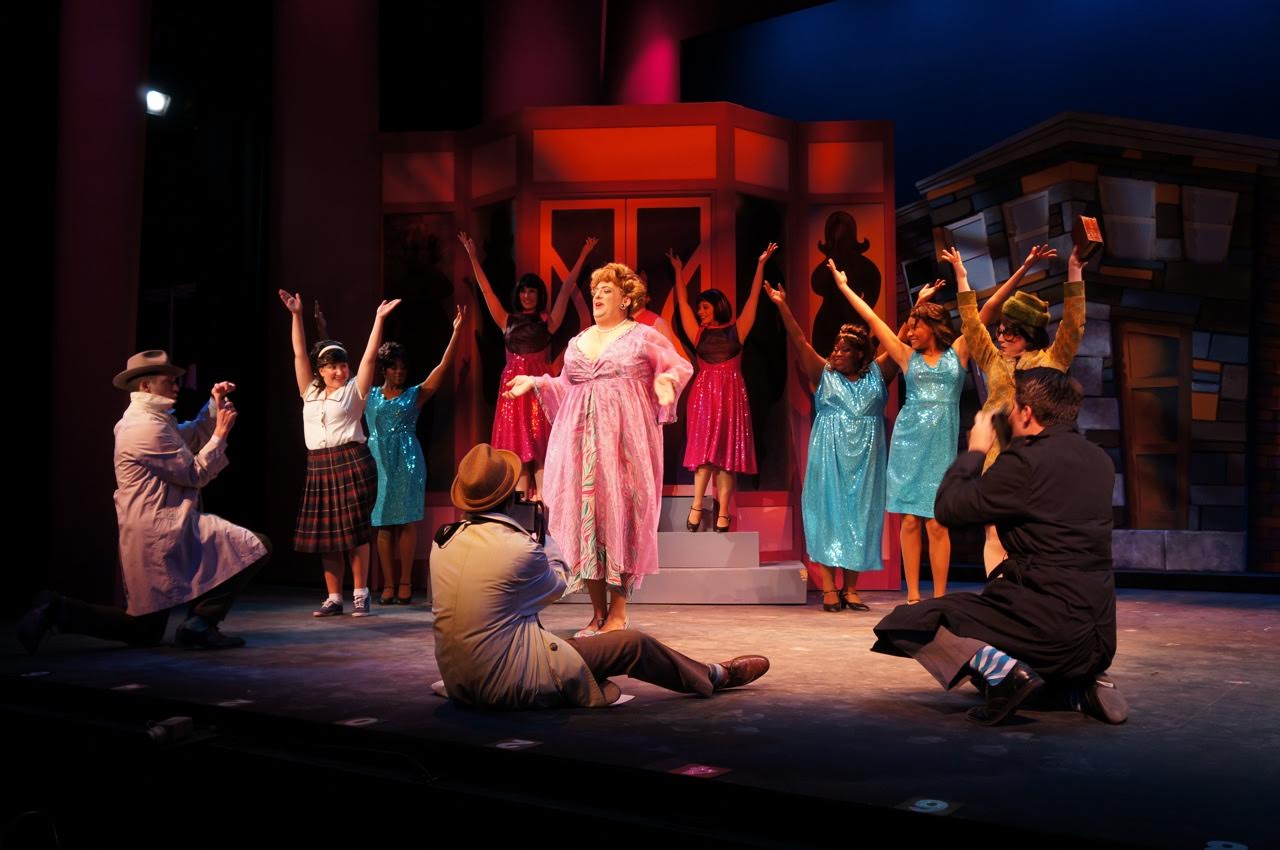 Hairspray
May 10–June 3, 2012
Book by Mark O'Donnell & Thomas Meehan 
Music by Marc Shaiman 
Lyrics by Scott Wittman & Marc Shaiman 
Based on the New Line Cinema Film written and directed by John Waters 
It's 1962 in Baltimore, Maryland, and quirky, plus-sized, teenage Tracy Turnblad has one dream: to dance on The Corny Collins Show. When she gets put in detention with the African-American students in the school, they teach her some of their dance moves, and her new found groove wins her a spot on Corny's show. Overnight, Tracy transforms from a nobody into a star, and uses her newfound influence to advocate for racial integration on the television show. Tracy faces scrutiny and bullying from the network producer, Velma, and her popular, but vicious, daughter, Amber. With the help of the teenage heartthrob Link, host Corny Collins, and Motormouth Maybelle (the host of 'Negro Day'), Tracy overcomes the odds and succeeds in her mission to integrate The Corny Collins Show. Tony Award-winning Hairspray continues to be one of the most widely produced musicals today, not only because of its wit and charm, but also because of the beautiful message of acceptance and progress that it portrays. The bright, energetic story of Tracy Turnblad teaches us all to look past the color of one's skin and fight for every human being's equal rights.
Pictured: Drew Frady as Edna and members of the Company | Photo by Nathan Willers 
"Playing Tracy at the FAC is one of my happiest memories.  I had just moved back to Colorado from New York and hadn't done a show in a few years. I felt like the Colorado theatre community welcomed me back with open arms. It is my second family." –Andrea Rutherford, Tracy Turnblad 
Directed by Scott RC Levy 
Scenic, Costume & Wig Design by Lex Liang 
Lighting Design by Jonathan Spencer 
Musical Direction by Roberta Jacshyn 
Choreography by Victor Ayers 
Stage Managed by Katy McLaughlin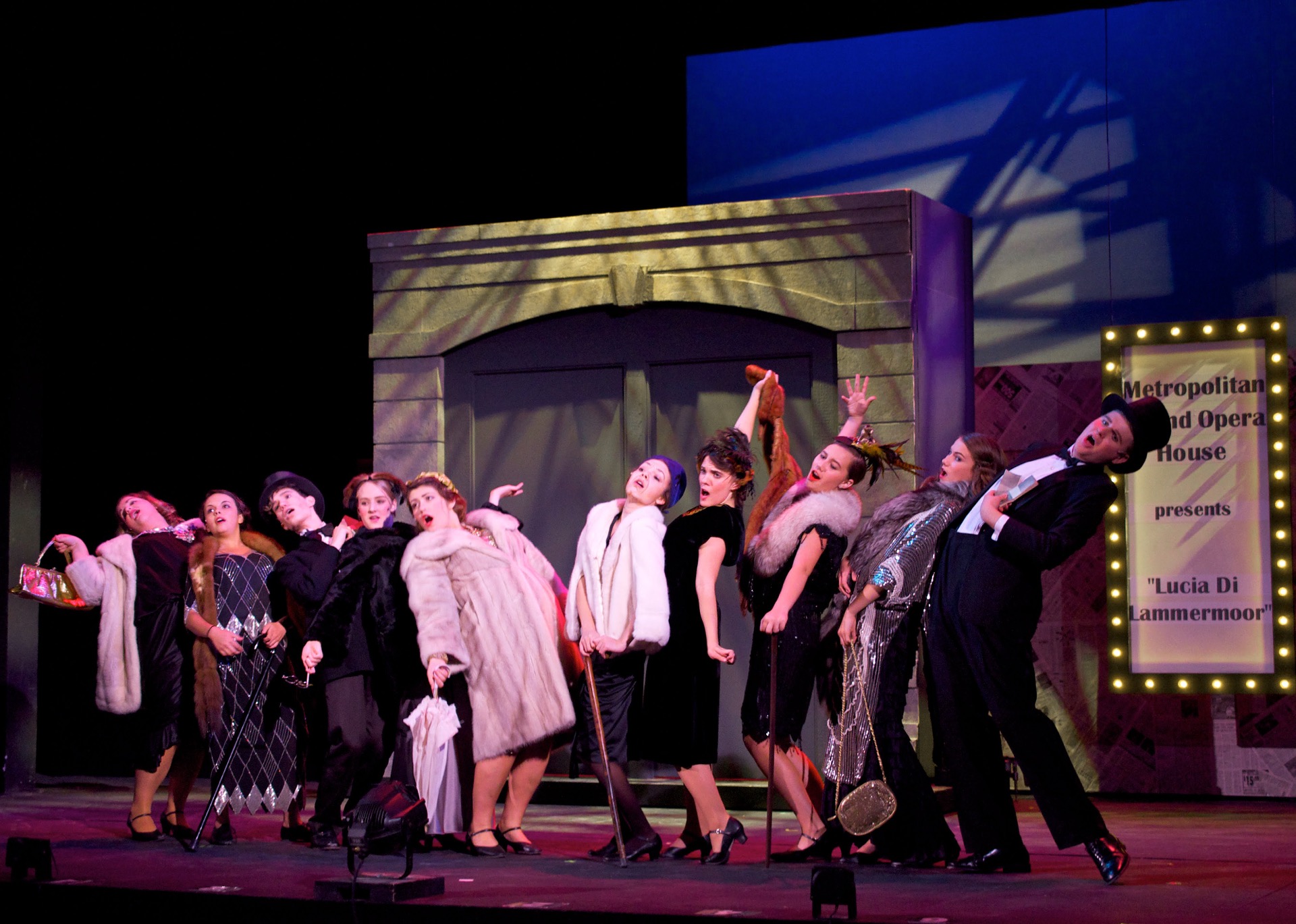 As Thousands Cheer
Youth Rep, Aug. 2–5, 2012
Music and Lyrics by Irving Berlin 
Sketches by Moss Hart 
Considered a masterpiece of that specialized genre known as the topical revue, As Thousands Cheer is the Depression era version of Saturday Night Live and The Daily Show. Moss Hart's sketches are sharp, witty and hilarious and Irving Berlin's songs range from wry to satiric to poignant. Their inspiration? The newspaper headlines of the day, from affairs to society photos and advice to the lovelorn; even comic strips and the weather report were fair game! The show premiered on Broadway in 1933 and ran for over 400 performances. As Thousands Cheer inspired some of Hart's best solo work as a comedy writer and afforded Berlin the opportunity to pen some of his greatest musical gems, including Easter Parade and Heat Wave.
Pictured: Youth Rep Ensemble Members | Photo by Nathan Willers 
"As Thousands Cheer holds a special place in my heart. It was the first time I had ever been to Colorado Springs, the place that I would eventually call home. It was the first time I met the incredibly creative staff at the FAC, that I now hold as dear friends and cherished collaborators. And, it was the first time that I directed a Youth Rep show, a position that I adore and look forward to every year. Youth Rep is a profound experience for the students as well as the staff. This show was my introduction to the wonder of the program and I am grateful to be able to continue to contribute to its legacy." –Nathan Halvorson, Fine Arts Center Theatre School Director 
Directed & Choreographed by Nathan Halvorson 
Scenes Directed by Joye Cook-Levy 
Musical Direction by Sandi Shroads 
Stage Managed by Kaetlyn Springer 
Designed by FAC Staff, and Youth Rep Students Cat Benton, Kelsey Foiles, Connor Fox, Shayn Megilligan, Christopher McGann, Olivia Rigdon, Nick Scroggins, & Olivia Sheley
Second Stage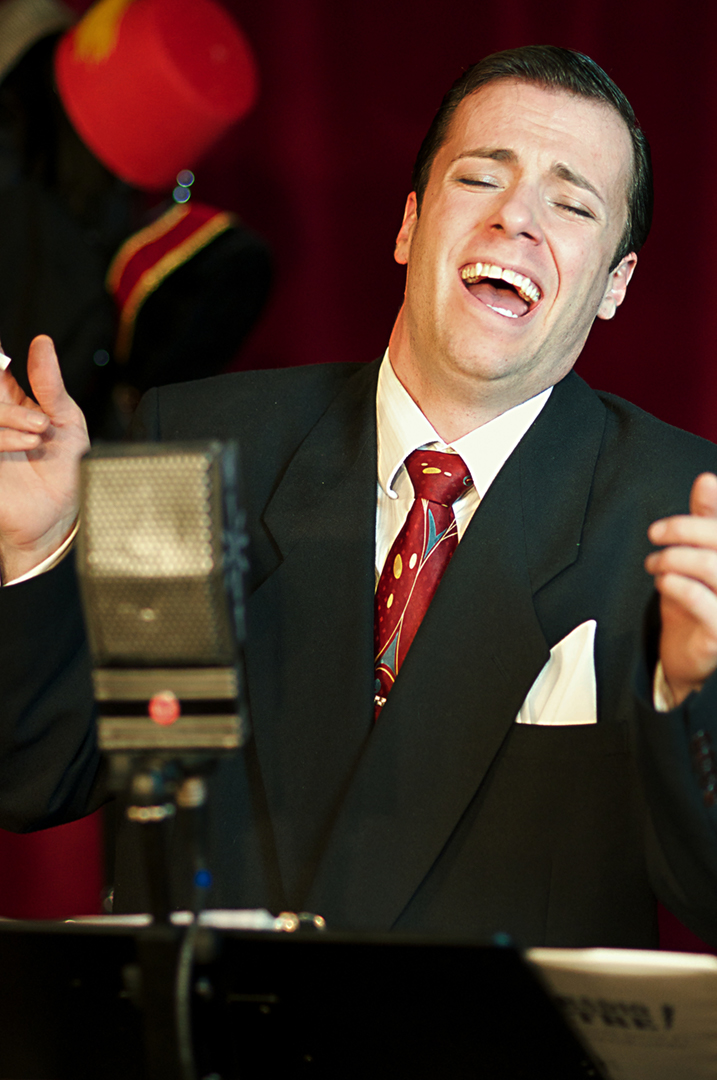 WYNOT Radio Theatre in A Case of Mail Order Murder
April 19–28, 2012
by Cory Moosman
The first of many residencies by the WYNOT Radio Theatre, a parody of old-time radio shows done in a "live broadcast" environment with 5 performers playing a multitude of roles.
Directed by Cory Moosman
Special Events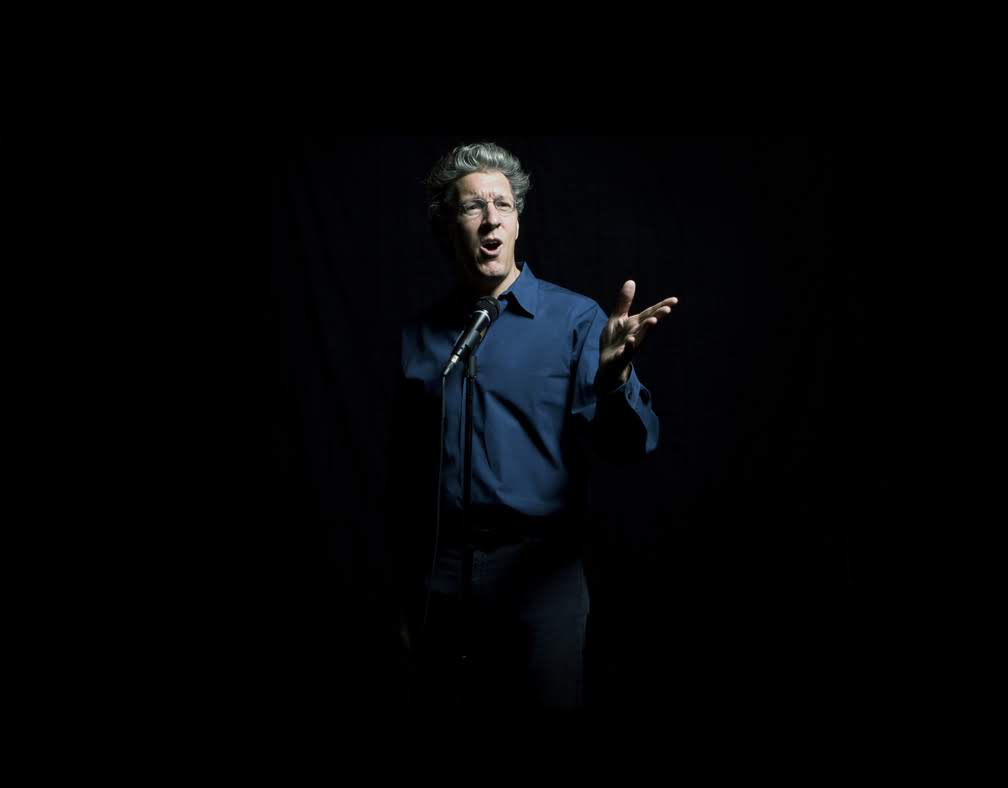 Life in a Marital Institution
Special Event, Feb. 25–26, 2012
Written and Performed by James Braly 
Directed by Hal Brooks
 
This hysterical full-length monologue premiered at the Edinburgh Festival Fringe, sold-out 59E59 Theaters in New York City, and transferred Off Broadway to the Soho Playhouse. Reviewed as "gaspingly funny" (Variety), "never less than excellent" (The New York Times), and "a masterpiece of storytelling" (The List), the show has played over 120 performances and came to the FAC as part of its national tour.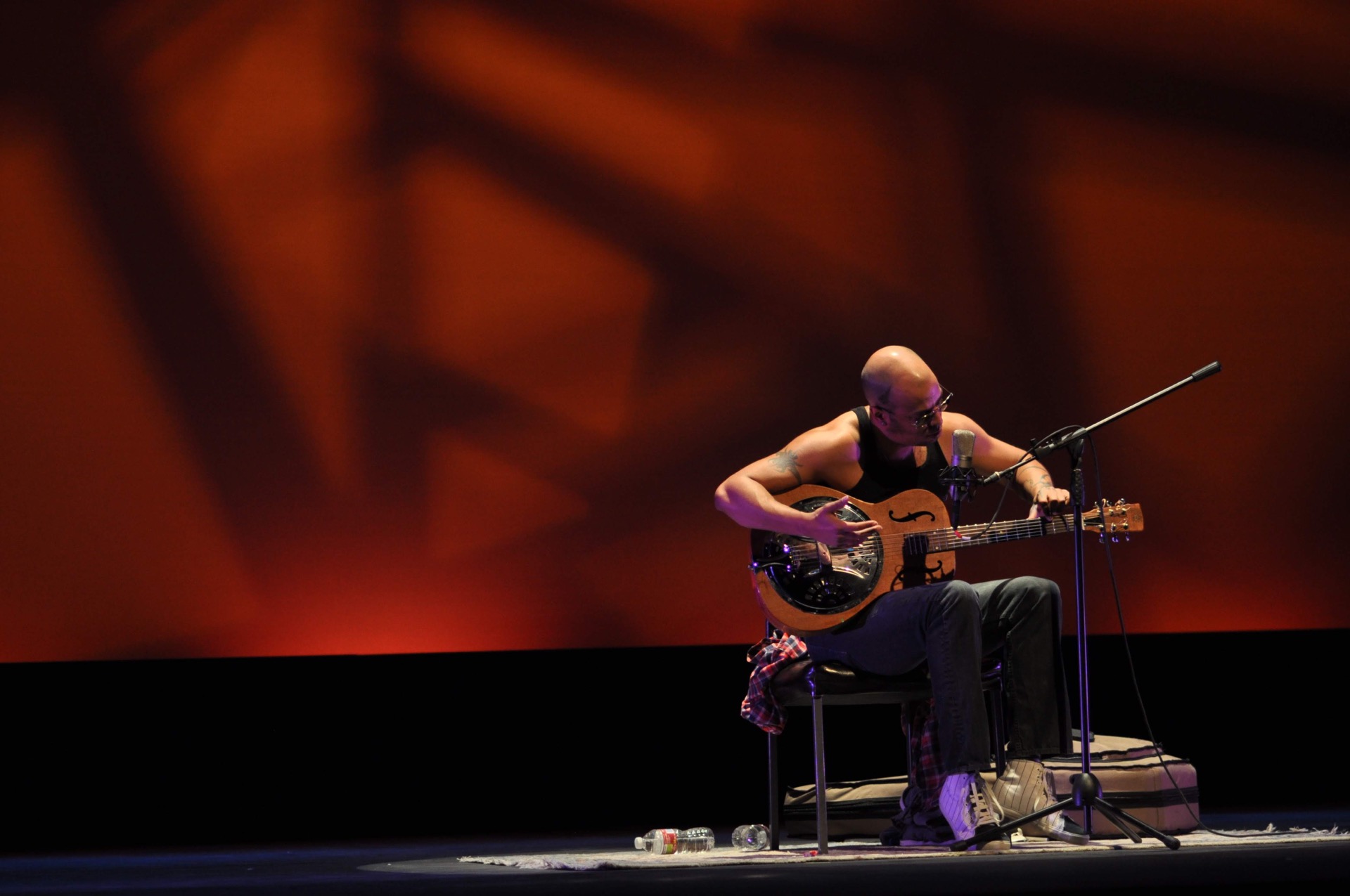 An Evening with Samuel James
Special Event, April 7, 2012
With a voice of grit and gravel, roots musician Samuel James sings with an authenticity lost in time. A modern guitar master, James' skill has a depth and range that seems impossible for a man with only two hands.  An award-winning songwriter, one of the world's most innovative guitar players, and a Moth-featured storyteller, James brings all of this to his amazing stage show. A live performance by Samuel James is part theatre concert, part stomping-on-the-porch dance party and part stand-up comedy.