FAC Theatre Company 2012–2013 Season
Mainstage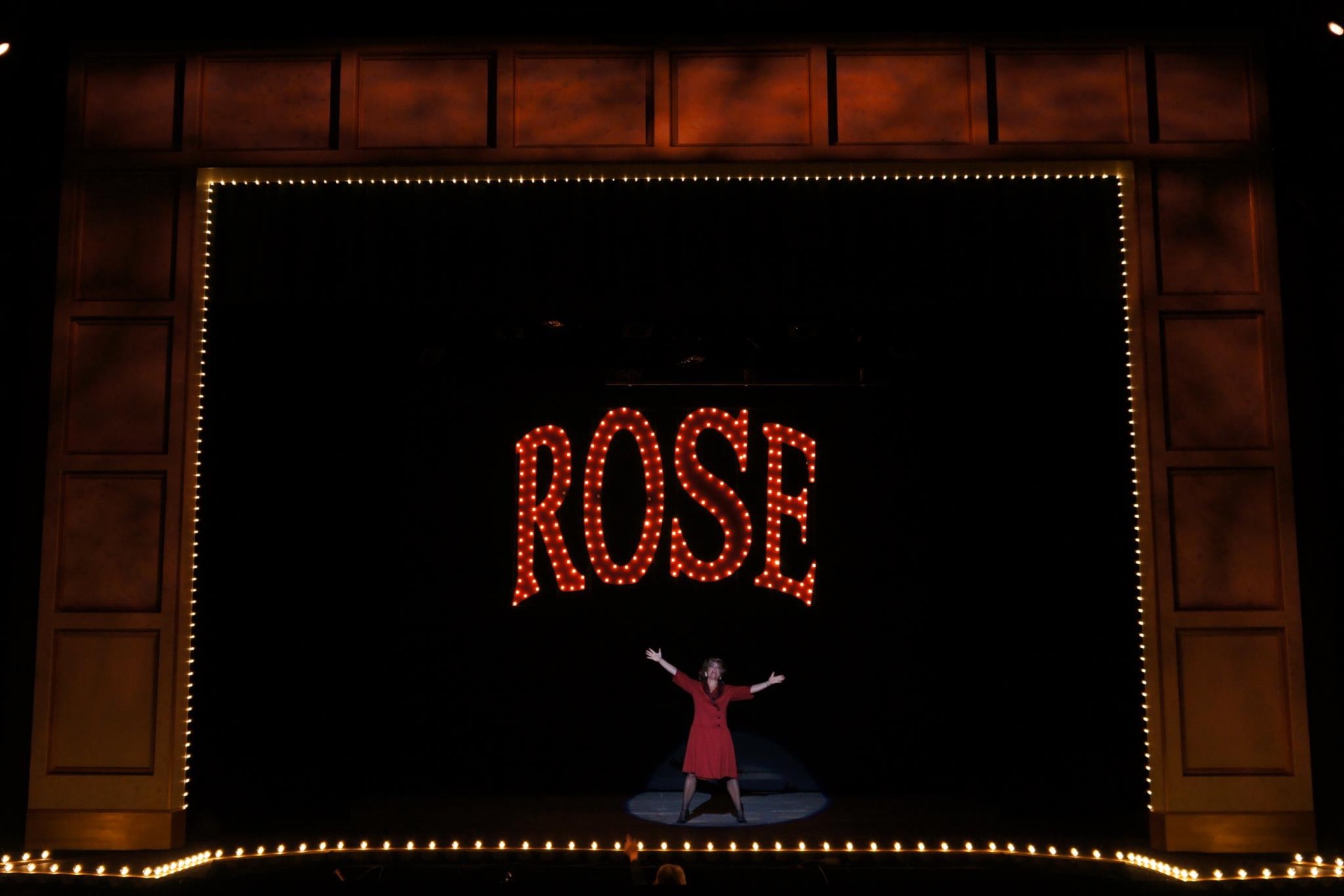 Gypsy
Sept. 27–Oct. 21, 2012
Book by Arthur Laurents
Music by Jule Styne
Lyrics by Stephen Sondheim
Regarded by many theatre professionals as the finest musical ever created, Gypsy is the ultimate tale of an ambitious stage mother fighting for her daughters' success — while secretly yearning for her own. Set all across America in the 1920s and 30s, when vaudeville was dying and burlesque was born, Arthur Laurents' landmark show explores the world of two-bit show business with brass, humor, heart, and sophistication.
Pictured: AJ Mooney as Mama Rose
"Considered to be one of the greatest musicals of Broadway's golden age, I was thrilled to be cast in Gypsy as the long-suffering and ultimately decent Herbie. I was amazed that our director Scott had made time for table work, the process of sitting down and digging into the background of the scene and the relationship of the characters. Doing this before staging the scene is a rare luxury these days, and he had really done his homework. Taking this extra step resulted in richer and more nuanced performances from us all. 'Gypsy' was a great experience, start to finish! The work also gave me the edge to win the role again with another theater company when I auditioned in New York the following year." –Stephen Day, Herbie
Directed by Scott RC Levy
Musical Direction by Roberta Jacyshyn
Choreography by Mary Ripper Baker
Scenic Design by Christopher L. Sheley
Costume Design by Lex Liang
Lighting Design by Holly Anne Rawls
Sound Design by William Burns
Stage Managed by Katy McGlaughlin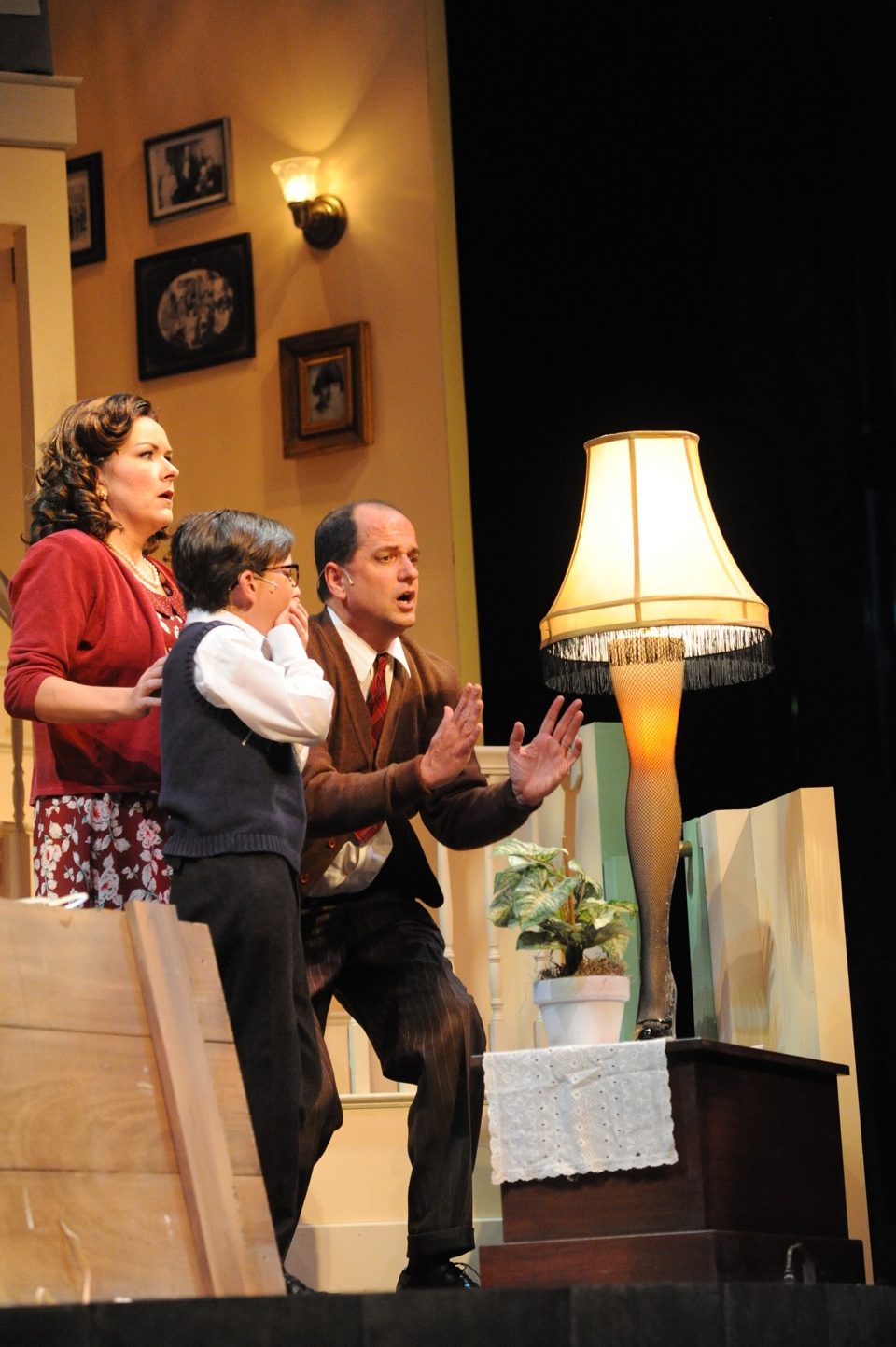 A Christmas Story
Nov. 29–Dec. 23, 2012
By Philip Grecian, Jean Shepherd, Leigh Brown & Bob Clark
A Christmas Story follows, 9-year-old Ralphie Parker in his quest to get a genuine Red Ryder BB gun under the tree for Christmas. Ralphie pleads his case before his mother, his teacher and even Santa Claus himself at Higbee's Department Store. The consistent response: "You'll shoot your eye out!" All the elements from the beloved motion picture are here, including the family's temperamental exploding furnace; Scut Farkus, the school bully; the boys' experiment with a wet tongue on a cold lamppost; the Little Orphan Annie decoder pin; Ralphie's father winning a lamp shaped like a woman's leg in a net stocking; Ralphie's fantasy scenarios and more.
Pictured: Evan Lennon as Ralphie, Eryn Carman as The Mother, Tom Auclair as The Old Man | Photo by Jeff Kearney
"A Christmas Story was a pivotal time for me as an actor and as a person. I learned what it meant to be part of a team in the theatre. The cast spanned such a wide range of ages and experience levels, yet we all came together and created a really fun and meaningful show. Being the oldest of the 'kids' in the show it was my first opportunity to be leader of sorts, and that is an experience I have taken with me through college and into my professional career."  –Mark Autry, Scut Farkus
Directed by Joye Cook-Levy
Scenic Design by Tom R. Ward
Lighting Design by Holly Anne Rawls
Costume Design by Janson Fangio
Sound Design by Toby Lyles
Properties Design by Katelyn Springer
Production Stage Managed by Katy McGlaughlin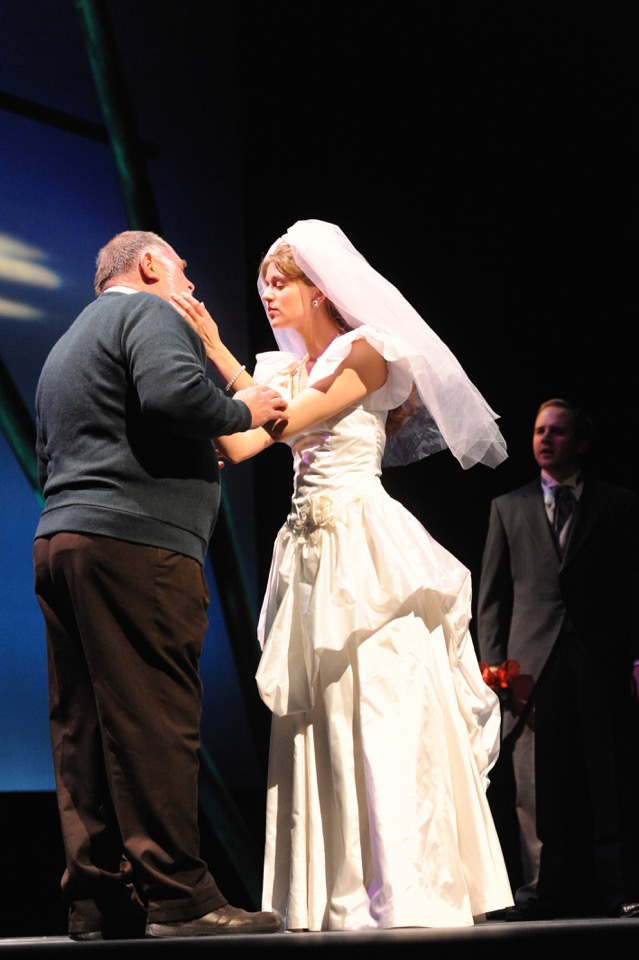 Prelude to a Kiss
Jan. 29–Feb. 17, 2013
By Craig Lucas
Peter and Rita are two young, happy lovers who are getting married. On their wedding day, after their nuptial kiss, an old man comes up to kiss the bride. During this kiss, their souls exchange, and the young, beautiful woman Peter just married now houses the soul of a dying, old man. On their honeymoon, Peter starts to notice that something's not quite right. When he discovers the truth, he confronts the old man, who now holds Rita's soul. Peter struggles with the notion that this is his young bride, and he works feverishly to put the souls back in their original bodies. At the same time, he realizes that he loves who Rita is, no matter how she is packaged. Craig Lucas' play, first performed in 1990, was considered a metaphor for the AIDS epidemic, in which a man could find himself in a relationship with someone who was suddenly old and sick before his time.
Pictured: Kyle Dean Steffan as Peter, Sol Chavez as Old Man, and Cynthia Pohlson as Rita | Photo by Jeff Kearney
"Prelude to a Kiss was an interesting show in that it was my first leading role at the FAC and I shared an unforgettable kiss with Colorado Springs Legend, Sol Chavez." –Kyle Dean Steffen, Peter
Directed by Garrett Ayers
Scenic Design by Maya Linke
Lighting Design by Holly Anne Rawls
Costume Design by Janson Fangio
Hair Design by Jonathan Eberhardt
Properties Design by Katelyn Springer
Production Stage Managed by Katy McGlaughlin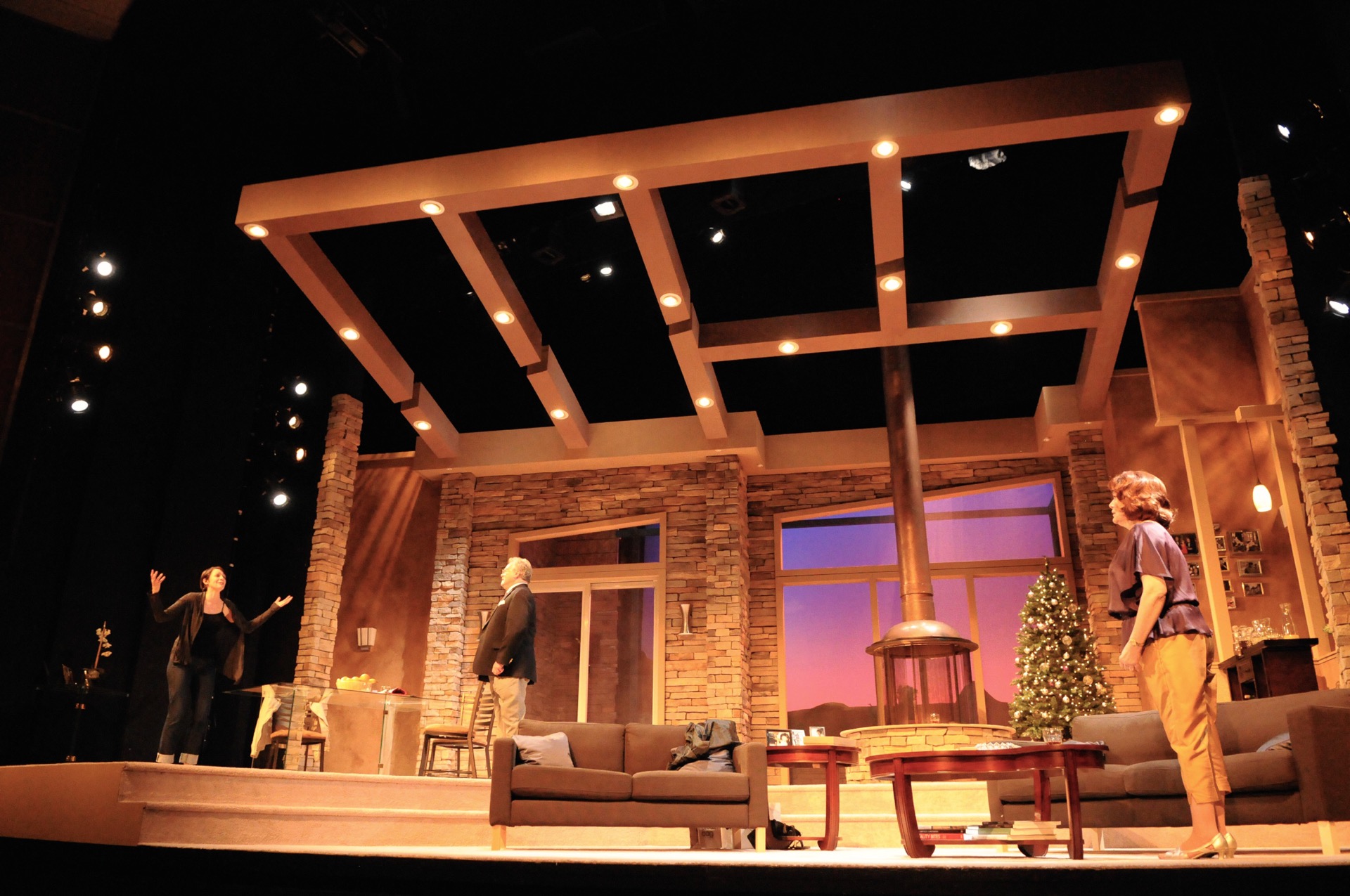 Other Desert Cities
March 14–31, 2013
By Jon Robin Baitz
Brooke Wyeth returns home to Palm Springs after a six-year absence to celebrate Christmas with her parents, her brother, and her aunt. Brooke announces that she is about to publish a memoir dredging up a pivotal and tragic event in the family's history—a wound they don't want reopened. In effect, she draws a line in the sand and dares them all to cross it.
Pictured: Kate Berry as Brooke, Daniel Noel as Lyman, Leah Chandler as Polly | Photo by Jeff Kearney
"The one word that comes to mind when I think of Other Desert Cities at the Fine Arts Center is 'real'. That show was the first opportunity I had as an actor to play very real moments in very real ways — giving the audience the proverbial 'fly on the wall' point of view to an incredibly damaged family. Aside from the content presented and the manner, facility, and detail with which Scott Levy directed our scenes, there were so many aspects of the production that felt is if they extended beyond theatricality. The set didn't feel like being on stage at all. It felt like an actual living room in an actual house that people lived in. I learned to roll a joint onstage, which was particularly nerve wracking because I had to start rolling on one line, and had to be finished, lit, puffed, and offering said joint to a fellow actor by another line. I was so nervous that I would never learn the timing, but thankfully it worked perfectly every night. I remember making an incredibly goofy physical choice in the midst of rehearsal, immediately resetting myself while saying 'I'm SO sorry, I'm NOT gonna do that' and hearing a giant bark of a laugh from Scott somewhere in the back of the house. And I can't forget what is probably the most real moment of the entire production. We had to replace one of my fellow actors after the first week. We completed rehearsals, opened the show, and nearly finished the run with his replacement, Daniel Noel, who was remarkable. But on the final week of performances he suddenly had a heart attack and was rushed to the hospital. He survived, thank gods, but it meant that we needed yet another replacement in that role to finish the run. The replacement appeared in the person of Dave Hastings, who soldiered on with remarkable calm while carrying the script in his hands. It was a very real example of that old saying 'The show must go on'." –Sammy Gleason, Trip Wyeth
Directed by Scott RC Levy
Scenic Design by Christopher L. Sheley
Lighting Design by Holly Anne Rawls
Costume Design by Janson Fangio
Hair Design by Jonathan Eberhardt
Properties Design by Katelyn Springer
Production Stage Managed by Katy McGlaughlin
The Drowsy Chaperone
May 9–June 2, 2013
Music and Lyrics by Lisa Lambert and Greg Morrison
Book by Bob Martin and Don McKella
With the houselights down, a man in a chair appears on stage and puts on his favorite record: the cast recording of a fictitious 1928 musical. The recording comes to life and The Drowsy Chaperone begins as the man in the chair looks on. Mix in two lovers on the eve of their wedding, a bumbling best man, a desperate theatre producer, a not-so-bright hostess, two gangsters posing as pastry chefs, a misguided Don Juan and an intoxicated chaperone, and you have the ingredients for an evening of madcap delight.
Pictured: Max Ferguson as Robert Martin, Scott RC Levy as Man in Chair, Becca Vourvoulas as Janet | Photo by Jeff Kearney
"The Drowsy Chaperone was my FAC debut so it will forever hold a special place in my heart. Each time I enter Stage Left/Right I think back to this show and how many entrances I've been honored and privileged to make as various characters over the years, since. The final number, 'As We Stumble Along"', is the perfect anthem to life. I still think of it when times get rough…no matter life's rollercoasters, 'the best that we can do is hope a blue bird will sing his song as we stumble…bumble…fumble…crumble along'." –Zach Guzman, George
Directed by Cory Moosman
Musical Direction by Jay Hahn
Choreography by Mary Ripper Baker
Scenic Design by Erik D. Diaz
Lighting Design by Jonathan Spencer
Costume Design by Janson Fangio
Sound Design by Christian Medovich
Properties Design by Katelyn Springer
Hair & Make-Up Design by Jonathan Eberhardt
Production Stage Managed by Katy McGlaughlin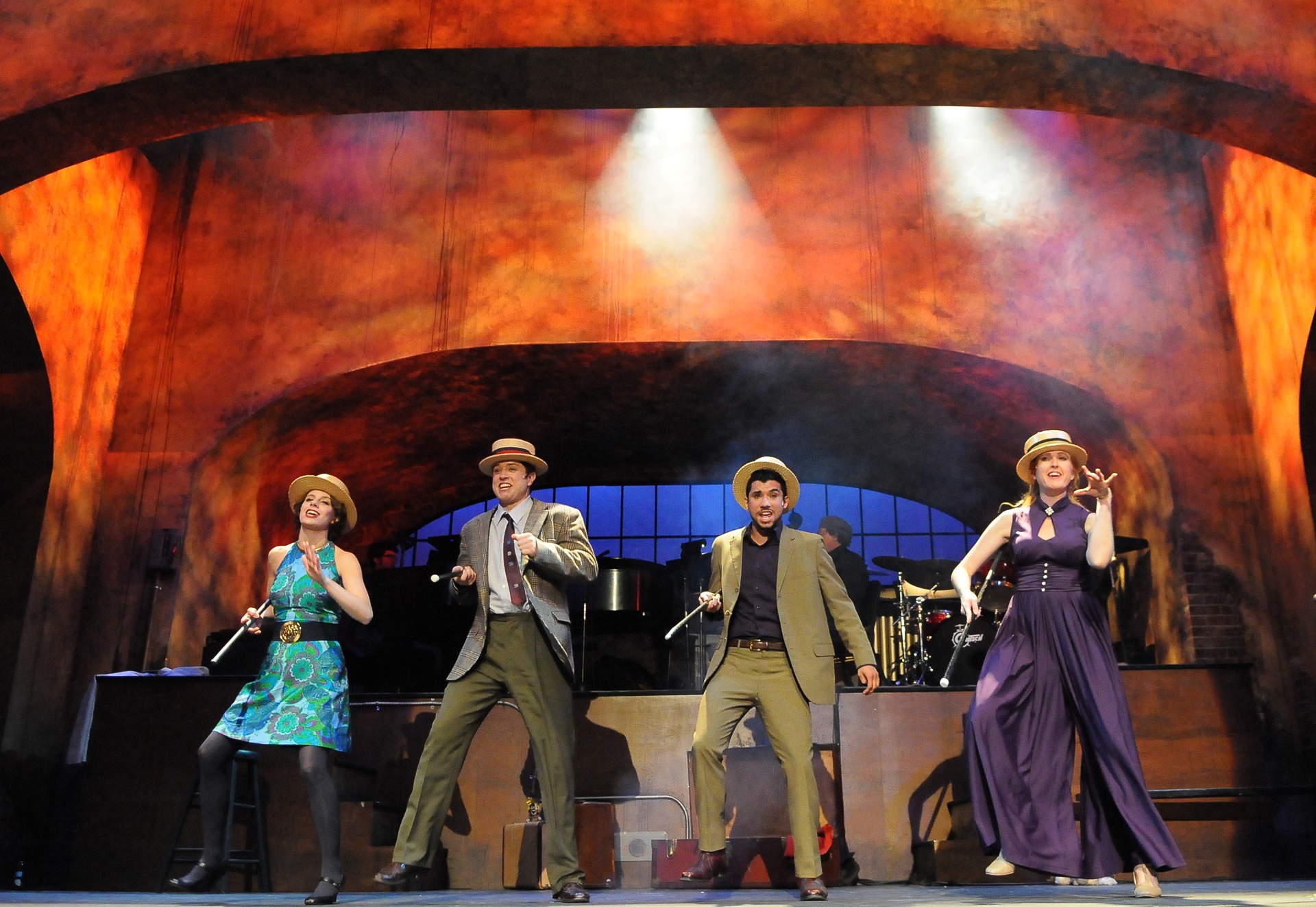 Jaques Brel Is Alive And Well And Living In Paris
June 20–30, 2013
Production Conception, English Lyrics, and Additional Material by Eric Blau and Mort Shuman
Based on Jacques Brel's Lyrics and Commentary
Music by Jacques Brel
The lovely and lusty songs of Belgian-born, French-dwelling composer Jacques Brel are performed by a cast of five in this musical revue. Brel's songs were translated into English by Eric Blau and Mort Shuman.
Pictured: the Cast of Jacques Brel… (left to right) – Lacey Connell, Max Ferguson, Alejandro Roldan, Halee Towne | Photo by Jeff Kearney
"It is always an honor and a privilege to work with the Fine Arts Center Theatre Company, and leading up to Jacques Brel I was excited for all the usual reasons: talented leadership (including, in this instance, the opportunity to work with my brother Ian, who was the Musical Director), excellent cast-mates, high touch production value, and the fantastic FAC audience. Jacques Brel, however, was not only and honor and a privilege, it was a life saver. I was at a particular low point, and working with Nathan and the cast, getting to know Jacques Brel's oeuvre, and throwing myself into the artistry of executing Nathan's vision and doing justice to Monsieur Brel's legacy helped me to overcome a broken heart. Performing 'Amsterdam' was one of my proudest moments on the stage and one I will cherish always." –Max Ferguson
Directed and Choreographed by Nathan Halvorson
Musical Direction by Ian Ferguson
Scenic Design by Christopher L. Sheley
Lighting Design by Holly Anne Rawls
Costume Design by Janson Fangio
Sound Design by Christian Medovich
Production Stage Management & Properties Design by Katelyn Springer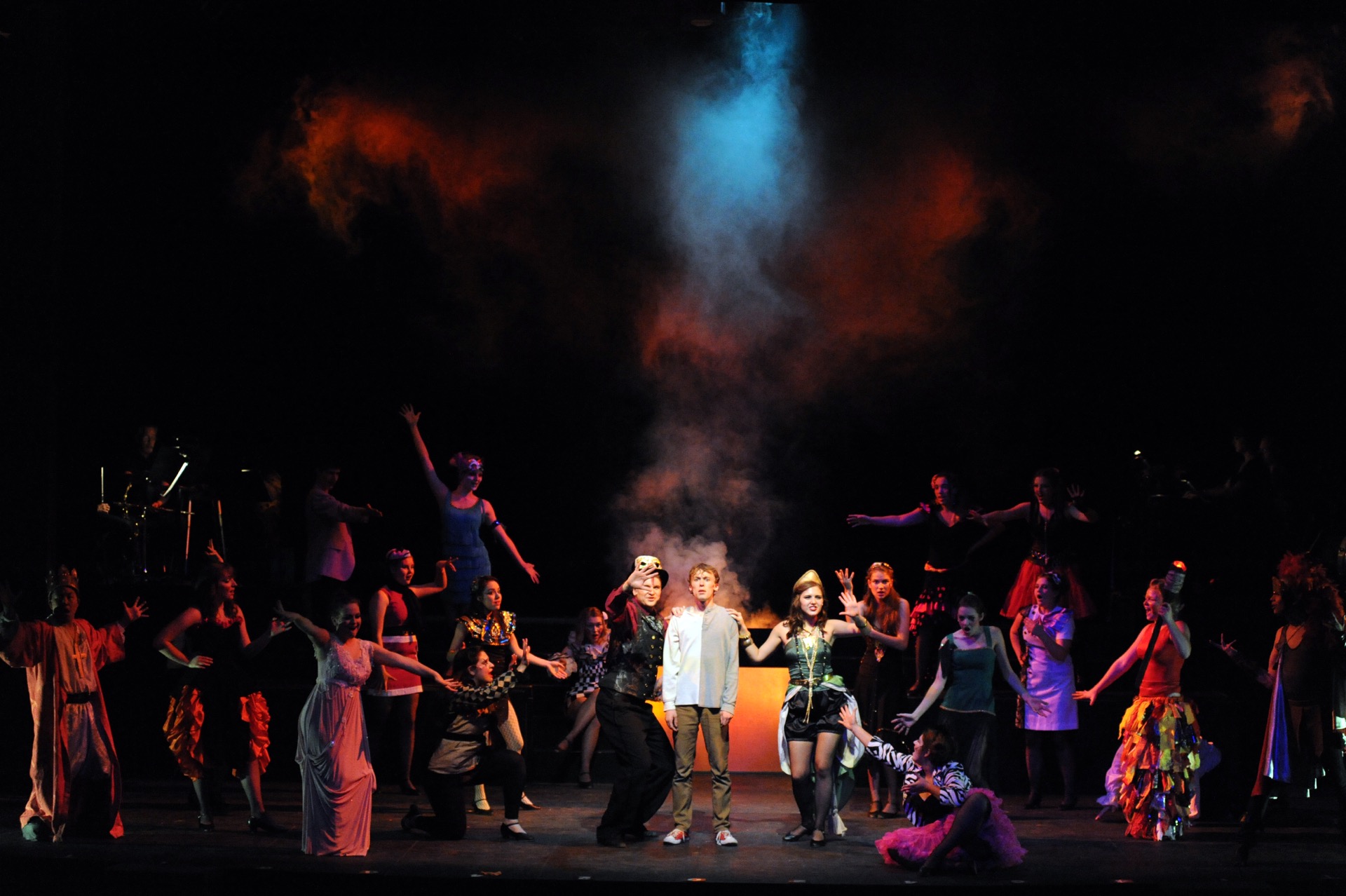 Pippin
Youth Rep, Aug. 1–4, 2013
Music and Lyrics by Stephen Schwartz
Book by Roger O. Hirson and Bob Fosse
Heir to the Frankish throne, the young prince Pippin is in search of the secret to true happiness and fulfillment. He seeks it in the glories of the battlefield, the temptations of the flesh and the intrigues of political power (after disposing of his father, King Charlemagne the Great). In the end, though, Pippin finds that happiness lies not in extraordinary endeavors, but rather in the unextraordinary moments that happen every day.
Pictured: the Company of Pippin | Photo by Jeff Kearney
"Pippin was my second show with the FAC's Youth Rep program, and I remember having so much fun dancing, singing, and making theatre with a group of people I felt like I belonged with. I would look forward to my summers at youth rep every year! Nathan taught me so much about acting, performing, and how to be a good human. I was lucky to find my "corner of the sky" at youth rep!" –Gabby Papa, Ensemble
Directed by Nathan Halvorson
Musical Direction by Angela Steiner
Scenic and Lighting Design by Christopher McGann
Costume Design by Olivia Rigdon
Sound Design by Jes Lowdermilk
Stage Managed by Kat Springer
Second Stage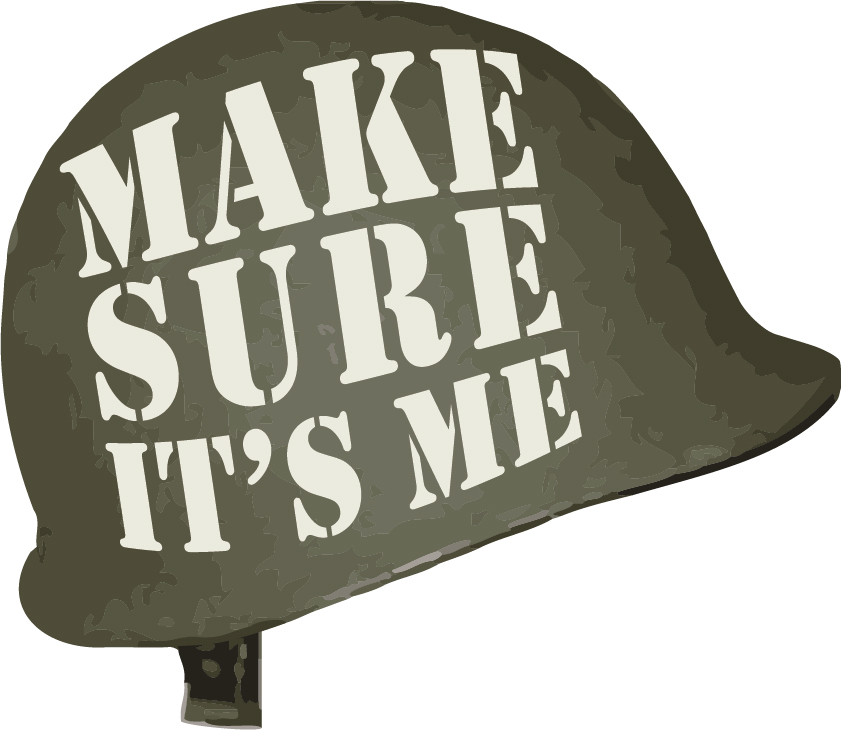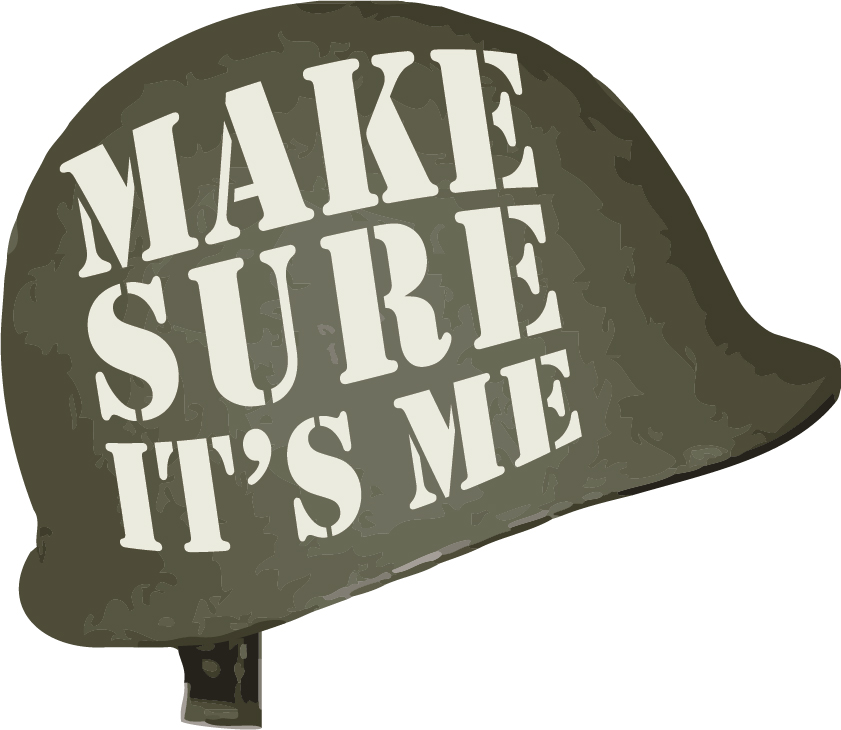 Make Sure It's Me
Sept. 13–23, 2012
A play by Kate Wenner
The play explores the emotional, spiritual and physical ramifications of this "signature injury" of the Iraq and Afghanistan wars, for the injured vets and also for their families. The time is 2006, and the setting is a university clinic, where Sgt. Nichols and the other vets are being treated for the brain injuries they suffered from IED blasts in Iraq. Dr. Jo Fitch is the civilian brain trauma specialist caring for Sgt. Nichols and the others. She was commissioned by the Pentagon to help them understand this confounding new combat injury. Though the vets in Dr. Fitch's study may never recover their full cognitive abilities, they are able to begin to recover pride and purpose by turning to one another, as they once did as warriors.
"This was my first play in which I performed in at the FAC. It was such a pleasure to work with such amazing and talented people that took a table read and made into something special. This experience will always be special mainly because of the lifelong friends I made and the fact that after a trying time in the Army I was able to find my true passion the theatre."  –Mark Cannon, Lt. Col. Banks
Stage Managed by Ken Robinson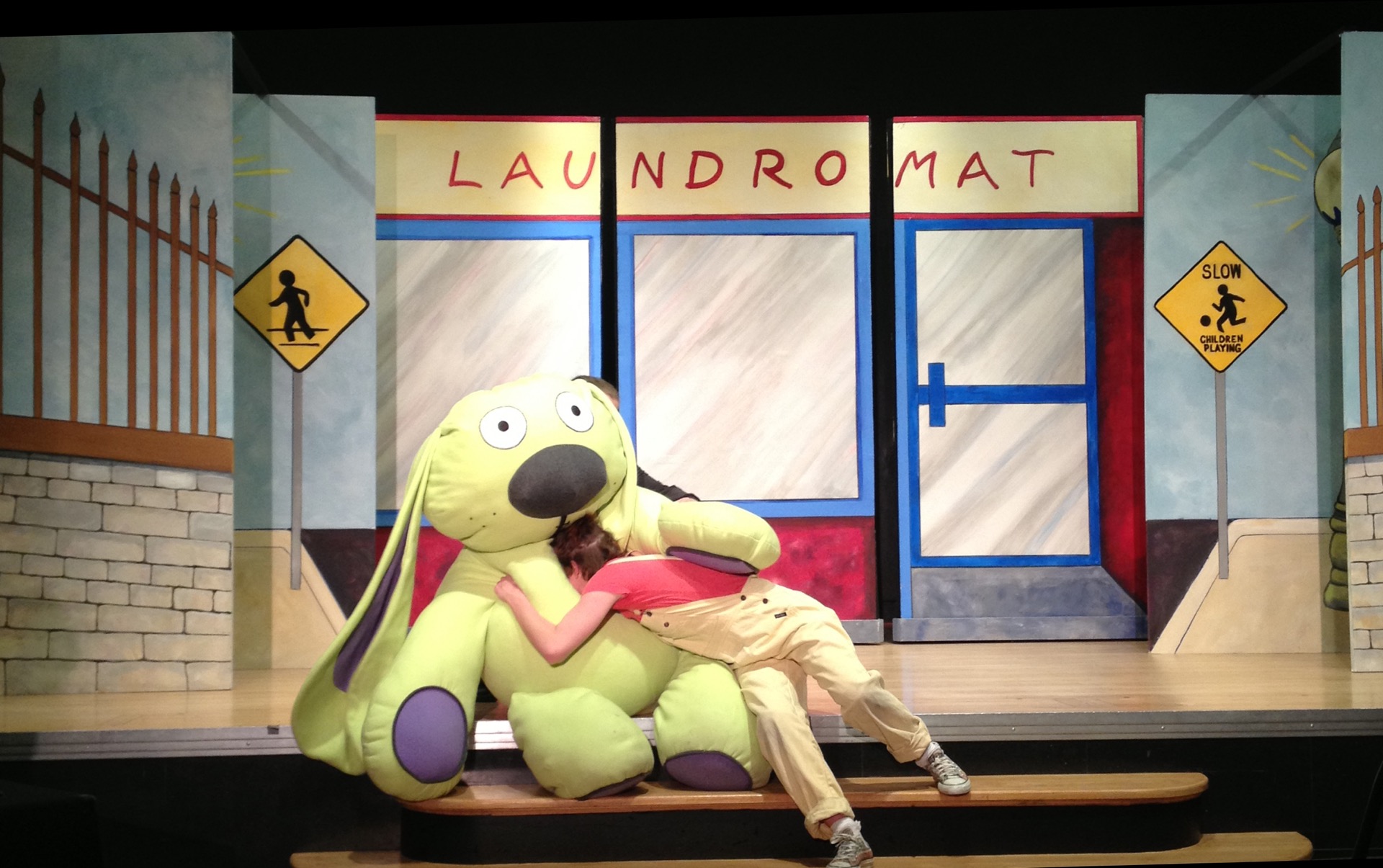 Knuffle Bunny: A Cautionary Musical
March 21–31, 2013
Based on the book Knuffle Bunny: A Cautionary Tale by Mo Willems
Script and Lyrics by Mo Willems
Music by Michael Silversher
A girl loves stuffed animal. Girl loses beloved animal. Girl fights to get animal back. Trixie, her father, and her favorite stuffed bunny set off on a trip to the Laundromat. The trip brings wonder, excitement and joy to the lively toddler until she realizes that she has left her Knuffle Bunny back at the laundromat. Trixie does everything in her power to make her father understand the emergency, but her father fails to see the issue at hand.
Pictured: Lacey Connell as Trixie
"This show was so much fun! How delightful it was to bring Mo Willems cautionary tale to life in the Music Room. The cast and musicians were also able to tour the show to several area schools. If you should ask our heroine, Trixie, about performing the Knuffle Bunny show she would look you in the face and say 'Aggle flabble kabble . . . snurp?'" –Tim Muldrew, Director
Directed by Tim Muldrew
Musical Direction by Ian Ferguson
Scenic Design by Christopher L. Sheley
Costume Design by Janson Fangio
Stage Managed by Elise Jenkins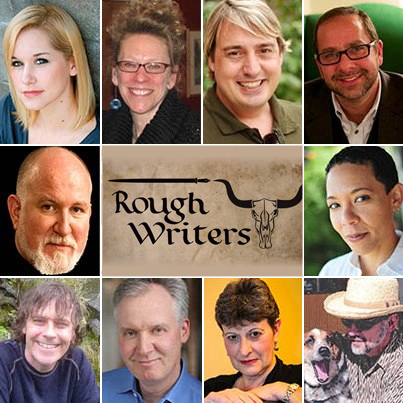 Rough Writers
April 18–28, 2013
The Fine Arts Center proudly produced the bi-annual Rough Writers New Play Festival in the spring of 2013. This two-week long festival featured readings of new scripts submitted by playwrights worldwide. Playwrights whose work is included in the festival had the opportunity to have staged readings of their scripts in front of an audience with a moderated talkback session immediately following.
"As a playwright, there is nothing better than listening to actors bring your words to life. It provides the breath, the intent, and the rhythm that every writer needs in order to move a project forward. The Rough Writers Project at the FAC was able to provide that to novice, and veteran playwrights alike. What a wonderful way to support playwrights, and our local actor community. I say, let's do it again!" –Marisa Hebert, Playwright
Special Events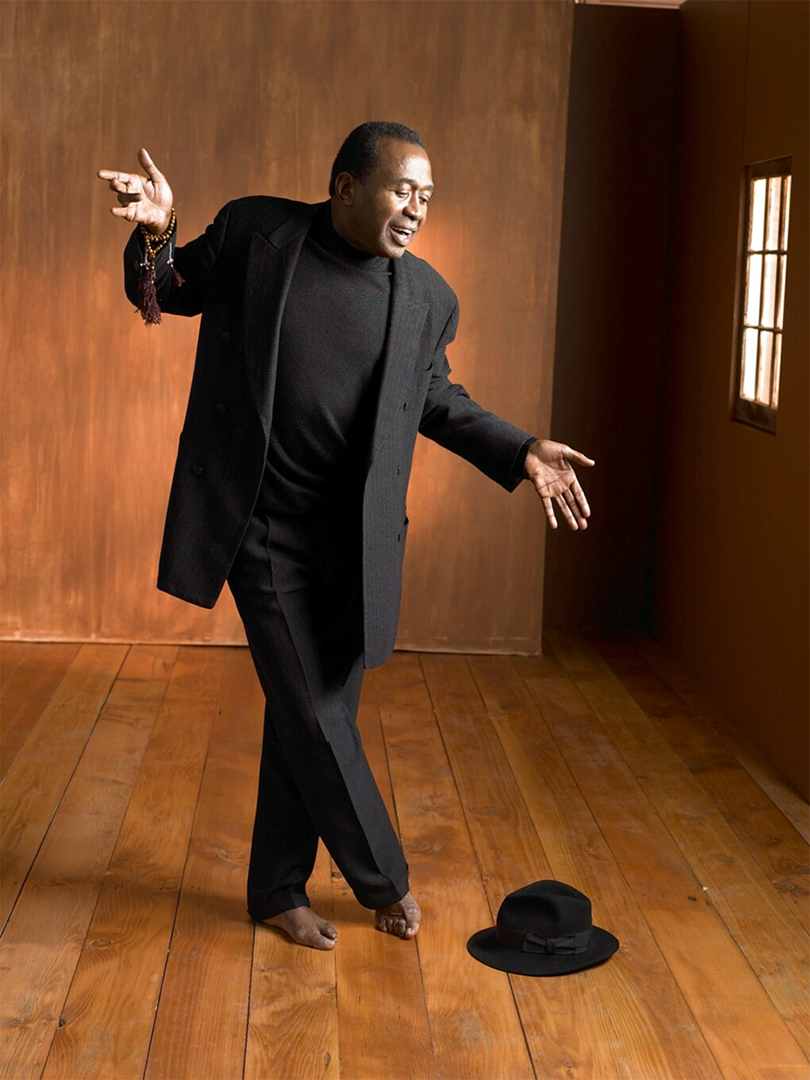 An Evening with Ben Vereen
Special Event, Nov. 8, 2012
An Evening with Ben Vereen is an uplifting evening of songs and stories seasoned with Ben Vereen's insight and humor. A natural entertainer, Vereen has appeared in Broadway smash hits such as Wicked, Hair, Jesus Christ Superstar, and Pippin, on television in monumental series like Roots, and in countless one-man shows. With musical support from members of the outstanding Juilliard Jazz Ensemble, Vereen will entertain Dizzy's audiences with signature numbers such as "Magic To Do" from Pippin, "Defying Gravity" from Wicked, Elton John's "Your Song," Bob Marley's "Get Up, Stand Up," and a tribute to Sammy Davis Jr. and Frank Sinatra.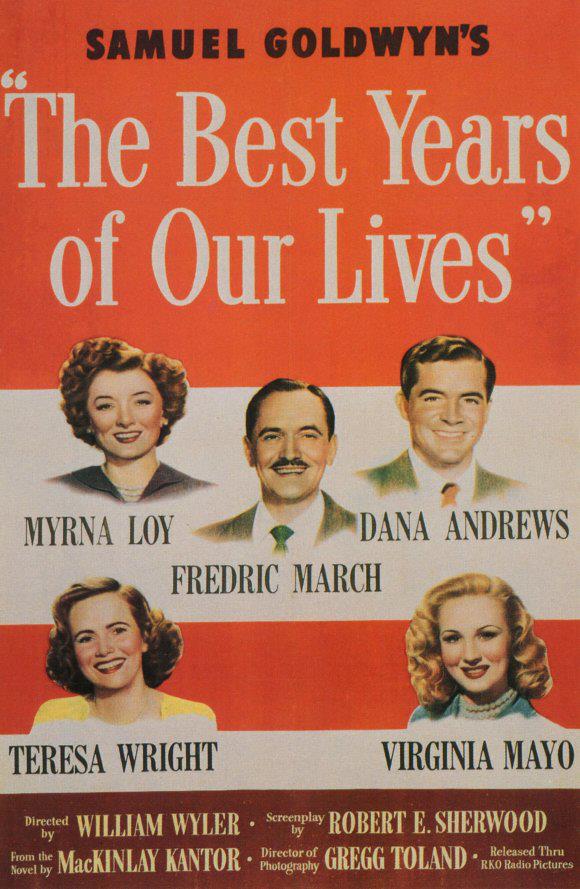 The Best Years of Our Lives (Film Screening)
Special Event, March 13, 2013
Based on "Glory for Me" by MacKinlay Kantor
Fred, Al and Homer are three World War II veterans facing difficulties as they re-enter civilian life. Fred (Dana Andrews) is a war hero who, unable to compete with more highly skilled workers, has to return to his low-wage soda jerk job. Bank executive Al (Fredric March) gets into trouble for offering favorable loans to veterans. After losing both hands in the war, Homer (Harold Russell) returns to his loving fiancée, but must struggle to adjust.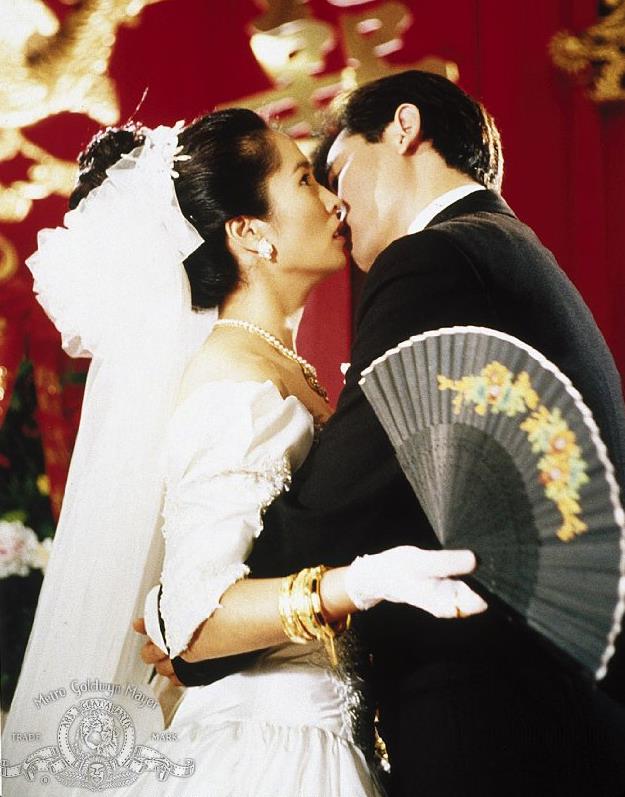 The Wedding Banquet (Film Screening)
Special Event, March 30, 2013
Wai-Tung (Winston Chao) and his boyfriend (Mitchell Lichtenstein) live happily as a gay couple in New York City. Wai-Tung has not been open about his sexuality with his Taiwanese parents (Sihung Lung, Ah-Leh Gua), and decides to acquiesce to their wish for a traditional Chinese union by marrying Wei-Wei (May Chin), a struggling artist desperate for a green card. But the simple arrangement turns into a lavish debacle when Wai-Tung's parents plan an extravagant wedding banquet.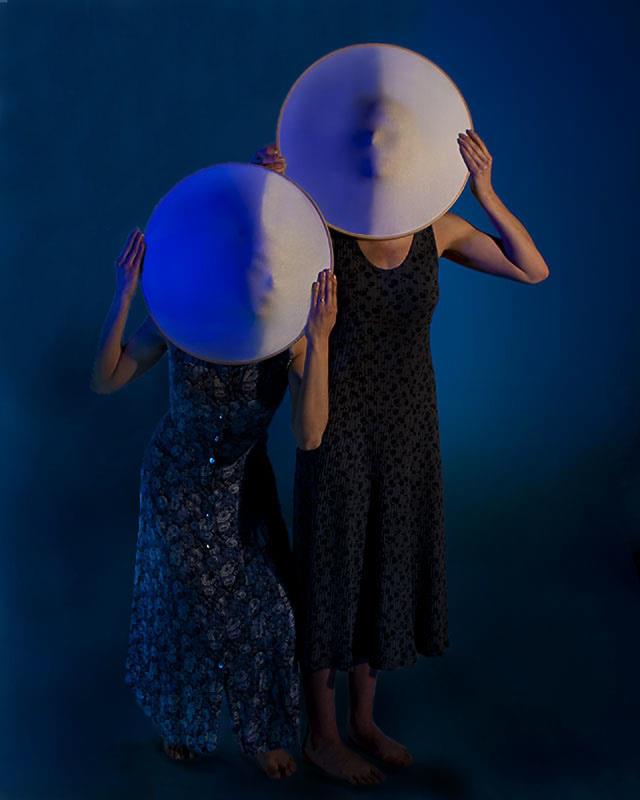 Ormao Dance Company
Special Event, April 12–14, 2013
Ormao Dance Company is an innovative, inclusive and noncompetitive home for dance and the arts in downtown Colorado Springs. Ormao's offerings encompass open-to-the-public dance, choreography and yoga classes; three modern dance groups that provide balanced and rigorous training, and professional and youth performance; and a unique outreach program teaching math via dance in the area's low-income public schools.