FAC Theatre Company 2013–2014 Season
Mainstage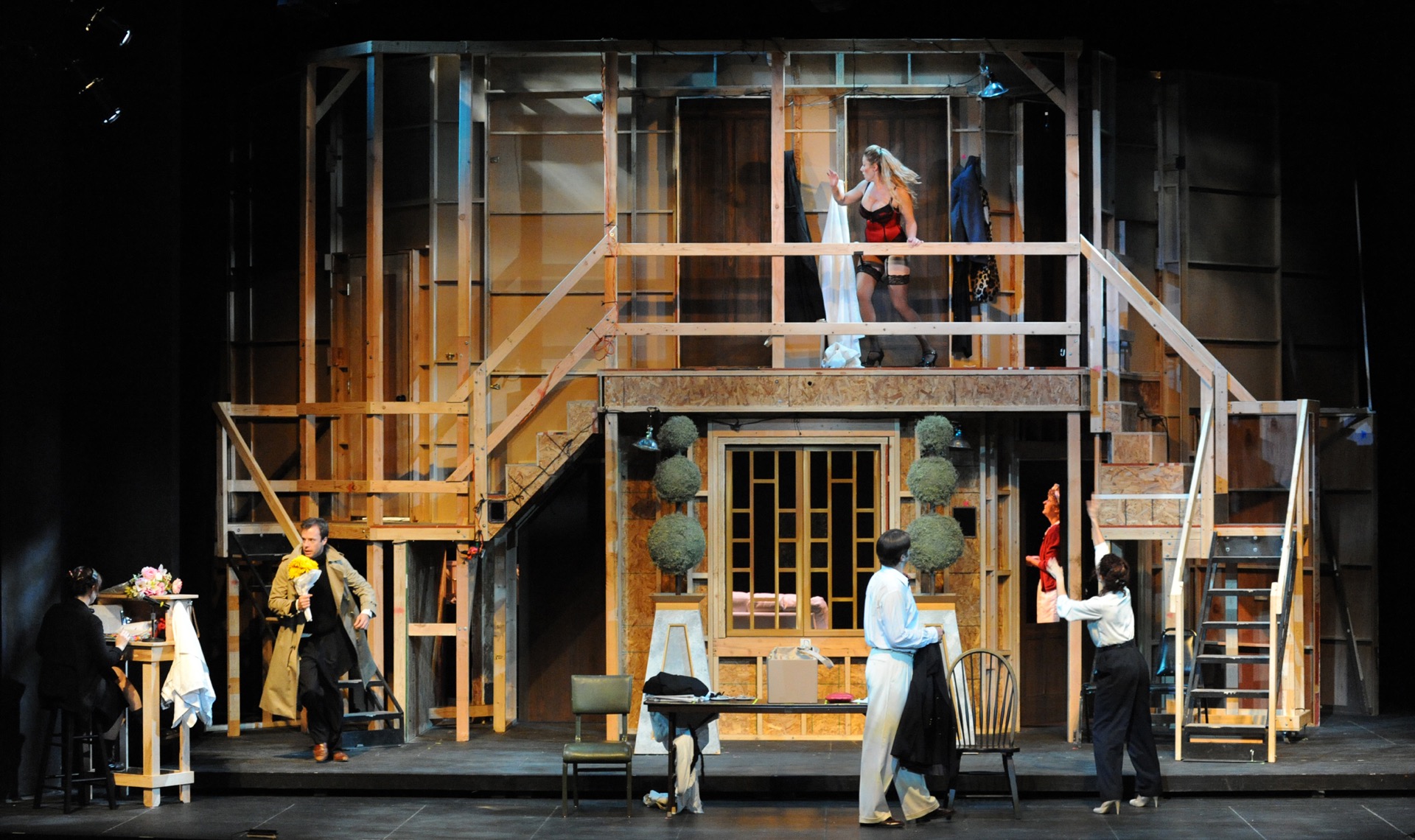 Noises Off
Sept. 26–Oct. 20, 2013
Written by Michael Frayn
Called "the funniest farce ever written," Noises Off presents a manic menagerie of itinerant actors rehearsing a flop called "Nothing's On." Doors slamming, on and offstage intrigue, and an errant herring all figure in the plot of this hilarious and classically comic play. In the first act, the actors struggle to complete a dress rehearsal. In the second, the audience is transported backstage as the set literally revolves and reveals a cast on the verge of disaster as trysts and betrayals send the production into chaos. The final act returns to the company as their final performance, revealing the fallout of backstage catastrophes as the cast struggle on.
Pictured: Company | Photo by Jeff Kearney
"Noises Off came right on the heels of directing The Drowsy Chaperone, so I was very lucky to get to jump from one zany comedy to the next. Our cast was stellar – some of my favorite comedic performers ever – and getting to work on that trick filled monolithic set by Chris Sheley was both a challenge and a joy. It was my last main-stage directing gig at the FAC, and I'm glad I got to be a part of it!" – Cory Moosman, Director
Directed by Cory Moosman
Scenic Design by Christopher L. Sheley
Lighting Design by Holly Anne Rawls
Costume Design by Janson Fangio
Properties Design by Katelyn Springer
Hair & Make-Up Design by Jonathan Eberhardt
Production Stage Managed by Katy McGlaughlin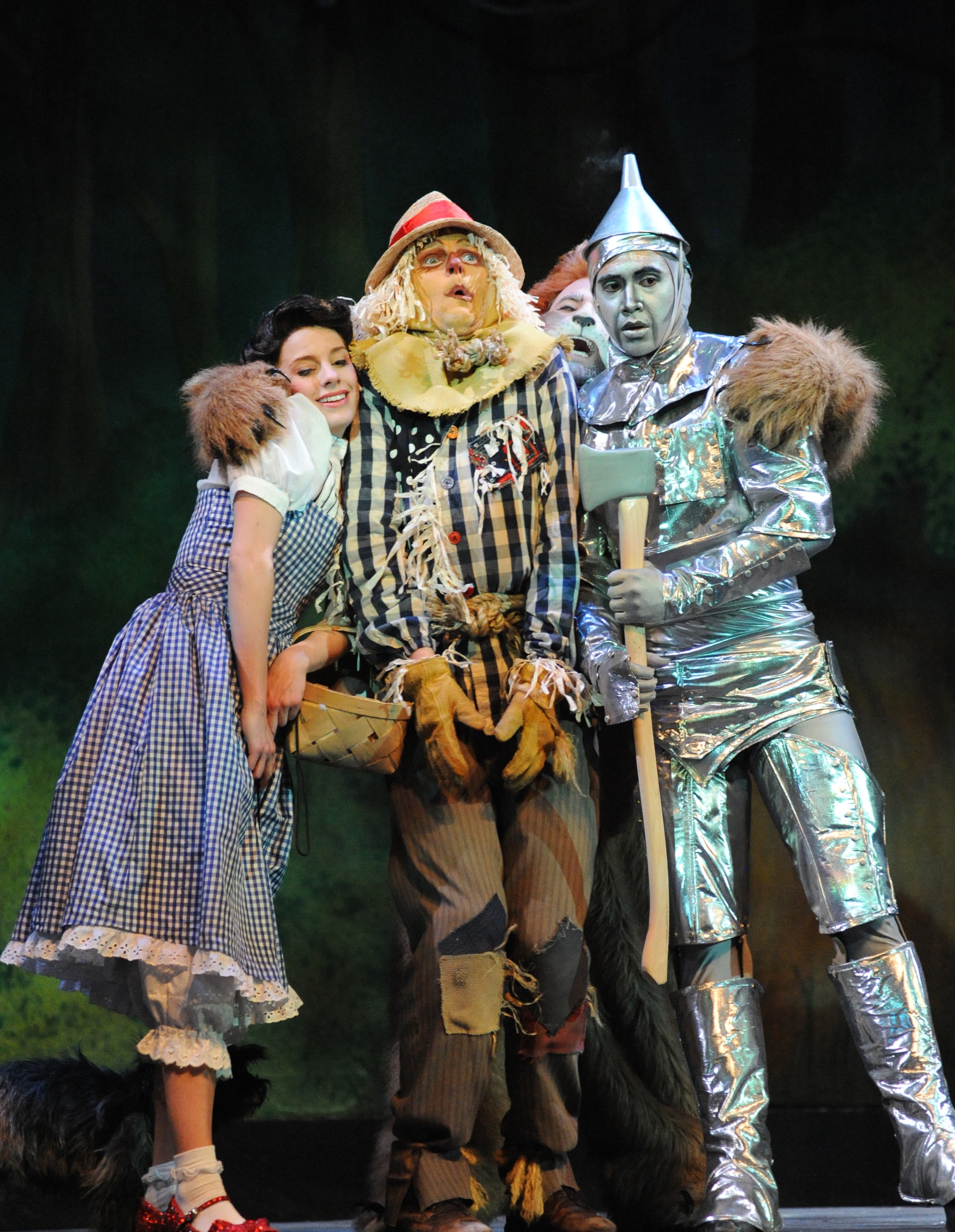 Dec. 5–29, 2013
With Music and Lyrics of the MGM motion picture score by Harold Arlen and E.Y. Harburg
Background Music by Herbert Stothart
Book Adaptation by John Kane from the motion picture screenplay
Based on the 1900 novel The Wonderful Wizard of Oz by L. Frank Baum and the 1939 film version written by Noel Langley, Florence Ryerson, and Edgar Allan Woolf
Like so many girls her age, little Dorothy Gale of Kansas dreams of what lies over the rainbow. One day a twister hits her farm and carries her away over the rainbow to another world. Come join Dorothy, the Scarecrow, the Tinman, the Cowardly Lion, and Toto as they travel the universe of Dorothy's imagination.
Successful musicals based on the 1900 Baum novel "The Wonderful Wizard of Oz" have been numerous over the past century. Seeking to more closely recreate the 1939 film on stage, in 1987, the Royal Shakespeare Company adapted the film's screenplay, also using the songs from the film, and produced a new version at London's Barbican Centre. It is this version of the script that the FAC used in staging their hit 2013 production.
Pictured:  Lacey Connell as Dorothy Gale, Jason Lythgoe as Scarecrow, Zach Guzman as Tin Woodman, and Brian Harris as Cowardly Lion | Photo by Jeff Kearney
"My favorite moment in the show: Glinda (the Good Witch) was flying overhead, just after the Wicked Witch had placed the poppyseed curse upon the travelers. Recall the infamous line from the movie, 'Poppies…Poppies will put them to sleep…sleep'.  During one particular performance, instead of a light snowfall, the entire 'hammock' of snowflakes came plummeting down, fully covering Toto and Dorothy. I will never forget the look on Lacey O'Connell's face when she realized what had occurred. As the Tin Man, the scene required me to maintain a frozen position, to imply that I had rusted over. Try remaining completely still under such conditions."  – Zach Guzman, Tin Woodman
Directed by Scott RC Levy
Musical Direction by Jay Hahn
Choreographed by Mary Ripper-Baker
Scenic Design by Christopher L. Sheley
Lighting Design by Holly Anne Rawls
Costume Design by Lex Liang
Properties Design by Katelyn Springer
Hair & Make-Up Design by Lex Liang & Jonathan Eberhardt
Sound Design & Mixing by Chris Husted
Flying Effects provided by ZFX,Inc.
Production Stage Managed by Katy McGlaughlin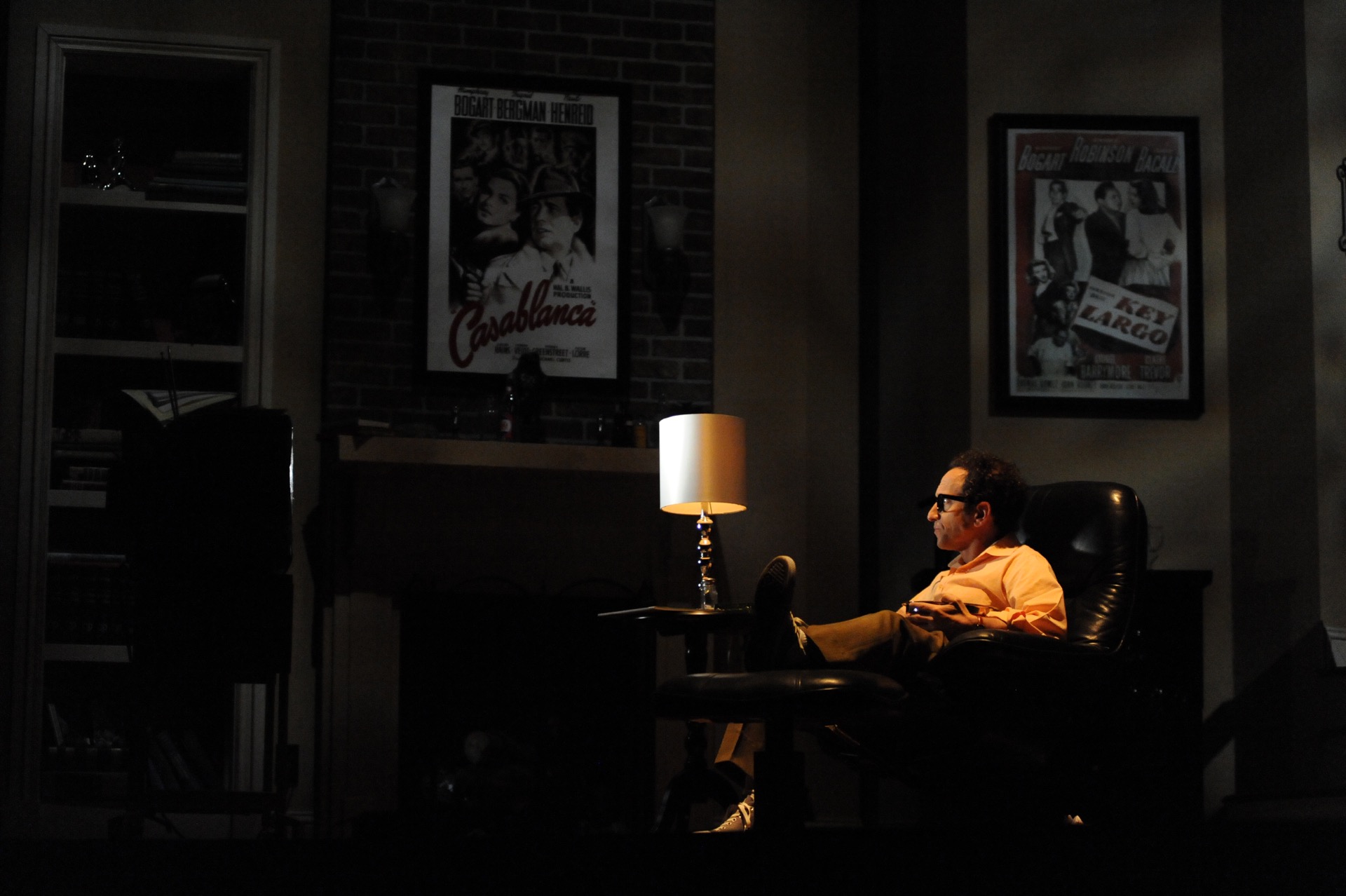 Play It Again, Sam
Jan. 30–Feb. 16, 2014
By Woody Allen
Unlucky in love, Allan Felix is a film critic who gets dumped by his wife. Now, his married friends try in vain to fix him up. Allan's dating skills are less than stellar, even though he keeps getting advice from a recurring hallucination…his film hero Humphrey Bogart.
A substantial hit when first produced in 1969, this show ran for more than a year and helped build Woody Allen's reputation as a performer who could portray a comedic romantic lead as well as the neurotic persona for which he was best known at the time. The play became the basis for a 1972 film of the same name, starring Allen and directed by Herbert Ross.
Pictured: Gary Littman as Allan Felix | Photo by Jeff Kearney
"Lija Fisher and I had worked together on this dark Ibsen brooding piece, Wild Duck, at Theareworks, and for some crazy reason, I had this winning instinct that she was a comedian. She looks and sounds and plays like she was transported here from the early 70s American farce. Part Madeleine Kahn part Goldie Hahn — she's the woman at the table next to you who has spilled coffee down her blouse with perfect timing. She is a funny girl. She meshed so perfectly torn between the love of bumbling Gary Littman and upper west side, perfect teeth, suave Chad Siebert. Any scene with the three of them was pure joy.  And loads of spit-take worthy cameos like the orgasm of then newcomer and gift to the FAC company Rebecca Myers and the go-go ambivalent moves by the red-haired siren Jessica Parnello. And all of it soundly choreographed by my favorite artist partner Scott RC Levy to whom I can say, 'No, we need a sound that's more yellow', and he actually knows what the hell I'm talking about. Shorthand for comedy was a skill everyone in this ensemble brought to the table." –Joye Cook-Levy, Director
Directed by Joye Cook-Levy
Scenic Design by Jonathan Wentz
Lighting Design by Holly Anne Rawls
Costume Design by Janson Fangio
Properties Design by Katelyn Springer
Hair & Make-Up Design by Jonathan Eberhardt
Sound Design by Scott RC Levy
Production Stage Managed by Katy McGlaughlin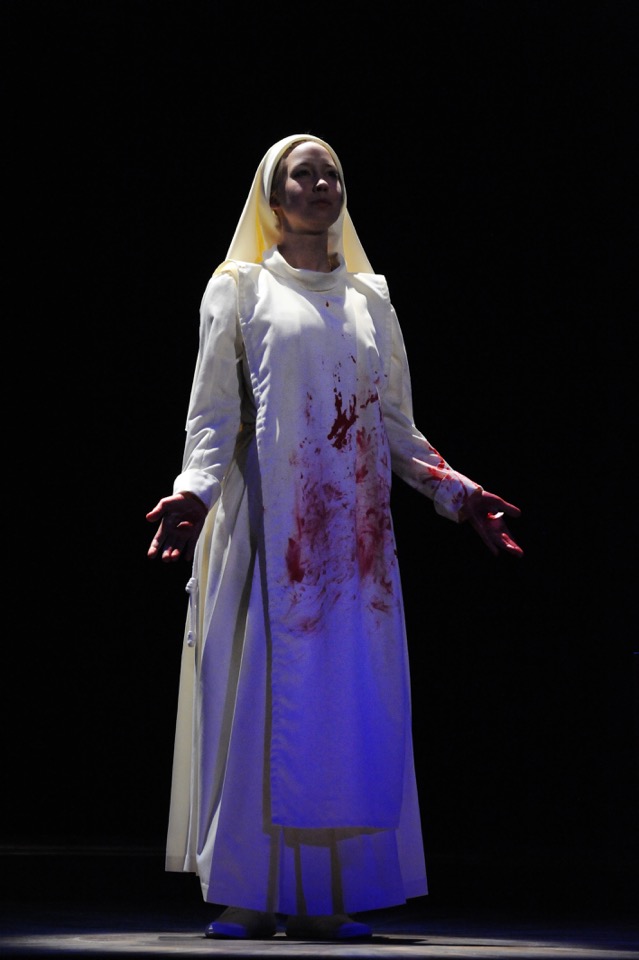 Agnes of God
March 20–April 6, 2014
By John Pielmeier
Summoned to a convent, Dr. Martha Livingstone, a court-appointed psychiatrist, is charged with assessing the sanity of a novice nun named Agnes, who unexpectedly gives birth to a dead baby and insists that the child was the result of a virgin conception. During the ensuing investigation, Dr. Livingstone and the Mother Superior clash as the psychiatrist is determined to get to the bottom of the events at the convent. Exploring themes of faith, maternal instinct, and how far people will go to preserve their chosen way of life, Agnes of God was critically acclaimed.
Pictured:  Carmen Shedd as Agnes | Photo by Jeff Kearney
"Agnes of God is one of those shows that is every actor's dream. Its depth of characters, unique storytelling and demands on the performers (mentally, emotionally, vocally, and physically) make it a piece that is not only challenging, but so rewarding. Having done mostly musical theatre until that point, I was so grateful for the opportunity to dive into an intensely dramatic piece, while getting to sing classically. It was the last production I did before I got married and took a small hiatus from acting, which made it all the more poignant and affirming to me. It was a dream team on both sides the table: Directed by Scott RC Levy, set by Chris Sheley, lights by Jonathan Spencer, and my castmates Jane Fromme and Kathy Paradise. It was some of the most challenging and fulfilling work I've ever done, stretching me as a human and performer. I wished I could have performed the role for the rest of my life, and am so grateful I was able to do it at my artistic home." – Carmen Shedd, Agnes
Directed by Scott RC Levy
Scenic Design by Christopher L. Sheley
Lighting Design by Jonathan Spencer
Costume Design by Janson Fangio
Properties Design by Katelyn Springer
Production Stage Managed by Katy McGlaughlin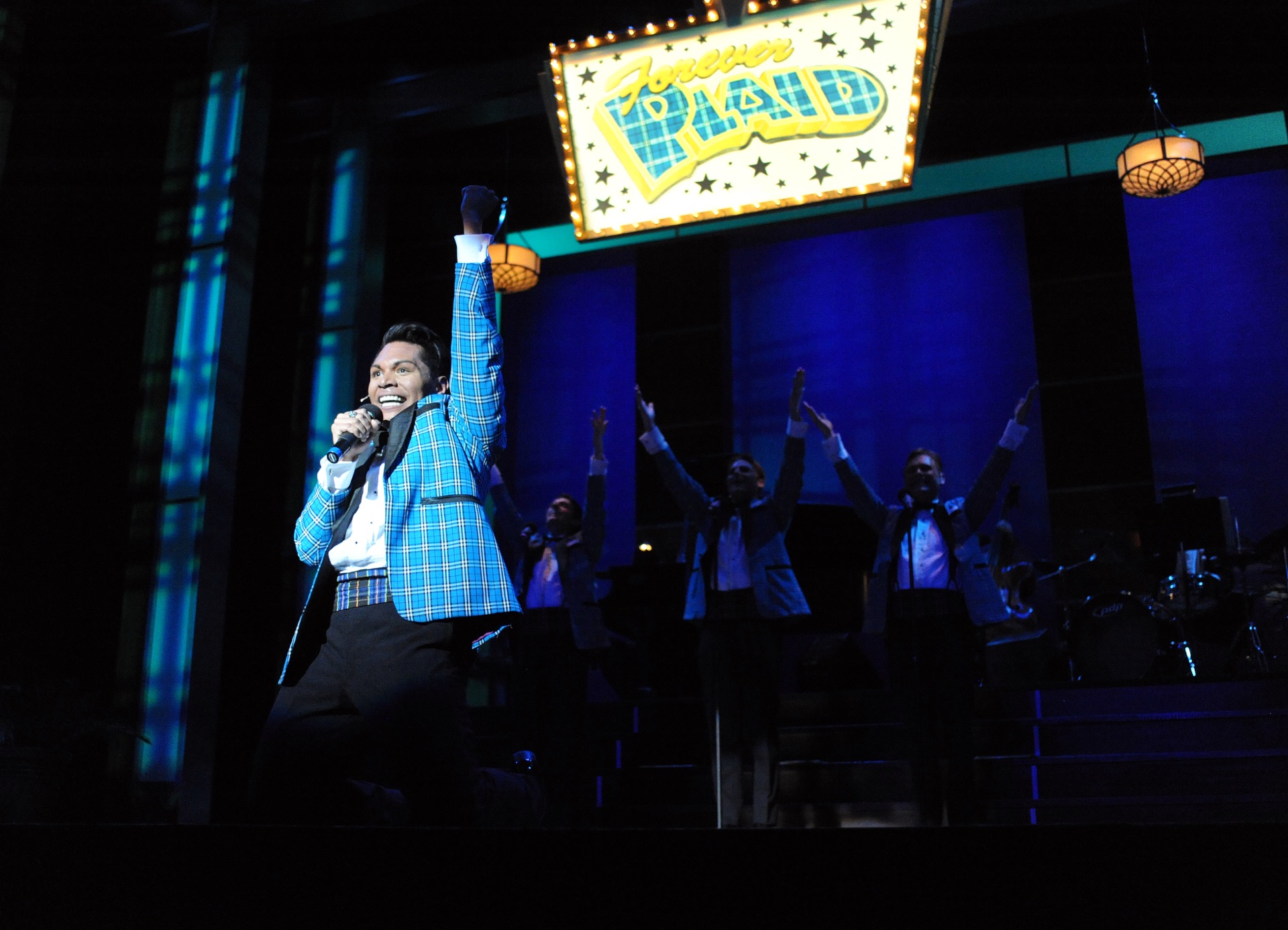 Forever Plaid
May 8–June 1, 2014
Written and Originally Directed and Choreographed by Stuart Ross
Musical Continuity Supervision and Arrangements by James Raitt
Originally Produced by Gene Wolsk
Once upon a time, there were four guys (Sparky, Smudge, Jinx and Frankie) who discovered that they shared a love for music and then got together to become their idols — The Four Freshman, The Hi-Lo's and The Crew Cuts. Rehearsing in the basement of Smudge's family's plumbing supply company, they became "Forever Plaid." On the way to their first big gig, the "Plaids" are broadsided by a school bus and killed instantly. It is at the moment when their careers and lives end that the story of Forever Plaid begins…
Singing in close harmony, squabbling boyishly over the smallest intonations and executing their charmingly outlandish choreography with overzealous precision, the "Plaids" are a guaranteed smash, with a program of beloved songs and delightful patter that keeps audiences rolling in the aisles when they're not humming along to some of the great nostalgic pop hits of the 1950s.
Pictured:  Thadd Krueger as Frankie, Jesse Havea as Smudge, Jason Lythgoe as Sparky, and Kevin Pierce as Jinx | Photo by Jeff Kearney
"Forever Plaid at the FAC holds a very special place in my heart. It was the third time I had done the show and continues to be one of my favorite pieces to work on. I had taken a break from theatre work and this was my first step back into the game. That show introduced me to Nathan Halvorson, Scott Levy and the entire Colorado Springs theatre community, and I'm endlessly grateful. It was a very slick, tight production that I had a ball doing. Those suits were some of the best I'd ever worn."  Kevin Pierce, Jinx
Directed & Choreographed by Nathan Halvorson
Musical Direction by Jay Hahn
Scenic Design by Erik D. Diaz
Lighting Design by Jonathan Spencer
Costume Design by Janson Fangio
Properties Design by Katelyn Springer
Production Stage Managed by Katy McGlaughlin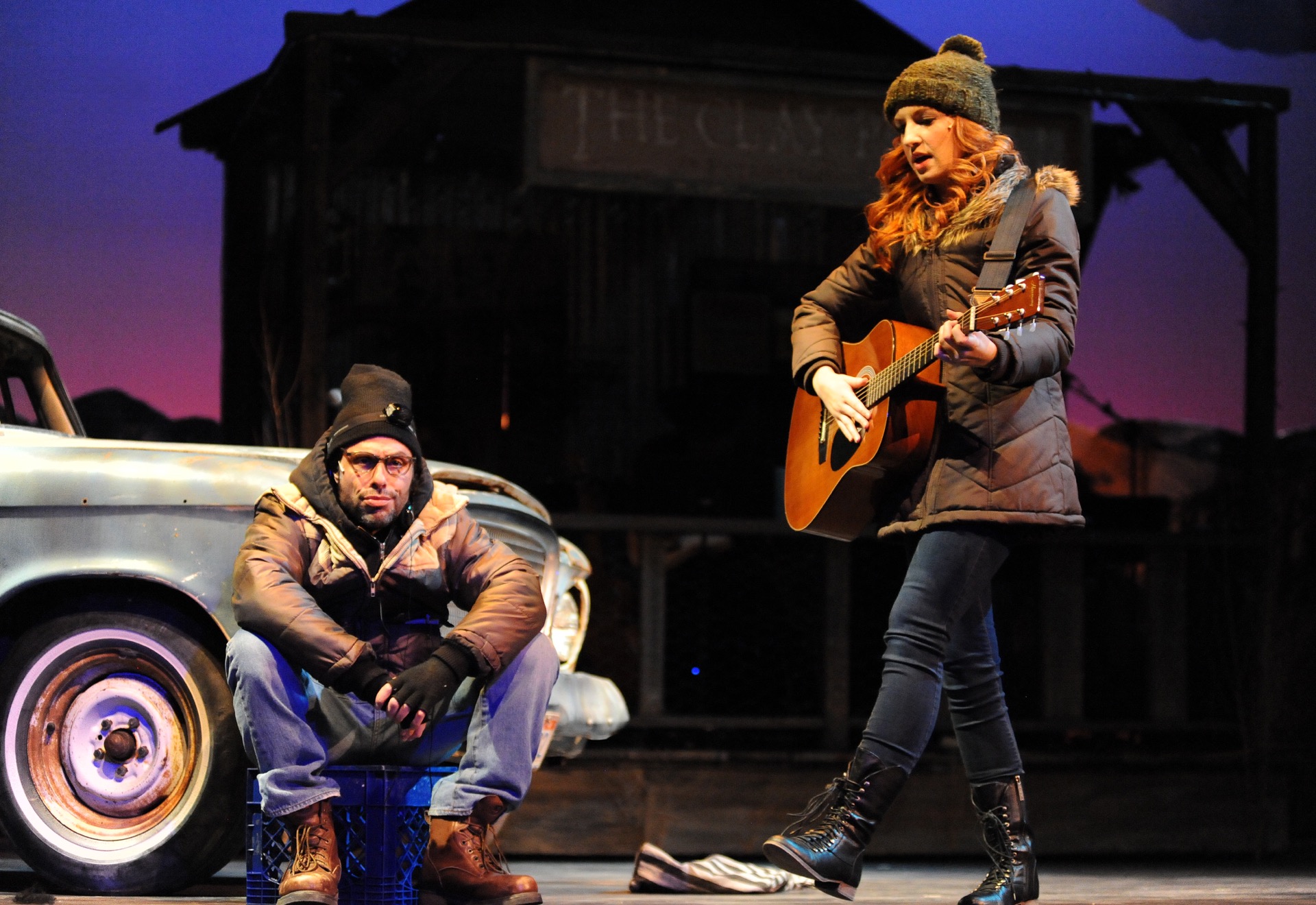 Floyd and Clea Under the Western Sky
June 12–29, 2014
Book and Lyrics by David Cale
Music by Jonathan Kreisberg and David Cale
Love, music and heartache took to the open road in the FAC's intimate, emotionally affecting production of Floyd and Clea Under the Western Sky. Floyd Duffner is a singer/songwriter has-been, still cranking out killer acoustic gems even as he lives in his old Studebaker. Clea Johnson is a spunky young Mormon woman with a voice from the heavens and stars in her eyes. A friendship develops, and the two find unlikely paths to rescue one-another. With a country-western and Rock influenced score, Floyd and Clea is a musical packed with sensational original western tunes.
Pictured:  Chelsea Ringer as Clea, and Jordan Leigh as Floyd | Photo by Jeff Kearney
"While there are several shows that require vehicles on stage, this one was special as it required a 60's vintage Studebaker car…in bad shape. You need car guys and car clubs for an undertaking like this…and a Studebaker hoarder outside of Penrose, CO. So began the long journey to the stage. Once we found the car, my father-in-law and I drove down to Penrose to seal the deal and haul it home by way of Woodland Park. As luck would have it, there is a car restorer there who agreed to remove the engine and drive-train if he could keep them. What a deal! Once dissected, he agreed to bring the car down the pass and drop it off in the FAC parking lot. Close, but not yet on the stage. A kind supporter of the theatre company, with a trucking company, agreed to dispatch a roll-off tow truck to put it on our loading dock and then winch it down the ramp to the stage. As for where it went afterwards…that's another story!" –Christopher Sheley, Scenic Designer
Directed by Scott RC Levy
Musical Direction by Jay Hahn
Music Arranged & Score Transcribed by Jay Hahn & Tom Taylor
Scenic Design by Christopher L. Sheley
Lighting Design by Holly Anne Rawls
Costume Design by Janson Fangio
Properties Design by Katelyn Springer
Production Stage Managed by Katy McGlaughlin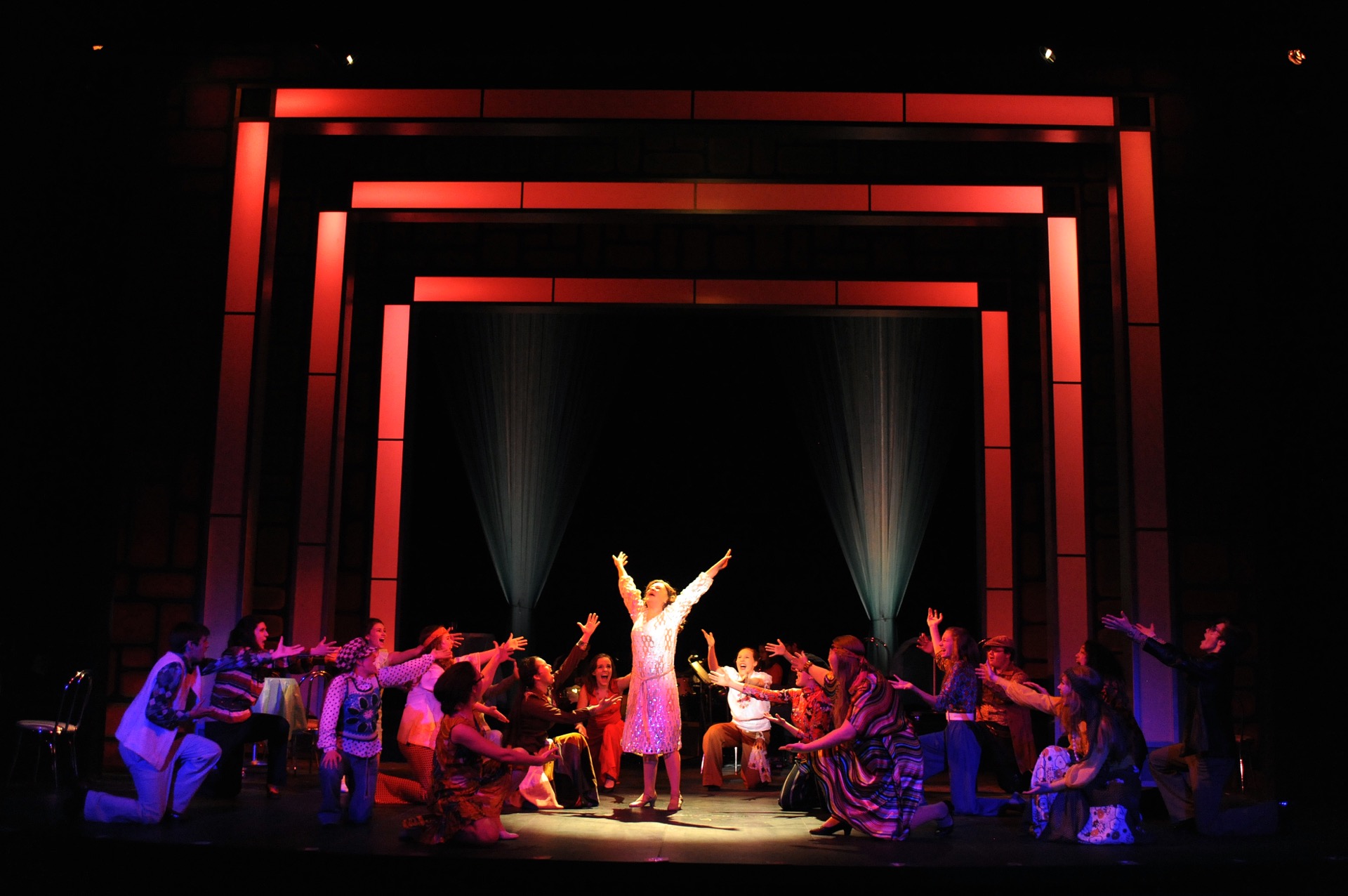 Applause
Youth Rep, Aug. 1–3, 2014
Book by Betty Comden and Adolph Green
Music by Charles Strouse
Lyrics by Lee Adams
Based on the film All About Eve and the original story by Mary Orr
In late the late 1960s, Margo Channing is a Broadway star. However, she secretly is paranoid about her age. Soon, an ambitious chorus girl, Eve, warms up to her. However, the admiring chorus girl quickly becomes Margo's worst enemy and competition. Eve ends up understudying for Margo and then sabotages her so that she can perform the role in front of the important critics. In the end, Eve becomes a star and Margo's career is fading. However, Margo realizes that she can still find happiness in the man she loves, Bill.
Pictured: Company | Photo by Jeff Kearney
"I had never sung aloud outside of the shower when I auditioned for Applause. Foolishly, and because only three men were in the ensemble, Nathan cast me in a major supporting role. I probably wasn't very good, but I know that experience transformed all my fear of performing into ecstasy, and I've been hooked ever since."  –Sam Pribyl, Buzz Richards
Directed & Choreographed by Nathan Halvorson
Scenic Design by Christopher L. Sheley
Costume Design by Janson Fangio
Lighting Design by Holly Anne Rawls
Assistant Lighting Designer Christopher McGann
Sound Design by Tori Higgins
Musical Direction by Ian Ferguson
Stage Managed by Katy McGlaughlin
Second Stage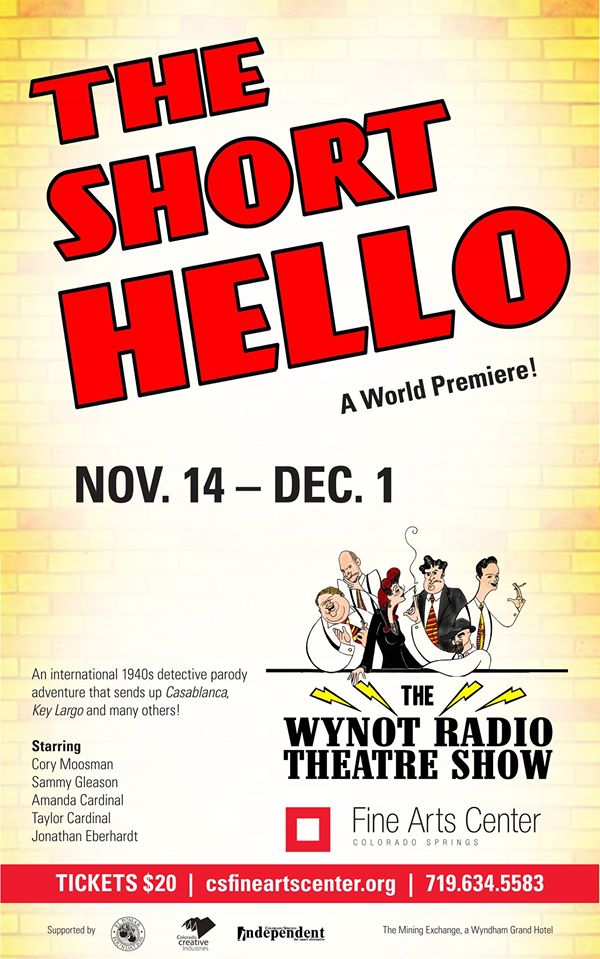 WYNOT Radio Theatre in The Short Hello
Nov. 14–Oct. 1, 2013
Spoofing the "Golden Age of Radio," each WYNOT creation features new commercials, serial pieces and detective shows. The Short Hello is the detective story within the larger variety parody show. It spoofs Casablanca and other classic '40s, exotic travel, memoir films.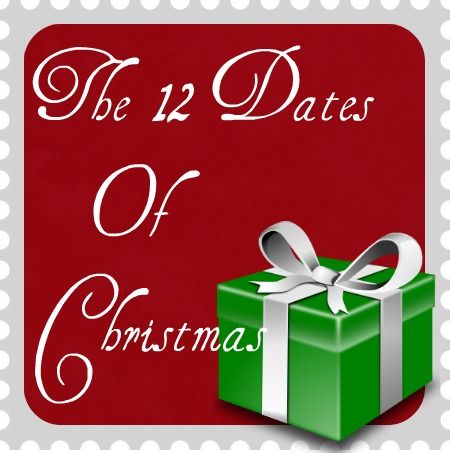 The Twelve Dates of Christmas
Dec. 12–22, 2013
by Ginna Hoben
After seeing her fiancé kiss another woman at the televised Thanksgiving Day Parade, Mary's life falls apart — just in time for the holidays. Over the next year, she stumbles back into the dating world, where "romance" ranges from weird and creepy to absurd and comical. It seems nothing can help Mary's growing cynicism, until the charm and innocence of a five-year-old boy unexpectedly brings a new outlook on life and love. This heartwarming one-woman play offers a hilarious and modern alternative to the old standards of the holiday season.
Directed by Max Ferguson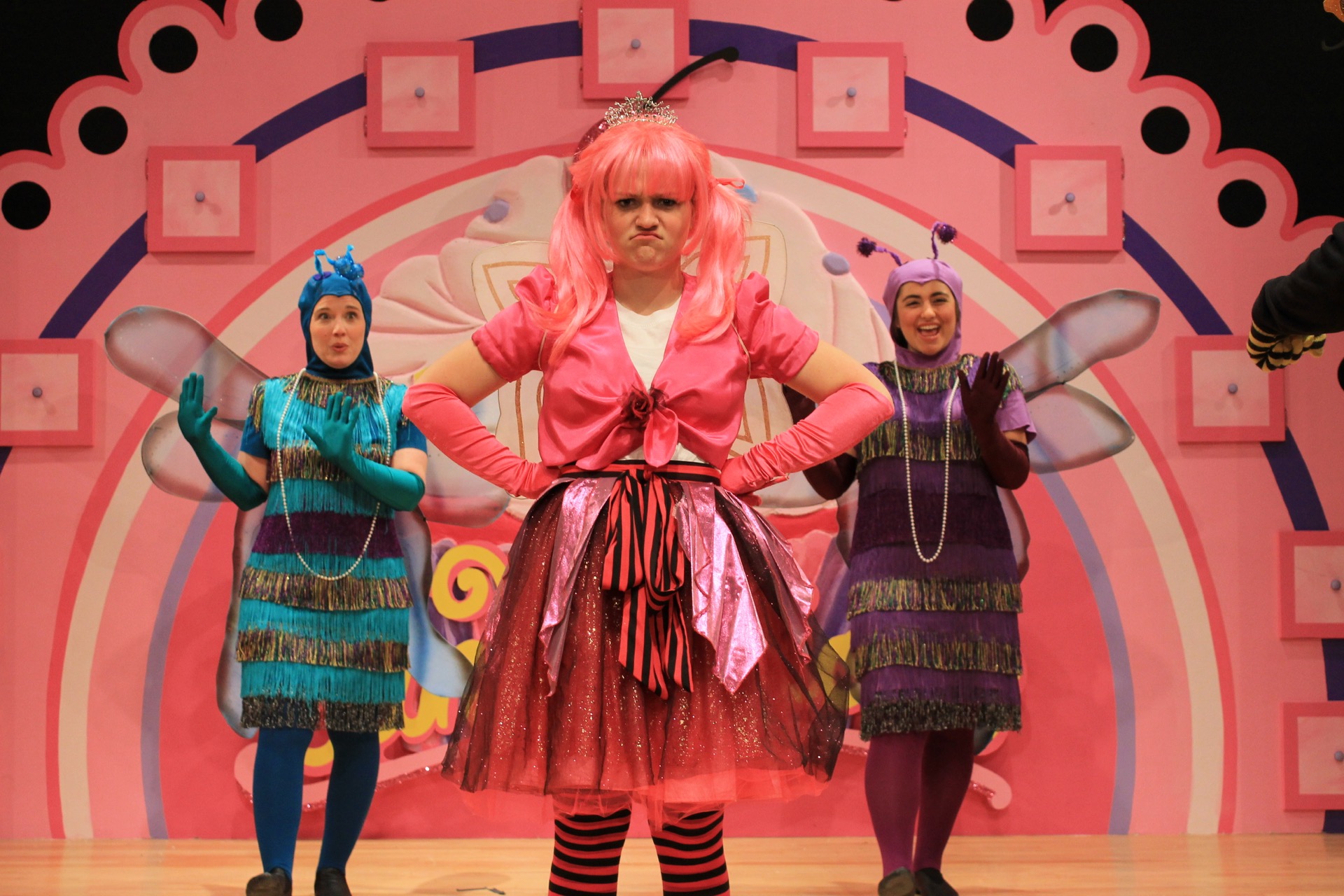 Pinkalicious
March 27–April 5, 2014
Book by Elizabeth Kann & Victoria Kann
Music by John Gregor
Lyrics by John Gregor, Elizabeth Kann & Victoria Kann
Based on the book by Victoria Kann & Elizabeth Kann
Pinkalicious can't stop eating pink cupcakes despite warnings from her parents. Her pink indulgence lands her at the doctor's office with Pinkititis, an affliction that turns her pink from head to toe — a dream come true for this pink loving enthusiast. But when her hue goes too far, only Pinkalicious can figure out how to get out of this predicament.
Pictured:  Michelle Cage as Pinkalicious, Jen Lennon as Mrs. Pinkerton, and Rebekah Whittington as Alison
"Pinkalicious was one of my favorite productions. From the moment we started rehearsal, the energy was through the roof. I believe this was the first time our younger performers joined the cast of an upstairs show and their presence ignited all our creativity in the room. It was a playful romp through the world of Pinkalicious, led joyfully by Nathan, engaging our sense of childlike imagination and honesty. We laughed so much while creating and exploring the blocking and choreography for the show. Several times we ended up in a heap on the floor shedding joyful tears and gasping for breath between fits of giggles. Literally on the floor…it was a very physical show!  And let's not forget about the quick changes. How often do you get to go from singing a sweet lullaby to being a dance dream cupcake in four bars.  Yup…16 beats to switch from loving mom to sweet, scary baked good. Fifty jam packed minutes of fun! The show was designed to be interactive and our young audiences were ready to chime in with their opinions about fruits, vegetables, sugar, siblings and occasionally to warn Pinkalicious about her choices…but mostly egg her on to eat more CUPCAKES!  Did I mention we got to eat cupcakes? And I would be remiss if I did not mention the always innovative Terri and her amazing props and organization for this show. She must have developed some high-level algorithm to track all the wacky, wonderful food that magically appeared in our menagerie of kitchen cupboards on the wall.  Pure delight! That's how I'll remember the show.  From our playful interaction as a cast to the joyful squeals and exclamations of the audience.  I am grateful to have been a part of this beautiful, honest, absolutely silly moment of FAC storytelling!" –Jen Lennon, Mrs. Pinkerton
Directed & Choreographed by Nathan Halvorson
Scenic & Properties Design by Heidi Larson
Costume Design by Janson Fangio
Hair & Make-Up Design by Jonathan Eberhardt
Musical Consultant Ian Ferguson
Production Stage Managed by Terri Harrison
Special Events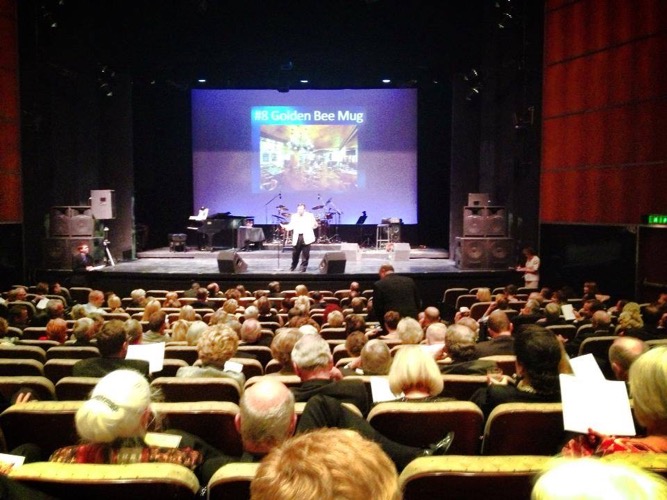 FAC Annual Gala: An Evening with Ben Vereen
Special Event, Sept. 7, 2013
Ben Vereen is one of the most honored and accomplished singers, dancers, and actors of our time. And he's coming to perform for the FAC's Annual Gala! This special evening includes cocktails in the FAC courtyard, a gourmet dinner, silent and live auctions, plus Ben Vereen performing on stage in the fabulous Theatre!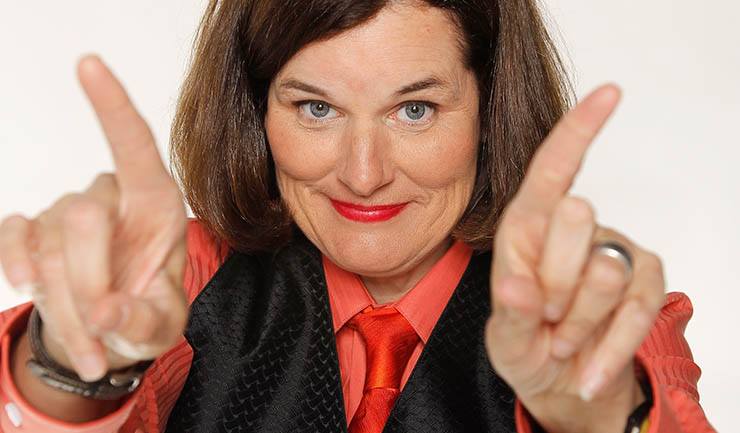 Paula Poundstone
Special Event, Nov. 23, 2013
32 years ago, Paula Poundstone climbed on a Greyhound bus and traveled across the country — stopping in at open mic nights at comedy clubs as she went.  A high school drop-out, she went on to become one of the great humorists of our time. You can hear her through your laughter as a regular panelist on NPR's popular rascal of a weekly news quiz show, Wait Wait … Don't Tell Me. She tours regularly, performing standup comedy across the country, causing Bob Zany with the Boston Globe to write: "Poundstone can regale an audience for several hours with her distinctive brand of wry, intelligent and witty comedy."  Audience members may put it a little less elegantly: "I peed my pants."
While there is no doubt that Poundstone is funny, the thing that separates her from the pack of comics working today and that has made her a legend among comics and audiences alike is her ability to be spontaneous with a crowd. Poundstone says: "No two shows I do are the same. It's not that I don't repeat material. I do. My shows, when they're good, and I like to think they often are, are like a cocktail party. When you first get there, you talk about how badly you got lost and how hard it was to find parking. Then you tell a story about your kids or what you just saw on the news. You meet some new people and ask them about themselves. Then, someone says, 'Tell that story you used to tell,' and then someone on the other side of the room spills a drink, and you mock them. No one ever applauds me when I leave a party, though. I think they high five."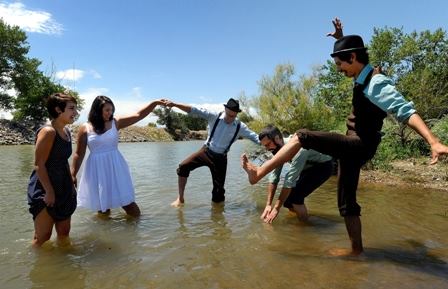 The Haunted Windchimes
Special Event, Jan. 11, 2014
The Haunted Windchimes sound is very traditional folk and blues and the songs have a vintage quality, as if they might have been written yesterday or 75 years ago. The groups' subtle and collective genius features original material written by all four members.
It's the vocal harmonies that really set them apart, a three-headed juggernaut of Desirae Garcia (ukulele), Chela Lujan (banjo) and Inaiah Lujan (guitar). When their voices blend, it is nothing short of beautiful. The sound is often moody and melancholy, but it is always deeply affecting. That sound is embroidered by the instrumental mastery of Mike Clark (harmonica, fiddle, mandolin, guitar and concertina).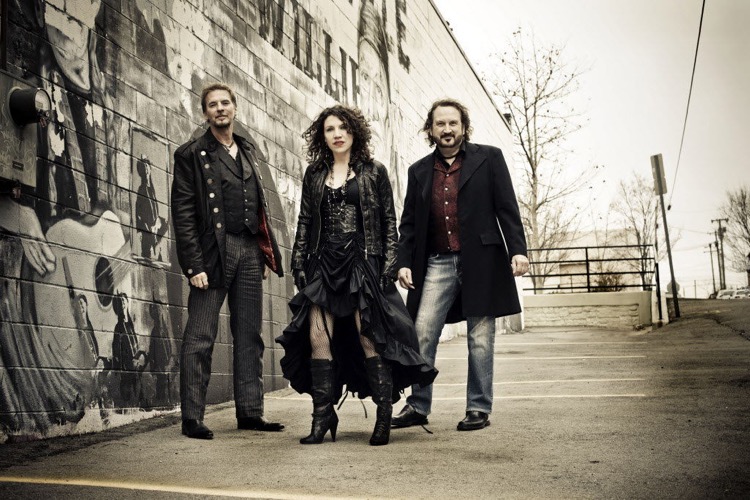 Blue Sky Riders
Special Event, Jan. 18, 2014
Blue Sky Riders is a pop country musical trio consisting of singer/songwriters Kenny Loggins, Georgia Middleman and Gary Burr. The band released their debut album, Finally Home, on their own record label, 3Dream Records, on January 29, 2013.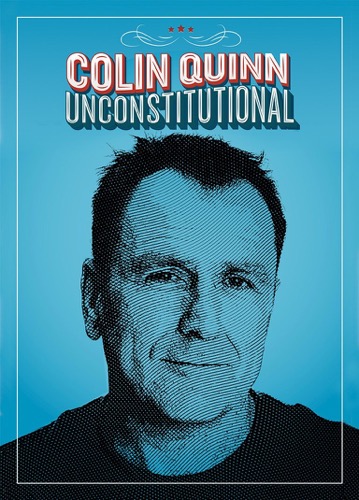 Colin Quinn: Unconstitutional
Special Event, Feb. 21, 2014
Unconstitutional, covers the creation of the United States Constitution and its effect on the American psyche. Quinn examines how the three branches of government are similar to people in a bar, why most U.S. presidents are unattractive, and how the Kardashians reflect on our country.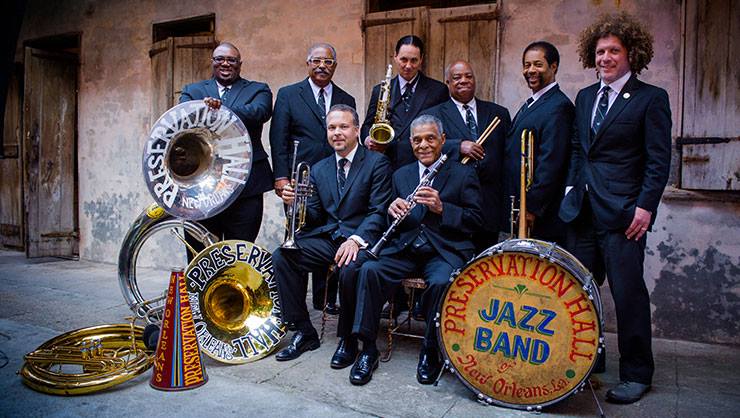 Preservation Hall Jazz Band
Special Event, Feb. 26, 2014
Preservation Hall Jazz Band is a New Orleans jazz band founded in New Orleans by tuba player Allan Jaffe in the early 1960s. The band derives its name from Preservation Hall in the French Quarter. In 2005, the Hall's doors were closed for a period of time due to Hurricane Katrina, but the band continued to tour, and still continues now.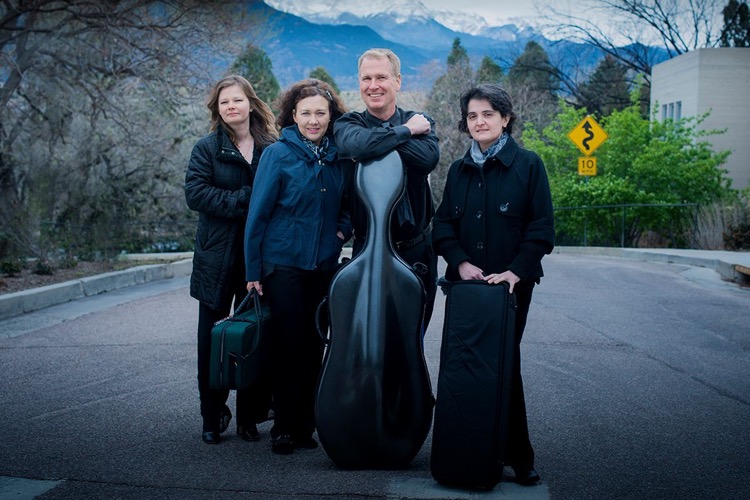 Veronika String Quartet
Special Event, April 27, 2014
Veronika String Quartet launched itself into the international arena early on, taking top prizes at the Melbourne International Chamber Music Competition, Shostakovich International String Quartet Competition, and Yellow Springs Chamber Music Competition.  Since then, this foursome has appeared in important halls in Moscow, St. Petersburg, London, Madrid, Jerusalem, New York, Chicago, and in Germany, France, and the Netherlands, as well as throughout the United States.  The Veronika String Quartet has been heard abroad at the festivals of Evian, Lucerne, and Aldeburgh, and in prestigious North American venues of Ravinia, Music Mountain and Roundtop.  Noteworthy collaborations have included those with members of the Amadeus, American and Fine Arts quartets, and with guest artists Ruth Laredo, Richard Stolzman, and Lawrence Leighton Smith.
The Veronika String Quartet is firmly established in the Russian lineage, and its members represent training from the Gnessin Academy of Music, the Moscow State Conservatory and the Juilliard School.  The quartet counts Valentin Berlinsky, formerly of the Borodin Quartet, and Henry Meyer, formerly of the LaSalle Quartet, as its primary influences, and it has created a unique bridge between its rich heritage and the western tradition through studies under Isaac Stern, Natalia Gutman, and members of the Guarneri, Ysaye, Cleveland, and Tokyo quartets.
The Veronika String Quartet is widely acclaimed for the purity of its interpretations of the Russian masterworks, from Tchaikovsky to Shostakovich, Schnittke, and beyond.  Its performances of the complete canon of the quartet repertory, coupled with its devotion to the modernist idiom, have resulted in a discography of nine recordings on Carlton Classics and Vienna Modern Masters, featuring an impressive array of works ranging from W.A. Mozart to Augusta Read Thomas.
The Veronika String Quartet continues to endear itself to audiences and music lovers in Ohio and Colorado, where it is a vital agent in the invigoration of the arts.  By recording and broadcasting for Colorado Public Radio and by presenting thematically adventurous concert series in both Colorado Springs and Pueblo, these veteran performers have single-handedly revitalized the chamber music scene in the region.  The Veronika String Quartet has held artistic posts at Colorado State University and at Ohio's Lancaster Music Festival, where it currently performs as quartet-in-residence. Musicians of the group were thrilled to start a perfrormance residency at the Colorado College in the fall of 2019. The quartet's commitment to the applied training of emerging young musicians is well-known, and the quartet's idealism and its ambassadorship for music prompted the Colorado Springs Gazette to remark, "The Veronika String Quartet shared an insight into the human condition that is strictly the domain of great art and music."