FAC Theatre Company 2018–2019 Season
Mainstage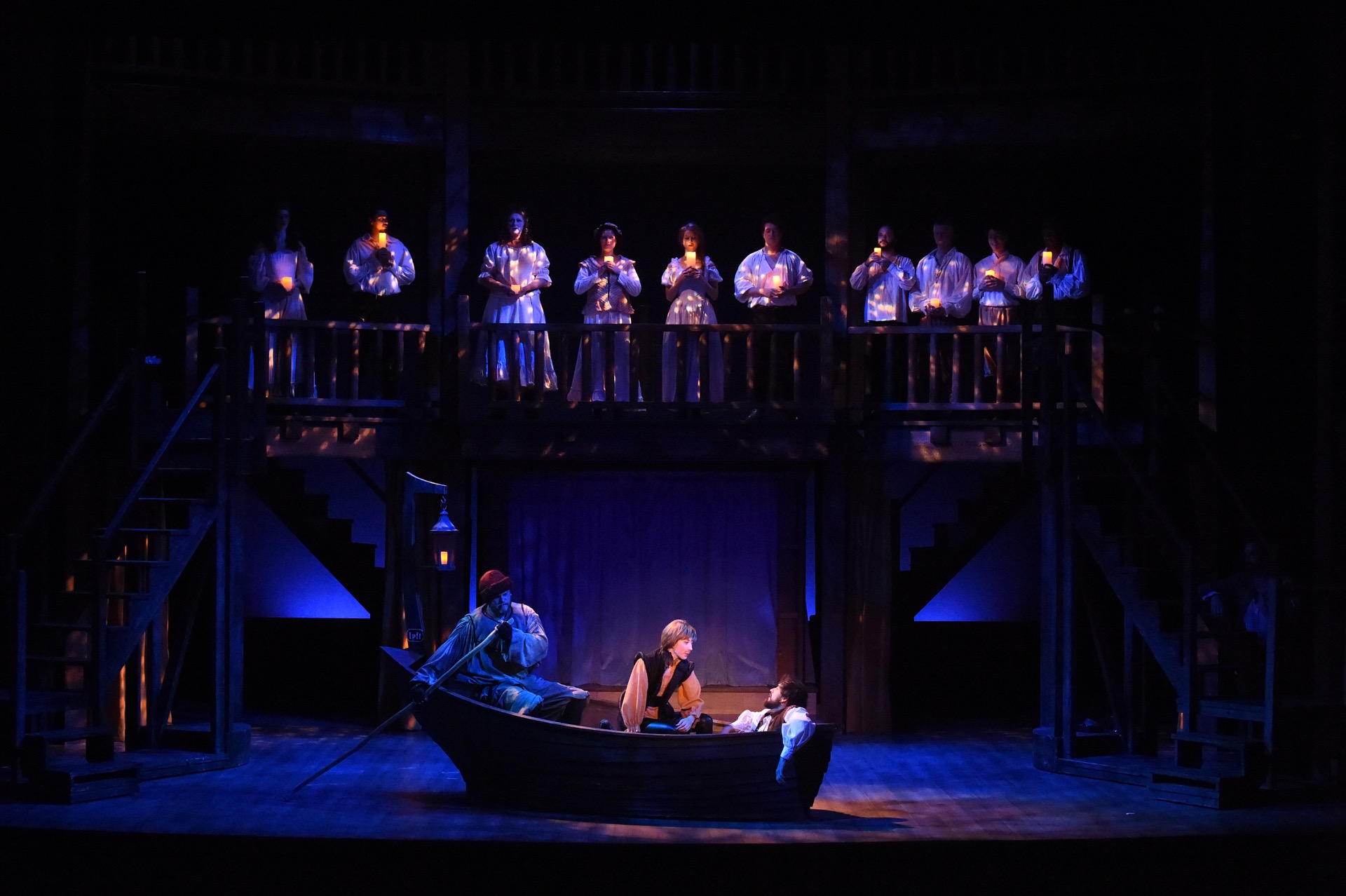 Sept. 28–Oct. 21, 2018
By Lee Hall
Adapted from the film Shakespeare in Love by Tom Stoppard and Marc Norman
We all know William Shakespeare as a brilliant, imaginative, funny, trendsetting playwright whose work has held up the test of time better than any other. We know he lived in the 16th century and that he performed plays for the Queen, but how did Shakespeare become the Shakespeare we know today? In this exciting stage play, we get to witness a version of what might have been. Did Shakespeare have writer's block from time to time? Did he need a muse to write his famous tragedy Romeo and Juliet? Lee Hall's version of this successful screenplay follows the same story of Shakespeare meeting and falling in love with a aristocratic woman named Viola De Lesseps who wishes she could be an actor, and transforms it for the stage, just as Shakespeare did with stories in his day. It is funny, clever, filled with references to Shakespeare's work, and a delight for theater goers of all ages.
Pictured:  Carley Cornelius as Viola, Seth Dhonau as Will Shakespeare, Nels Jacobson as the Boatman, and Company | Photo by Jeff Kearney
"Shakespeare In Love was the first time the FAC Theatre company professionally produced either a work of Shakespeare or of the great Tom Stoppard. I was thrilled to be involved, as I hold both authors in the highest esteem. Stoppard and Shakespeare are masters of language, and there were points during rehearsals that I would close my eyes just to better appreciate the words being spoken. Feelings aside, this is a tricky play to mount. There are many locations asked for, but we wanted the overall impression to be that of an Elizabethan theater…inside of our theater. Chris Sheley conceived of a "container" that evoked an Elizabethan theater with smaller scenery that came and went to help us change location. The boat scene is a good example. The boat was moved around the stage by the actors putting their feet through the bottom, Flintstones style, and steered by a pole with a rubber bottom. The ensemble helped to create the mood of a starry night by holding candles above the boat. The overall effect created a beautifully romantic and quite theatrically striking scene." – Holly Anne Rawls, Lighting Designer
Directed by Scott RC Levy
Musical Direction by Jay Hahn
Choreographed by Mary Ripper Baker
Scenic Design by Christopher L. Sheley
Costume Design by Noelle Raffy
Lighting Design by Holly Anne Rawls
Production Stage Managed by Stephanie M. Holmes
Assistant Stage Managed by Morgan Gatson
Dec. 7, 2018–Jan. 6, 2019
Book by Dennis Kelly
Music and Lyrics by Tim Minchin
Based on the book by Roald Dahl
Matilda is a little girl with astonishing wit, intelligence and psychokinetic powers. She's unloved by her cruel parents but impresses her schoolteacher, the highly loveable Miss Honey. Over the course of her first term at school, Matilda and Miss Honey have a profound effect on each other's lives, as Miss Honey begins not only to recognize but also appreciate Matilda's extraordinary personality. Matilda's school life isn't completely smooth sailing, however – the school's mean headmistress, Miss Trunchbull, hates children and just loves thinking up new punishments for those who don't abide by her rules. But Matilda has courage and cleverness in equal amounts, and could be the school pupils' saving grace!
Pictured:  Company | Photo by Jeff Kearney
"Matilda is, at its heart, a show about finding strength in yourself and the people around you. Our cast was full of some of the strongest and most supportive people I have ever met. They consistently amazed me with their dedication and commitment. I can't talk about Matilda and not mention our phenomenal wardrobe team. I had 12 quick changes throughout the course of the show, one in under 15 seconds, and our wardrobe team pulled them off efficiently and consistently every night. It was also absolutely amazing to get to share the stage with Nathan and Scott. Watching their performances evolve (even when while playing outlandish, eccentric characters) was a masterclass in subtlety every night. The show was very demanding, but the strength I gained as a performer and as a person from our cast and crew is something I wouldn't trade for anything." – Weller Dorff, Michael Wormwood & Youth Ensemble
Directed by Melisa Annis
Choreographed by Melissa Zaremba
Musical Direction by Jay Hahn & Sharon Skidgel
Orchestrations & Additional Music by Chris Nightingale
Scenic Design by Christopher L. Sheley
Lighting Design by Holly Anne Rawls
Costume Design by Sydney Gallas
Sound Design by Robert Jackson
Hair & Make-Up Design by Earon DiAnna
Production Stage Managed by Stephanie Holmes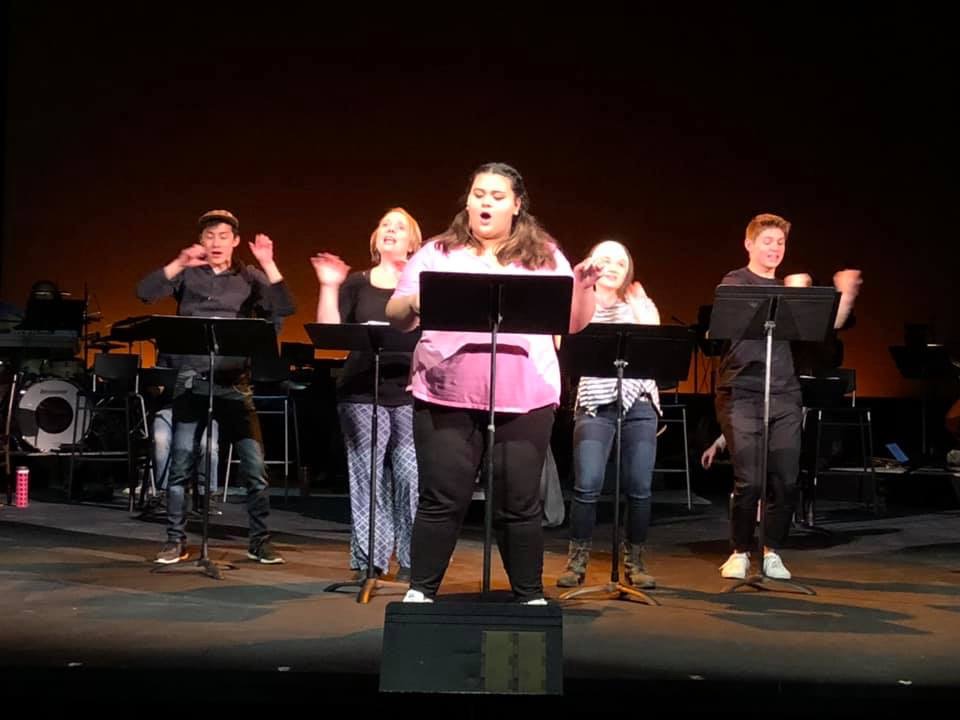 Jan. 12, 2019
Book by William Finn and James Lapine
Music and Lyrics by William Finn
By the Tony Award-winning authors of Falsettos, this autobiographical musical deals directly with the writer's own harrowing personal experience with arteriovenous malformation and the healing power of art. The hero, Gordon, worries that he may not live to complete his work, and his near death experience encourages him to re-evaluate and better appreciate the people and relationships in his life. William Finn wrote many of the songs soon after his release from the hospital.
Pictured: the Company of A New Brain during a rehearsal | Photo by Jeff Kearney
"This show was such a great experience. The music was beautiful, the subject matter provocative, and I got to spend the week playing with some of my best friends. The icing on the cake was being 8 months pregnant with my daughter and still sitting in Kevin's lap for the 'puppet dream sequence'." – Rebecca Myers, Rhoda
Directed by Nathan Halvorson
Musical Direction by Stephanie McGuffin
Lighting Design by Holly Anne Rawls
Stage Managed by Terri Harrison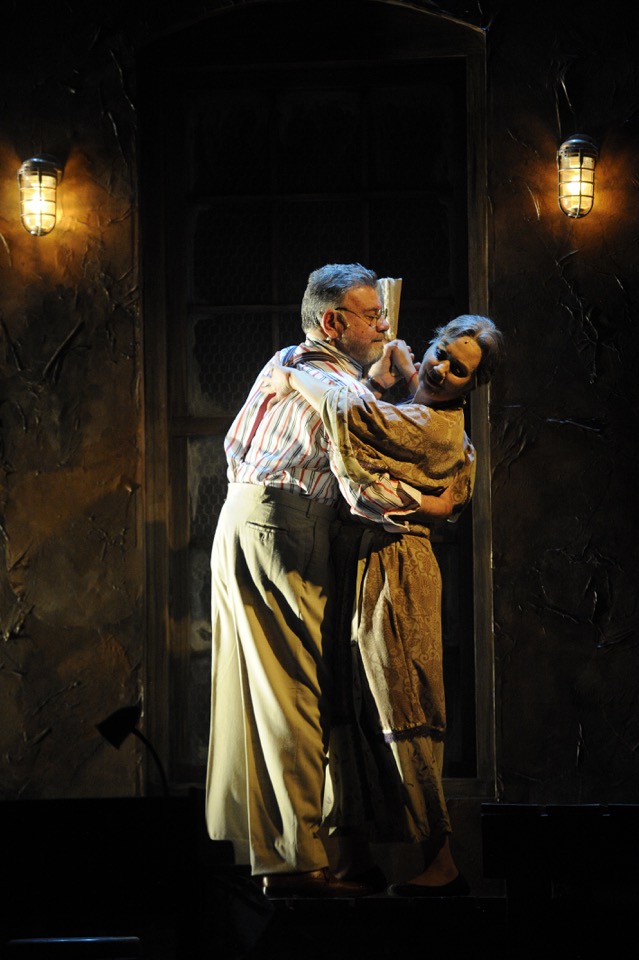 Feb. 7–24, 2019
By Nilo Cruz
Winner of the 2003 Pulitzer Prize for Drama, Anna in the Tropics is a poignant and poetic play set in 1929 Florida in a Cuban-American cigar factory, where cigars are still rolled by hand, and "lectors" are employed to educate and entertain the workers. The arrival of a new lector is a cause for celebration, but when he begins to read aloud from Anna Karenina, he unwittingly becomes a catalyst in the lives of his avid listeners – for whom Tolstoy, the tropics, and the American dream prove a volatile combination. The FAC received two Henry awards for their 2019 production, including Outstanding Direction of a Play (Rebecca Martinez,) and  Outstanding Actress in a Play (Elise Santora.)
Pictured:  Elise Santora as Ofelia, and Felipe Gorostiza as Santiago | Photo by Jeff Kearney
"Working on Anna in the Tropics was both an honor and a joy. This beautiful play was a dream project for many of the actors in our cast and its rich text and story gave the designers such a fun playground to create their work.
"We used as inspiration the habit of smoking cigars; it asks you to slow down, to relax, to enjoy, to take some time out. To be leisurely. To have a conversation or to use that time to think. It's time that is connective, a time to commune. The people in this story work hard, but they know how to slow down and enjoy life. Early in the rehearsal process, we brought in a cigar expert who taught the cast how to roll cigars.
"One other element we focused on in the rehearsal process was the building of a family. Many actors in the cast had met before (or in some cases had known each other for years), so bringing in that existing chemistry of friendship helped shape the feeling of family that audiences got to appreciate in performances.
"As a Latina director born in Denver, it was a joy to bring this uniquely Latino American story to my home state with this fantastically talented group of artists and theatre makers. And while we are mourning the loss of our dear Felipe Gorostiza this spring, we are grateful he brought his talents to this production. He will forever remain our Santiago."     -Rebecca Martínez, Director
Directed by Rebecca Martínez
Choreography by Alex Perez
Music Composed by Ryan Bañagale
Scenic Design by Raul Abrego
Lighting Design by María-Cristina Fusté
Costume Design by Courtney Flores
Production Stage Managed by Kate L. Ferdinandi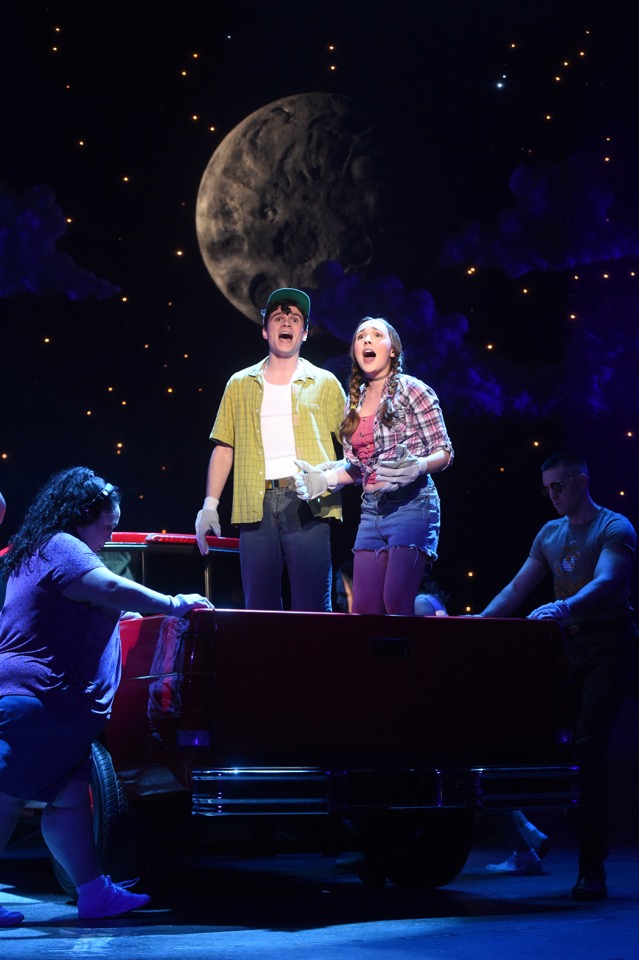 March 29–April 14, 2019
Book by Doug Wright
Lyrics by Amanda Green
Music by Trey Anastasio and Amanda Green
For ten Texans who are down on their luck, the chance at a new life is only fifty-some hours and a hardbody truck away. Based on the real-life "Hands on a Hard Body Contest," chronicled in the 1997 documentary Hands on a Hardbody, this all-American musical tells the story of a small-town Texas endurance contest, where the contestant who keeps their hands on a truck the longest, gets to keep the truck. With tuneful country-rock melodies and soulful lyrics by Phish's Amanda Green and Trey Anastasio, Hands on a Hardbody explores a diverse cross-section of a small-town Texas community and the trials they'll endure for a chance to win a Nissan hardbody truck. From Jesus-loving Norma Valverde and injured and out-of-work J.D. to boastful former winner Benny and hopeful dreamer Kelli, each character has their own vision for the realization of their American Dream — and they'll keep their hands on it as long as they can.
Pictured:  Brittany Ambler as Kelli, Parker Fowler as Greg, and Company | Photo by Jeff Kearney
"Hands on a Hardbody was one of the most rewarding experiences of my career. I am so proud to be associated with this show, these people (onstage and off), and this Colorado theatre. 'If you want somethin', keep your hands on it; don't let go.'"  Brittany Ambler, Kelli
Directed & Choreographed by Nathan Halvorson
Musical Direction by Stephanie McGuffin
Scenic & Costume Design by Lex Liang
Lighting Design by Jonathan Spencer
Sound Design by Jacob Keough-Mishler
Production Stage Managed by Kate L. Ferdinandi
May 24–June 16, 2019
Book by Mark Bramble
Lyrics by Michael Stewart
Music by Cy Coleman
Welcome to the Greatest Show on Earth, the world of Phineas Taylor Barnum, full of spectacle and humbug. Sometimes with her support, and sometimes against her objections, P.T. Barnum works with his wife Charity to create unbelievable attractions in a variety of ways, from the American Museum in New York City to a national tour featuring Jenny Lind, the Swedish Nightingale. Along the way, Barnum meets Joice Heth (the oldest woman alive) and Tom Thumb (the smallest man in the world). He dabbles in politics and begins a lecture tour, culminating in his founding of the Greatest Show on Earth with partner James Bailey. The 2019 FAC production also featured a collaboration with numerous local and regional circus performers.
Pictured: Gil Brady as P.T. Barnum, and Company | Photo by Jeff Kearney
"Barnum was the first musical I had ever done in my career, and I couldn't have asked for a better company of professional artists and story tellers to do it with. Coming into work every day was a challenge and joy- filled with focus, creativity and laughter. Along the way, the company was tasked with the ultimate challenge of testing if the old adage, "The Show Must Go On" really rang true, and for us, it did. It's always a joy to see the magic of theater from an audience point of view, but when you see an entire company band together and step up to the plate, being lucky enough to be waiting in the wings waiting for your cue feels like the most magical place on earth. That energy, that electricity, that passion and feeling will live with me forever."  – Nick Ortiz, Ringmaster/Mr. Bailey
Directed by Scott RC Levy
Choreographed by Nathan Halvorson
Musical Direction by Jerry McCauley
Scenic Design by Christopher L. Sheley
Lighting Design by Holly Anne Rawls
Costume Design by Lex Liang
Sound Design by Jacob Keough-Mishler
Properties Design by Steve Baglio
Circus Consultation by Jim Jackson
Production Stage Managed by Tim Muldrew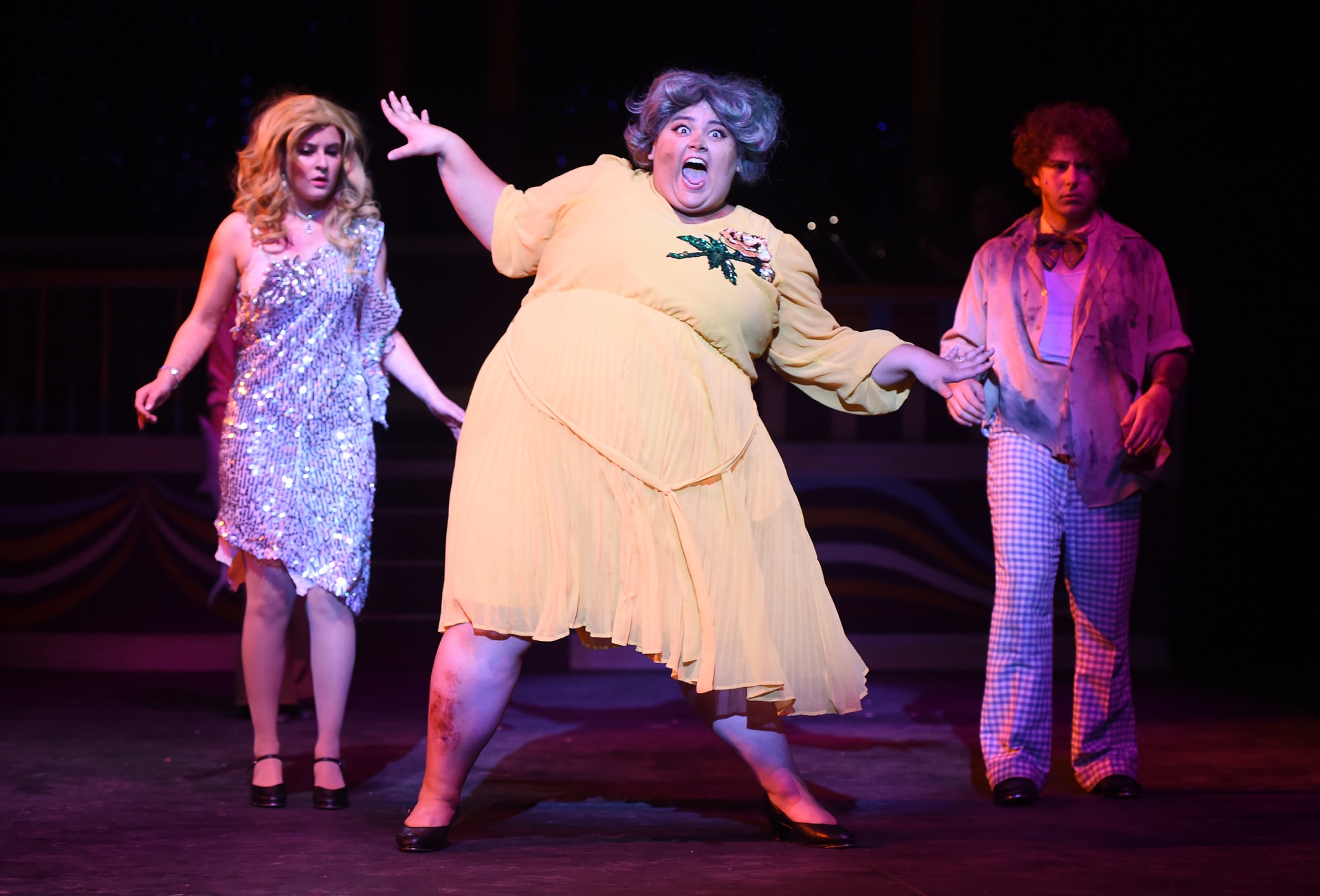 Youth Rep, July 25–28, 2019
Created by Seth Rudetsky,
Written by Seth Rudetsky and Jack Plotnick
Earthquakes, tidal waves, infernos and the unforgettable songs of the '70s take center stage in Broadway's side-splitting homage to classic disaster films. Disaster! features some of the most unforgettable songs of the '70s. "Knock on Wood," "Hooked on a Feeling," "Sky High," "I Am Woman" and "Hot Stuff" are just a few of the scintillating hits in this hilarious musical comedy. During the course of the FAC Youth Rep production, the students were treated to a master class by the creator of the show and three-time Emmy Award nominee, Seth Rudetsky.
Pictured:  Isabel Hebenstreit (left,) Rachel Daguman (center,) and Jack English (right) | Photo by Jeff Kearney
"Youth Rep has been such a life changing experience to me. It has made me a better performer, but more importantly, a better human being. Disaster! was such an amazing show because I think we all learned how to find truth in comedy. We found truth in singing famous 70s songs as well as tap dancing in Morse code. There is something beautiful and ridiculous about that and I feel extremely lucky to have been a part of the Youth Rep Ensemble." – Rachel Daguman, Shirley
Directed & Choreographed by Nathan Halvorson
Musical Direction by Stephanie McGuffin
Scenic Design by Christopher Sheley
Lighting Design by Holly Anne Rawls
Costume Design by Korri Oxford
Wigs Designed by  Maelia Kalua
Makeup designed by Angie Ainsworth
Sound Design by Jacob Keough-Mishler
Properties by Alyssa Washburn
Stage Managed by Terri Harrison
Second Stage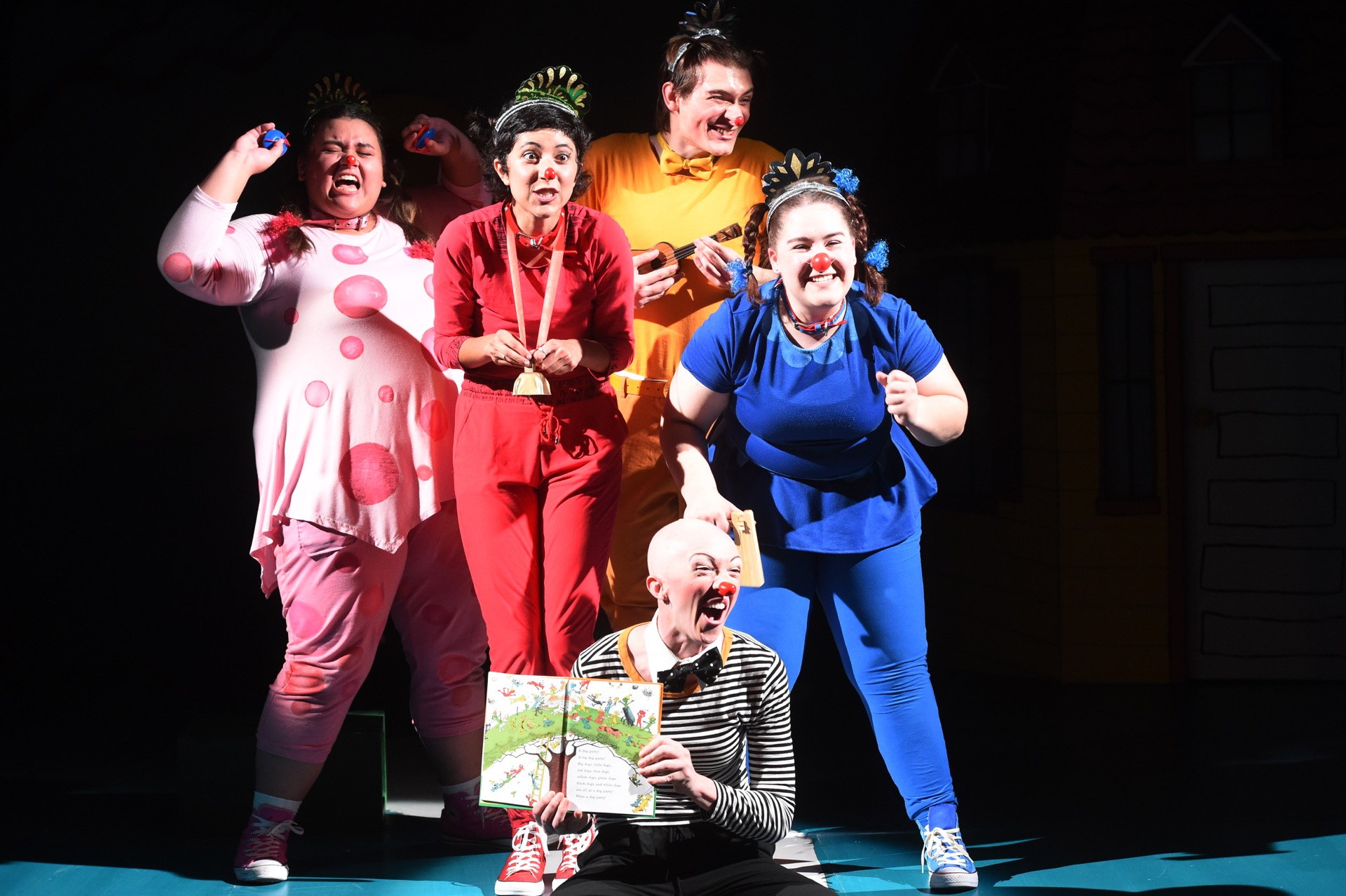 Sept. 14–Oct. 14, 2018
Adapted for the stage by Steven Dietz and Allison Gregory
Based on the book by P.D. Eastman
Music by Michael Koerner
P.D. Eastman's classic children's book comes to life on stage in an exploration of movement, color and space. The dogs delve into life with gusto, creating a visual spectacle for the audience to feast upon. They snorkel. They howl at the moon. They ride a Ferris wheel. They sing and dance and climb trees. This is a rollicking free-for-all of chicanine-ery. A big and little musical world of doggy fun. Like a pop-up book that comes to life – and never stops.
Pictured: Rachel Graham as MC Dog, Rachel Daguman as Hattie, Sophie Javna as Yellow Dog, Alex Williams as Yellow Dog, and Kayla Kuemmerle as Blue Dog | Photo by Jeff Kearney
"Of all of the theatre for young audiences productions I have been in, Go, Dog. GO! remains my favorite piece. Kids and adults of all ages just love it, and the actors have such free reign to be as silly as their heart desires. It really is a pure expression of fun live performance." – Rachel Graham, MC Dog
Directed by Sammie Joe Kinnett
Choreographed by Zach Guzman
Scenic Design by David Darling
Costume Design by SB Parks
Production Stage Managed by Terri Harrison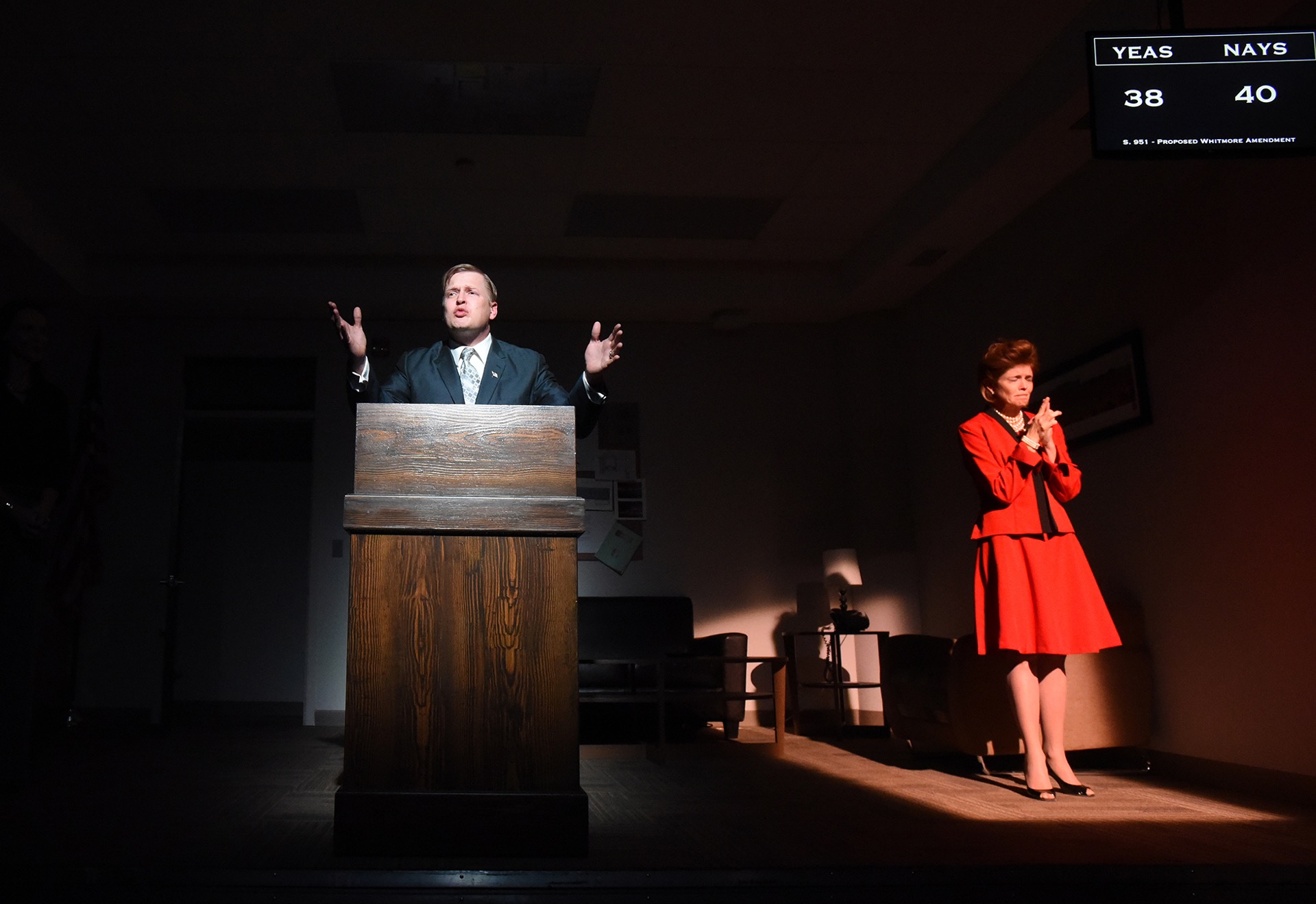 Nov. 2–25, 2018
by Jason Odell Williams
Three days before his bid for reelection, in the wake of a school shooting in his hometown of Raleigh, North Carolina, a Republican U.S. senator makes an off-the-cuff comment to a blogger that gets leaked on "the Twitter," calling into question the senator's stance on guns and God. As his devoutly Christian wife and liberal Jewish campaign manager try to contain the damage, this look at how religion influences politics and how politics has become a religion is simultaneously funny, heartbreaking, and uplifting.
Church & State was produced by the FAC in 2019 to great acclaim, winning the Colorado Theater Guild's Henry Award for Outstanding Production of a Play and Outstanding Actor in a Play (Brian Landis Folkins,) and earning director, Nathan Halvorson, a nomination for Outstanding Direction of a Play.
Pictured:  Brian Landis Folkins as Charles Whitmore and Sally Lewis Hybl as Sara Whitmore | Photo by Jeff Kearney
"Church and State was my first play at the FAC and I couldn't have gotten luckier. The whole team assembled for this production showed up to deliver one unforgettable and impactful story. Everyone involved cared deeply about the work that was being done and even the playwright made himself available for questions and concerns. I have made lasting relationships because of this production and it also brought me my 1st Henry award after 20 years of working in Colorado. But the thing I think I am most proud of is the way we affected audiences that saw the play. What I believe was risky and groundbreaking programming on FAC's part ended up being a crowd favorite. I would often stay after and engage with the audience about how they felt about the topics we covered and heard the most heartfelt and inspiring stories of how gun violence has affected their lives and how the story really brought an honesty and truth that resonated with everyone that came to the theatre. It was confirmation for me of the important work that we do in the theatre. How we, as artists, can affect people so deeply and profoundly that change happens in the world we live in." – Brain Landis Folkins, Senator Charles Whitmore
Directed by Nathan Halvorson
Scenic Design by Christopher L. Sheley
Lighting Design by Holly Anne Rawls
Costume Design by Kristen Seal
Video & Sound Design by Robert Jackson
Production Stage Managed by Terri Harrison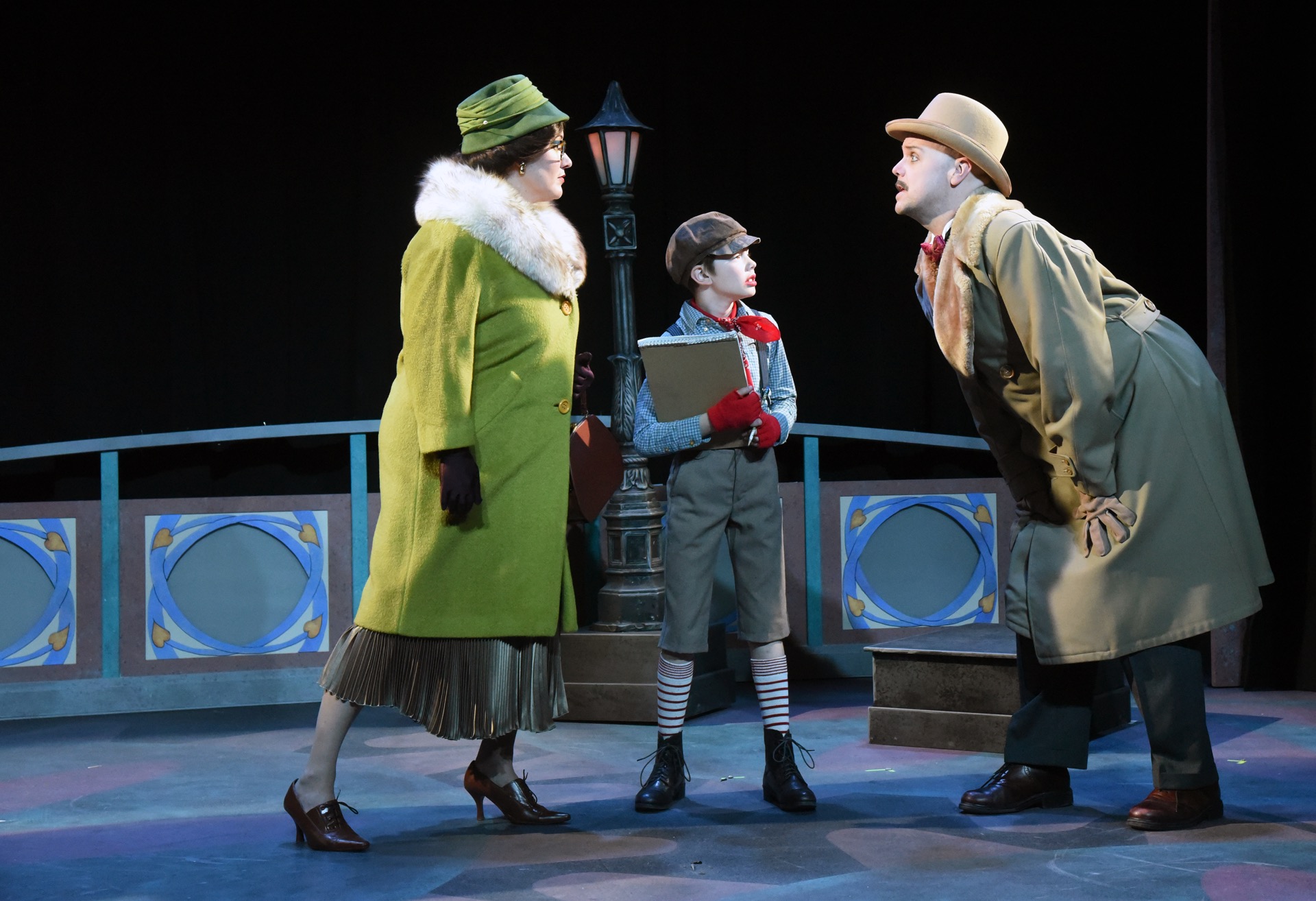 March 8–April 7, 2019
By Bathsheba Doran
Based off the ancient Chinese folktale The Magic Paintbrush, this play tells the story of Megan and Ben, who are orphaned siblings alone in the world. Megan earns pennies as a human statue — painted silver — while her little brother draws marvelous portraits with only a stubby pencil. One fateful day, his artwork catches the eye of the malicious Mrs. Crawley, who has a scheme to make millions with a magic paintbrush. When she captures Ben and puts him to work, it's up to Megan and their new friend Pierre to help him escape, discovering the value of kindness and bravery along the way. An enchanting story from olden times comes to life in this modern-day fairy tale.
Pictured: Miriam Roth as Cynthia Crowley, David Laybourne as Ben, and Randy Chronister as Harold Crowley | Photo by Jeff Kearney
"Ben and the Magic Paintbrush truly was a work of art: the set, lights, costumes, and the magic brought to the stage by the actors and director. I enjoyed telling a story about forming your own family and the powerful bonds of love and friendship." – Randy Chronister, Harold Crowley
Directed by Meghann Henry
Scenic Design by Christopher L. Sheley
Lighting Design by Holly Anne Rawls
Costume Design by SB Parks
Sound Design by Jacob Keough-Mishler
Production Stage Managed by Terri Harrison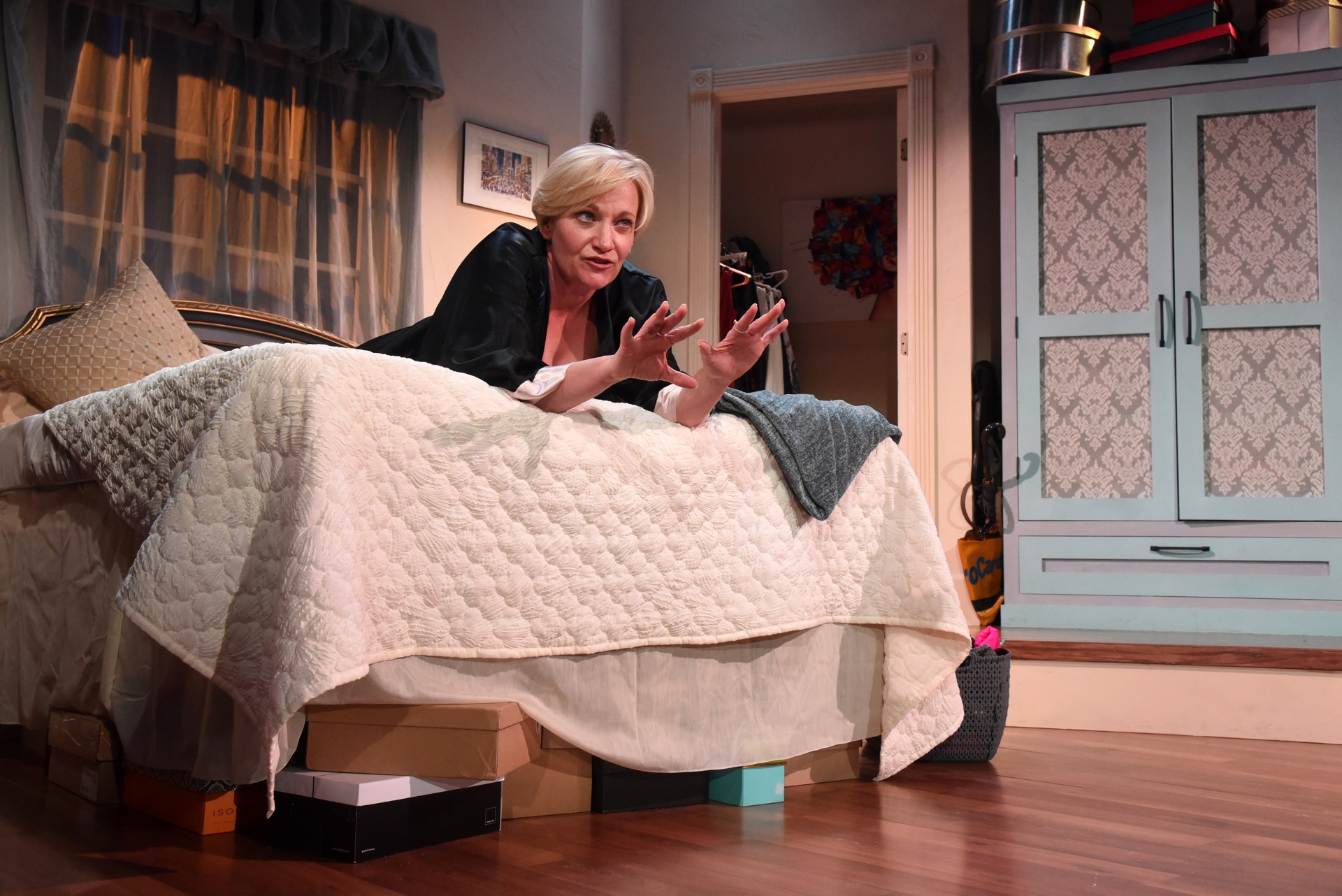 April 26–May 26, 2019
by Theresa Rebeck
Restaurant manager and shoe connoisseur Haley Walker is finally ready to re-enter the dating world. From the privacy of her bedroom, she relates a series of hilarious tales while preparing for, and recovering from, one dreadful date after another. This sweet and sharp comedy was a night out to remember!
Pictured:  Megan Van de Hey as Haley Walker | Photo by Jeff Kearney
"Doing a one woman show tends to be a little lonely, it's just you on that stage, no one to bail you out or commiserate with in the dressing room. That said, I never felt alone during Bad Dates. Everyone on the production team made me feel supported. Joye's direction and Kristin's costumes and my after show hug from my stage manager Terri Harrison was something I could always count on every night. It was an amazing experience due to everyone at the FAC, one I'll never forget." – Megan Van de Hey, Haley
Directed by Joye Cook-Levy
Scenic Design by David Darling
Costume Design by Kristen Seal
Lighting Design by Holly Anne Rawls
Sound Design by Jacob Keough-Mishler
Production Stage Managed by Terri Harrison
Special Events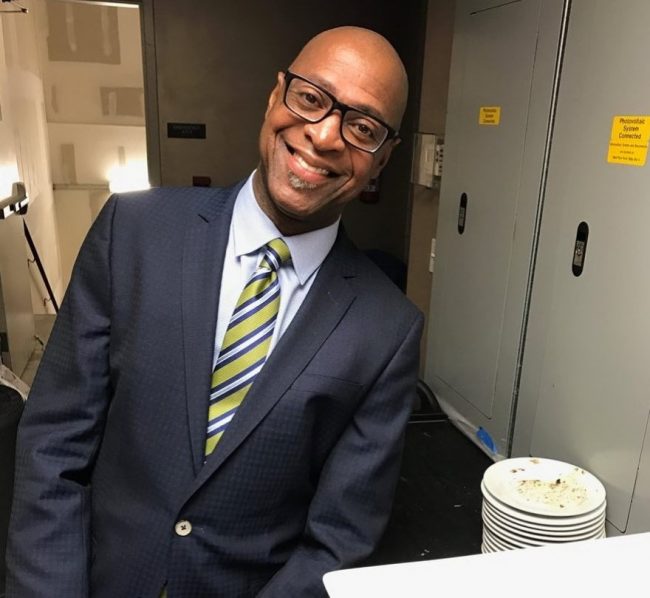 Happy Hour Stand Up with Sam Adams
Special Event, Aug. 3, 2018
Smooth. Clever. Hilarious. These words are used often to describe Sam Adams, who gained national attention by winning at the 2009 Great American Comedy Festival.
Sam's energetic, comically insightful act is 100 percent profanity-free and filled with observations about his every-day encounters. He is a headline performer and featured speaker at comedy clubs and corporate events across the country, and has shared stages with national-touring comedians and music recording artists — a genre-jumping list of nationally known performers ranging from comedians Craig Ferguson, Frank Caliendo, Kevin Nealon, and David Alan Grier to music's Rock and Roll Hall of Fame band Heart and seven-time Grammy Award winner Al Jarreau. The Denver Business Journal once gave Sam a favorable review for "bringing down the house with a string of well-delivered lines that were notable for their lack of profanity, scatological, or sexual references."
Sam also has over 20 years of experience as a newspaper sports journalist, having worked for The Denver Post, Rocky Mountain News, and The Charlotte Observer. In 2003, Sam received the Print Journalist of the Year award from his peers in Colorado. He's also credited with television appearances on ESPN, Fox Sports Net, NFL Network, and local CBS and NBC affiliates. He has covered championship events at all levels — most notable four Super Bowls and two Olympiads.
Sam also has authored one book, titled If You Don't Believe Me: Lessons Learned from Listening To The Greats, which was released in April 2013. Hall of Fame quarterback John Elway wrote the following tribute to Sam for the book, "Through the ups and downs of an NFL career, I developed great trust, respect and appreciation for him. Blending an uncanny ability to mix humor with keen insight and knowledge, Sam is a one-of-a-kind storyteller."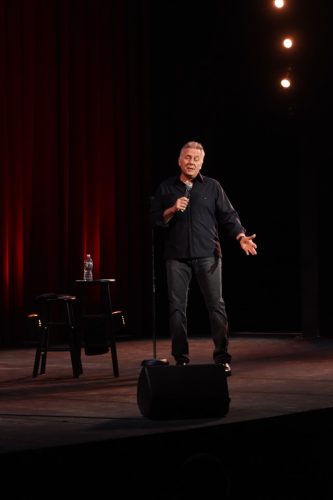 Paul Reiser
Special Event, Aug. 17, 2018
Comedian, actor, television writer, author, and musician Paul Reiser is one of Hollywood's most prolific creatives— and he shows no signs of slowing down.
Reiser is currently starring in two hit shows for Netflix: Stranger Things as Dr. Sam Owens, and in The Kominsky Method alongside Michael Douglas and Alan Arkin. The multi-faceted actor is probably best known for his work on the long-running hit '90s comedy Mad About You, which Reiser co-created and starred in with Helen Hunt.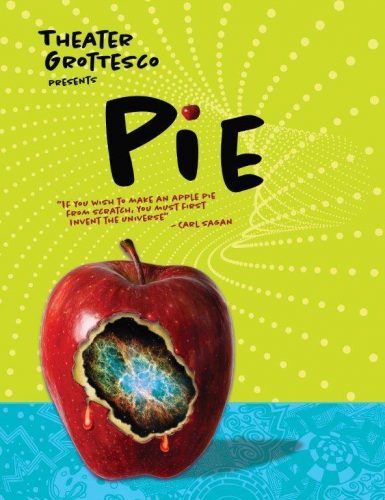 Theatre Grottesco's PIE
Special Event, Aug. 30–Sept. 2, 2018
PIE is a layman's exploration of what happens when you don't know what to do next, inspired by the Carl Sagan quote, "If you want to make an apple pie from scratch, you must first invent the universe." Santa Fe-based Theater Grottesco's take on this is a deeply relevant and moving journey across the universe, down the Grand Canyon, and into a world of questions about societal pressures, identity, hopelessness, greed, and the toxic muddy trickle at the end of a once raging river. Grottesco uses its broad stylistic palette to create surprise and wonder as it holds up a mirror to the current state of the planet and its people, while sneaking up on life's great questions.
In 2017, Theater Grottesco's PIE was one of six recipients of the prestigious National Theatre Project award from New England Foundation for the Arts (NEFA), with major funding from the Andrew W. Mellon Foundation.
Theater Grottesco was founded in 1983 in Paris, France by John Flax and Didier Maucort, former members of Minneapolis' Theatre de la Jeune Lune and graduates of France's Ecole Jacques Lecoq. Joined shortly thereafter by Elizabeth Wiseman, another Lecoq graduate, the company has evolved to 15 artists comprising a tremendous range of theatrical expertise.
​Together they have created 13 full-length plays and over 30 shorter pieces, performed in seven countries, 30 states, most major U.S. cities, and hundreds of smaller communities, garnering an international award for Best Production, two Drama Critic's awards, a silver medal with Detroit's Zone V Productions from the Houston Worldfest Film Festival, a Rockefeller MAP Fund Grant, 11 National Endowment for the Arts Professional Theater Awards, and one of two MetLife/TCG A-ha Do It grants in the programs inaugural season.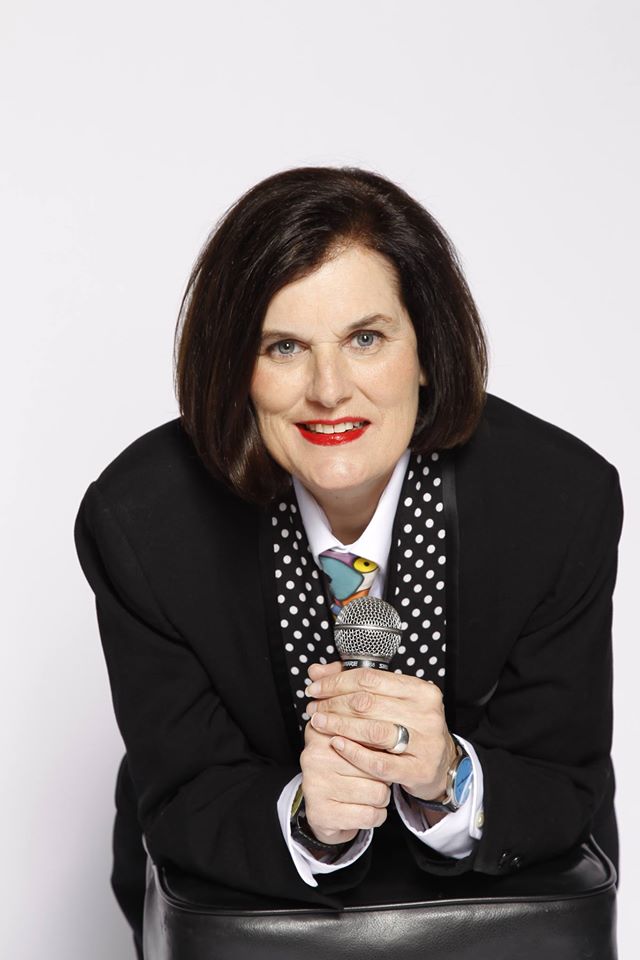 Paula Poundstone
Special Event, Nov. 1, 2018
Paula Poundstone is one of our country's preeminent comedians, known for her smart, observational humor and spontaneous wit that has become the stuff of legend. She tours regularly performing over 85 shows a year.
Paula is also an author, lecturer, host, and actress. In her second book, The Totally Unscientific Study Of The Search For Human Happiness (Algonquin Books) she asks the question, "Is there a secret to human happiness?" She offers herself up as a guinea pig in a series of "totally scientific" experiments, recording her data for all mankind. Kirkus Reviews calls it, "A deeply revealing memoir in which the pathos doesn't kill the humor—delivers more than it promises." The book debuted at #1 on Amazon best sellers lists in Humor in Hardcover, Audible, Kindle, and CD within its first 10 days of release and is now out in paperback. The audio book, read by Paula, was one of five finalists for the 2018 Audio Book of the Year.
Paula was the first woman, in its then 73rd year, to perform standup comedy at the White House Correspondents' Dinner. She won an American Comedy Award for Best Female Standup Comic and is recognized in innumerable lists, documentaries, and literary compendiums noting influential standup comedians of our time.
Happy Hour Stand Up with Mike Stanley
Special Event, Dec. 7, 2018
WRY, WITTY, CUNNING, AND CRASS Detroit native Mike Stanley is all of these things, but none, when put on paper, quite manage to serve the justice dealt by Stanley onstage. Yeah, he's pretty hilarious, but more than just coarse anecdotes about life and sex, there's an enviable amount of heart and warmth behind Stanley's humor.
Given his penchant toward brutal honesty, spiced up with a healthy dose of insatiable wit, it's not difficult to see why Stanley was named "Best Chicago Stand-up Comedian" in a People's Choice poll done by the Chicago Reader and "Best Detroit Comedian" by HOUR Magazine.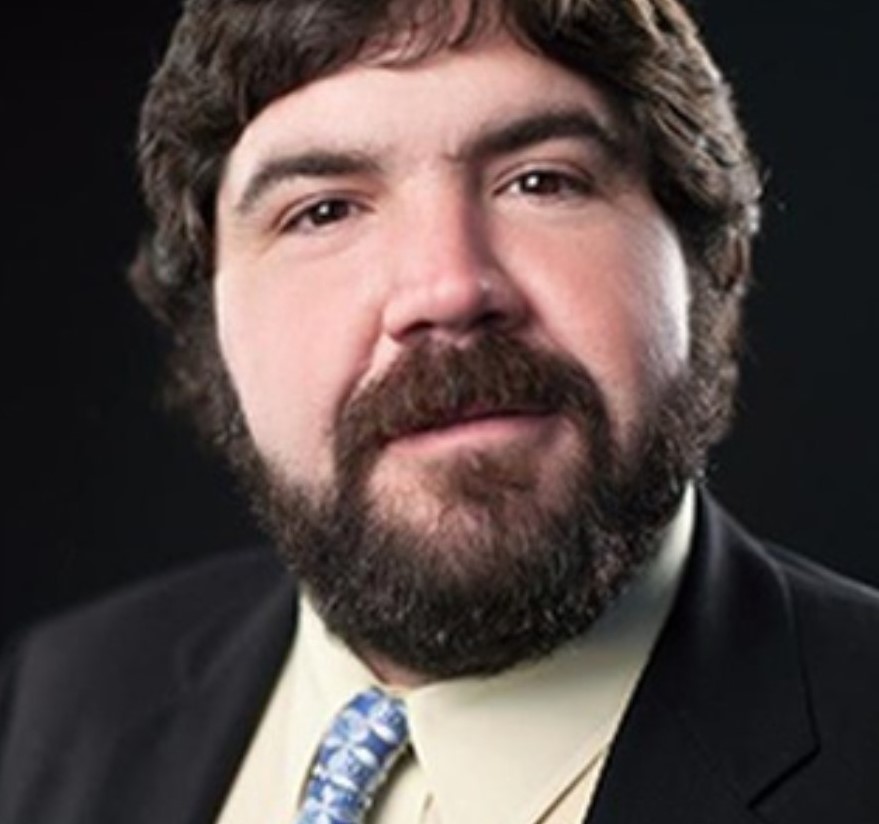 Happy Hour Stand Up with Chuck Roy
Special Event, Jan. 4, 2019
Chuck Roy is a funny stand-up comedian. He teaches Comedy at the Community College of Denver. Watch Chuck in movies like Ralphie May Filthy Animal Tour (Youtube) and Louie Anderson Presents (Showtime). Get there early! When Chuck Roy performs a comedy show you can expect new jokes mixed with seasoned material and classic stories. Bring your friends, invite your favorite lover, and enjoy a great comedy show!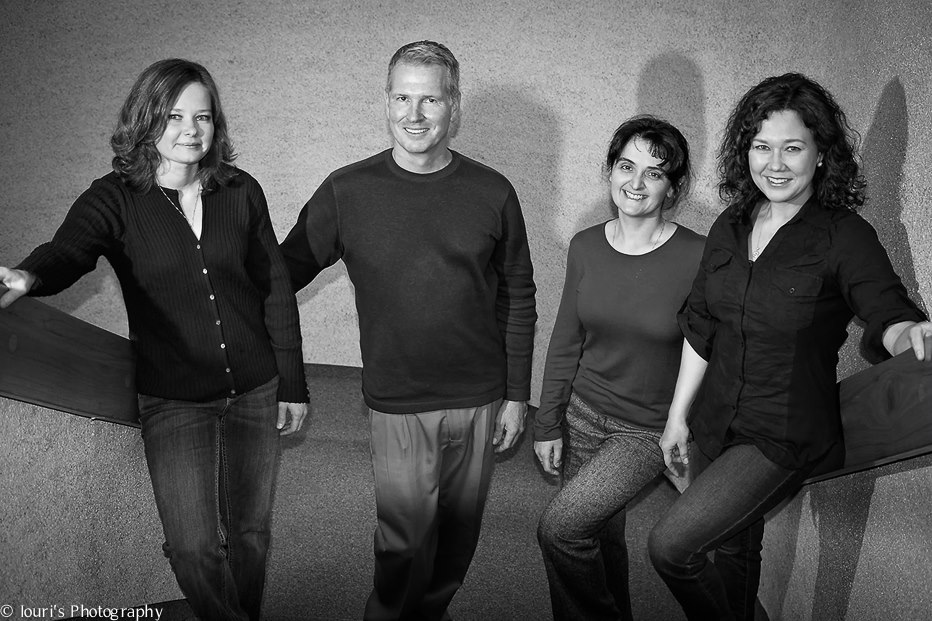 Veronika String Quartet
Special Event, Jan. 10, 2019
Veronika String Quartet launched itself into the international arena early on, taking top prizes at the Melbourne International Chamber Music Competition, Shostakovich International String Quartet Competition, and Yellow Springs Chamber Music Competition.  Since then, this foursome has appeared in important halls in Moscow, St. Petersburg, London, Madrid, Jerusalem, New York, Chicago, and in Germany, France, and the Netherlands, as well as throughout the United States.  The Veronika String Quartet has been heard abroad at the festivals of Evian, Lucerne, and Aldeburgh, and in prestigious North American venues of Ravinia, Music Mountain and Roundtop.  Noteworthy collaborations have included those with members of the Amadeus, American and Fine Arts quartets, and with guest artists Ruth Laredo, Richard Stolzman, and Lawrence Leighton Smith.
The Veronika String Quartet is firmly established in the Russian lineage, and its members represent training from the Gnessin Academy of Music, the Moscow State Conservatory and the Juilliard School.  The quartet counts Valentin Berlinsky, formerly of the Borodin Quartet, and Henry Meyer, formerly of the LaSalle Quartet, as its primary influences, and it has created a unique bridge between its rich heritage and the western tradition through studies under Isaac Stern, Natalia Gutman, and members of the Guarneri, Ysaye, Cleveland, and Tokyo quartets.
The Veronika String Quartet is widely acclaimed for the purity of its interpretations of the Russian masterworks, from Tchaikovsky to Shostakovich, Schnittke, and beyond.  Its performances of the complete canon of the quartet repertory, coupled with its devotion to the modernist idiom, have resulted in a discography of nine recordings on Carlton Classics and Vienna Modern Masters, featuring an impressive array of works ranging from W.A. Mozart to Augusta Read Thomas.
The Veronika String Quartet continues to endear itself to audiences and music lovers in Ohio and Colorado, where it is a vital agent in the invigoration of the arts.  By recording and broadcasting for Colorado Public Radio and by presenting thematically adventurous concert series in both Colorado Springs and Pueblo, these veteran performers have single-handedly revitalized the chamber music scene in the region.  The Veronika String Quartet has held artistic posts at Colorado State University and at Ohio's Lancaster Music Festival, where it currently performs as quartet-in-residence. Musicians of the group were thrilled to start a perfrormance residency at the Colorado College in the fall of 2019. The quartet's commitment to the applied training of emerging young musicians is well-known, and the quartet's idealism and its ambassadorship for music prompted the Colorado Springs Gazette to remark, "The Veronika String Quartet shared an insight into the human condition that is strictly the domain of great art and music."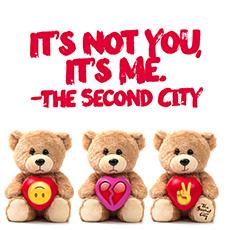 The Second City
Special Event, Jan. 18, 2019
The Second City has been laughing at love and its infinite scroll of side effects for decades. In the world-famous comedy company's latest laughter-inducing undertaking, It's Not You, It's Me, The Second City takes shots at heartbreak, missed connections and the mire of human relationships. Your friends, your parents, even your blind date will find something achingly familiar to laugh at, thanks to comedy's newest generation of writers and performers…who all fit squarely into the "it's complicated" category!
Since opening its doors 1959, The Second City has grown to become the world's premier comedy club, theater and school of improvisation, entertaining 1 million theatergoers a year around the globe. Alumni of The Second City's resident stages, touring companies, and theatrical divisions across Chicago and Toronto include some of the biggest names in entertainment, including Tina Fey, Stephen Colbert, Steve Carell, Gilda Radner, Bill Murray, and more.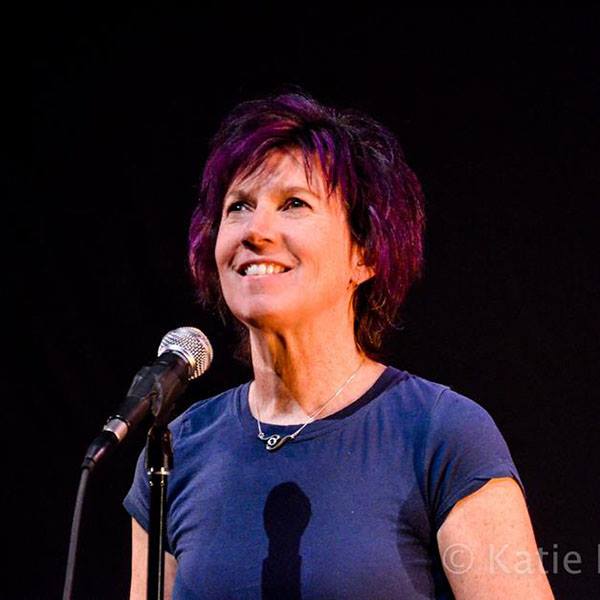 Happy Hour Stand Up with Nancy Norton
Special Event, Feb. 1, 2019
Nancy is the first woman to ever win the prestigious Boston Comedy Festival. She's known for performing engaging and uniquely funny shows that connect with universal truths through her intuitive, authentic, high energy, fast-paced style.
Nancy worked as a Registered Nurse for many years and shares hilarious healthcare anecdotes that will leave you in stitches… and really wanting to STAY WELL.
Born the 4th of 3 children, yes 4th of 3, Norton thrives on the attention from strangers.  She began touring as a stand-up comedian in 1991 and tours nationally and internationally, headlining clubs, colleges, cruises and USO tours.
You may have seen Nancy headlining at comedy clubs or on various TV showcases over the years: from doing standup on "Evening at the Improv" on A & E, or in her one-woman show, "The Yellowish-Green Girl" on PBS and featured on Nickmom Night Out on Nickelodeon.
Nancy lives in Colorado and balances writing, speaking, workshops and comedy engagements with being a "Single-Stay-AWAY-From-Home-Mom" to her teenage son.  She and her son enjoy skiing, snowboarding, mountain biking, martial arts, creating music, and camping at beautiful sights from coast to coast. Most of all, they seriously enjoy making each other laugh.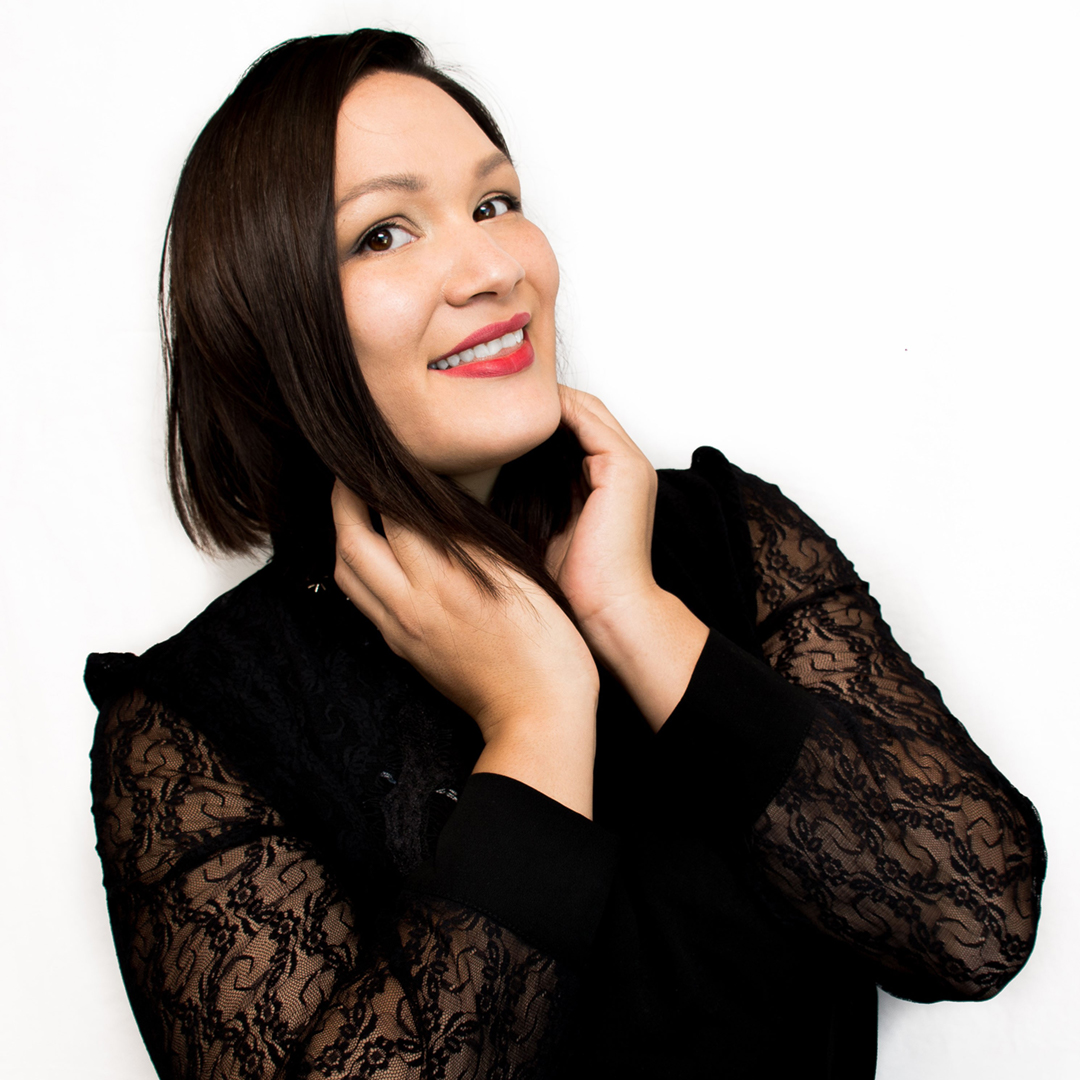 Adrianna Chalepah
Special Event, Feb. 19, 2019
Adrianne Chalepah is an American Indian (Kiowa/Apache) entertainer from Anadarko, Oklahoma. In 2010 her comedy career took off when she teamed up with the popular comedy troupe "49 Laughs Comedy."  Since then, Chalepah's performances have gained recognition, landing her features in magazines and on television.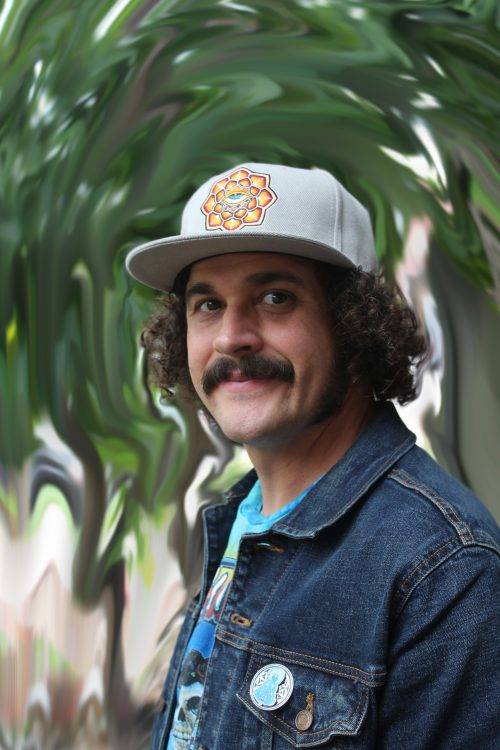 Happy Hour Stand Up with AJ Finney
Special Event, June 7, 2019
Based out of Denver and originally from Kansas, AJ Finney is an eclectic mid-westerner with a passion for psychedelics, jam bands, and Volkswagens. His personal stream of consciousness storytelling makes every show a unique and unforgettable experience that will remind you of the joys of growing up, family, friends, and the beauty of the strange world we live in. When he is not headlining clubs nationally or at his home club, The World Famous Comedy Works, he can be found hosting Railroad Earth's Annual Hillberry Music Festival or hanging with his family. AJ was one of the 100 performers chosen for Season 8 of NBC's Last Comic Standing, was featured on the FOX television show Laughs, and was crowned "Best of the Midwest" winner at Gilda's LaughFest in Grand Rapids. He was a semifinalist in the Comedy Central talent search Up Next, as well as a finalist in the San Francisco International Comedy Competition. He was voted "Best in Fest" at the Detroit LaughFest and was a finalist in HBO's Lucky 21 comedy competition.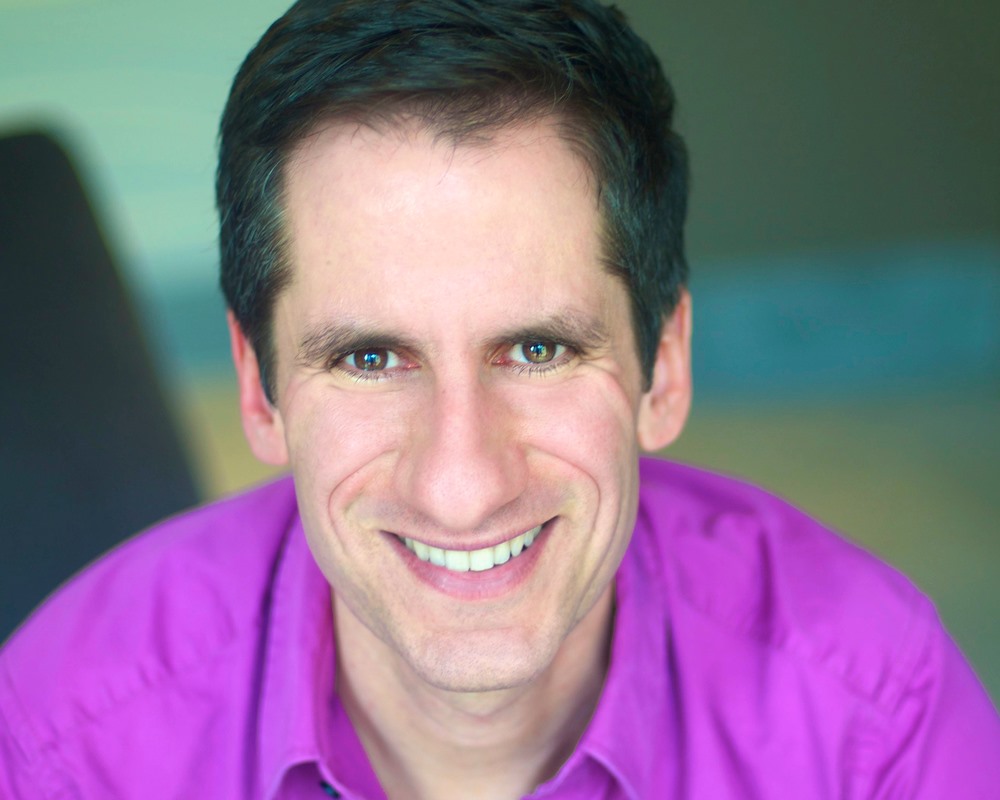 Deconstructing Broadway with Seth Rudetsky
Special Event, July 16, 2019
Sirius/XM radio's Broadway host Seth Rudetsky is bringing his hilarious one-man show to Colorado Springs! Deconstructing Broadway is described as a combination of "America's Funniest Home Videos," "The Tony Awards," and "The Daily Show". The 90 minute tour-de-force features Rudetsky's trademark "deconstructions," in which he uses his amazing audio/video collection to break down brilliant performances from beloved Broadway divas  (Patti LuPone, Betty Buckley) as well as showcase mind-boggling videos like The Osmonds singing a medley from Fiddler On The Roof. Seriously. He does an entire section on Barbra Streisand, who actually came to the show in Los Angeles … and loved it! This award-winning show recently played to a sold-out crowd in London where it received 5-star reviews and was called "Blindingly brilliant" "Fantastic" "Hysterical," a "must-see," and "Nothing short of brilliant!"