For over four decades, Floyd Tunson has been among the most highly regarded and influential artists in the Rocky Mountain region. He has achieved a rich and diverse oeuvre via media such as painting, sculpture, photography, and printmaking – often combining the language of these various media in single works. Tunson has intensively addressed concepts such as cultural identity, American social history, pop culture, art history, and even the beauty of pure abstraction. We are lucky to have been gifted the extraordinary piece, Endangered, by the artist himself.
Tunson found his feet as an artist in the 1990s, as he began to push hard on his artistic process and vision. In keeping with the ever-evolving language of contemporary art, the scale of Tunson's work increased, sometimes dramatically in the form of monumental multi-media installations. The artist also continued to nurture his traditionally-based draftsmanship in series such as Endangered.
Of his work, Tunson has stated, "My imagery derives from diverse sources, including my black heritage and an obsession with vibrant color. Often the two mesh in large format pieces that address the monsters within the self and the society…But however intense the social commentary, I hold myself accountable for an aesthetic execution of the concept."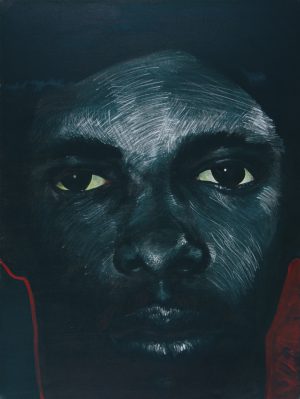 Accordingly, for the Endangered series, Tunson employed a classical approach to represent African American male youth. Are these anonymous young men from suburban working-class families? Are they from privileged homes? Or are they of a disenfranchised upbringing, hidden from the eyes and daily concerns of most Americans. Endangered addresses our own racial perspective and asks us what we perceive and believe about these young men whose lives are, in any case, at risk. What course will their lives take? Is the promise for these youth equal to our own? What is our societal and personal responsibility in their futures? These questions were critically important to our culture when Tunson painted this portrait, and sadly they seem to have increased in consequential intensity during our current decade.
Endangered joins three of Tunson's pieces already in the collection. Its grounding in Realist style and historic concept adds a new layer to the depth offered by his expansive Pop-Up Rodeo installation, his Delta Queen assemblage, and the expressive abstract language of Untitled #108.