Netflix is currently filming Our Souls at Night right here in Old Colorado City, starring Jane Fonda and Robert Redford. The film will premiere on Netflix in 2017.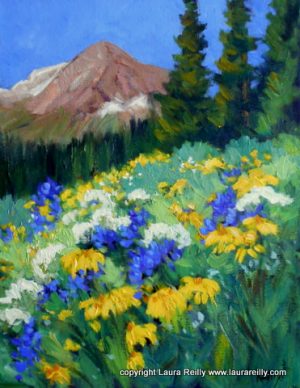 This is not just exciting news for Colorado Springs as a whole, but also for Laura Reilly, one of our very own Museum Shop artists! It seems that the production company for the film loved her work as much as we do – last week, they purchased four of her framed paintings to be used in the sets for the movie! The paintings they purchased were all smaller pieces, all framed: one of white iris, one of sunset over Sinton Pond, one of Pikes Peak at dawn, and one plein air painting of wildflowers at Oh Be Joyful near Crested Butte.
We are incredibly proud of Laura, and so excited to see her work, as well as many other beautiful shots of our hometown, in the film next year!