Wherever you enter the galleries to see "All I Ever Wanted," the exhibit begins and ends with a love poem from James Surls to Charmaine Locke. "Forever" and the titular "All I Ever Wanted" bookend the sculptures, drawings, paintings, and sketches currently on display in the El Pomar Galleries. Surls and Locke are husband and wife, with separate studios on the Roaring Fork Valley property they have lived on for nearly 20 years. However, they rarely display their work together and this joint exhibition is a testament to the life and love they have shared throughout the decades.
Beyond supporting one another's work, Locke and Surls serve as mutual muses. In fact, Locke's career in art began when she took Surls' aesthetics/criticism class at Southern Methodist University in Dallas. After becoming inspired by one of his pieces, she tried creating her own – and, as they say, the rest is (art) history. These artists share a powerful bond, strengthened by forty years together as partners, parents and creators.
When Surls and Locke moved to Colorado, they had each made individual names for themselves in Texas, where they had lived together for over two decades. Locke's career in the arts has been long, and she uses her work to investigate the world and human interaction with an introspective lens. Her work has frequently focused on the female being and symbols associated with femininity. Locke moves between media comfortably, as is shown by the varied works in the exhibit. Her pieces have been featured both nationally and internationally, including institutions such as the Contemporary Arts Museum in Houston, TX, The Jung Center, the Strait Jesuit Art Museum, The National Museum of China in Beijing, the Museo de la Nacional in Lima, Peru, the Delhi in India, and California State University. Over the decades, her work has touched all corners of the world.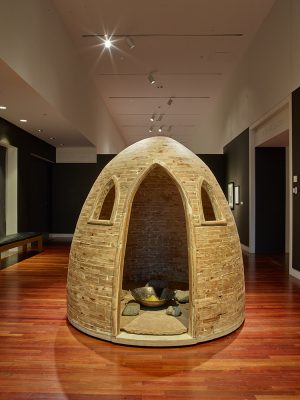 As an East Texas native, Surls in particular had established himself as a prominent figure in the local art scene, though the scope of his work has now reached across international borders with exhibits on five continents. His large-scale sculptural works have a distinctive style, mixing metal and wood in an unusual fashion. Surls' work is unique, but he has maintained a sense of balance in both the individual pieces he produces and his dynamic portfolio.
For nearly fifty years, Surls' work has been exhibited throughout the United States at both small and large institutions. His relationship with art extends back to his childhood, when he would "make things" inspired by and utilizing his surroundings. Much of Surls' work draws upon the idea of nature – both the natural world, and the nature of things. This focus on the natural combined with his modernist style has produced a vast and diverse body of work that has been met with accolades throughout his long career. Pieces from his impressive portfolio have been featured at institutions such as the Dallas Museum of Fine Art, the Solomon R. Guggenheim Museum, the Smithsonian American Art Museum, the Saint Louis Art Museum, the Whitney Museum of Modern American Art, and the San Francisco Museum of Modern Art – and the list stretches on.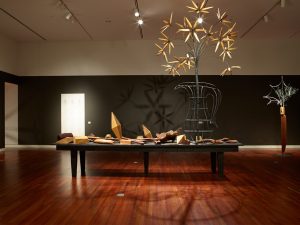 Surls' exploration of dichotomy and paradox has evolved throughout the course of his career. His work does not shy away from complex and nebulous concepts as the masculine and feminine, but embraces the challenge, while his mastery over both media and material allows him to distill his interpretation into visually and physically striking sculptural representations. Surls' pieces are often suspended above the ground, hanging from the ceiling or mounted high above the viewer while Locke's work tends to be, quite literally, grounded.
"All I Ever Wanted" is a collaboration of two tremendous artists. Both Surls and Locke incorporate an immense sense of physicality in their work while maintaining an intimate and contemplative tone. It's a celebration and a reflection of forty years together, a love poem to the life Surls and Locke have shared and the art that brought them together and sus
tained them along the way. Both fragment of and tribute to a life lived together, the exhibit invites viewers to share in the comfort and satisfaction of a harmonious partnership. Amidst the grand, larger than life sculpture and the wild lines of Surls' sketches, there is a sense of familiarity produced by the deep connection these artists share. It invites you in to think, to dream, to desire and to love in the story that unfolds throughout the space.
Click here to watch the video All I Ever Wanted: James Surls and Charmaine Locke