"Trio" – Walt Kuhn, 1937 – oil on canvas
Collection of Colorado Springs Fine Arts Center
Modernism is a movement and school of thought spanning roughly from the second half of the 19th century through the first half of the 20th. Beginning in Europe, the Modernists generally felt that conventional modes of thinking were no longer relevant in a rapidly advancing industrial society, a progressive philosophy that impacted diverse disciplines from science, religion, and politics to literature, architecture, and the visual and performing arts. American Modernism emerged and flourished largely due to the 1913 Armory Show New York, after which a distinctly American style developed, embracing the revolutionary attitudes of Modernism and freeing artists from the conventions of the past. Although a tendency toward abstraction is often characteristic of Modern Art, there are many other artistic movements that define Modernism between 1860 and 1970, including Impressionism, Cubism, Surrealism, Photorealism, Minimalism and Pop Art, each developing from innovation and experimentation.
Walt Kuhn was not only aware of modern European innovations, but was also an advocate for their influence in American art. In what ways does Trio reflect modern influence? In what ways is it traditional?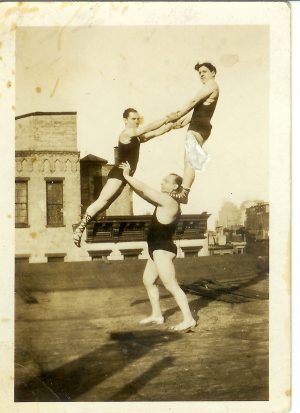 The 1913 Armory Show was co-organized by Walt Kuhn and included some 1,300 American and European works of art, arranged in the exhibition space to advance the notion that the roots of Modernism could be seen in the works of the old masters. The three city American tour began at the 69th Regiment Armory in New York City and was an overwhelming success, in spite of news reports of immorality and anarchy, mockery and parody, and Pres.  Theodore Roosevelt's declaration, "That's not art!"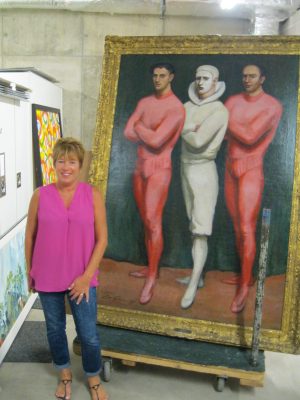 Kuhn's painting depicts three real-life New York acrobats, including Frank Landy on the left, an acrobat and performer in Brooklyn. We experienced an incredibly special moment here at the FAC when Carol Landy deLisser, Frank's daughter, came in and saw 'Trio' for the very first time! Carol flew out for business in Fort Collins, and came all the way to Colorado Springs to see the painting for the first time. Her father, Frank, died last year, making the experience incredibly special and emotional. It was a delightful and moving moment for the FAC!