Art School Programs
Our art school offers a wide variety of programs for different groups within our community. For more information on any of the following programs, call (719) 475-2444.
Special Programs
Colorado College Summer Session invites rising juniors and seniors to join the CC community this summer. Enroll in one of our dynamic courses offered on subjects ranging from environmental science and the study of epidemics, to marketing and entrepreneurship, to cross-genre writing. CC's summer session provides students with a rich opportunity to explore challenging academics, get inspired by the wondrous Rocky Mountain Region, and be supported by faculty that are invested in your success.
High School students have the opportunity to immerse themselves in the rhythm of the Block Plan and experience living on Colorado College's campus during our Pre-College Block, which is specially designed for ambitious high school students.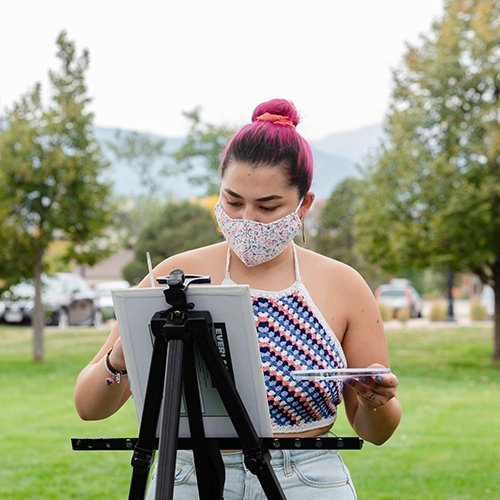 July 12–28, 2021
In this class, students will explore introductory drawing techniques specially in relation to the Colorado landscape. Emphasis will be on observational and technical drawing skills as we explore landscapes surrounding the Colorado Springs area, drawing outside on location. Students will gain fundamental skills by studying line, shape, value, and composition. These concepts will be explored using different marking making tools will be introduced including charcoal, pencil, ink, and conte. Students will be both in field drawing from the landscape itself, and in the classroom, learning technical concepts in a more controlled setting. Taking lessons from this multi-pronged, approach, students will complete a portfolio of finished drawings that speak to the complex nature of our contemporary landscapes. Learn more about pre-college classes
This class is presented through a partnership between CC Summer Session and Bemis School of Art.
Supported by The Marie Walsh Sharpe Art Foundation in honor of Joyce Robinson
See art
Independence Center Art of Accessibility
The Bemis School of Art supports students from the Military Artistic Healing program and the Roundup Fellowship prepare and participate in the Independence Center's quarterly Art of Accessibility exhibit.
Bemis School of Art Gallery
Visit the Bemis School of Art Gallery on the second floor of the Colorado Springs Fine Arts Center to view art created by Bemis instructors and students of all ages.
Catholic Charities Marian House & Hanifen Center
The Bemis School of Art displays artwork created by our students in the family dining room at the Marian House.
Annual Instructor Exhibit
The Bemis School of Art's annual instructor exhibition can be viewed at Library 21C every August.
Partnerships
Achieve Online School
Colorado College
Dale House
Emily Griffith Center
Fort Carson
The Independence Center
La Foret Conference & Retreat Center
Military Arts Connection
Mt. Carmel Veterans Service Center
Pikes Peak Library District
Pikes Peak YMCA – Cordera & Banning Lewis Ranch
Roundup Fellowship
School District 11 – Gifted & Talented Office & Indian Education, Title VI Program
School District 20
Textiles West
Women's Educational Society
Sponsors
The Anschutz Foundation
Anna Keesling Ackerman Charitable Trust Foundation