On an unseasonably warm November day, 140+ Peak Education students and families connected with one another through the arts at a fall kickoff event hosted at North Middle School. The arts programming developed by the FAC revolved around a common theme: storytelling. We all have unique stories and experiences that shape our ever-evolving identities; the arts provide us with new modes to tell our stories. Museum Education Manager, Alie Ehrensaft '12, developed an event-based passport to the arts for students and families to navigate their own stories through four artistic modes: looking, listening, making, and moving.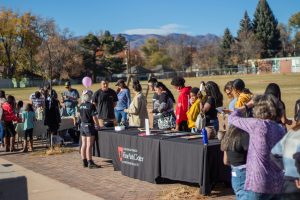 This collaboration with Peak Education grew out of the FAC's participation in the Of/By/For All Change Network program, a framework that supports institutions in engaging new audiences representative of, co-created by, and relevant for the communities we serve. Initially sparked through conversation between two CC alumni (Blair Huff '14, FAC Curatorial Assistant and Carlos Jimenez '04, Peak Education CEO) this kickoff event marked the beginning of an evolutionary partnership extending mutual community-driven missions. Introductory conversations between the two partners and with current Peak Ed students, Etelin Tapia and Deliannys Reyes, evolved into deeper conversations about how a multi-disciplinary approach through the arts can enhance personal growth. This approach extends the programmatic goals of Peak Education for students and families, specifically through identity development and storytelling.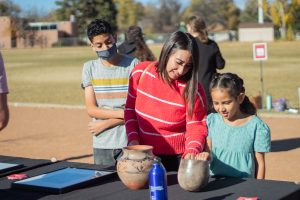 LOOKING WITH THE FAC MUSEUM 
Designed by Museum Education Intern, Jeremy Cashion '24, and facilitated by Museum Student Guide, Clay Bessire '22, the looking station invited participants to explore artworks from the Museum's collection both through sight and touch. This exploration of texture and imagery inspired personal connections and reflections for each participant:  
Which artwork reminds you of something about yourself? Someone you know? Something you've seen? 
How might you tell your own story inspired by the art you see? 
Responsive to this site-specific programming, Museum Education Assistant, Inna Gjoleka, designed an arts tour to explore the incredible history of student and community artwork spanning the hallways of North Middle School. Students and families considered how the arts are reflective of our environment, and how we can use the arts to better examine the spaces we inhabit. 
The CC Mobile Arts Truck parked on the North MS track to showcase performances on the mobile stage. Supported by CC faculty member and sponsor of the mobile arts truck, Dr. Naomi Wood, the truck anchored our live entertainment for the event. Ana Gaby Pareja captivated the audience with her Latin dance and CC band Tiny Tomboy* performed a stimulating compilation of original music and cover performances. Families were encouraged to watch, listen, and dance along while thinking about their own relationship to the sound:  
What does the music remind you of? 
If you had to pick a song to share something about yourself, what song might you pick? 
*Tiny Tomboy features four CC students: Ethan Gould '24, Aidan Santos '24, Quinn Jones '23, & Eliza Neiman-Golden '22.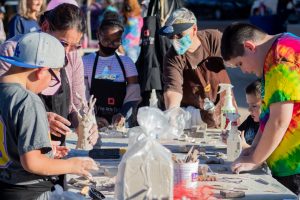 MAKING 
WITH BEMIS SCHOOL OF ART
Assistant Director of Bemis School of Art, Jeremiah Houck, hosted two art-making stations featuring sculpture and printmaking. At these stations, makers were prompted to respond to the question:  
What might you make to represent something about yourself? 
Bemis instructors Rui Haagen and Alyson Lewis led the clay station where families formed their own contributions to a sculpted clay castle. At the printmaking station, instructors Ronee Smith and Kathryn Romberg supported families to etch marks into Styrofoam plates and roll their designs into prints. Participants were able to take their creations home with them or leave their designs to showcase during the event. 
MOVING 
WITH THE FAC THEATRE
Brought together by Associate Director of Performing Arts Nathan Halvorson, instructors Casey Fetters and Jessye King Wooten led students and families through activities where they used their bodies to express themselves. Moving across the field at North Middle School, participants considered the following questions:  
How might you express yourself through movement? 
How can you use your movements to tell a story? 
Students and families learned more about how we can intentionally use our bodies and facial expressions to convey our stories to others. As a culmination of creating individual stories, participants brought their unique experiences together to cultivate a communal narrative machine.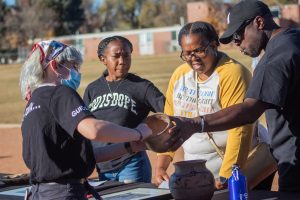 It was an inspiring day filled with art appreciation, art making, and conversation as a means of sharing our own lived experiences. Overwhelmingly, students and families were thrilled by the inclusive and accessible opportunity to connect with the arts, the FAC, and each other. This partnership brought new communities together as the first of many future collaborations between the FAC, CC, and Peak Education. 
A special thanks to Peak Education staff for jumping in feet first with us: Carlos Jimenez, Lauren Taylor, Vennita Browning, & Nataya Stepelton.