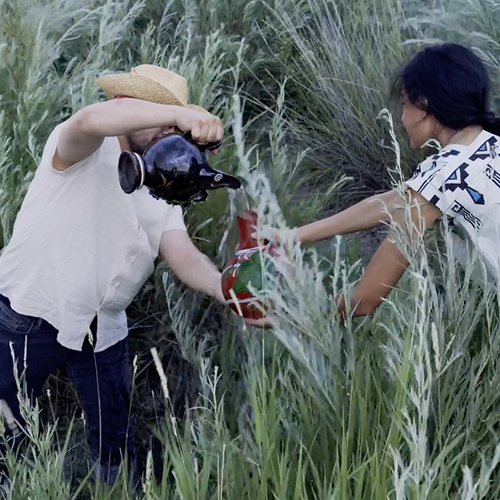 First Friday
Join us for a First Friday celebration 5–8 p.m. + special performance at 5:30 p.m.
Agua y Tierra (Water and Land) 
This special performance in our exhibition Chicanx Landscapes will feature Grupo Folklórico del Pueblo, this live performance recontextualizes Agua y Tierra (Water and Land), one of the video works featured in Chicanx Landscapes. The performance originally took place at Desert ArtLAB's Field Site/Edible Landscape in Pueblo, Colorado. The reinterpreted performance at the Fine Arts Center will follow dancers as they move from the courtyard through the galleries to ritually honor the water and the land. This event will also celebrate the launch of a kitchen-inspired participatory gallery, where viewers will be able to engage with the exhibition through communal resources and activities that explore mapping, cooking, and Indigenous foodways.
Drinks and small plates (credit card only) available in Deco Lounge. As part of First Friday celebrations, this event is free and open to the public.
First Friday attendees get FREE access to FAC Museum — see what's on view
Image courtesy of Desert ArtLAB.