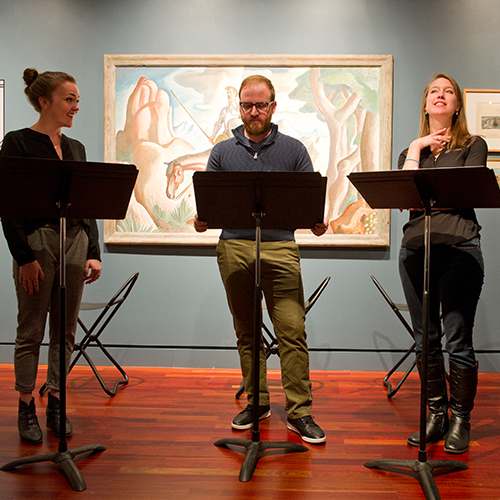 One-Act Play Reading
Presenting Aria Da Capo by Edna St. Vincent Millay, written in 1920 in homage to The Academy Players of the Broadmoor Art Academy, the FAC Theatre Company will perform special one-act play readings in the museum galleries in celebration of our 100th Anniversary. Free and open to the public in the Loo Gallery.
The play that caught the attention of the critics on the second bill of the 1919-1920 season at the Provincetown Playhouse, was Aria da Capo by Edna St. Vincent Millay.  An unusual play structurally, a pastoral bookended with a harlequinade, it is unique in that it was perceived by most to be an anti-war statement, and yet can also be seen as an more universal portrayal of the human condition.  The play defies being set in a given time period and the playwright allows juxtapositions within the play to speak louder than the writing of any political statements could have accomplished. The characters are portrayed as being controlled by a script not of their own making, and yet ultimately prove to be powerless to step away from it. The play's oblique approach actually gives its message power and its simplicity of staging was perfect for it to be premiered by the Provincetown Players.