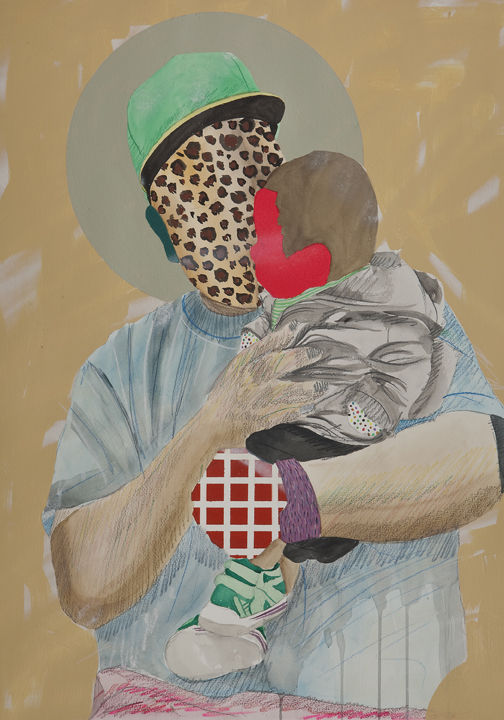 Cheech Marin is as passionate about sharing Chicana/o art as he is about creating his collection. Following the huge success of an initial exhibition of works on paper, Papel Chicano Dos was organized as a traveling exhibition to bring the artworks of established and emerging Chicana/o artists to communities far and wide before it finds its home at The Cheech Marin Center for Chicano Art, a new institution in California devoted to the presentation of the collection.
This exhibition presents 65 artworks by 24 artists and demonstrates some the wide diversity of imagery, content, and techniques used by Chicana/o artists for more than 30 years. The earlier works from the 1980s and 90s include drawings and prints by celebrated artists such as Carlos Almaraz, Gronk, and Charles "Chaz" Bojórquez. The popular tradition of mural works is evident in the large-scale works of Frank Romero, CiCi Segura González, and Pablo Andrés Cristi. Art works from the last ten years include stunning portraits by artists Sonia Romero, John Valadez, and Carlos Donjuán.
Featured artists are Carlos Almaraz, Charles "Chaz" Bojórquez, Pablo Andres Cristi, Carlos Donjuán, Gaspar Enríquez, Sonya Fe, Emmanuel Galvez, Margaret García, Roberto Gil de Montes, CiCi Segura González, Raúl Guerrero, Roberto Gutiérrez, Adán Hernández, Benito Huerta, Leo Limón, Gilbert "Magu" Luján, César A. Martínez, Glugio "Gronk" Nicondra, Wenceslao Quiroz, Frank Romero, Sonia Romero, Ricardo Ruiz, John Valadez, and Vincent Valdez.
On view previously at eight other museums nationwide, Colorado Springs Fine Arts Center at Colorado College will be the exhibition's ninth and final venue. The exhibition and its national tour are organized and managed by Melissa Richardson Banks of CauseConnect. For more information, please visit Cheech Marin's website.
"Marin might be a pretty funny guy, but as shown by Papel Chicano Dos, he's also a serious connoisseur."
Read Michael Paglia's exhibition preview in Westword
Westword spoke with Cheech Marin about Papel Chicano Dos, how his collection started, and how his personal history prepared him strangely and perfectly for having his name grace an art museum.
Read interview
Top image: CiCi Segura González, Soy Chicana (detail), 2013, Mixed media on gessoed paper, Courtesy of the artist.
Details
Hours
Wednesday–Saturday 10 a.m.–4 p.m. by reservation only
Admission includes entrance to all other galleries in the museum.
Tickets
| | | | |
| --- | --- | --- | --- |
| FAC members | Non-member adults | Military & Seniors (55+) | Students & Teachers |
| Free | $10 | $5 | Free |