The Colorado Springs Fine Arts Center at Colorado College is pleased to announce the acquisition of She Made For Her by Anna Tsouhlarakis, formerly on exhibition at the FAC as part of Anna Tsouhlarakis: To Bind or To Burn. 
Working across sculpture, video, performance, photography, and installation, Anna Tsouhlarakis explores themes of Native American identity. Much of Tsouhlarakis' work investigates aesthetic and conceptual expectations of Native American art, asking viewers to reevaluate their assumptions when encountering the work of Native artists. Challenging mainstream conventions allows the artist to, in her words, "reframe contemporary art through an indigenous lens."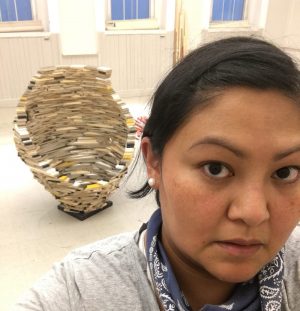 Image: Tsouhlarakis with She Made for Her
She Made for Her is a sculpture and motion-activated sound installation constructed from discounted furniture parts sourced from the Swedish retailer IKEA. Small planks of plywood—of varying length and similar width, some left unfinished, others lacquered with high-gloss paint—are stacked on top of one another, creating a form that evokes at once an open vessel or chamber. Serial numbers and letters stamped on select pieces emphasize the mass-manufactured quality of the material. As viewers walk by the sculpture, a motion sensor activates a multi-channel sound installation that features the voices of indigenous women describing the object. They offer formal, aesthetic, and personal responses that contextualize the object in varying ways, from utilitarian—one woman described it as a bird's nest—to speculative—another described it as a futuristic escape pod. The result is a multivocal intervention that, in harmony with the mass-produced material, challenges the classification of a Native American object as belonging to the past or being steeped in craft.
Tsouhlarakis constructed She Made for Her for a research project at the Neubauer Collegium at the University of Chicago in 2016. Her project questioned the authority of both institutions and individuals, making a compelling case for the aesthetic and epistemological contribution that contemporary Native American artists make to the current articulation of a long-standing historical tradition. The work was included in the 2019 exhibition To Bind or to Burn at the Fine Arts Center (curated by Polly Nordstrand).
She Made for Her is an important addition to the Fine Arts Center Museum's permanent collection, joining an already strong collection of work by contemporary Native American artists such as Melanie Yazzie, Jaune Quick-to-See Smith, Frederica V. Antonio, and T.C. Cannon. Importantly, She Made for Her offers a critical commentary on the presentation and interpretation of Native American objects and the right to agency in relation to cultural heritage. This will be the first work by Tsouhlarakis in the FAC's collection.
Artist Bio
Anna Tsouhlarakis works in sculpture, installation, video, and performance. Tsouhlarakis received her BA from Dartmouth College with degrees in Native American Studies and Studio Art. She went on to receive her MFA from Yale University with a focus in Sculpture. Tsouhlarakis has participated in various art residencies including Skowhegan School of Painting and Sculpture, Yaddo, and was the Andrew W. Mellon Artist-in-Residence at Colorado College for the 2019-2020 academic year. Her work has been part of national and international exhibitions at venues such as Rush Arts in New York, the Art Gallery of Ontario in Toronto, Art Mur in Montreal, the Nasher Museum of Art at Duke University, Crystal Bridges Museum, the Museum of Contemporary Native Arts, the Heard Museum, and the Smithsonian's National Museum of the American Indian. In 2011, she was a recipient of the Eiteljorg Fellowship for Native American Fine Art.  Her recent awards include fellowships from the Harpo Foundation, the DC Commission on the Arts and Humanities, and the Native Arts and Cultures Foundation. Tsouhlarakis's work appears in several anthologies of Native American art including the recently published Art for a New Understanding: Native Voices from 1950 to Now. The book accompanies the exhibition which is "the first exhibition to chart the development of contemporary Indigenous art in the United States and Canada".