The Colorado Springs Fine Arts Center at Colorado College is pleased to announce the acquisition of topografía lyr(ic)a (2019) by Ronny Quevedo (b.1981, Guayaquil, Ecuador), currently on exhibition as part of Ronny Quevedo: at the line.
topografía lyr(ic)a (2019) is one of three large-scale hanging drawings prominently featured in the Fine Arts Center's exhibition Ronny Quevedo: at the line. The work features a diagrammatic rendering of a stadium—based on the Olympic stadium in Ecuador—that the artist transferred from wax paper onto muslin fabric. In his work, Quevedo brings playing fields into conversation with representations of maps, constellations, and notational devices, among other references, to present the entangled histories of movement, migration, and diasporic identity.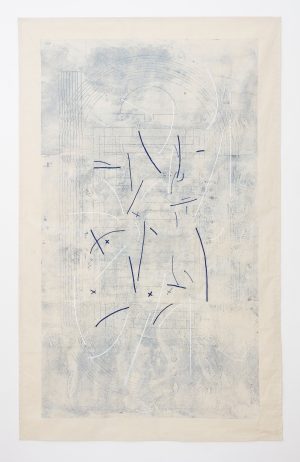 Observed in conversation with the FAC's vast collection of historical Southwestern art, topografía lyr(ic)a offers a contemporary counterpart to these works, reflecting on identities shaped and altered by movement throughout the Americas. This work will function alongside works of Southwest cultural heritage such as Jaune Quick-to-See Smith's Wallowa Water Hole Series (1979) and Frederica Antonio's ceramic work Untitled (Eye Dazzler) (2017). The Fine Arts Center's acquisition of this piece not only demonstrates continued support of contemporary artistic production and artists, but also our desire to steadily expand the conversation around representation, identity, and cultural heritage within the museum collections.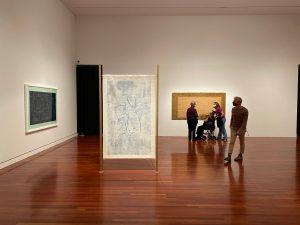 Recently named a 2021 Joan Mitchell Fellow, Quevedo is one of 15 US-based artists recognized by the foundation for their exceptional work. Fellows receive multi-year financial support interwoven with professional development to invest in artists' long-term success.
Quevedo's work has been exhibited nationally and internationally. Ronny Quevedo: at the line is the artist's first solo exhibition in Colorado and will be on view through Dec. 5, 2021.
For the latest information on visitor guidelines and safety details visit the FAC website.
Image 1: Ronny Quevedo, topografía lyr(ic)a, 2019, wax, screen print, and thread on muslin, courtesy the artist 
---
ASSOCIATED EVENT
In Conversation: at the line
Thursday, Nov. 4 at 6 p.m.
The community is invited to a roundtable conversation with artist Ronny Quevedo, Victoria I. Lyall, Frederick and Jan Mayer Curator of Art of the Ancient Americas at the Denver Art Museum, and Jorge Rivas Pérez, Frederick and Jan Mayer Curator of Latin American Art at the Denver Art Museum, who will discuss Quevedo's work in context of the exhibition "ReVisión: Art in the Americas" at the Denver Art Museum. The conversation will be moderated by FAC Curator of Contemporary Art Katja Rivera.
Details and registration info can be found here.