Christopher Sheley named new leader of the FAC Theatre Company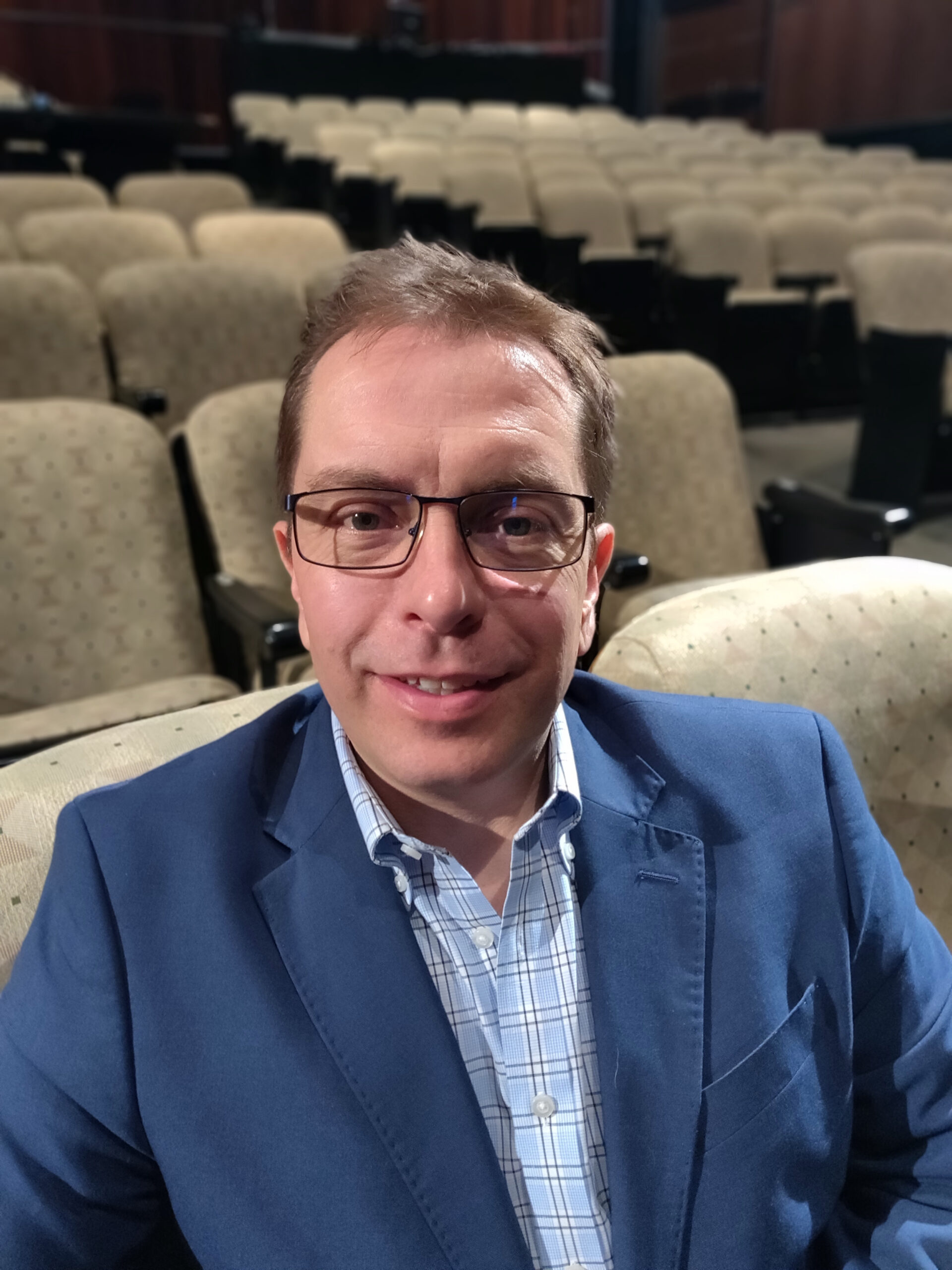 COLORADO SPRINGS, CO (Aug. 15, 2023) — The Colorado Springs Fine Arts Center at Colorado College is proud to announce that Christopher Sheley, who has been with the Fine Arts Center Theatre Company for 19 years, has been promoted to producing artistic director, effective immediately.
Sheley has been serving as interim producing artistic director for the past nine months. In that time, he launched the Send a Student initiative, grew the theater's subscription base by 50 percent, brought back children's theater programming, and deepened community partnerships with Colorado Springs School District 11, Lutheran Family Services, and the Colorado Springs School for the Deaf and Blind.
"Chris has been a veteran member of the performing arts leadership at the FAC for more than a decade and has worked tirelessly within the community to expand our influence, impact and community interaction," said Fine Arts Center Executive Director Nicole Herden. "He is well respected by his peers and colleagues for the dedication he has shown to the performing arts at the Fine Arts Center. I look forward to supporting and maximizing our mutual vision for what FAC's performing arts company can achieve in the years to come."
As producing artistic director, Sheley will be responsible for leading the strategic direction of the FAC Theatre Company, working to shape and implement the artistic agenda for annual seasons of theater productions as well as community and Colorado College campus projects.
"I am incredibly grateful for this opportunity to get behind the wheel and see where we can go next," said Sheley. "I have always believed in the upward trajectory of this company and know there are no limits to what we can do. As I'm fond of saying, it's going to be great!"
Sheley will also serve as a member of the FAC's leadership team in strategic plan implementation, as well as cross-disciplinary collaborations with the museum and art school to create meaningful and sustained connections with the community.
Sheley studied Set Design and Theatre Technology at DePaul University. During his career, he has served as production manager at the Court Theatre in Chicago and as technical director for both the Court Theatre and Light Opera Works, also in Chicago. He joined the Fine Arts Center Theatre Company in 2005 as the production manager/technical director and became the director of production in 2015. Sheley is a skilled set designer and has won several awards for set design for FAC productions, including a Henry Award for "Man of La Mancha," a Broadway World Award for "Noises Off," and a number of Denver Critics Ovation Awards.
ABOUT THE FAC THEATRE COMPANY
The award-winning FAC Theatre Company produces an annual season of innovative and exciting theatrical productions and is committed to creating stories that heal, uplift, educate and enlighten in a thoughtful and inclusive environment.
Colorado Springs Fine Arts Center at Colorado College
The story of the Colorado Springs Fine Arts Center at Colorado College (FAC) began with the founding of the Broadmoor Art Academy in 1919. A museum, performing arts theatre, and community art school, the FAC is a pillar in the cultural community of the Rocky Mountain West providing innovative, educational, and multi-disciplinary arts experiences designed to elevate the individual spirit and inspire community vitality. For more information about the FAC, visit fac.coloradocollege.edu or follow on Facebook @CSFineArtsCenter.
###