Inspiring the community through the creative arts is at the heart of the Fine Arts Center's mission, and this could not be achieved without the people involved with the FAC, whether through the museum, theatre or Bemis School of Arts. Members of the community make the FAC what it is, and the military is a very large part of the Colorado Springs community.
The Fine Arts Center has been offering Military Artistic Healing Programs in the community for nine years. It's our mission to educate the community about the power arts can have in the healing process. For active-duty military and veterans, we offer award-winning (and often life-changing) courses to provide healing opportunities for individuals and families dealing with trauma and post-traumatic stress issues. The arts enhance coping skills, manage stress and strengthen a sense of self.
We are incredibly proud to introduce Kim Le Nguyen, who teaches our Military Artistic Healing program, and who won the Joe Henjum Hero Award, which recognizes a Coloradan who 'supports our military members and their families of all services to include Active Duty, Reserve, National Guard or recently discharged veterans. The recipient is judged by THFC Board of Directors to have made a most significant contribution to the welfare of the families of those who have deployed in harms way'. Kim is an intuitive/expressive artist who uses her paintings to heal and raise awareness. Since 2001, Kim developed and managed Creative Expressions program at AspenPointe using all form of arts to help mental health clients, military personnel and family members in order to bring about healing to all aspects of life. She has facilitated numerous weekend workshops, classes and retreats in Colorado, New Hampshire and Maine. She served on the Imagination Celebration board, contributed in the Colorado Springs Asian Committee, and curated for the Hillside Community Center ARTSpace Gallery. Kim was awarded one of thirteen 2014 Women of Influence in Colorado Springs by the Colorado Springs Business Journal.
When did you first develop an interest in art?
When I was around 6 or 7 years-old living in Vietnam, I used to draw anything I saw because I could make up stories with my drawings and imagine it differently in my mind. It was during wartime in Vietnam. We were pretty poor and witnessed a lot of death around us.
How did you go from there to wanting to work with the military?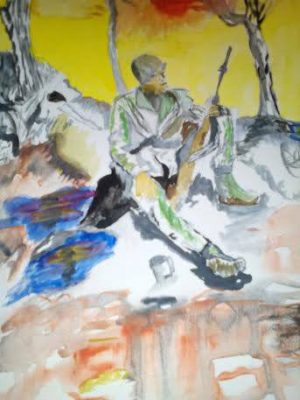 I had PTSD from witnessing all the traumas of war while growing up in Vietnam as well as seeing my dad fall overboard and drown when we escaped by boat in December, 1975. When I was in college majoring in Fine Art, I heard a presentation on art therapy and I remember painting myself in the coffin, underground, etc.… I was doing art therapy on myself without knowing the techniques. I worked through my PTSD and know that it works, so when the opportunity came to work with the veterans in our community, I volunteered. Since 2009, we've served over 500 actives, wounded, retired and family members.
What did you want to achieve through the classes?
I want to teach expressive techniques to all, whether it is an active military personnel, a wounded or a retired, a family member or those who volunteer with the Military Artistic Healing program, I want to show them how to use different mediums and processes to express and then release all the toxic energy that is keeping them from being balanced and whole.
Why do you think that it's important to use art as a form of trauma healing?
Because art does not lie. Who you are at this moment will show up in your art. Once you find a medium that enables you to express yourself, whether it's graphite or watercolor, acrylic or fiber, collage or written words, they all become extensions of who you are and who you want to be.
How did it feel to win the Joe Henjum Hero award?
I feel humbled and honored. It's more than a volunteer position for me. This is my way of giving back to the country and community who have helped and supported refugees like myself and my family to experience true freedom. I'm hoping that with this award, more military and family members will become aware of the wonderful programs offered at the Colorado Springs Fine Arts Center.
Have you ever had difficult moments in the classes when it seemed like art might not be enough to help your students?
Yes, just like any other therapy, creative expressions are not for everyone. For some, the Military Artistic Healing program is great along with individual therapy with a psychiatrist, therapist and case manager. I once had a psychiatrist tell me that she was not able to have a break-through with a soldier for over 2 years. He came to the Military Artistic Healing program for 3 weeks and he came back showing her his paintings as well as sharing his story through these images.
I spoke to someone who took part in the class, and she said that she wished this kind of program was integrated into military training rather than being extra-curricular. Is this something that you see as possible for the future?
Yes hopefully, once the military educators see the benefits of developing the right-side and left-side of the brain, the possibilities are endless. I have many veterans who did not know what they would do after being discharged from the military. Some are now professional artists who earn their living while continuing the healing process through their art.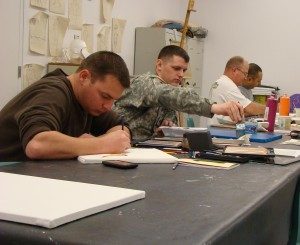 She also talked about a certain stereotype, especially in the military, that art makes you soft. How do you combat this in your class?
I make it clear on the first day of class that the fact they are here in the Military Artistic Healing program proves they have enough courage to gain greater self-limitation. In expressing themselves through different creative processes, they learn that the more they invest time into the program, the more balanced and whole they become. This makes them a better soldier, a better leader or team member, as well as a greater husband/wife, father/mother, and/or grandfather/mother for their families. This does not make the soft. It makes them more resilient.
What have you learned from your students?
I learned that they are truly my heroes. After all they've sacrificed in training, in deploying and in coming back, they continue showing up. They show up at art receptions with a large crowd even though they prefer to be by themselves; they share their stories even though they are being triggered to recall all the haunting images in their mind; and most importantly, they rebuild their lives each day because they are resilient and they are American.