Inspiring the community through the creative arts is at the heart of the Fine Arts Center's mission, and this could not be achieved without the people involved with the FAC, whether through the museum, theatre or Bemis School of Arts. Members of the community make the FAC what it is, and the military is a very large part of the Colorado Springs community.
The Fine Arts Center has been offering Military Healing Programs in the community for nine years. It is our mission to educate the community about the power arts can have in the healing process. For active-duty military and veterans, we offer award-winning– and often life-changing–courses to provide healing opportunities for individuals and families dealing with trauma and post-traumatic stress issues. The arts enhance coping skills, manage stress and strengthen a sense of self. I met Lawrenza Bishop, a young member of the Warrior Transition Battalion at Fort Carson, who is undertaking therapeutic and healing courses in order to transition out of the army.
Tell me about the Warrior Transition Battalion. How did it lead to getting involved in our artistic healing program?
It's where soldiers with significant injury or illness go – to give them time to heal either to return to duty, or to transition out. I'm transitioning out. I was originally meant to be healed but then we realized that that was beyond the army's capacity. They do various programs for soldiers not actively engaged in duty – it's all about treatment. There's therapy like equine therapy and art therapy. The artistic healing class was recommended to me because I'm a very artistic person, and my primary medical issue is PTSD. So they recommended the class. It's based on artistic techniques, but writing is incorporated. A student from UCCS comes over and guides us through writing different styles of poetry to accompany our art. It's a way to learn how to express what we're going through in a healthy manner.
What form did the military healing program take?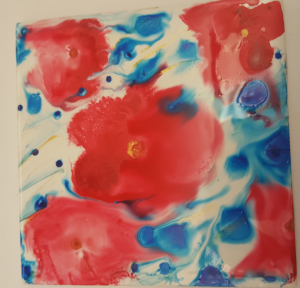 It was every week for 8 weeks, from 3 to 5 on Tuesdays. Every day we focused on a different artistic technique or project. And then we wrote different styles of poetry to accompany our art.
Did you have to make art and poetry about your experiences in the army?
Oh no. It was completely open, which was really nice. You could make art on anything you wanted. We started with the easiest techniques like watercolor, and then moved through different styles like ink and acrylic. It was all focused on abstract art – nothing was really still life. The fact that it was so abstract allowed us to put our own emotions into the painting.
What did the experience mean for you?
It really opened me up to a different outlet for me to express my feelings of PTSD. That was a really big thing for me. The army in the past has pushed soldiers to internalize their feelings towards PTSD rather than express them. What happens then is that people express their feelings in negative ways like through alcohol and drug abuse.
Is it something that you have carried on since completing the class?
Yes. I definitely love it. I came in not knowing how to paint or how to use ink, or the different types of paint. Now I have a foundation that I can take home and be able to apply, and I really like that.
How is it different to the other types of therapy that you have taken part in?
It's very open, very relaxed. It's just a calm environment. It's not structured like a therapy session. Here, it's like here's a paint technique, take what you like from it. I really liked that freedom – the military is really structured, so there was a big sense of freedom and expression in contrast to that. Being able to write alongside the art was also great – a lot of therapists talk about using journaling as a form of self-soothing, but having someone actually teach you how to use different forms of poetry is unique, especially when it goes alongside your art. You're also in a group of people with very similar experiences so it's completely judgment-free. You get to take off your uniform and just be a real person.
I'm sure you know that the instructor of the class, Kim Nguyen, recently won a prize for her work. Tell me about your experience of being taught by her.
Kim is a great instructor – she made learning the techniques extremely easy and always offered constructive encouragement. She was always appreciative of what we produced rather than being critical. The fact that she comes here out of her own time to help us says a lot about her. She's welcome and open to everybody. She was really good about sharing her own art too, and telling us about her won art. She really connected to us an artist not just an instructor.
Are you interested in looking at art as well as making it?
I took art history classes in college, so it's something that I've always loved. But making it myself has made me love it even more. Now when I look at a painting I'm not just thinking about the era and history, but the techniques involved and how they got there. I appreciate art more from an artists' perspective.
What's next for you?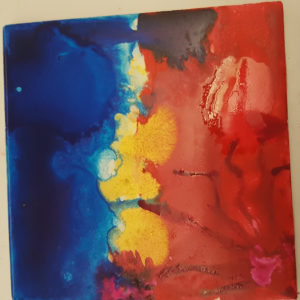 I'm going to grad school in Oregon to get my master's in public health. This art class has also made me want to take art classes when I'm back. Now I want to try all different kinds of art.
How do you think you could persuade people who don't see the military and art as two things that naturally go together to take this class?
I think it's more about breaking down the stereotype that art makes you soft. Instead, art makes you express yourself. It makes you strong because you are creating something from nothing. Lots of people in the military are very talented and artistic – there's a ton of people who'd enjoy this class. It needs to move from something that's extra-curricular to something that's incorporated into the army. I think outreach would be great to make it open to more soldiers. Because the title is artistic healing, it is associated with wounded warriors. In fact there are lots of people in the army with different forms of anxiety and PTSD that would benefit so much from taking these art classes.
One of things I actually enjoyed the most was that we could come into this arts center and feel like a real person, not just a soldier. You don't have to be in a uniform which felt huge. There's no yes sir, no sir – you can just be who you are and enjoy it.