Inspiring the community through the creative arts is at the heart of the Fine Arts Center's mission, and this could not be achieved without the people involved with the FAC, whether through the museum, theatre or Bemis School of Arts. Members of the community make the FAC what it is, and the young people of Colorado Springs who inject their creativity, passion, and artistic flair into the FAC are what make it such a unique place.
The Youth Documentary Academy, housed at the Bemis School of Arts and the FAC, provides media and documentary film training to high school students in under-served communities of Colorado Springs. Students between the ages of 14 and 18 spend seven weeks learning all about documentary filmmaking, producing their own documentaries on whatever issues are important to them. AJ Vafiades took part in the program last year, and has continued to pursue her love of the arts as a Performing Arts Major at Pikes Peak Community College, from where she intends to AMDA in California to continue to study the performing arts.
What took you from the performing arts to an interest in film?
I've always been fascinated by film, and I'm an actress myself so I thought it would be cool to learn the craft of filmmaking too. I went through a phase of watching a ton of documentaries as well so the idea of making one myself really appealed.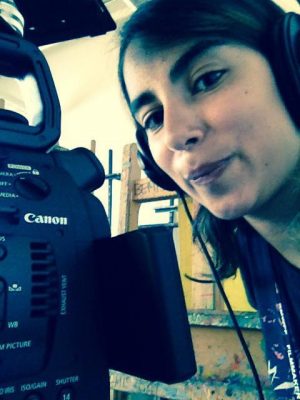 Can you tell me a bit about what your film was about?
Well I was adopted from India as a baby, and I was born deaf, which is why I got placed with my mom because she's an interpreter for the deaf. So all through my life I get a lot of people asking me, do I want to meet my real mom? But she's not the person who raised me, so I wouldn't really consider her my real mom. So the film explored this question, and I interviewed some people who had been adopted and had met their birth families, because I was curious about their opinion about the experience and how they felt about it. And then the end of the documentary is about me realizing that just because I don't know where I came from doesn't mean I don't know who I am.
How did you manage to get the other people in your film to open up about such an intensely personal topic?
Well I know both of them, and one is actually my best friend so I know all this stuff already it was just a case of putting it on camera. With the other friend it was a bit more difficult – I found out that he was adopted and it was the rare case of a sibling group all getting adopted. Because I didn't know them it was a lot harder to get their personal feelings out, it was harder to get them to really open up. I started with regular questions, and I kind of focused on the shyer of the two and that's how I really got to the personal stuff.
On the flipside, how did you feel yourself having to open up so much, and turning something so intimate into art?
It's funny really – I didn't actually want to be in the film at all at first. I wanted to do it on adoption because it's a sketchy topic you know, not a lot of people really want to talk about it, and not a lot of people know the struggle that comes with not knowing where you came from. But once I had interviewed these two people, they had nothing in common and I had no idea how to tie their stories together. So one of the people I was working with asked me why I didn't put myself in it so that I could express where I come from. I don't ever have the potential to meet my birth mother – it was a closed adoption, and getting in touch with her could put her in danger as she wasn't married when she had me. So my personal experience of having this curiosity without an outlet seemed to fit perfectly with the two others, who had been able to meet their birth parents.
It must have been pretty weird figuring out how you felt about these big issues at the same time as making a film about it all.
I discovered stuff that I hadn't realized I thought. I don't want to be let down if I do ever meet my mom – I don't want to hold unrealistic expectations and for these to fall flat. So it was good to realize that I am ok with not knowing – I'd rather respect her from afar than be let down.
How did you feel about showing the film to other people and sharing those realizations?
I was kind of curious about how people would take it – America as a whole really likes sad stories – mine is a deep and personal story, but on the whole, not a bad one. So I was curious about the reaction because it was so positive – nothing was really hard about it. I was worried that people wouldn't like it because it's not some hard hitting expose. But in the end I was pleasantly surprised by how it brought new light to people's eyes.
My mom cried her eyes out. Obviously she'd been there for the whole process of me making the film, so she wasn't surprised by any of it. But I added a poem about my family now and when I finished reading it right before the credits, she started crying and was telling me how glad she was that this happened and that I am in her family. As for my Dad, he was just like that was cute.
You say that nothing was hard about making the documentary, but I imagine that dealing with other people's misconceptions about adoption must be difficult at times?
That's true. A lot of people don't understand how somebody can love a person not born to them. To them, your real parents are those who gave birth to you. To me, those aren't my real parents – they're just my birth givers. That's a hard thing for people to understand, and I was trying to let people wrap their brains around it. I know that a lot of people struggle with abandonment issues when they've been adopted and are always questioning whether they belong. And all those people asking these questions and having these preconceptions about adoption just reinforce that. So I was trying to enlighten people that they do really belong.
How do you feel about the fact that you were adopted by a white family from an Indian birth mother?
Well I get weird looks with my mom because I am Indian – people get really confused. But my mom has done a really good job of introducing me to that culture. She cooks everything with garam masala, and we eat Indian food – and I mean authentic Indian food – a lot. I take Bollywood dance lessons. I've always wanted to go to India, but she's been and is going to take me some day. And we have Indian friends – my godfather is Indian and was raised in India, so he tells me stories and gives me Bollywood to watch.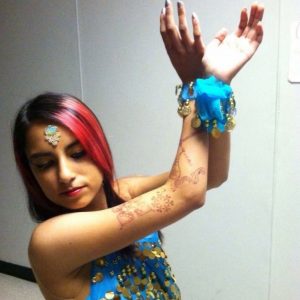 What were some of the highlights in taking part in the program?
Definitely the friendships – I'd never been around so many people who all love film. So we really bonded and connected over that. And I really enjoyed the technical part of it, learning how to do a craft to the fullest and being taken from being a beginner to an advanced level within a matter of weeks – I loved the pace of it.
How do you feel about the question raised in your documentary now?
You don't have to be adopted to not feel as if you belong. The documentary touches on the fact that your family is your family because of how you feel about them. So I wanted people to take away that no matter what, they have a family. If you're close to people and have that bond, then they still count as your family, whoever they are, and you still belong with them.