Inspiring the community through the creative arts is at the heart of the Fine Arts Center's mission, and this could not be achieved without the people involved with the FAC, whether through the museum, theatre or Bemis School of Arts. Members of the community make the FAC what it is, and the young people of Colorado Springs who inject their creativity, passion, and artistic flair into the FAC are what make it such a unique place.
The Youth Repertory Theatre program is one of the incredible ways that the FAC connects with young people in Colorado Springs. It is the only professional training program for student actors and design technicians in the Pikes Peak region, offering students interested in pursuing careers in performance and/or design & technical theatre a five- week intensive training program. Students work with qualified and professional teaching staff, choreographers, directors, and designers, to produce a professional play. This year, the Youth Rep's production of 'Thoroughly Modern Millie' was a roaring success, with sold out performances and standing ovations. I met Arielle Miagkov, who wowed audiences with her performance in the lead role as Millie.
Tell me about your experience of theatre so far. Is it something that you plan to continue with?
I've been doing theatre since the 8th grade, so only about 3 years. I've done a couple of technical classes, and next summer will be my 5th year of the Youth Rep. I've done a few shows at school, but mainly here at the FAC – my first professional show was 'Elephant and Piggy' here, and I'm going to be in 'Shrek' as young Fiona. I'm not entirely sure what I want to do in the future, but probably something to do with theatre. I've done the acting part but I'd love to try things like directing too.
So you've taken part in the Youth Rep four times already?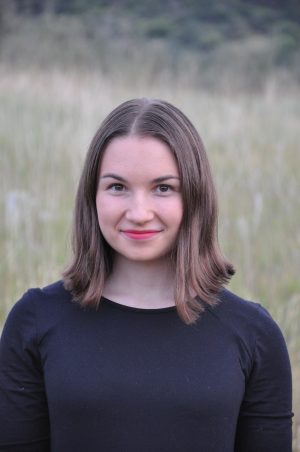 Yes – my first time was 4 years ago, and it was life-changing. I really was a different person before I did the Youth Rep, so it was really terrifying the first year. A lot of people had experience already, and had done shows before, where I had only done one. I was dropped into a world of people who liked theatre and knew that they wanted to major in it. The first year was just me becoming comfortable with how Nathan works, and his interpretation of the art. I didn't quite start to learn and embrace it all properly until my 2nd year when I wasn't afraid anymore, and I was more open to trying it all. Nathan knows you so well and what you need to work on. Even though next year will be my 5th year, every year is different. Nathan is just really aware of your strengths and weaknesses, and he's hell-bent on working on those weaknesses with you.
You say it took you a while for you to get used to Nathan's interpretation of theatre – what was different about it?
When you're doing a play at school, it's like the only aim is to get the play up and running. You just kind of hope that people will memorize the lines! Nathan's interpretation on the other hand is 'you guys are young adults, and I'm not going to tell you what to do.' He lets us make bold choices, understand the characters, and interpret the script in our own ways. It's scary to be told as a teenager that you can be right. Usually we're told that only adults are right – Nathan's not like that. He might occasionally disagree with our choices, but it's making those choices that is important. It can be scary to put yourself out there but it's worth it.
How did it feel to go from being the new one in your first year to being picked as the lead, Millie, this year?
It was really weird being on the other side of the spectrum, and having some of the newer people looking up to you. It was also really interesting because the show was double cast, so we got to watch the other cast at work too and see that side of things.
Were you nervous?
Not at first. It was really surprising – I wasn't expecting it. The fact that it was a female lead and title character, and there are so many girls in Youth Rep, and everyone wanted to lead made me step back like I don't really need it. So I was just so shocked and I wasn't really scared until we started working on it and I realized how much it was.
How did your friends outside of the Youth Rep react? Do they share your passion?
Some of them are interested in the same stuff. I have a few friends at school that don't do theatre and they're supportive and usually come to shows. Sometimes it's difficult because when you're doing a show it takes up all your time and it's all you have to talk about! It's also interesting going back and forth between the drama department here and at school. Here is much more professional but there's also a different mentality, because everyone wants to do this as their career.
How did it feel to get a standing ovation on a professional stage?
I won't lie – it felt pretty good. It was very fulfilling. I usually hate going to the curtain call and greeting people after the show. Usually I don't want to do it, but it was amazing being congratulated by my family and friends and hearing how the show moved them. Being on the stage and doing that felt right and felt good. It wasn't terrifying because I felt prepared.
Are you looking forward to next year's Youth Rep?
This year was really different from all the other years, and I know that Nathan really liked the classes that we did. So I think that class-wise it'll be more like what we did this year, which I'm really excited about because I loved the classes that we took.
What were your favorite classes this year?
The collaborative process that we did – it was so interesting to start with nothing and then take a group of people and create something together. It's such a daunting task – we thought that we would sit around and not get anything done. It's such a good way to connect with people who you might not see much of otherwise. And then seeing what everyone produced from that was great – it was such a good representation of everyone.
It must have been hard combining the pressure of acting onstage with everything else that 'Thoroughly Modern Millie' demands?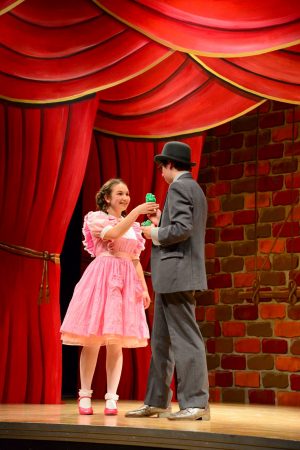 Well I've only done one straight play. But even though I've mostly done musical theatre it's still hard. When I'm acting, I'm trying to pretend it's real, and in musicals there's often a sense that it's not real – that it's bigger than feelings and emotions as you suddenly sing and dance. So it's hard to find that balance between keeping it real and keeping it part of the musical.
How would you defend your choice to give up your summer for such an intensive course?
Well usually people spend their summers doing things that they like, or with people that they like. Finding something that's both – something that you love with people who also love it – that's amazing. When I'm not doing theatre I seriously get withdrawal. I need to be doing something creative, and theatre is what I'm good at. I might have to give up my summers for it, but it's worth it.